03.20.2017
On March 16th, President Trump released a budget blueprint that proposes $6.2 billion in cuts to HUD funding. Overall, these cuts represent a 13.2% decrease in funding compared to FY16 levels: the largest cuts in housing assistance since the Reagan administration, which ushered widespread homelessness. These cuts are unacceptable and we are committed to fighting them.
The Trump budget eliminates the following programs:

The HOME program is a critical resource for supportive housing in New York, serving as a capital subsidy for congregate developments, as well as providing rental assistance to the homeless. Nationwide, every $1 of HOME capital funding leverages $4.20 of additional local public and private funding. Community Development Block Grants (CDBG) fund cities and towns across the state for capital projects and programs benefiting low- and moderate-income New Yorkers.
The budget blueprint presents questions: it outlines $4.1 billion in spending cuts but leaves the remaining $2.1 billion unexplained. According to the document released by the White House, the president's budget "provides over $35 billion for HUD's rental assistance programs and proposes reforms that reduce costs while continuing to assist 4.5 million low-income households." It is unclear at this time how funding will be spread out over various voucher programs and where exactly cuts will be felt. The budget is also silent on Homeless Assistance, known as McKinney Vento funding.
The president's budget does eliminate the US Interagency Council on the Homeless, which is charged with coordinating across the federal government to end homelessness.
Dr. Ben Carson was sworn in as HUD Secretary on March 2nd. He has started his "listening tour" across America. The Network, along with our fellow advocates, has invited him to New York to witness firsthand the success of our affordable and supportive housing programs and the devastating impacts these cuts would have.
The president's proposal is subject to Congressional approval. The Network will be in Washington D.C. in early April with the National Low Income Housing Coalition, advocating for programs critical to supportive housing to members of the House and Senate. We will keep you posted as opportunities arise for you to participate directly in advocacy.
Please see our Executive Director Laura Mascuch's opinion piece in City and State's Slant.
|
What's New
,
Funding
,
Federal
---
03.20.2017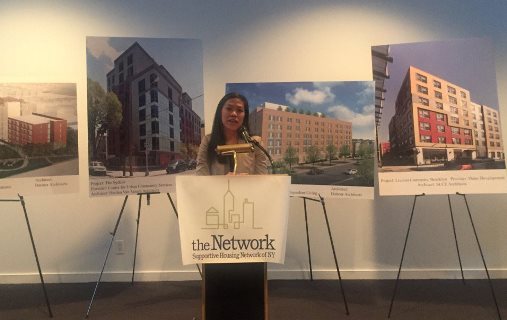 Commissioner Maria Torres-Springer addressing the crowd at Scandinavia House.
Network members gathered on the evening of March 9 at Scandinavia House for the Network's Annual Meeting. Nonprofit providers, architects, developers and other members of our community came together to meet, mingle and hear about the past year's accomplishments.
Newly-appointed HPD Commissioner Maria Torres-Springer addressed the 100 attendees before dashing off to attend a Town Hall meeting in Brooklyn. She expressed her delight at being named Commissioner, noting that although she had not worked specifically in housing, she had a long career in community and economic development most recently as Executive Vice President and Chief of Staff of the NYC Economic Development Corporation, as well as at her very first job in New York City working at LISC.
Ms. Torres-Springer also spoke movingly about her lived experience of the importance of stable housing, having grown up in Section 8 housing. She recounted how terrified her entire family became on the day of annual Section 8 recertification, knowing if it did not go well, her family would become homeless. She effusively praised Network members, pictures of whose new residences graced the room, for the spectacular work they do every day housing New York's most vulnerable individuals and applauded the Network as a national model for supportive housing advocacy.
Executive Director Laura Mascuch then welcomed members and gave an update on the Network's accomplishments in 2016 ending with a call to stay strong in the face of what will unquestionably be enormous challenges in 2017. But, she concluded, "we've always been fighters." Executive Director of Concern for Independent Living Ralph Fasano stood in for Network Board Chair Bill Traylor in welcoming guests, and, as Board Treasurer, presented the Network's financials. Guests spent the evening networking, marveling at the beautiful new residences adorning the walls and showcased in a slideshow, as well as checking out a slideshow of photos from openings and other events from 2016. Catered by the incomparable City Beet Kitchen, the event once again reminded us how lucky we are to represent this stellar community.
|
What's New
,
Network Events
---
03.17.2017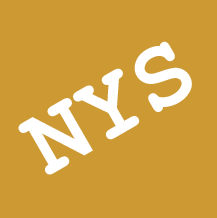 This week, the Assembly and Senate approved their one-house budgets, which serve as their spending proposals in response to the Executive budget released in January. There are no major changes to the programs important to supportive housing from the Executive proposal. Here is a summary of key provisions.
5 YEAR HOUSING & HOMELESSNESS PLAN
Both the Senate and Assembly include a re-appropriation of last year's $1.97 billion five-year housing and homelessness plan that includes funding for 6,000 units of supportive housing and 50,000 units of affordable housing over five years. The five-year funding for supportive housing is the first installment on the Governor's pledge of creating 20,000 units of supportive housing over the next fifteen years. However, the Senate reinstated language calling for a memorandum of understanding, which was left out of the other two proposals. The Senate also failed to provide any detail about how that body proposes spending the $2.5 billion. Here is a side by side comparison of the three plans:
In addition to the capital funding, $124.5 million for service and operating expenses for the first 6,000 units over the next 5 years was also re-appropriated in all three budgets. This includes $74.5 million from JPMorgan settlement funds and an additional $50 million from last year's budget. There is no new funding committed for services and operating in this year's budget.
The Network continues to call on the governor and legislature to finish their jobs and finalize this five year agreement to include capital funding for 6,000 units of supportive housing by the March 31st budget deadline.
OFFICE OF MENTAL HEALTH
Both Assembly and Senate one-house budgets support the Executive plan to provide $10 million to enhance support for existing residential programs. The budget increases funds for supported housing and single residence occupancy programs. However, the Senate delays implementation until January 2018.
The Network will continue to fight for OMH budget increases for staff and programs, including our $35.7 million ask for rate increases for all OMH Housing. This includes those NY/NY 1 and 2 programs that have been left behind for too long. Stay tuned for information about a call-in campaign to legislators early next week.
Office of Temporary & Disability Assistance
Homeless Housing Assistance Program (HHAP) - $64 million - $500,000 INCREASE
The Assembly and Senate one-house budgets both fund the HHAP capital development program at $64 million which is a $500,000 INCREASE from last year, same as the Executive. A new provision added to this year's budget allows up to $1 million of HHAP funding to be used for emergency shelter repairs in local social services districts with a population of less than five million.
Homeless Housing Prevention Services Program - $35.38 million - $600,000 INCREASE
The Assembly and Senate kept the Executive's modest $600,000 increase to the Homeless Housing Prevention Services (HHPS) Program. HHPS funds the New York State Supportive Housing Program (NYSSHP), the Solutions to End Homelessness Program (STEHP) and the Operational Support for AIDS Housing (OSAH) Program. The Assembly specified that the increase would go to the NYSSHP program.
The Network will continue to press for an additional $4.2 million in NYSSHP as part of the final budget deal.
HOMES & COMMUNITY RENEWAL
Housing Trust Fund - $65.2 million - $11 million INCREASE
The Executive budget proposes INCREASING the Housing Trust Fund by $11 million, up from $54.2 million last year. These funds can be used for capital construction of both supportive and affordable housing. Both Assembly and Senate support this.
Minimum Wage Increases for Direct Care Workers
All three budgets support the direct cost of FY 2018 minimum wage increases for direct care, direct support, and other workers at not-for-profits that provide services on behalf of OPWDD, OMH, and OASAS.
Delays Cost of Living Increases for Staff
The Assembly restores the COLA increases that the Executive and Senate defer.
The final budget now must be passed by the Legislature and signed by the Governor no later than March 31st. In the next few weeks, the Senate and the Assembly meeting in joint committees and negotiate with the Governor.
|
What's New
,
Funding
,
New York State
---
03.13.2017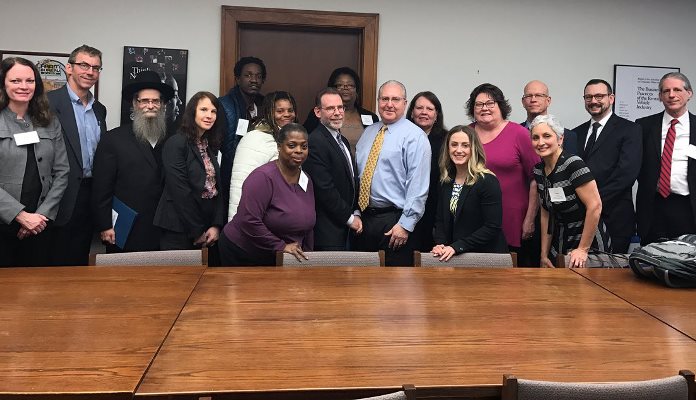 Network members and Executive Director Laura Mascuch with Assembly Member Steven Cymbrowitz.
On March 1st, the Network hosted our annual Albany lobby day. Over 130 of our members' tenants and staff took part in over 60 legislative meetings, including face to face meetings with the Assembly Chairs of Social Services, Mental Health and Housing.
Our legislative agenda received robust bi-partisan support. We continue to press for a complete affordable and supportive housing plan, to be funded at $2.5 billion. This is the first step to implement the plan for 20,000 units of supportive housing over 15 years that the Governor announced in January of 2016.
We also pressed for $35.7 million to raise the rates for all Office of Mental Health Housing, which have been stagnant since the 1990s. This includes OMH scattered site and also some NY/NY 1 and 2 projects that have not even seen meager increases.
Finally, we called for $4.2 million increase in the Office of Temporary and Disability Assistance's New York State Supportive Housing Program. This would fund programs on the waiting list and restore cuts to existing supportive housing programs.
Thanks to all of our members who joined us for an amazing and effective day.
|
What's New
,
New York State
,
Network Events
---
02.27.2017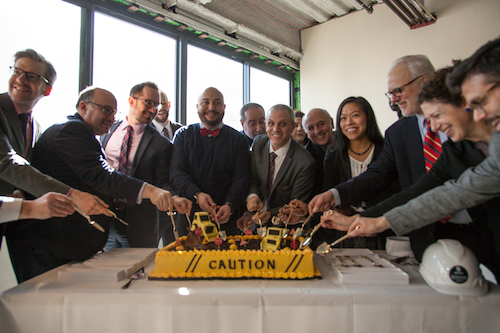 "Breaking ground" at 1880 Boston Road Senior Apartments.
On February 10th, 2017, the Hebrew Home at Riverdale, Foxy Management, and Alembic Community Development held a 'bolting up' celebration for 1880 Boston Road Senior Apartments – a project that will create supportive and affordable housing on top of the building currently in existence (hence the 'bolting up' instead of the traditional 'groundbreaking'). This project is the first of Governor Cuomo's Empire State Supportive Housing Initiative (ESSHI) awards to begin construction in New York City. Of the 168 total units, 51 units will be set aside for homeless and frail seniors.
The celebration was both star-studded and beautifully turned out, with giant black and white drawings of the future residence adorning the walls as well as a huge cake decorated with earth movers, accompanied by gold shovels with which to slice it!
NYS Senator Ruben Diaz opened the program, praising the project for filling an acute need. NYS Assembly Member Luis Sepulveda specifically commended the partners for creating housing that was "truly affordable."
Council Member Rafael Salamanca presented Jeff Fox of Foxy Management a large check for Reso A money in support of the project. Recently appointed HPD Commissioner Maria Torres-Springer was also on hand noting that, "this project helps complete part of the Mayor's plan to build and preserve affordable and senior housing."
Daniel Reingold of Hebrew Home at Riverdale spoke of how his agency created the first shelter for victims of elder abuse in the nation. He commented on the severity of the problem and said, "We are proud to be able to offer services to 51 formerly homeless seniors who may have suffered at the hands of another person. We are so happy to partner with Alembic and Foxy Management on this great project."
1880 Boston Road Senior Apartments is a collaboration between NYCHA, NYS HDC, NYC HPD, NYC Council Member Rafael Salamanca and TD bank. Services will be funded by the Department of Health through an ESSHI award. NYCHA contributed 168 Project Based Section 8 Vouchers, targeting seniors earning no more than $19,000 per year. HDC contributed $37.8 million in bond financing along with $9.2 million in subsidy. HPD's SARA program was included in the financing as well. TD Bank provided a $38 million dollar credit enhancement. Council member Salamanca gave $728,000 in Reso A money to the project. Raymond James was the tax credit syndicator, architects were SLCE. The GC was Lendlease.
|
What's New
,
New York City
,
Groundbreakings
---
02.27.2017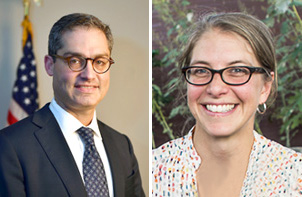 Former HCR Commissioner James S. Rubin and new HCR Commissioner RuthAnne Visnauskas.
On February 10, 2017 Governor Cuomo announced that James S. Rubin, Commissioner of New York State Homes and Community Renewal (HCR), would become the new Director of Operations for the Executive Chamber. A week later, the Governor appointed RuthAnne Visnauskas to succeed Mr. Rubin as Commissioner of HCR.
Mr. Rubin was appointed Commissioner of HCR by Governor Cuomo in May 2015, prior to which he served as Executive Director of the Governor's Office of Storm Recovery. He was also Chairman of the Board of Network member Breaking Ground.
Ms. Visnauskas previously served as Executive Deputy Commissioner for Housing Development at HCR, where she was responsible for strategic leadership and oversight of all housing and finance programs.
Before joining HCR, Ms. Visnauskas was Managing Director of the Housing Advisory Board for the Robin Hood Foundation. The Housing Advisory Board was established to fund initiatives to advance the quantity and quality of affordable housing for low-income New Yorkers. Earlier in her career, Ms.Visnauskas was Commissioner of the New York City Department of Housing Preservation and Development.
|
In the Media
,
What's New
,
New York State
---
02.24.2017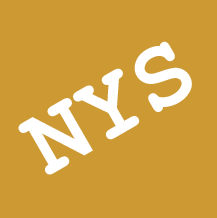 On February 1, 2017, the Homeless Housing Assistance Corporation awarded funding from the State's Office of Temporary and Disability Assistance (OTDA) Homeless Housing Assistance Program for three supportive housing projects being developed by Network members. Together these projects will provide 142 new units of supportive housing.
Project Renewal was awarded $6.2 million to create 71 units of supportive housing in a new residence in Bedford Park, Bronx. This project will be one of the final projects to be built under the expiring NY/NY 3 agreement.
New Destiny was awarded $5 million to build 23 units of supportive housing for homeless women and families in Crotona Park, Bronx.
West Side Federation for Senior and Supportive Housing (WSFSSH) was awarded $3.1 million to help build Mill Brook Terrace in Mott Haven, Bronx. The new residence will provide supportive housing for 48 homeless seniors.
In addition, both New Destiny and WSFSSH were awarded conditional awards last September for services and operating funds for these new residences in the first round of the Empire State Supportive Housing Initiative, and should be approved as permanent funding as the projects open.
Congratulations to all!
|
In the Media
,
What's New
,
Funding
,
New York State
---
02.24.2017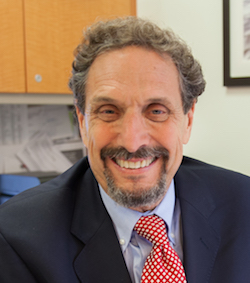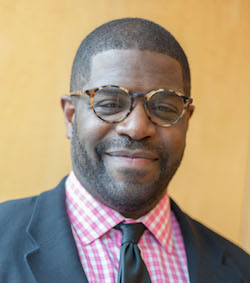 Executive Director Stephan Russo stepped down from his position at Goddard Riverside Community Center ("Goddard") at the end of the year, succeeded by Dr. Roderick Jones, formerly the President and CEO of Grace Hill Settlement House in St. Louis, Missouri. Prior to his eight years at Grace Hill, Dr. Jones served as President and CEO of the Community Place of Greater Rochester.
Except for a stint at the NYC Department of Homeless Services, Mr. Russo spent his entire career at Goddard Riverside, starting as a youth worker in 1976 and becoming Executive Director in 1998. Under his leadership, Goddard significantly expanded its programming to vulnerable children, youth, and adults. Mr. Russo oversaw mergers with two other settlement houses. He was also honored as one of the founders of the supportive housing movement at the Network's awards Gala last year.
The Network's Executive Director Laura Mascuch said, "Stephan has a deep connection to his community where he is loved and admired. I had the privilege of working for him at DHS and witnessed his steadfast nature when combatting the homeless crisis, never wavering in his commitment to serving those in need. While we'll miss Stephan, we are excited to work with Dr. Jones as he takes the reins at Goddard."
|
In the Media
,
What's New
,
New York City
,
Member News
---
02.23.2017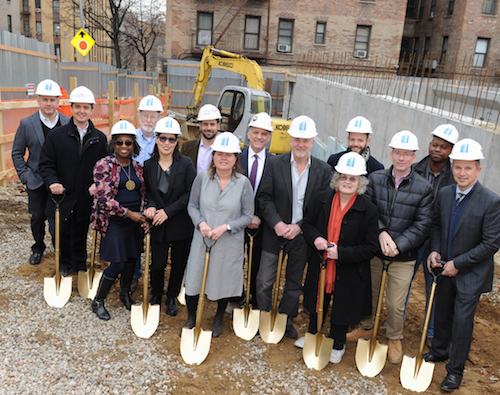 Breaking ground at 111 East 172nd Street.
On February 22, 2017, Community Access held a glorious groundbreaking ceremony for their new 126-unit building at 111 East 172nd Street. Upon completion, the building will include 57 affordable two-bedroom apartments, 8 affordable studio apartments and 60 studio apartments for tenants referred by the New York State Office of Mental Health. Community Access' long-time Director of Real Estate Maggi Knox attended the festivities with a heavy heart – this will be her last groundbreaking before retirement.
Boasting a wide range of health-focused amenities, the residence will provide on-site social services by Community Access staff with OMH funding. Free Wi-Fi, two large community rooms, a collaborative kitchen for integrative cooking and nutrition, 24-hour front-desk security and a large backyard with Community Access' first urban farm will offer residents many ways to cultivate a strong community, centered on holistic health and recovery. The backyard will host a hoop house and raised planting beds, as well as a playground and outdoor exercise area for children and adults.
Community Access' CEO Steve Coe welcomed the crowd, thanking Deputy Chief Executive Director Cal Hedigan, Director of Housing Mark Jennings, and the project's architect Peter Woll, who also designed Community Access' first building in 1984. Mr. Woll noted the positive health impact of the residence evident throughout…from Community Access' pet adoption program, to the presence of a bicycle-powered smoothie-machine, pumping out healthy delicious smoothies for guests!
Board Member Diane Louard-Michel stated that East 172nd Street is "taking supportive housing to a whole new level, bringing low-income New Yorkers home, hope and futures."
Newly-appointed NYS Homes and Community Renewal Commissioner RuthAnne Visnauskas spent her second day on the job at the groundbreaking, citing the supportive housing model as "an investment that grows and strengthens communities."
Molly Park, Deputy Commissioner for Development at NYC Department of Housing Preservation & Development, warmly congratulated the entire team, remarking that the unique residence is "both housing and a farm."
Brett Hebner of the NYS Office of Temporary and Disability Assistance praised the dedication of Community Access - from concept to closing - in all of their projects, as well as the high level of investment from the City and State—an investment "unmatched anywhere in the country."
Kristin Miller, Director of the NYC Metro Region Office of CSH, reminded the crowd of the importance of site acquisition, which is the first step in a supportive housing financing deal. She applauded the MRT units as "housing as healthcare."
Director of Citi Community Capital Bill Yates thanked all development partners for their amazing teamwork, particularly Mr. Coe and Ms. Knox.
The program closed with remarks from Community Access tenant Roshelle Rosa. Surviving a car accident sixty years ago, Rosa lost her ability to work, lived through domestic violence and eventually ended up on the streets. She thanked Community Access for lifting her up and providing her with a space to thrive. She has greatly benefited from their Pet Access Program, and now spends her days with the love of her life, a four-year-old Shih Tzu named Elvira.

The $52 million project is funded by New York State Homes and Community Renewal, the New York State Office of Mental Health and the New York City Department of Housing Preservation & Development. Major funding was also provided by a grant from Citi Community Capital, and tax credit financing syndicated by Richman Housing Resources, LLC, with Citi Community Capital as the sole investor. The New York State Energy Research & Development Authority also provided funding for the project. The general contractor is Mega Contracting Group.
|
In the Media
,
What's New
,
New York City
,
Groundbreakings
---
01.31.2017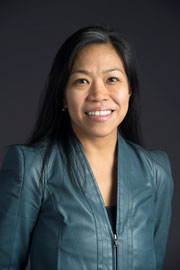 Maria Torres-Springer has been appointed by Mayor de Blasio to serve as the new HPD Commissioner. Ms. Torres-Springer comes to HPD after working on neighborhood planning and the development of public sites as President and CEO of the NYC Economic Development Corporation (NYCEDC) since June 2015, and prior to that, leading the NYC Department of Small Business Services (SBS) as Commissioner.
In a statement, Ms. Torres-Springer said, "Having grown up in Section 8 housing, I know first-hand that the work we do is a lifeline to hundreds of thousands of families. Housing is the top expense for New Yorkers, and for far too many rising rents threaten their ability to stay in the city they love. I've spent my career helping people secure better jobs with better wages, and developing neighborhood projects that provide affordable homes and economic opportunity. Vicki leaves big shoes to fill, but I'm honored to have a chance to keep up the record-breaking progress she's achieved."

As head of NYCEDC, Ms. Torres-Springer was responsible for transforming Spofford, a former juvenile detention center in the Bronx, into a hub for the arts and affordable housing, and has been the de Blasio administration's lead in developing the Downtown Far Rockaway Neighborhood Plan, which included more than $90 million in neighborhood investments and affordable housing to serve both the lowest-income New Yorkers and the middle class. At SBS, Ms. Torres-Springer spearheaded initiatives to raise wages and expand skill-building in workforce placement programs, and streamline the regulatory environment for small businesses. Ms. Torres-Springer began her career working in affordable housing with the Local Initiatives Support Corporation, where she was involved in re-zoning and housing projects.
The Network welcomes Ms. Torres-Springer to her new position and looks forward to working together.
|
In the Media
,
What's New
,
New York City
---