03.16.2018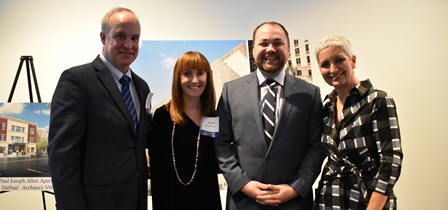 Network members gathered on the evening of March 15 at Scandinavia House for the Network's Annual Meeting. Nonprofit providers, city officials, architects, developers, funders and other members of our community came together to meet, mingle and hear about the past year's accomplishments.
Corey Johnson, the newly elected Speaker of the New York City Council, was our key note speaker, and addressed the 150 attendees in the room with a ton of enthusiasm, praise and support for supportive housing.
"You all know that housing really is health care. Until you put a roof over someone's head, you cannot expect them to be sober, you cannot expect them to fight drug addiction, you cannot expect them to deal with chronic illnesses," he said.
Speaker Johnson also reiterated his commitment to supportive housing and praised our members for their extraordinary accomplishments and work. He added that in the four years he's been on the City Council he's never even once received a single complaint about any of the supportive housing residences in his district.
"Thanks to the amazing work done by you all, we're changing the narrative of "not in my backyard to YES in my backyard," he exclaimed to a cheering audience.
The Network's board chair and CEO of Breaking Ground, Brenda Rosen, kicked off the speaking program with warm welcoming remarks for the supportive housing community. "In the face of all obstacles, we remain steadfast and committed to our work," she said. Executive Director of Concern for Independent Living Ralph Fasano presented the Network's financials to the audience and the Network's Executive Director, Laura Mascuch, shared the networks accomplishments over the last year.
Guests spent the evening networking, marveling at the beautiful new residences adorning the walls and showcased in a slideshow, as well as checking out a slideshow of photos from openings and other events from 2017. Catered by the incomparable City Beet Kitchen, the event once again reminded us how lucky we are to represent this stellar community.
Check out the evening highlights in our Faceboook photo album.
| What's New, Network Events
---
03.13.2018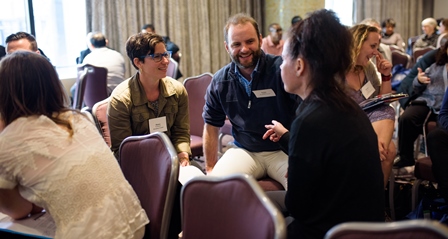 Housing providers encounter many conflicts involving tenants. These include neighbor and roommate disputes, non-payment of rent, violations of community guidelines, and escalated situations related to aggression, substance use, or psychiatric symptoms. Even though these problems happen regularly, they are still stressful and uncomfortable to manage, especially when different staff members make different choices about how to handle them.
Conflict resolution techniques can help housing sites develop consistent, effective approaches across the entire spectrum of conflict resolution - preventing problems, managing conflicts, and responding to escalation.
Most often, organizations seek support with escalated situations. The most common request I field from housing providers is how to prevent unnecessary 911 calls. Maybe staff could have done something differently before the tenant erupted into an aggressive act. Are there some special de-escalation techniques we can use to diffuse these situations?
There is no single definitive right way to de-escalate. Every site has to look to its own values, policies, and population to figure out what is appropriate for them. But there is one universal best practice all housing sites can implement: planning ahead. Planning ahead reduces human error, removes the risk of biased intervention, creates consistency across staff, and – perhaps most importantly – helps staff feel comfortable implementing their interventions. Even though every site is different, they can all use the same planning template to develop their best practices.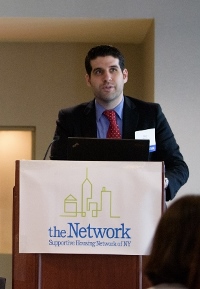 The most important first step is clearly defining the behavior at issue. That term I used before –"aggressive act" – is too vague. Ambiguous terms like "aggression" or "violence" can mean different things to different people so we have to specify the concrete behaviors involved, like "destruction of property," "verbal threats," "physical intimidation," or "physical altercation." Then we can draw clear lines of when to act and how to act in each situation. Do we call 911 whenever someone throws something, or does the tenant have to throw the object at someone? How long do we give someone to calm down on their own before we intervene?
When we plan for a behavior, we explore its entire life cycle. What are the specific early warning signs where we might be able to take a preventative action, like offering a gentle reminder of a community guideline? When is it appropriate, upon noticing someone raising their voice or engaging in conflict, for us to step in to de-escalate? What is the line where we know, for sure, that it is now time for an emergency intervention like the 911 call? Instead of making these decisions in-the-moment using gut feelings, we all do better when we invest time in creating behavior plans.
Conflict resolution practices can be even more powerful when we use them to prevent challenging behaviors from happening in the first place. Housing sites can embed key values like fairness, self-determination, and validation throughout their internal cultures to reduce the likelihood of escalation.
One way to accomplish this is by providing resources for tenants to practice conflict resolution skills. This can be done through on-site trainings, as part of skills groups, or through distributing self-help resources such as handouts and online programs. Through these resources, tenants can practice vital skills that help them appreciate different points of view in conflict, engage in effective communication to understand everyone's needs, and develop sustainable, realistic agreements that resolve conflicts.
Another way to improve site culture is by adjusting staff talking points to emphasize conflict resolution values. Instead of saying, "that's against the rules," staff could say, "we can't permit that because we don't play favorites here - we treat everyone the same because we care about being fair." Language shifts like this can begin establishing fairness as a community value and diffuse tensions before they escalate.
Some conflicts will still happen. Most housing providers empower staff to act as formal or informal arbitrators supporting tenants in resolving their conflicts. Practicing skills such as demonstrating fairness and developing effective agreements can help them in these roles.
MH Mediate has prepared a page of resources for SHNNY members including infographics building on concepts in this post. Members can also e-mail me at dan@mhmediate.com with questions any time.
Conflict Resolution Resources for SHNNY Members
Dan Berstein, MHS combines his professional expertise as a mediator, his academic background in mental health and public health, and his personal experience living with bipolar disorder to develop innovative trainings and services in the areas of conflict resolution, mental health communication, challenging behaviors, and accessibility to disabilities. Through his company, MH Mediate, Dan has provided programs in over a dozen states to clients including housing providers and government agencies at the city, state, and federal levels.
Dan is Vice Chair of the Diversity Committee of the American Bar Association Section on Dispute Resolution and the Program Consultant for the CUNY Dispute Resolution Center's Dispute Resolution in Mental Health Initiative. He holds degrees from the Johns Hopkins School of Public Health and the Wharton School.
|
---
03.12.2018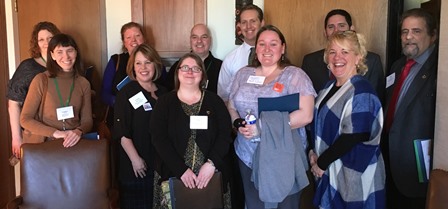 March 6th marked the Annual Lobby Day for the supportive housing community. Over 120 supportive housing staff and tenants from 38 organizations made their way to the state capital to push lawmakers for more supportive housing funding in the state of New York.
Our legislative agenda was centered on the need to support adequate funding for new and existing supportive housing programs, and we are proud to say it was widely welcomed by the legislators who committed to moving the ball forward on our collective agenda.
More specifically the legislative asks included the following:
Add $20 million to the Office of Mental Health's (OMH) housing budget to begin to rescue chronically-underfunded housing for 36,000 mentally ill New Yorkers
Add $30 million to the Office of Temporary and Disability Assistance (OTDA) Homeless Housing Assistance Program
Add $3.4 million to OTDA Homeless Housing & Preventive Services budget
Support workforce enhancements recommended by Strong Nonprofits For a Better New York
We met with over 63 legislators and staff including face to face meetings with Assemblyman Steven Cymbrowitz, Housing Committee Chair; Senate Deputy Majority Leader John DeFrancisco; Assemblyman Andrew Hevesi, Social Services Committee Chair; Senator Liz Krueger, Assemblyman Al Taylor, Senator David Valesky, and Senator Catharine Young, Finance Chair.
Lawmakers also heard moving testimonies from supportive housing tenants who provided powerful personal stories to demonstrate the effectiveness of supportive housing.
"I have a one bedroom with a window and I love it. It's a wonderful feeling to have a place and not wait for somebody to help you," said Deborah Dickerson, a tenant of supportive housing to lawmakers.
A big thank you to all our members who made this such a successful and impactful day and to all the legislators who continue to champion supportive housing across the state of New York!
Check out our Facebook photo album for highlights of the day.
|
---
02.21.2018
Families, funders, city officials and friends gathered February 8th to celebrate the opening of Win's West 118th Street residence, providing supportive housing to 34 formerly homeless single mothers and their children. The new residence is Win's first single-site supportive housing in 20 years, adding to their portfolio of transitional and permanent supportive housing options serving over 4,000 people – the majority of them children. Win – formerly Women In Need – is the largest provider of shelter and supportive housing to homeless families and their children in New York City.
Win CEO Christine Quinn welcomed the crowd celebrating the building's opening: "Women and children continue to be the forgotten face of New York City's homelessness crisis." She noted that the new building was not just providing homes to the 34 families who had recently moved in, but was helping end generational homelessness pointing to studies that indicate that a homeless child is twice as likely to be a homeless adult. She also noted that by lifting up at-risk families, the new residence would be saving lives, citing a grim statistic that homeless teenagers are three times as likely as non-homeless teenagers to attempt or commit suicide.
HPD Commissioner Maria Torres-Springer congratulated the partners on the new building saying, "There are just far too many families who have to worry where they're going to sleep at night. We have to do more. We have to do better. We have to provide access, not just for a home, but a fresh start. It is not just a professional obligation but, for all of us here, it is a moral obligation."
Assemblywoman Inez Dickens echoed those sentiments noting, "When you've lived on the streets for so long, you need help."
New tenant Aidibel Moreno's told reporters afterward that her new apartment is her sanctuary after years of being on her own in shelters and on the street.
"I was broken, now I'm so strong. Living in an apartment like this, it gives you identity because you feel like a person. You are living like a human being in a beautiful setting."
On-site services, including financial literacy, job training, work readiness, education counseling, and access to counseling are funded by the State Office of Alcohol and Substance Abuse Services.
Capital funding for the project was provided by HPD's Supportive Housing Loan Program and from low income housing tax credit equity through the Richman Group. OCV Architects designed West 118th Street and the J. Pilla Group was the contractor.
|
---
02.21.2018

The Supportive Housing Network of New York and Enterprise Community Partners Inc. have developed a Joint Venture Guidebook as a resource for organizations interested in developing supportive and affordable housing to better understand joint venture options. The Guidebook is sponsored by Capital One.
As the housing market has become more competitive and complex, developers and community-based organizations are forming joint venture partnerships (JVs) to leverage their strengths and address critical housing needs. The Guidebook provides tools to help our partners navigate challenges and maximize capacity.

Partnership dynamics and critical questions surrounding the development of affordable housing are both explored throughout the Guidebook, giving readers a deeper understanding of JV partnerships. Below are some highlights:
Guiding principles & framework for starting your joint venture
11 case studies for turn key, long-term, faith-based, and social service agency JVs
Ready to use worksheets and checklists to help organize your work
|
---
02.15.2018
The White House released its FY 2019 budget on Monday February 12, 2018. It largely repeats last year's attempt by the executive branch to gut federal spending; a budget that was considered dead on arrival. This proposed budget ignores the increased spending limits for FY 2018 and 2019, signed by the president earlier this year. Worse, it would shift major costs to the states and to people in poverty, especially the working poor.
Below is a chart that shows how the FY 2019 executive budget compares to the enacted 2017 budget, as well as the Network's recommendations for FY 2018 funding levels.
Note that the executive budget would eliminate both the HOME and CDBG programs, cutting $4 billion in block grant funding to states and localities, a $400 million loss in New York State.
Take Action:
The House and Senate continue to work on an omnibus budget bill for FY 2018, with a March 23rd deadline. We will report on the details if and when they become available. Meanwhile the FY 2019 budget process is moving forward. Please join the Network in calling on your member of Congress and ask them to sign on to three 'Dear Colleague' letters:
Rep Gwen Moore has sponsored a 'Dear Colleague' letter to fund the McKinney-Vento Homeless Assistance Grant at $2.8 billion. The deadline is March 16th. House Members my sign on here: talia.rosen@mail.house.gov.
Rep. Marcia Fudge is sponsoring a 'Dear Colleague' letter to fund the HOME Program at $1.2 billion in FY 2019. The deadline for Representatives to sign on is COB Tuesday, March 13. House offices can sign on using this link.
Rep. Jerrold Nadler is sponsoring a 'Dear Colleague' letter urging the THUD Subcommittee to support Section 8 funding at $22.8 billion. The deadline to sign is March 15th. Members can sign on by contacting: melissa.connolly@mail.house.gov.
You can call the congressional switchboard at (202) 224-3121 and ask to be connected to your member of congress.
Thank you for your advocacy and support!
| What's New, Funding, Federal
---
01.18.2018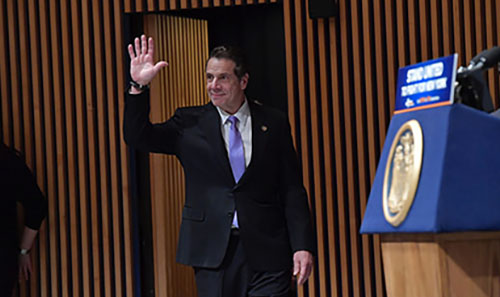 Governor Cuomo released the SFY 2019 executive budget on January 16th which starts the clock ticking for budget season in Albany! Here is our first analysis of the budget areas important to the supportive housing community.
5 YEAR HOUSING & HOMELESSNESS PLAN
Included in the executive budget is a re-appropriation of last year's $2.5 billion 5 year housing and homelessness plan that includes funding for 6,000 units of supportive housing over 5 years. This specifically includes $950 million in capital funding and $124.5 million for service and operating expenses for the first 6,000 units over the next 5 years.
In addition to this funding other budget areas of interest include:
OFFICE OF TEMPORARY AND DISABILITY ASSISTANCE
Homeless Housing Assistance Program (HHAP) - $64 million – Same funding amount as last year
Homeless Housing Preventative Services Program - $36.8 million - $1.4 million INCREASE
The Executive Budget increased the Homeless Housing Preventative Services (HHPS) Program by $1.4 million over last year's final budget. HHPS funds the New York State Supportive Housing Program (NYSSHP), the Solutions to End Homelessness Program (STEHP) and the Operational Support for AIDS Housing (OSAH) Program.
HOMES & COMMUNITY RENEWAL
Housing Trust Fund - $44.2 million – Baselined
The Executive budget proposes funding the Housing Trust Fund at $44.2 million which is $21 million less than last year when there was additional funding added from the mortgage insurance fund.
OFFICE OF MENTAL HEALTH
OMH Supportive Housing – $10 million Increase to Enhance Support for Existing Residential Programs.
The budget increases funds for supported housing and single residence occupancy programs by $10 million. This is significantly less than what is needed to maintain the existing units and will be an advocacy priority for the Network this year.
Workforce Increase
The Budget includes $255 million to support the 6.5 percent salary increase provided to direct care professionals and 3.2 percent salary increase for clinical staff to support the increase included in last year's budget.
DEPARTMENT OF HEALTH/MEDICAID REDESIGN TEAM (MRT)
MRT Supportive Housing Fund - $63 million – Same funding amount as last year
Last year, the funding was cut by $20 million and funded at $63 million. The cut did not impact any existing programs, but rather impacted programs outlined in the allocation plan that had not been implemented. This year, DOH is proposing to keep it funded at the same level, with no additional cuts.
Delays Cost of Living Increases for Staff
The Budget language defers a COLA increase for 2017 until 2019.
The budget now must be passed by the Legislature and signed by the Governor no later than April 1st. In the next few weeks, the Senate and the Assembly will hold budget hearings and negotiate with the Governor. The Network's advocacy in the upcoming weeks will focus on the proposed initiatives outlined above. We are currently planning a March 6 Advocacy Day. We encourage all Network members to participate. Please email Steve Piasecki at spiasecki@shnny.org to register.
| What's New
---
01.18.2018
State, city and local luminaries were on hand January 9th to break ground on a new three-building affordable/supportive housing project in the Mt. Hope section of the Bronx, a collaboration of Thorobird Companies and ACMH. The project is unique on a number of fronts: it is the first and largest ground-up affordable project developed by an African American firm since 2011 and is among the few developments to mix supportive, affordable and middle-income housing. Of the 138 units, 41 will be supportive – funded through the Empire State Supportive Housing Initiative; of the affordable, 14 are set-aside for households earning 90% of AMI and the rest for families and individuals at 40-60% AMI.
Thorobird's Thomas Campbell welcomed the crowd saying "The Grand is the first step to providing one of the city's most economically-challenged areas with quality affordable homes."
HCR Commissioner RuthAnne Visnauskas echoed those sentiments, adding "the Grand is a profound statement that when we build our city and our state, we include everyone in the process."
Bronx Borough President Ruben Diaz emphasized the project's income/unit mix "Creating affordable housing units was a top priority since my first day in office, and the work we have done in the Mount Hope and Morris Heights neighborhoods are a testament to the efforts we are putting in to make this happen. These 138 units in three buildings will provide true mixed-income housing, addressing the needs of low- and middle-income residents, providing supportive units for our most vulnerable residents. I want to thank Thorobird and ACMH on this partnership, as well as Gov. Cuomo and all the New York City agencies that lent their leadership to continue our growth, as a borough."
ACMH's Executive Vice-President and CEO Dan Johansson closed out the program with these words: "Supportive housing is the golden thread, or better still, the iron thread, that runs through the fabric of great projects like this one. It's gold because it brings the experience and mission-driven commitment of non-profits to everything from the design to the operation; its iron because it brings underwriting that makes projects durable, sustainable, and resilient. It's a thread because when you step back and look at the fabric of the community, supportive housing is neither seen nor heard. Think about it: people down on their luck due to age, disability or poverty are only seen when they are on the street. When they have permanent, affordable housing and access to a lifeline of social supports like here at the Grand, they are just like you and me, going about their daily lives and contributing to their community. "They" are no longer them; they are us."
Funding for the project came from NYS Homes and Community Renewal, NYC's Housing Preservation and Development Department, and NYSERDA. The Bronx Borough President, Councilmember Ritchie Torres and Councilmember Fernando Cabrera each contributed Reso A funds with the councilmembers contributing $250,000 and the Borough President contributing $500,000. On-site supportive services are funded through the Empire State Supportive Housing Initiative and will be provided by ACMH. The tax credits were syndicated by CREA, the architect is GF55 and the contractor is M. Melnick & Co., Inc.
| What's New
---
01.09.2018
Addressing homelessness is a moral imperative, and a central goal of Housing New York, Mayor Bill de Blasio's plan to create 300,000 affordable apartments by 2026. At the forefront of this effort is supportive housing – a proven, effective model that pairs affordable housing with on-site services, saves public dollars, and meets the special needs of the most vulnerable New Yorkers. That is why, in November 2015, Mayor Bill de Blasio announced the NYC Supportive Housing Initiative to create 15,000 new units of supportive housing in New York City over the next 15 years.
This far reaching initiative includes a projected 7,500 newly-constructed congregate (single-site) units, which will be financed by the NYC Department of Housing Preservation and Development (HPD) and 7,500 scattered-site apartments that will be created by the NYC Human Resources Administration (HRA). NYC DOHMH will manage the service contracts on an ongoing basis.
HPD has a strong track record of financing new construction and preservation of supportive housing through its various loan programs. To date under Housing New York, the agency has financed over 3,000 supportive housing units, which includes early progress towards the NYC Supportive Housing Initiative. And we recently launched the NYC 15/15 Rental Assistance Program to subsidize rent for homeless individuals and households living in permanent, rent stabilized supportive housing units. This City-funded project-based rental assistance is modelled after the project-based Section 8 program, but is not subject to changes in federal funding levels and requirements, making it a particularly critical and timel innovation.
HRA is the lead agency for procuring service awards for the scattered site and congregate units through a Request for Proposals (EPIN: 09617I0006 available through HSS Accelerator). HPD will match NYC 15/15 Rental Assistance to units that are awarded services under HRA's RFP. Once a project receives a tentative award letter, the application for rental assistance is quick and straightforward – sponsors only need to fill out a two-page application with basic project information. HPD will then work with applicants to issue a commitment letter for NYC 15/15 Rental Assistance that aligns with the HRA award.
Similar to Section 8, the initial contract rents for NYC 15/15 congregate units will be up to the Fair Market Rent (FMR), and owners may request annual increases. Similar to Section 8, owners receive an Agreement to enter into Rental Assistance Contract prior to construction closing. Once the project has a Certificate of Occupancy and units have passed a Housing Quality Standards (HQS) inspection, the owner can allow tenants to move in and sign a Rental Assistance Contract (RAC) to begin payments.
We do this work in the face of incredible uncertainty. For decades, the federal government has been chipping away at programs and resources for affordable housing. Today, it seems all of the programs we rely on –the HOME Investment Partnership Program, Section 8, the Low Income Housing Tax Credit, Private Activity Bonds – are under threat. And while ultimately we are in a better place because of the fierce and coordinated advocacy of the Network and affordable housing groups across the country, the fight is far from over.
While there are many threats and challenges on the course ahead, there are also opportunities. Indeed, New York City has long been a leader in showing how the supportive housing community can adapt and innovate. Now, more than ever, we need creative solutions like this new rental assistance program to serve those who are most in need of supportive housing, while demanding that no level of government walk away from its obligation to house our most vulnerable.
More information about the NYC 15/15 Rental Assistance Program can be found on HPD's website. If you have a site in mind, we encourage you to talk to us! We are open for business and eager to work with you to make your supportive housing project a reality.
We are grateful to our friends at the Network for their tireless advocacy and support to develop these buildings, and to all the providers who turn them into homes. We wish you all the best for a happy, healthy New Year, and look forward to continuing our partnership to provide safe, high-quality affordable housing and services for New Yorkers across the five boroughs.
NYC 15/15 Rental Assistance Program Frequently Asked Questions
NYC 15/15 Rental Assistance Application Package
| What's New
---
12.30.2017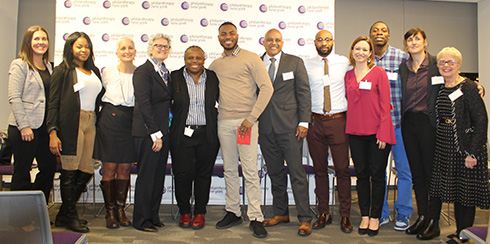 Representatives from more than a dozen philanthropies came together on December 12th to hear from providers, young adults, and representatives from city government about the challenges young adults who are transitioning from foster care face in terms of finding and keeping housing. Part two of a series "Helping Foster Youth Succeed," the panel was organized by the NYC Youth Funders (Katie Napolitano of the Tiger Foundation and Natasha Lifton of New York Community Trust spearheaded the event) and took place at Philanthropy New York. The panel was moderated by the Network's Executive Director Laura Mascuch, and included Denise Hinds of Good Shepherd Services, Jeremy Kohomban of Children's Village, Liz Northcutt of City Living NY, Maryanne Schretzman of the Director of NYC Center for Innovation through Data Intelligence, and Judi Trotter of the Administration for Children's Services, as well as three former foster youth -- Hasani Callwood, Jahlika Hamilton, and Maurice Reid.
Katie Napolitano introduced the panelists, and Maryanne Schretzman framed the panel with an overview of the research on foster youth, including the trajectories of transition age youth and the impacts of various systems on housing stability. Liz Northcutt discussed ways City Living NY has worked with youth to navigate the application to and maintenance of affordable housing once young people leave foster care. Judi Trotter discussed the promising practices of ACS: its Housing Academy; a new program that pays for transitioning youth's expenses while in college; and the requirement that caseworkers help youth apply to both NYCHA and supportive housing as they leave foster care. Jeremy Kohomban showcased programming at The Children's Village and the demographics and needs of young people in the foster care system.
As always, it was the young adults who were the stars of the afternoon. Hasani Callwood, who had lived at Good Shepherd Services' Chelsea Foyer and had recently moved to their Edwin Gould Academy apartments, spoke about his difficulties adjusting to the rent differentials between the two programs. At Foyer, he paid a set amount that was put into a savings account for him to use once he left the program; at EGA his rent was calculated at 30% of his gross income. Both Maurice Reid, formerly with Children's Village, and Jahlika Hamilton strongly agreed that this rent calculation – and their unpreparedness for the stark impact it had on their ability to maintain housing – had presented major difficulties. While the 30% standard for rent payment is typical across NYCHA and supportive housing, these youth were expecting to pay 30% of their take-home pay, not 30% of their before-tax gross income. When incomes are low, the difference between those two calculations can be large and have serious implications on a household budget. Maurice told of Children's Village's advocacy on his behalf when he was turned down for public housing, a fight that took three years to resolve. Jahlika had everyone in tears when she told attendees about the difference City Living had made in her life by painting and decorating her 'prison grey' NYCHA apartment one weekend. All three addressed NYCHA's requirement that applicants choose a borough as part of their housing application, leading some to have to turn down apartments because they were located in neighborhoods the young people were trying to escape.
Natasha Lifton wrapped up the intense conversation by noting that there were some clear policy issues raised that afternoon that philanthropy could address, while Maryann Schretzman noted the same could be said about policies the city controlled.
| What's New
---