12.11.2017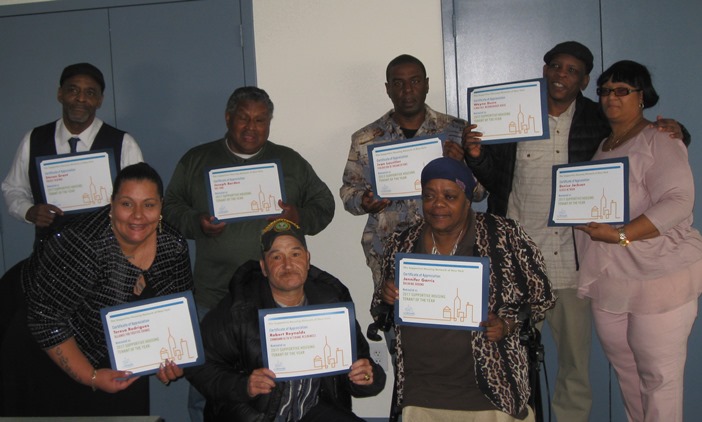 2017 Network Awards Gala Tenant of the Year Nominees.
Every year, the Network honors remarkable tenants at the Annual Awards Gala for their leadership and growth in supportive housing. Nominations this year were abundant and inspirational, so we decided to bring all tenant nominees together to share their stories, bond with other tenants and staff, and receive honorary certificates as a group. On November 30, supportive housing tenants came together at Fortune Society's Castle Gardens Residence for a celebratory breakfast. Together, we shared a meal, laughed, and connected across experiences in a truly meaningful gathering. Here are some of the conversations held throughout the event.

After decades of drinking, Joseph Borden (The Doe Fund) announced that he is proud to be sober for almost a year, despite all the challenges thrown his way. Joseph spoke with animation about his appreciation for supportive housing, grateful for how far he has come. He advocated for more scattered site residential groups, and adores and respects his case manager, Yolanda Jones, who was at his side throughout the event.
Wayne Dunn (Lennox Hill Neighborhood House) quit smoking this year with his program's smoking cessation class! He also works every week to plan, prepare, and serve community meals in his building. He also advocated for and attended Casa Mutua's Overdose Prevention Training for staff and tenants. He spoke with great enthusiasm for supportive housing, and is known as a strong and kind leader in his community.
Jennifer Garris (Breaking Ground/CUCS) spoke from the heart about the devastating impact of her husband's death, which led to her battle with alcohol, homelessness, and depression. She loves The Schermerhorn's Tai Chi and jewelry-making classes, and she makes her way down from the 11th floor of the building every Sunday to cheerfully wish all residents well and check in on her neighbors. "God is not done with me yet," she explains. Ms. Garris is a true inspiration amongst tenants and staff.

Denise Jackson (Institute for Puerto Rican/Hispanic Elderly) bravely shared the traumatic story of witnessing her mother's murder, subsequent responsibilities as the family's "Cinderella," and eventual drug use and suicide attempts. Today, she is a mother of five, grandmother of 24, and has a great-grandchild on the way. She gives back to her community and has committed to sobriety and wellness in honor of her mother. She is known as one of the most active, beloved, motivating and respected tenants in her building, and had comforting words of support and love for everyone present.

Ivan Lassitier (Federation of Organizations) has shared, "In five years, I see myself living on my own, married, and holding down a good job. You have to stay positive. There are going to be obstacles ahead but you have to get up and dust yourself off. Keep doing the things that are right." Ivan attends Mosque every Friday and continues to connect with friends and family members. He is grateful for the structure of supportive housing, which has assisted him in the process of living fully to better thrive.

Jamicka Martin (Guidance Center of Westchester) shared her struggles with addiction and poignant reflections on how it impacted her child. She has now graduated with her Associates Degree in Applied Science and Chemical Dependency Counseling, and she is a certified Substance Abuse Counselor. She passionately spoke about how her journey has led her to help others, as her life's work is to support people struggling to find a power higher than their addiction. Jamicka spoke with confidence and love about her advocacy and her calling to give back.

Tina Miller (Services for the UnderServed) has lived in her residence since 2009, and praised every part of the journey! She proudly stated that she will stay there with her two children until she has saved enough money to buy a house, and she is actively pursuing her nursing degree at Bronx Community College, soon to enroll in Hunter College. A doting mother who has maintained her sobriety, Tina encouraged other tenants at the breakfast to network amongst peers, as that has been her pathway to positive changes in her life and her community.

Robert Reynolds was stationed in the Army years ago in Germany, and he shared the story of his recent return to what used to be the Army base and is now a high school. Robert spoke to the German school's graduating class! He has reconnected with his daughter in Germany after 32 years, and is eagerly anticipating his next visit to see her and his two grandchildren this spring. Robert entered and left the event smiling from ear to ear.
Teresa Rodriguez (Alliance for Positive Change) spoke openly about her years of drug addiction and the impact it had on her life, including a prison sentence. She is now sober and an advocate for other tenants and her community—she helps new residents get settled in with Housewarming Kits and runs weekly arts-and-crafts groups and movie groups. Teresa's work has recently been featured in the newspaper and on the local news, discussing the work she does for supportive housing! She connected with other tenants at the breakfast, expressing love, support and hope for others.

Alongside tenants, it was also wonderful to meet the dedicated staff who work with tenants daily and continue to help tenants create new pathways forward in supportive housing. CUCS Case Manager Phylisha Peters-Howard provided information about the innovative emotional healing group she is co-developing with tenants, utilizing relationships and trauma-informed tools to address painful emotional experiences, with an emphasis on tenant-driven curriculum development. Phylisha also spoke at length with Network staff about strategies to address diversity in spirituality and religious faith in tenants' recovery processes.
Network Executive Director Laura Mascuch addressed the group, thanking them for their strength and leadership, and providing the group with a brief history of supportive housing in New York. It was humbling and inspiring to hear from such amazing tenants and to honor their journeys—the Network will absolutely be holding a tenant breakfast in the years to come.
| What's New, Network Events
---
11.28.2017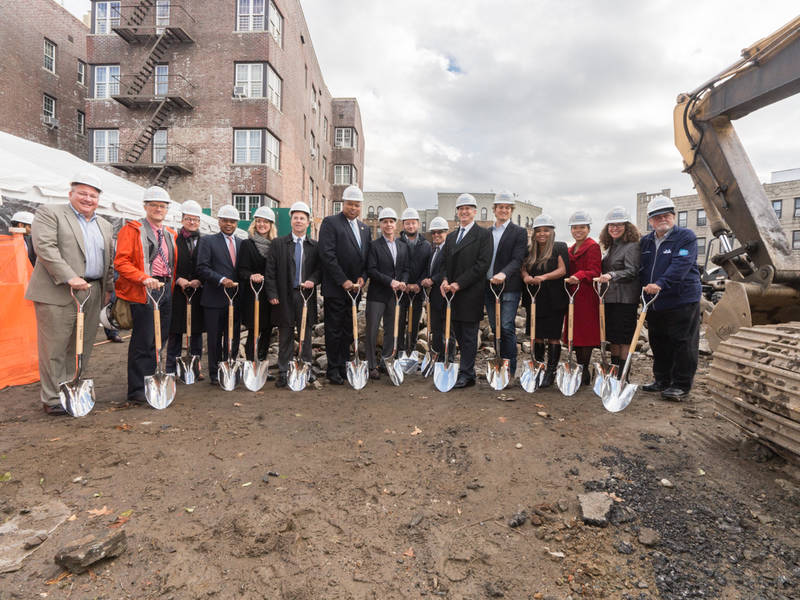 Breaking ground for Bedford Green.
Fifty city, state, federal, and private sector partners gathered on the construction site of Bedford Green House, an extraordinary new affordable/supportive housing development for the Bedford Park section of the Bronx that will feature, a living green façade, an interior green wall, and a rooftop aquaponic system to raise fish and produce in addition to a teaching kitchen, a community playground and a landscaped garden. The 13-story Bedford Green House will be built in two phases, with 118 units going up now and 90 units later. But that's not all that's new and exciting about the project, as Project Renewal CEO Mitchell Netburn pointed out in his welcoming speech: "Bedford Green House continues the organization's 50-year history of "firsts" including the first outreach to homeless alcoholics, the first non-hospital detox, and the first shelter for LGBTQI young adults. Bedford Green House will be Project Renewal's first project to serve families."
On hand to celebrate was Lynne Patton, HUD Regional Administrator for New York and New Jersey who quoted project consultant Jonathan Rose: "today we stick shovels in the ground to build gardens in the sky."
HPD commissioner Maria Torres-Springer pointed out that the project embodies the Mayor's newly released Housing 2.0 Plan, both by creating much needed affordable and supportive housing and through its dependence on a mission-based nonprofit as its developer/owner.
Assembly Member Jose Rivera strongly supported the project and the mission behind it, telling attendees that he too had been homeless when his family first came here, "and, if it wasn't for people like you…"
Also deeply moved was Chris Johnson, the CEO of Hollister, the contractor for Bedford Green House, who told participants that the project was an embodiment of the precepts his mother instilled in him: "You have to give to live."
Fred Harris of Jonathan Rose quipped, "If it takes a village to develop affordable housing, it takes a medium sized city to develop supportive housing."
Luminaries included Office of Temporary and Disability Assistance (OTDA) Commissioner Sam Roberts, NYC Housing Development Corporation (HDC) President Eric Enderlin, Bank of America's Todd Gomez, Bronx CB 7 Chair Adeline Santiago, Deutsche Bank's John Kimble, and CSH's Jen Trepinski.
On site services will include primary medical care, mental health treatment and support, substance use disorder counseling and treatment, conflict resolution, domestic violence counseling and support, family reunification services, horticultural therapy, nutritional counseling, healthy cooking workshops, occupational therapy, STD / HIV prevention, treatment, and support, and respite / alternative caregiving. On site services will be funded by the NYC Department of Health and Mental Hygiene and the Human Resources Administration.
Bedford Green House was financed under HDC's Extremely Low- and Low-Income Affordability (ELLA) program and HPD's Supportive Housing New Construction program. The total development cost for the project is over $58.8 million. HDC provided volume cap bonds, recycled tax-exempt bonds, and nearly $7 million in corporate reserves. HPD provided $8.85 million in City subsidy, inclusive of $2 million in HUD HOME funds and Low-Income Housing Tax Credits (LIHTC), Bank of America served as tax credit investor and provided the construction letter of credit. NYS OTDA provided funding under the Homeless Housing and Assistance Program (HHAP). Additional grant funding was provided by TD Bank and Deutsche Bank Foundation. CSH provided predevelopment loans.
Bedford Green House's development team is led by Mitchell Netburn and Sam Wells at Project Renewal, and consulting services were provided by Jonathan Rose and Dale White at The Jonathan Rose Companies. Hollister Construction Services is serving as the general contractor. Architectural design services are provided by Andrew Knox of Edelman Sultan Knox Wood Architects.
| What's New, New York City, Groundbreakings
---
11.27.2017

Renaissance Village, affordable/supportive housing for homeless veterans on Long Island was developed with Private Activity Bonds that have been eliminated in House's version of tax reform.
While both the Senate and House versions of tax reform would result in huge deficits that will impact all non-defense spending including homeless housing programs, the House bill (HR 1) that passed on November 16, would have a devastating impact on affordable and supportive housing by eliminating tax exempt private activity bonds (PAB). These bonds provide capital funding in conjunction with the 4% LIHTC. These credits are available as-of-right, and automatically qualify for PABs. They are responsible for about half of the affordable housing development across New York State.
While HR 1 preserves the 9% Low Income Housing Tax Credit (LIHTC), drastic proposed cuts to the corporate tax rate will erode the LIHTC's value by an estimated 25%.
It is estimated that the state will lose $4.5 billion dollars and 17,000 units of affordable housing annually with these changes. Also eliminated are Historic Tax Credits and New Market Tax Credits, two valuable tools used to spur housing and community development.
The Network, along with a broad swath of affordable housing groups and housing agencies, immediately began advocating against HR1: We alerted our membership to share their opinions about the bill with their representatives; we put out a joint press release; and we published editorials defending the restoration of private activity bonds to the bill. We also led a series of key meetings in Washington, D.C. with several of the Republican representatives whose votes were in play.
In the end, all amendments to the bill were defeated along straight party lines. HR1 passed with 227 votes for, and 205 votes against, with only 13 Republicans voting against it. This group of Republican dissenters includes five New York State representatives: Donovan, Faso, King, Stefanik, and Zeldin, whose opposition was based primarily on the elimination of deductibility for state and local taxes. The PAB cuts are a concern that several of these representatives raised during a press conference explaining their votes. All Democrats voted against the bill.
The Senate Finance Committee introduced its own tax reform bill, after rejecting the House bill unanimously. This bill preserves the PAB, and the 9% LIHTC although, again, the drastic cut to corporate tax rates will lead to the same 25% devaluation of tax credits. It will only require a majority to pass in the Senate, which is closely divided. Both New York Senators are opposed, as are the rest of the Democrats. This bill passed out of the Finance Committee and will face fierce debate on the senate floor. A vote is expected after Thanksgiving recess. If this competing bill passes, the House and Senate will form a reconciliation committee to produce a final version of the bill.
Attempts are also being made to improve both versions of the bill, by addressing the loss of value to the 9% LIHTC, and by adding provisions of the Cantwell-Hatch bill that would improve the efficiency of the program. Some of these provisions may make it into the final Senate bill. Unless the Senate bill fixes the loss in valuation of the credit, there will be a significant loss of capacity to develop affordable and supportive housing.
In other news, The FY 2018 budget has yet to be resolved. At the beginning of the tax reform process the House agreed to the Senate's higher overall budget numbers, to allow for the Senate to vote on tax reform under reconciliation, which requires a simple majority. In general, the last Senate HUD budget proposal, was the most favorable to supportive housing with modest increases to McKinney and Section 8, and flat funding in other key programs. The final budget details have not been formalized and another short term continuing resolution is expected, as the current CR expires December 8.
The Network will continue to work with our local affordable housing partners and our national partners, including the ACTION Coalition, National Alliance to End Homelessness and the National Low Income Housing Coalition to fight for increased resources for affordable and supportive housing.
| What's New, Funding, Federal
---
11.27.2017
The Network's collaboration with the Center for Urban Community Services (CUCS) Institute continues this year with an exciting roster of upcoming trainings.
Next up this year is a training on Foundations of Motivational Interviewing, Part 1:
Motivational Interviewing (MI), developed by Millerand Rollnick, is an intervention that helps people recognize and address problem behavior (present or potential), and is intended to help resolve ambivalence and to get a person moving along the path to change. MI serves as an important prelude to other treatment and services by creating an "openness" to change, which paves the way for further important therapeutic work. This training provides an introduction to the basic principles and skills associated with MI including OARS (Open Questions, Affirmation, Reflective Listening, and Summary Reflections), expressing empathy, rolling with resistance, and avoiding common roadblocks to change. It also offers a foundation for Motivational Interviewing Part 2, which expands these skills into actual "change talk" and promotion of commitment to change.
This training is accredited as a New York State Social Work Continuing Education Course and OASAS Certified. You can register for this training here, and use the code SHNNY-MI-12-12-17 as the coupon code for your membership discount.
Founded in 1979, the Center for Urban Community Services (CUCS) is a comprehensive human service agency and the nation's largest provider of supportive housing social services. The CUCS Institute is a leader in the provision of training to professionals in New York City and nationally. The trainers are at the forefront of emerging research and train on a range of topics related to housing and homelessness, behavioral health, criminal justice and clinical practice. The CUCS Institute is recognized as a continuing education provider by the New York State Education Department's State Board for Social Work for licensed social workers and by New York State's Office of Alcohol and Substance Abuse Services (OASAS).
For more information on registering or training content, please contact CUCS Institute.
| What's New, New York City, Network Events
---
11.22.2017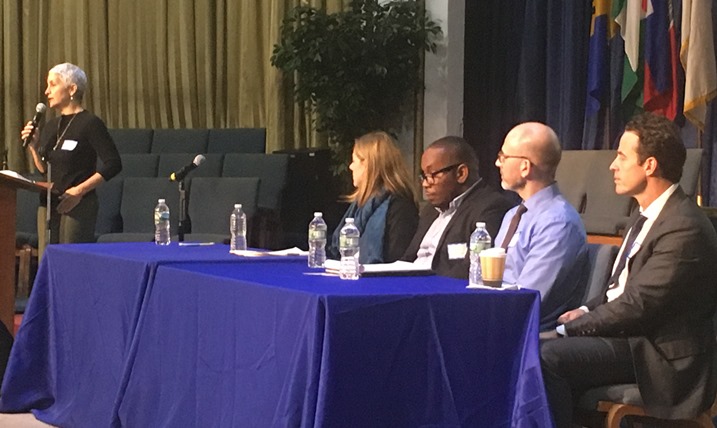 Network Executive Director Laura Mascuch and the panelists at our event on working with mission-driven nonprofits to develop supportive and affordable housing.
Some fifty members of the faith community gathered at New Greater Bethel Ministries (NGBM) in Queens to hear how their churches can work with mission-driven nonprofits to develop supportive and affordable housing. Invited by Dominic Dummett of Signature Building Consultants, hosted by NGBM's Pastor John Boyd and organized by the Network, the gathering featured presentations by the Network's Laura Mascuch, HPD's Theresa Cassano, Association for Neighborhood and Housing Development (ANHD)'s Benjamin Dulchin and RiseBoro's Scott Short.
In his opening remarks, Dominic referenced the context for the day's conversations – namely that churches, plagued by near daily offers by developers have been making ill-advised deals to sell their properties. By partnering with mission-driven nonprofits to develop affordable and supportive housing, however, faith leaders can both gain assets and further their mission to care for "the least of these."
Laura kicked off the morning by talking about supportive housing's deep roots in the faith community, having been invented and promulgated by faith leaders in the early 80s and having, at its core, the intention of helping the most vulnerable among us achieve independence and a life of dignity in the community. She also informed those assembled that between the City's and State's commitments to supportive housing, there are significant resources available to develop residences in New York.
HPD's Theresa Cassano then presented on the numerous programs the City has to encourage the development of supportive and affordable housing. She also walked attendees through the concrete steps faith-based institutions need to take in order to start the process.
ANHD's Benjamin Dulchin then spoke briefly about the importance of working with organizations that share the same values as faith based organizations hold, ticking off the benefits of churches partnering with community-based nonprofit developers. ANHD recently published a white paper about the fact that buildings developed by nonprofits have a deeper level of affordability than those built by for-profits.
Scott Short, of RiseBoro (formerly Ridgewood Bushwick Senior Center) then presented on a number of actual projects that have been developed or are in process of being developed as a result of partnerships with faith-based organizations. In one instance, the church sold its property outright, in another the church was a true Joint Venture partner and in a third the church receives a new worship space and additional rentable commercial space and is providing a long-term ground lease.
A lively well-informed question and answer period followed including questions about the Attorney General's role in these deals (the AG must approve any transfers of church properties) and how churches can know whether they're being taken for a ride ("get a good lawyer")– and what are the different levels of affordability? (ANHD passed out cheat sheets on Area Median Income).
Thank you to everyone who participated and especially to our host, Pastor Boyd and the amazing people at New Greater Bethel Ministries.
| What's New, New York City, Network Events
---
11.21.2017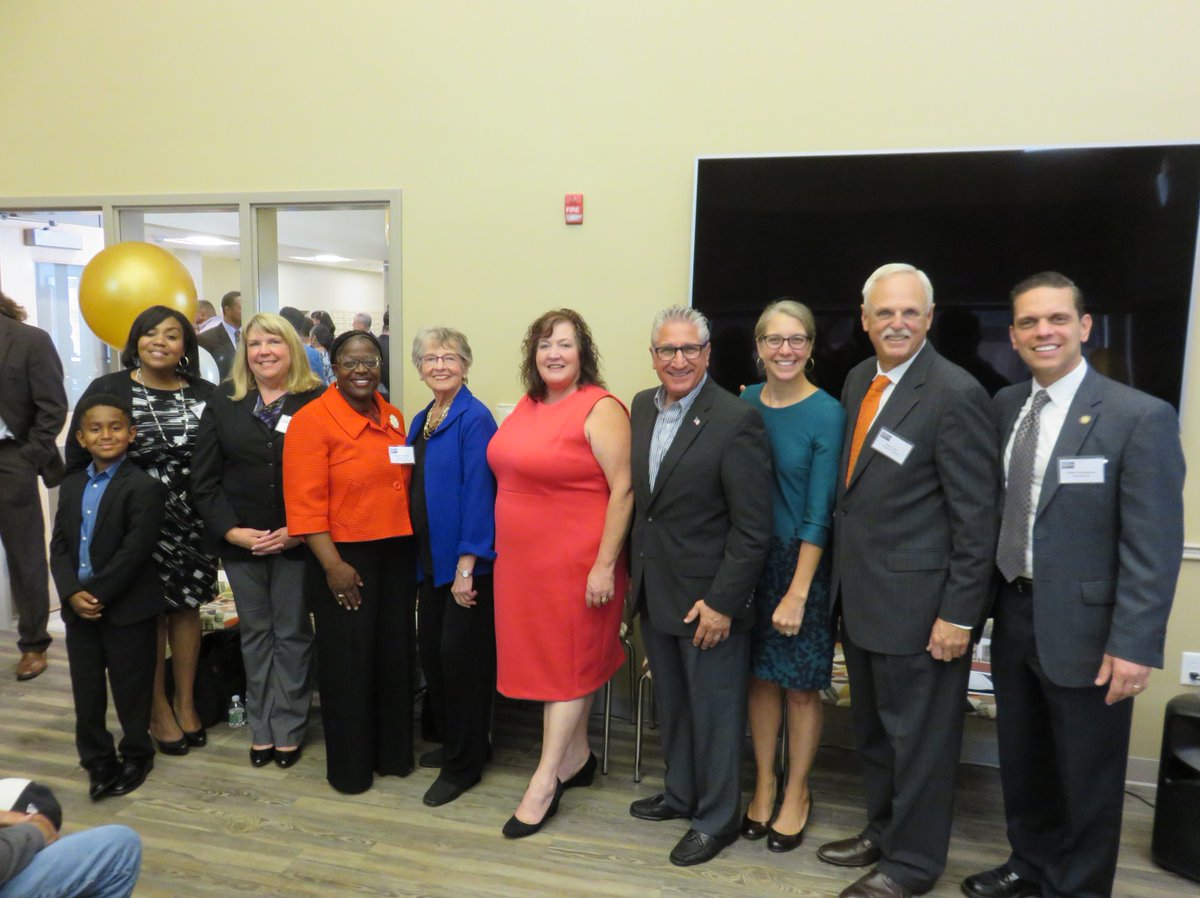 Celebrating the opening of Joseph L. Allen Apartments with Joseph L. Allen's daughter Lakeia Allen-Bowman; his grandson, Raymond Joseph Allen-Bowman; Schenectady Community Action Program Executive Director Debra Schimpf; Schenectady City Councilwoman Marion Porterfield; Vice Chair of the County Legislature Karen Johnson; Associate Commissioner for the Adult Community Care Group within the Division of Adult Services at the New York State Office of Mental Health Moira Tashjian; Senator James Tedisco; New York State Homes and Community Renewal Commissioner RuthAnne Visnauskas; DePaul President Mark Fuller; and Assemblyman Angelo Santabarbara.
The opening of DePaul's Joseph L. Allen Apartments October 5th was an especially heart-warming event: in addition to local and state luminaries, the family of Mr. Allen, Schenectady's first African-American councilman, was on hand. "He would be proud," said his daughter Lakeia Allen Bowman of having the beautiful new Hamilton Hill residence named after him. "He would be humbled, and he would shed a few tears."

Lakeia's young son Raymond added: "Every time I pass the building, it reminds me of how great my grandpa was."

The striking apartments - with gray and orange exterior accents - will provide homes to 51 families and individuals, with half the apartments set-aside for families and individuals struggling with mental illness and the other half providing homes to low-income families and individuals from the community.
Services are provided by Schenectady Community Action Program and funded by the Office of Mental Health (OMH). Onsite services include linkage to medical, clinical, vocational, educational, and recreational services
The environmentally-friendly apartment complex features a large community room with a full kitchen, a computer lab, a landscaped back garden, and free Wi-Fi. Throughout the building hang photos of local landmarks including City Hall, Veterans' Park and Jerry Burrell Park.
Welcoming those assembled, DePaul President Mark Fuller said "We are so proud to be part of the revitalization of the Hamilton Hill neighborhood community and to provide homes for people in need."
State Senator Jim Tedisco and County Legislator Karen Johnson, who served on the City Council with Allen, remarked that the development is a fitting tribute to Councilmember Allen who worked so hard to represent the people of Hamilton Hill.
HCR Commissioner RuthAnne Visnauskas told participants, "This nearly $18 million development enhances the lives of 51 households, strengthens the neighborhood and advances Schenectady's vibrant revitalization drive."
Other dignitaries at the event included Assemblyman Phil Steck, Assemblyman Angelo Santabarbara, City Councilwoman Marion Porterfield, and OMH's Moira Tashjian.

Funding for the Joseph L. Allen Apartments came from NYS Housing Finance Agency, NYS Homes and Community Renewal, NYS Office of Mental Health, JPMorgan Chase, and the Housing Trust Fund Corporation acting by and through the Governor's Office of Storm Recovery (GOSR). The syndicator was Red Stone Equity Partners, LLC. The architect was SWBR Architects and the contractor was Christa Construction.
| What's New, New York State, Openings
---
10.30.2017
THE SUPPORTIVE HOUSING NETWORK OF NEW YORK
JOB TITLE: Policy Analyst
About the Supportive Housing Network of New York
The Supportive Housing Network of New York represents more than 200 nonprofit organizations that have created over 50,000 units of supportive housing across New York State. An additional 35,000 units are slated for the next fifteen years: 15,000 from a New York City commitment and 20,000 from the State. The Network uses advocacy, public education, training, technical assistance, research and policy analysis to increase the public's understanding of supportive housing – affordable housing with voluntary services for formerly homeless people with disabilities and special needs. The Network identifies and shares best practices that continually improve the model's effectiveness and, most importantly, encourages the creation of enough supportive housing to end homelessness among the most vulnerable New Yorkers.
JOB DESCRIPTION:
As a member of the Network's larger policy team, the Policy Analyst will focus on budget and policy analysis, advocacy, research, and member support. This person will be responsible for monitoring legislative, programmatic and budgetary issues that may impact supportive housing. The position requires someone passionate about housing and homelessness issues who is able to work with nonprofit members, government, NYC communities and elected officials. Complementing the work of other policy team members focused on housing development and finance, this position is largely focused on policy related to social services.
The Policy Analyst position is full-time and will report to the Director of Policy and Planning. This position works out of the NYC office with frequent travel throughout NYC and requires occasional travel to Albany and Washington D.C.
Responsibilities Include:
Track and analyze City budget items, legislation and regulations that affect the supportive housing community.
Manage strategy to educate City Council, other elected officials and their staff on supportive housing issues.
Communicate with members and government partners to identify and resolve concerns related to supportive housing within the Department of Health and Mental Hygiene (DOHMH), the HIV/AIDS Services Administration (HASA), Department of Social Services (DSS), Department of Youth and Community Development (DYCD), Administration for Children's Services (ACS), and other relevant city agencies.
As needed, convene working groups, represent the Network externally in committees and campaigns, and coordinate lobbying visits and other advocacy events.
Draft policy papers, reports, testimony, newsletter articles and member alerts.
Co-lead and co-facilitate the Network's monthly meetings of members – the NYC Advocacy Committee, Young Adult Provider Group, and Family Provider Group –to discuss budget, policy, and programmatic issues and better understand the needs of tenants and providers.
Represent supportive housing providers as the Voting Member of the New York City Continuum of Care's (CoC) Steering Committee. Participate as a member of the Youth Committee and Performance & Quality Improvement Committee.
Supervise and manage college and graduate interns working within the policy team.
Alongside Network staff, provide hands-on assistance with the planning and implementation of the Network's three main annual events: the Gala (400+ attendees), the Conference (1,300+ attendees) and the Annual Meeting (200+ attendees). Assist with the coordination of other workshops and events as needed.
Qualifications:
Demonstrated commitment to issues of homelessness and/or low-income housing
Knowledge of local, state, and federal government budget and legislative processes
Must be detail-oriented and possess excellent research, writing and analytical skills
Capable of facilitating meetings with a wide range of stakeholders, including housing and social service providers, government agency staff and elected officials
Ability to work as part of a team as well as execute projects independently
Proficiency in Microsoft Office (Word, Excel, and PowerPoint)
Master's Degree in a relevant field (such as public policy, public administration, or social work) or equivalent experience (5+ years)
Background in human services field a plus
How to Apply:
To apply, send resume, cover letter, writing sample (500 words or less) and references to jobs@shnny.org. Please include "Policy Analyst" in the subject line of your email. No phone calls, please.
Salary and title are commensurate with experience. The Network is an equal opportunity employer.
| What's New
---
10.25.2017

Network members and panelists at our Rochester Capacity Building Initiative events.
On October 12th, the Network convened partners in Rochester for two events focused on meeting the ambitious new statewide supportive housing development goals.
In the morning, representatives from twenty of our nonprofit members participated in a workshop titled Joint Ventures: What's on the Table. Expert panelists included Kevin Hoffman of Richman Housing Resources, Karen Sherman of ShermanLaw, Michael Claisse of Bank of America, and Monica McCullough of MM Development Advisors. Attendees learned about the basics of Low Income Housing Tax Credit development, risks and rewards of tax credit projects, and what questions to ask when negotiating a joint venture development agreement. Whether they were new to development or had participated in dozens of deals, attendees walked away with a deeper understanding of how to approach a joint venture agreement and how to arrive at a deal that works best for the needs of their organizations. The Network looks forward to more programming on joint ventures as we strive to meet the development goals of the Empire State Supportive Housing Initiative (ESSHI).
Additional members from banks, tax credit syndicators, and for-profit developers joined us for a packed afternoon panel on ESSHI. Moderated by the Network's Laura Mascuch, the panel featured Moira Tashjian of the NYS Office of Mental Health, Richard Umholtz of the NYS Office of Temporary and Disability Assistance, and Leonard Skrill of NYS Homes and Community Renewal. Panelists reflected on the past year of ESSHI and answered questions about the program's implementation moving forward. According to the panelists, there were 182 applications in year two: 169 proposals with a total of 5,453 units received conditional awards.
Participants shared a great deal of information about the evolution of the initiative and imparted important information about conditional and permanent awards. To move from conditional to permanent award status,, a project must have all of its capital financing in place. Additionally, although the number of units in the project can change as the project moves forward, neither the population nor location may change from the conditional award. If groups are not 100% sure about their site location, it would be more prudent to not list the site. We are deeply grateful to Providence Housing Development Corporation for hosting this day in their beautiful Bishop Hickey Conference Center and to our generous panelists.
Check for upcoming events related to our Capacity Building Initiative here.
| What's New, New York State, Network Events
---
10.24.2017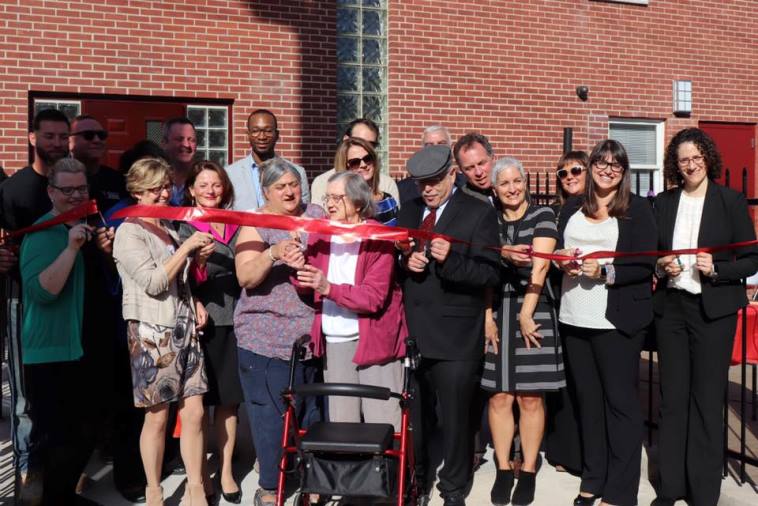 Cutting the ribbon at 411 Vanderbilt.
On an unseasonably warm sunny morning in late October, some fifty friends, staff, partners and well-wishers gathered in the front yard of 411 Vanderbilt to celebrate the long-awaited opening of Project Hospitality's (PH) first single site supportive housing residence in its 35 year history of serving homeless people on Staten Island. The project was also the first New York City project funded through the state's Empire State Supportive Housing Initiative (and only the second supportive housing residence to open on Staten Island). Both Project Hospitality's first Executive Director -- now CEO – Rev. Terry Troia and its new Executive Director Carrie Bloss were on hand to do the honors, as they helped cut the ribbon on 16 beautiful new apartments for formerly homeless individuals.
Project Hospitality Board Chair Rabbi Gerald Sussman told the story of the organization's twenty five year effort to build 411 Vanderbilt, which included multiple owners reluctant to sell, a long stretch in which the building was inhabited by squatters, and a fire that pretty much destroyed the building. Through the vision and tenacity of Project Hospitality and the project's architect Amie Gross, its contractor Mammoth Construction, as well as important funders, 411 Vanderbilt literally rose from the ashes.
Kimberly Smith of the Office for Temporary and Disability Assistance (OTDA) was not the first or last speaker to acknowledge the difficulties in developing this project. Ms. Smith and OTDA's Dana Greenberg presented Project Hospitality with a certificate of recognition from Commissioner Roberts as well as greetings from the Governor. Project Hospitality, for their part, gave out plaqued bricks to significant project partners including CSH, Capital One Richmond County Savings Foundation and the US Department of Housing and Urban Development (HUD).
CSH's Kristin Miller – whose organization had loaned PH the money to acquire the property -- noted that it had taken 25 years to make a loan for supportive housing on Staten Island, and predicted the next loan would not take as long.
Capital One's Heather Gershen pointed out that it "takes a village" not just to support our most vulnerable neighbors, but to support the groups that support them as well.
Arthur McCarthy of Mammoth Construction told listeners that he never forgot where he came from – a modest upbringing -- and that his "heart goes out to people who haven't been as lucky." He then proceeded to offer a check for $2,500 in his recently passed father's name to be used to fill the refrigerators of the 16 people who would be moving into 411 Vanderbilt over the next few days.
Also on hand were representatives from Richmond County Savings Foundation, HUD, OASAS, the Staten Island Foundation, the Network and HSU.
411 Vanderbilt was funded by HUD, OTDA, CSH, Deutsche Bank, Capital One and the aforementioned foundations. Service funding will come from the NYS Department of Health.
| What's New, New York City, Openings
---
10.24.2017

Beautiful Renaissance Village in Middle Island, NY. Photo credit: Kimathi Witt (2017 Tenant of the Year).
On October 16th, a beautiful, autumn day, Concern for Independent Living celebrated the opening of Renaissance Village, a 123-unit mixed-income supportive housing development in Middle Island, Suffolk County. Renaissance Village provides 50 units for homeless adults with mental health challenges who are high Medicaid users, 72 units for low-income individuals and families, and one superintendent unit.
After a warm welcome from Concern's Executive Director and Network Board Treasurer Ralph Fasano, Gail Lynch-Bailey, President of the Middle Island Civic Association, spoke movingly about how Renaissance Village is "not only a rebirth for all the people who are starting new lives, but for those of us who have been here a long time, and awaiting a rebirth for our community."
NYS Homes & Community Renewal (HCR) Assistant Commissioner Sean Fitzgerald was honored by Concern at the opening for the integral part he's played in making Concern's many supportive and affordable housing projects a success.
Other dignitaries who spoke at the opening included Commissioner Ann Marie T. Sullivan of NYS Office of Mental Health (OMH) who said "what is really successful is when individuals who are living with mental illness have the opportunity to become part of the community that will help them traverse that road of hope and recovery and that's what you're doing here;" Commissioner Samuel Roberts of NYS Office of Temporary & Disability Assistance (OTDA); Steven Bellone, Suffolk County Executive; Supervisor Edward P. Romaine, Town of Brookhaven; Sarah Anker, Legislator, Suffolk County; Councilman Michael Loguercio, Town of Brookhaven; Brian Loeb of Federal Home Loan Bank of New York; and Maurice Coleman of Bank of America.
Formerly underutilized land in the heart of Middle Island, Renaissance Village now features nine townhouse-style buildings; a community center with exercise room, a computer room, and ample outdoor space for residents to enjoy.
Funding for Renaissance Village was provided by HCR, OMH, Bank of America, County of Suffolk, Federal Home Loan Bank of New York, and Astoria Bank.
The development team included the law firms of Russo, Karl, Widmaier & Cordano, and Nixon Peabody, the project's attorneys; Belfor Long Island, the general contractor; DeLaCour, Ferrara & Church, the project architect; and Betts Housing Consultants.
| What's New, Member News, Openings
---