06.19.2017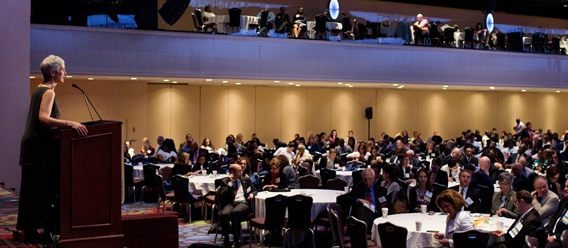 Network Executive Director Laura Mascuch addressing the crowd at the 17th annual New York State Supportive Housing Conference.
The 17th Annual Supportive Housing Conference was a celebration of our community's remarkable achievement in winning historic state and city commitments to create 35,000 supportive housing units over the next fifteen years. The Network's new Board Chair Brenda Rosen welcomed the crowd. Network Executive Director Laura Mascuch introduced Assembly Member and key legislative ally Andrew Hevesi who reminded us of how much we've achieved, and of what challenges remain in the coming years. The National Executive Director of the Children's Defense Fund Richard A. Hooks Wayman delivered a stirring keynote speech on the particular challenges facing homeless families and children in our country.
The conference took off with eight simultaneous workshops to follow the morning session including a discussion with key city and state policy makers, "NYC & NYS: Addressing the Homelessness & Affordable Housing Crisis" with NYC Department of Housing Preservation and Development (HPD) Commissioner Maria Torres-Springer, NYC Department of Social Services Commissioner Steven Banks, NYS Homes and Community Renewal (HCR) Commissioner and CEO RuthAnne Visnauskas, NYS Office of Temporary and Disability Assistance (OTDA)'s Executive Deputy Commissioner Barbara Guinn, and NYS Office of Mental Health (OMH) Commissioner Dr. Ann Marie T. Sullivan, and moderated by the Network's Laura Mascuch.
Jonathan Soto of the NYC Center for Faith and Community Partnerships moderated our workshop on creating partnerships with faith-based organizations to develop supportive housing, and featured Greg Maher of The Leviticus Fund, Sam Marks of Local Initiatives Support Corporation NYC, Richard Nightingale of Westhab, and Pastor Kermitt Williams of Kingdom Faith Developers.
Another morning panel focused on promoting people of color in leadership roles, and featured Elizabeth Garcia of Good Shepherd Services, Dr. Rosa Gil of Comunilife, Kelsey Louie of GMHC, and Frederick Shack of Urban Pathways, and was moderated by the Network's Edline Jacquet.
Another popular session, "Innovating with ESSHI," featured David Condliffe of Center for Community Alternatives, Lee Dillon of Tompkins Community Action, Paul Freitag of West Side Federation for Senior and Supportive Housing, Jennica Petrik-Huff of The Community Builders, William J. Simmons of Syracuse Housing Authority and Martin Teller of Finger Lakes Area Counseling & Recovery Agency, and was moderated by the Network's Stephen Piasecki.
Attendees enjoyed a networking luncheon and then returned for two rounds of afternoon workshops.
Some highlights from the afternoon workshops included a thought-provoking conversation about how the City's commitment to creating 15,000 new units of supportive housing is going to be realized with HRA's Patricia Dawson, HPD's Emily Lehman, and Katherine O'Sullivan of the NYC Department of Health and Mental Hygiene, and moderated by HRA's Michael Bosket.
A standing-room-only discussion on best practices for intervention and a safety planning framework to prevent the escalation of violence within the specific context of supportive housing featured Maureen Curtis of Safe Horizon, Lisa Rachmuth of HRA, and Joscelyn Truitt of Brooklyn Family Justice Center/Mayor's Office to Combat Domestic Violence, and was moderated by HRA's Daniel Tietz.
Dan Berstein of MH Mediate, and Maria R. Volpe of the John Jay College of Criminal Justice discussed different approaches to conflict resolution, in our first-ever workshop offering on this subject, and were introduced by Community Access' Steve Coe.
Nixon Peabody's Deborah VanAmerongen moderated a panel on how our community can work together to protect the programs vital to the creation of supportive housing under the Trump administration, that featured Steve Berg of National Alliance to End Homelessness, Emily Cadik of Enterprise Community Partners and Sarah Mickelson of National Low Income Housing Coalition.
Another afternoon workshop "Addressing Youth Homeless in New York City," moderated by City Council person Ritchie Torres, featured David Hansell of NYC Administration for Children's Services, Susan Haskell of NYC Department of Youth & Community Development and Maryanne Schretzman of NYC Center for Innovation through Data Intelligence.
Rachael Pine of the Altman Foundation moderated a popular workshop on Urban Pathways' program for integrating healthcare in housing that featured Kishea Paulemont, Ariana Saunders, and Irene Treadwell of Urban Pathways, and Freddy Fortoso of EssenMed Health Care.
Following a brief coffee break sponsored by Capital One, participants reconvened for a final round of workshops, including an intensive analysis of the first year of the Empire State Supportive Housing Initiative (ESSHI) with HCR's Sean Fitzgerald, Kerri Neifeld of the NYS Governor's Office, OMH's Moira Tashjian, and OTDA's Richard Umholtz, and moderated by DePaul's Mark Fuller.
A discussion on financing development in uncertain times featuring HCR's Leora Jontef, Paula Roy Carethers of NYC Housing Development Corporation, Ralph Fasano of Concern for Independent Living, and Martin Dunn of Dunn Development Corporation, moderated by Richard Roberts of Red Stone Equity Partners, was a hit with attendees.
Mount Sinai-Beth Israel Hospital's Chauntel Gerdes moderated a standing-room-only panel that offered tools to help agencies work through secondary stress with staff, and featured Mary Adams of University Settlement/The Door, Shaun Adams of Center for Urban Community Services, and Celso Batista of Breaking Ground.
This year's workshops reflected the incredible diversity of our community. Check out workshop PowerPoints, watch videos, and listen to audio files of our workshops here.
Lamb Financial Group sponsored our ever-popular cocktail reception in the Marriott Marquis' spectacular lounge overlooking Broadway.
We'd like to express our enormous gratitude to everyone who attended, spoke at, and volunteered for the conference. We salute you, and we thank you for working together to win the largest commitment to supportive housing in history. Hope to see you again at next year's conference!
Watch our conference slideshow here.
| What's New, Network Events
---
05.24.2017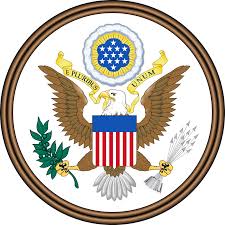 On May 23rd, President Trump released his first budget proposal for FY 2018, which begins October 1, 2017. While it provides more detail than the "skinny budget" short-form budget released in March, it slashes domestic spending dramatically and HUD programs are specifically under attack. Whole block grant programs (which are critical to the production of supportive housing), including Community Development Block Grant and HOME Investment Partnerships are eliminated, along with the Interagency Council on Homelessness. It also strips funding from the National Housing Trust Fund, funding specifically targeted to building affordable housing to the nation's poorest households. The Veterans Affairs Supportive Housing (VASH) receives no new vouchers in the president's budget proposal.
Existing rental assistance programs are impacted. Tenant and Project Based rental assistance is cut by 5%. More than 250,000 households will lose housing assistance that protects them from eviction, at least 25,000 in New York State alone. Even the popular and effective McKinney-Vento homeless assistance grant program faces a 5% cut, which would shutter existing supportive housing programs next year.
Beyond HUD cuts, this budget proposal does not spare even safety net programs. Medicaid, Supplemental Nutrition Program and even Social Security Disability face cuts. Fortunately, it is up to Congress to produce a budget, and many members of Congress have already declared this budget dead on arrival. Still, your representatives need to hear from you. Please follow the links below from the National Low Income Housing Coalition to weigh in.

Take action now:
Call your members of Congress and urge them to protect critical resources for affordable housing. Here is a script for you to use:
Please reject the president's proposed budget that slashes HUD investments that provide millions of Americans with affordable homes. These resources keep roofs over the heads of low income families, seniors, people with disabilities, low-wage workers and other vulnerable people. We need a budget that fights homelessness, not one that increases it. Funding affordable housing is a smart investment that leads to better health and education outcomes and boosts economic mobility and the local economy. Our communities are stronger because of HUD programs. Instead of making harmful cuts, I urge you to work with your colleagues to lift the spending caps on critical domestic programs like those at HUD.
Email and tweet members of Congress.
To read about the finalized FY 17 HUD budget, click here.
| What's New, Funding, Federal
---
05.24.2017


Scenes from the 2016 conference.
We hope you will join us for the 17th Annual New York State Supportive Housing Conference! This year's conference will take place on Thursday, June 1st at the New York Marriott Marquis in New York City. You may register online for this event through the end of the day, Friday, May 26th.
This year, the conference will focus on how our community will implement Mayor de Blasio's and Governor Cuomo's historic commitments to create 35,000 units of supportive housing over the next fifteen years.
There will be 23 different workshops on subjects of critical importance to our supportive housing community. Click here to read more about our 2017 conference workshops.

The New York State Supportive Housing Conference is the single best
place for supportive housing's leaders to learn what is going on in our
world. We expect 1,500 guests this year and will hear from more than
100 experts, innovators and leaders in the field.
Date: Thursday, June 1, 2017
Time: 8:00am-6:30pm
Location: New York Marriott Marquis
Address: 1535 Broadway, New York, NY 10036
If you'd like to register for the conference after May 26th, please contact Raj Hosein via email or fax this form to 646-237-8505.
Hope to see you on June 1st!
| What's New, Network Events
---
05.24.2017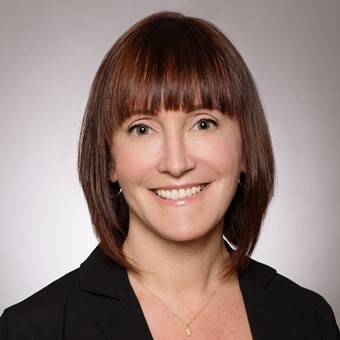 On May 17, the Network welcomed Brenda Rosen, President and CEO of Breaking Ground, as the new Chair of our Board of Directors. Ms. Rosen replaces Richman Housing Resources LLC President William Traylor, who stepped down as Board Chair after twelve years of dedicated service in this role.
"Few people have contributed more to the supportive housing movement and to the Network's growth than Bill Traylor and we are deeply grateful that he will continue to share his expertise on the board," said Network Executive Director Laura Mascuch. "We are also greatly blessed to have Brenda as our new Board Chair. Personally and professionally her unique understanding of policy and practice combined with her enormous heart and passion will be a great asset to the organization, our members and to me."
Outgoing Board Chair and one of the founders of supportive housing, Bill Traylor commented: "The Network is fortunate to have as its new Board Chair someone of Brenda's stature, vision and outstanding talent. "
"The Network has long been among the greatest champions of supportive housing, not just for New York but nationwide, advocating on behalf of nonprofits that care for our society's most vulnerable" said Ms. Rosen. "I am honored to serve as this organization's new Board Chair at such a critical time for commitments to address homelessness in New York, and take these reins from my colleague William Traylor who had provided such outstanding leadership to grow The Network's reputation and impact over many years."
Ms. Rosen has devoted her career to the issue of homelessness, first as an attorney in New York City's Department of Homeless Services. She joined Breaking Ground in 1999 as Director of the Prince George, was named Director of Housing Operations and Programs in 2006 and became President and CEO in 2011. She has served on The Network's board since May 2013.
Breaking Ground is New York's largest supportive housing provider, with 19 permanent and transitional housing residences in New York City, upstate New York and Connecticut and an additional 1,694 supportive and affordable units in development.
| What's New
---
05.23.2017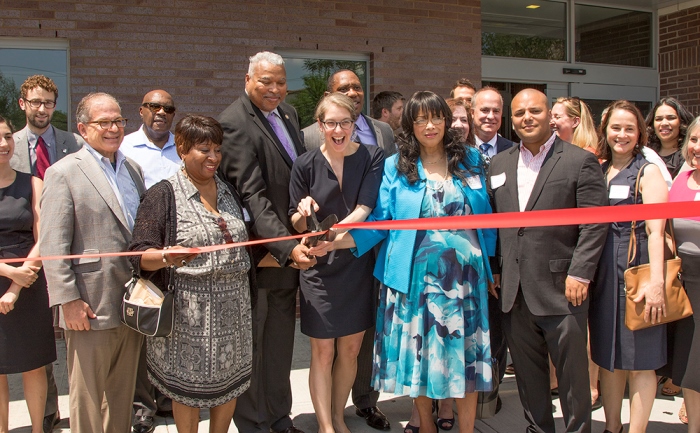 Cutting the ribbon at Norwood Terrace.
More than 80 partners, staff, tenants and well-wishers gathered May 19th to celebrate the opening of Norwood Terrace, a new affordable/supportive residence developed by B&B Urban and Concern for Independent Living in the Norwood section of the Bronx. The 115-unit residence features a library, a computer lab, and a roof garden in addition to its mix of efficiency, one, two and three bedroom apartments; the building is now home to formerly homeless individuals as well as families and individuals from the community.
Concern's Executive Director Ralph Fasano welcomed guests and marveled at the number of people and agencies whose commitment and passion had resulted in Norwood Terrace. He noted the complexity of the project and thanked the agencies, investors, syndicator, lawyer, architect and builders. He even gave the Network a shout-out for its work leading to the creation of the Medicaid Redesign Team Supportive Housing Program, which invested capital in the building to house homeless high cost Medicaid recipients. Mr. Fasano lavished special praise on co-developer Alan Bell of B&B Urban whose "genius" made the project – which knit together eleven sources of funding – work.
Mr. Bell for his part returned the compliment, noting that Norwood Terrace was his first full 50/50 partnership with a nonprofit developer: "Little did I know that I was starting with the best."
HCR Commissioner RuthAnne Visnauskas congratulated the many partners and pointed out that the Governor had just the day before signed legislation authorizing $1 billion for 6,000 units of supportive housing.
Other speakers included OTDA's Samuel Roberts, OMH's Moira Tashjian, Bank of America/Merrill Lynch's Todd Gomez, Richman Housing Resources' Moshe McKie-Krisberg and CSH's Jennifer Trepinski. Brian Loeb of the Federal Home Loan Bank noted that Norwood Terrace was the bank's 13th collaboration with Concern. He encouraged more nonprofit supportive housing developers to "come find us." HPD's Emily Lehman pointed out that the project used $2 million in HUD HOME funding – which, in turn, leveraged tens of millions in state and private financing. She encouraged the crowd to continue to advocate for the HOME program which is currently threatened with devastating cuts.
As always, the highlight of the event came from the new tenants. Victor Rosado brought up Concern staffer Ruth Mercadoto translate his speech from the Spanish. Mr. Rosado told guests he had been homeless and had struggled with a number of issues, including diabetes for years before he came to Norwood Terrace. He said that thanks to his new home and his new Concern family "I am a new man."
Resident Diane Silver also spoke glowingly of her new home and the spectacular staff at Norwood Terrace. She called Ralph her "fairy godfather".
Funding for the project came from NYS Homes and Community Renewal, NYS Office of Temporary and Disability Assistance, NYC Department of Housing Preservation and Development, Federal Home Loan Bank, and CSH. Bank of America Merrill Lynch invested in tax credits which were syndicated by Richman Housing Resources. On-site services are funded by the Office of Mental Health. Hirschen Singer & Epstein were the project's attorneys. HLS Builders Corp. was the general contractor, MHG Architects PC the project architect and Betts Housing Consultants the project consultant.
| What's New, New York City, Openings
---
05.22.2017

Sharing a blessing at the forum for leaders of faith institutions. Photo credit: Chris Lowry.
On May 12, the Network, in partnership with the Mayor's Center for Faith and Community Partnerships, and the NYC Department of Housing Preservation and Development, hosted a forum for leaders of faith institutions who may want to either develop or champion supportive housing. Generously donated by Breaking Ground, the ballroom of their beautifully-restored supportive housing residence, The Prince George, served as a perfect setting for the event.
Jonathan Soto, Executive Director of the Mayor's Center for Faith and Community Partnerships, welcomed the crowd of 100. Network Executive Director Laura Mascuch, introduced attendees to supportive housing and its history, noting its strong roots in the faith community.
Jessica Katz, Associate Commissioner of NYC Department of Housing Preservation and Development (HPD), encouraged attendees to lead their communities in advocating for supportive housing when nonprofits come to communities seeking support for new residences,
Breaking Ground's David Beer talked about two projects completed in partnership with faith-based organizations. In one, Breaking Ground worked with a church to both buy property and air rights, allowing Breaking Ground to develop 115 units of supportive housing while allowing the church to pay off its mortgage and renovate its worship space. In another example, Breaking Ground worked with South Bronx Churches who helped champion plans for the Brook residence in the South Bronx.
Yvonne Stennett, of Community League of the Heights, eloquently described how important it is to get to know people who live and work in supportive housing, saying, "Many of the naysayers just don't understand and are afraid." She also observed that "creating housing with supportive services for our most vulnerable people is God's work."
Reverend Laura Jervis, who founded West Side Federation for Senior and Supportive Housing, made comments that resonated deeply with the audience: "The faith community has advocated for people who are homeless since time immemorial. We have more in common than we have differences."
She continued, "If you are considering sharing your property and resources – as people of faith, we know we are just stewards, of the property we occupy, I'd like to leave you with four ideas:
It takes some spiritual strength to develop housing. I would suggest that you draw deeply upon the resources in your faith tradition. That you really dig into your sacred texts. That you pray, you meditate, you ask your worship leaders to preach on what it means to be a member of your faith and to care for others. What are you being called to do in the face of this crisis.
The second thing is to get to know a supportive housing building in your neighborhood. Get to know the staff, but also the folks who live there. There are many ways to do that. They will remind you of people in your family, people you already know. You can drop off magazines, stop in, volunteer to help with the garden, lead a group.
The third thing is to step up when a nonprofit group is siting a building in your neighborhood. Understand what the development is going to be, what it's going to look like, and support it even when it goes against the opinions of your neighbors. Dig deep to do the right thing and welcome these new neighbors into your community.
And the fourth thing is to follow up about today's event. The nonprofit partner organizations would love to come and talk with you about what it means to share your property with supportive housing. You'll find yourself being a prophetic voice and a moral voice."
Our deep thanks to our speakers, to the leaders of faith institutions who joined us for the event, to our partners at the Mayor's Center for Faith and Community Partnerships, and the NYC Department of Housing Preservation and Development. Our hope that this is the first step in a fruitful journey together!
| What's New, Network Events
---
05.22.2017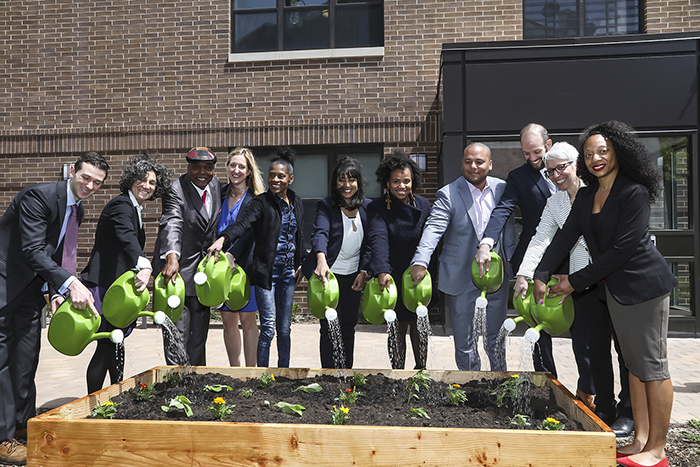 Watering the new garden at SUS' Henry Apartments.
On a sunny May morning, Services for the UnderServed celebrated the opening of Henry Apartments, a beautiful new supportive housing development, in Ocean Hill, Brooklyn, co-developed with Alembic Community Development. The new development, consisting of two neighboring six-story buildings is named after community leader Stan Henry, who, for more than forty years, was the owner and operator of a hardware store that occupied one corner of the development site. As described by Alembic's Benjamin Warnke, "Mr. Henry worked tirelessly to acquire the long-vacant lot adjacent to the store and to complete this project, the latest chapter in a lifetime of service to the neighborhood."
Henry Apartments features 134 total units: 78 supportive units, for formerly homeless individuals with the remaining one-, two-, and three-bedroom affordable apartments for low-income families and individuals.
SUS' Chief of Staff Judith Jackson welcomed guests and made note that "this is not a ribbon-cutting," which, she noted, is all about the building. "This is a housewarming, an occasion that's focused on our building's tenants." (Hence the picture above). CEO Donna Colonna spoke of her gratitude to SUS' "amazing team" and gave a special shout-out to Senior Vice President of Real Estate and Property Development Arlo Chase, for the critical role he played in bringing Henry Apartments into existence.
Tenant Angela Thomas shared some thoughts about how Henry Apartments has transformed her life: "I'd been living in a shelter for five years. I'm 60 years old. I thought I'd never get out, there was stealing, there was beating…when I saw Henry Apartments and how big that studio was, I saw God."
Other speakers at the event included Paula Roy Carethers of NYC Housing Development Corporation, a representative from the office of Senator Velmanette Montgomery, and Genese Morgan, the Chair of Brooklyn Community Board 16. HPD Deputy Commissioner Molly Park described Henry Apartments as a remarkably successful collaboration between the community, government agencies, and SUS.
The two buildings feature, a lovely outdoor recreation space including an area designed for urban farming, and many other typical amenities. On-site services are provided by SUS and are funded by the NYS Office of Mental Health.
Funding for the project was provided by NYC Housing Development Corporation, NYC Department of Housing Preservation and Development, and Corporation for Supportive Housing. The tax syndicator was Richman Housing Resources. The development's architects were Peter L. Woll and Alphonse Diaz and the contractor was Mega Contracting.
| What's New, New York City, Openings
---
05.19.2017

Governor Andrew Cuomo with advocates at the bill signing.
Yesterday Governor Andrew Cuomo, accompanied by Speaker of the New York State Assembly Carl Heastie, Building and Construction Trades Council of Greater New York President Gary LaBarbera, and Breaking Ground's President and CEO Brenda Rosen, signed a historic bill announcing $2.5 billion for the creation and preservation of 6,000 new units of supportive housing and over 110,000 units of affordable housing over the next five years, in the ballroom of Breaking Ground's The Prince George. This capital funding is the first installment in the Governor's unprecedented commitment to build 20,000 new units of supportive housing over the next fifteen years.
A standing-room-only crowd of advocates, government representatives, and members of the building and construction trades, loudly cheered the Governor as he outlined his vision for a progressive New York, following in the footsteps of FDR, "who said, basically, 'I don't care how those at the top are doing. That's not how we quantify success. It's how the people on the bottom are doing, which really tells you whether or not you are a success.' " Governor Cuomo pointed out that The Prince George, a 402-unit supportive housing residence that had been a former welfare hotel, is a model of "exactly what we should be doing" - investing in quality supportive housing.
"Providing New Yorkers with truly affordable housing has long been a cornerstone for the New York State Assembly Majority's Families First agenda," said Speaker Heastie. "The cost of living in New York has left many of our most vulnerable residents homeless or in jeopardy of homelessness and this legislation will help us stem the tide and make meaningful change in our communities. Safe, secure, and affordable housing is essential to our communities, and I would like to give special thanks to Assemblymember Cymbrowitz, chair of the Housing Committee, and to all the Assembly Majority for their continued commitment to this issue."
Network Executive Director Laura Mascuch said "With this funding, New York State has demonstrated a historic commitment to those in our state who are most vulnerable. This funding is a powerful investment in the lives of homeless New Yorkers who long for a safe and affordable place to live where they can take care of themselves and their families and fully contribute to their communities. The supportive housing community congratulates Governor Cuomo for his vision and leadership in enacting a bold supportive and affordable housing program."
| What's New, Funding, New York State
---
05.15.2017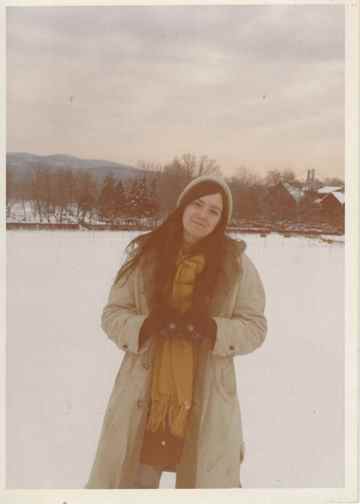 Frances E. Ficklen in an earlier era.
On Friday April 28th, Columba Kavanagh's GEMA Hall dedicated their new tenant lounge to a former tenant Frances E. Ficklen surrounded by the tenant's family members. Tragically, the family had lost touch with Ms. Ficklen due to the onset of mental illness and only found her name associated with GEMA Hall years after her death. The family members found peace in the knowledge that Ms. Ficklen had died peacefully in her sleep surrounded by caring staff and tenants.
Ms. Ficklen's sisters and cousins attended the ceremony and spoke passionately about Frances who had been doing fieldwork in Martinique after earning her Master's degree in Anthropology when she experienced the onset of mental illness. The redecorated tenant lounge – financed as part of the building's Year 15 refinancing, reflects Frances' love of the Caribbean.
| New York City, Openings
---
05.15.2017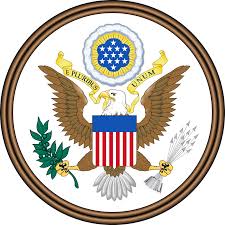 President Trump signed the final FY 2017 budget May 5th, in the form of a bi-partisan supported omnibus spending package. HUD programs are funded from October 1, 2016 through September 30, 2017 at levels that will ensure that most key supportive housing programs will be sustained.
As indicated in the chart below, the adopted budget did not stray far from the original proposals made by both houses of Congress in the beginning of the budget process.
We are excited to see a $133 million increase in the McKinney-Vento Homeless Assistance Grant program, a 6% over FY 2016 levels. The House and Senate split the difference between their respective funding levels to reach this compromise, demonstrating that there continues to be broad support for this program that provides essential funding to local Continuua of Care, including $196 million in New York State.
Additionally, the Housing Opportunities for People with AIDS (HOPWA) program also saw an increase of 6% in this budget. The Section 202 program for seniors received a 16% increase, with $10 million available for new projects or preservation of existing units. HUD 811, housing for people with disabilities, fell by 3%. The 811 program has not funded any new programs in New York State for almost a decade. The HOME program funding remains flat this year. Based on the early reports on next year's executive budget plan, HOME continues to be in danger.
Both the Tenant and Project Based Voucher Programs saw no real growth. Early analysis indicates that there should be enough funding to preserve existing rental assistance units from cuts by attrition. The tenant based voucher funding includes 4,000 new Veterans Affairs Supportive Housing Vouchers.
One last bright spot is the reauthorization of the US Interagency Council on Homelessness for one year with a slight increase in funding.
The Network fully anticipates that we will be working closely with our Members of Congress over the summer and into the fall, to ensure that affordable housing and programs that address homelessness fare well in seems likely to be a contentious budget year. We will be organizing lobby visits again to coincide with the National Alliance to End Homelessness conference on July 19, and urge our members to join us in Washington.

KEY HUD PROGRAM FUNDING (IN $ MILLIONS)
| Funding, Federal
---