The Network advocates for funding, policies, and programs to ensure existing supportive housing is sustained and new supportive housing created.
Supportive Housing Vacancies & Referrals
NYC Supportive Housing Provider Referral Guide
Vacancy & Referral NetWorkshop & Resources
NYC Advocacy and Policy Priorities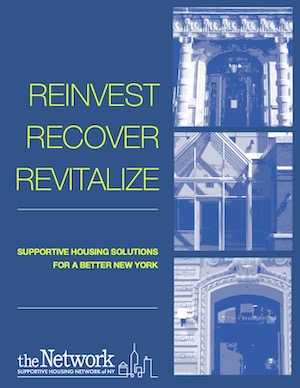 Click here to read the Network's 2022 policy platform, Reinvest, Recover, Revitalize: Supportive Housing Solutions for a Better New York.
The Network has developed the following policy one-pagers:

Download the policy one-pager packet here.
We work closely with city agencies and fellow advocates and participate in the leadership of the NYC Continuum of Care.
The Network regularly testifies at budget and policy hearings, informs and mobilizes members and tenants, and meets with elected officials and state government partners to educate and advocate for supportive housing. We also work with allied organizations to advocate for policies and budget priorities that ensure supportive housing's effectiveness.
Our policy priorities are driven by our members. Reach out to us!
NYC Achievements
Our community came together to fight for and win the largest supportive housing commitment in the City's history: NYC 15/15 will create 15,000 new units of supportive housing over the next 15 years. The Network is engaging members and partners to meet this unprecedented new commitment of resources to supportive housing. The Network also convened a panel event informing members on the biggest updates and progress of the initiative so far. (For funding opportunities, please search "NYC 15/15" in our Funding Guide.)