Showing Posts by Category: Funding
01.09.2019
Every year, Borough Presidents and City Council Members provide capital funding to nonprofits, schools, and other organizations for projects throughout each borough. This discretionary capital funding (formerly known as Reso A) is valuable subsidy for supportive and affordable housing development projects in NYC. This funding can be helpful to fill a gap in a development budget.
Starting now, nonprofits can apply for grants through the CapGrants portal or applications listed on Elected Officials' websites. Awards are typically announced in the summer. To receive funding, applicants should schedule a meeting with the representative before submitting the application to discuss the project details. Below are the typical deadlines, though some elected officials have additional requirements and deadlines:
Borough President Requests: February 20th
City Council Requests: March 26th
Specific information for representatives can be found here:
Brooklyn Borough President: To apply to the Brooklyn Borough President's Office for capital funding for Fiscal Year 2020, organizations must fill out an application by 11:59 pm on Wednesday, February 13, 2019. In addition, organizations should complete the CapGrants portal application by 5 pm on February 20, 2019.
Bronx Borough President: The office is currently accepting Letters of Intent for Fiscal Year 2020 and orgnaizations should send a letter as soon as possible. Organizations must apply by 5 pm on Wednesday, February 20, 2019.
Manhattan Borough President: Nonprofits can apply for grants on the city's CapGrants portal. Organizations must apply by 5 pm on Wednesday, February 20, 2019.
Queens Borough President: Organizations are encouraged to apply as soon as possible. Organizations must apply by 5 pm on Wednesday, February 20, 2019.
Staten Island Borough President: All requests for capital funding from the Staten Island Borough President must be submitted via mail or email. Applications also should be submitted with a cover letter. The deadline to submit the SI BP's online capital funding application is Friday, February 10th, 2019. Organizations must also apply through CapGrants by 5 pm on Wednesday, February 20, 2019.
City Council Members: Apply through the CapGrants portal by March 26, 2019.
|
What's New
,
Funding
,
New York City
---
12.06.2018


On November 29th, Governor Cuomo announced the winners for the first phase of the Vital Brooklyn RFP. The Network congratulates the winners, including Network members Services for the UnderServed (SUS), RiseBoro, CAMBA, Federation of Organizations, Apex Building Company, and MDG Design + Construction.
Vital Brooklyn, launched in spring of 2017, is New York State's comprehensive community development initiative that addresses chronic social, economic, and health disparities in Central Brooklyn, one of the most underserved areas in the State.
Winners of the First Four Sites

The former Brooklyn Developmental Center will be redeveloped by a team comprised of Apex Building Company, L+M Development Partners, RiseBoro Community Partnership and SUS, representing a $1.2 billion investment in East New York. The development will provide more than 2,400 units of affordable housing, including:

45 percent of units available to households earning up to 50 percent of Area Median Income (AMI)

Approximately 207 units for formerly homeless individuals and families

Approximately 185 units for intellectually and developmentally disabled individuals

Approximately 156 units for seniors

None of the units will be available to households earning more than 80 percent of AMI

"Interfaith Broadway: Site C" will be redeveloped by CAMBA. CAMBA will transform Site C, on grounds owned by One Brooklyn Health, creating 57 apartments affordable to a variety of income levels, and on-site services for seniors and chronically homeless families.

"Brookdale Hospital: Site B" will be redeveloped by a joint venture between MDG Design + Construction, Smith & Henzy Advisory Group, and the Foundling Group. The new development will create 152 apartments affordable to a variety of income levels, and on-site services for the developmentally disabled and individuals aging out of foster care.

"Interfaith Herkimer: Site A" will be redeveloped by Federation of Organizations. The new development will create 119 affordable homes on a 21,000 square foot lot across the street from Interfaith Medical Center.
Second RFP

On November 29th, HCR also released the second phase of its Vital Brooklyn RFP, due February 28th (Sites E, F, G, H & I) and April 30th, 2019 (Site J, K & L). Through this RFP, HCR seeks to develop eight high-quality, sustainable, and mixed-use permanently affordable housing developments in Brooklyn. Affordable housing may include multi-family, senior, and/or supportive housing.
If you are interested in responding to the RFP to create supportive housing and are looking for development partners, please contact the Network and we will do our best to make introductions.
View the RFP on the HCR website here.
|
Funding
,
New York State
---
11.07.2018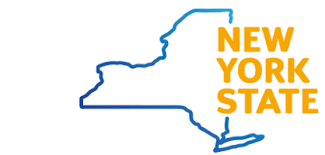 The New York State Office of Temporary and Disability Assistance's Homeless Housing Assistance Program (HHAP) approved capital funding for eleven supportive housing projects, totaling $41 million during its first meeting of the fiscal year. About two thirds of the annual available HHAP allocation is now committed, due to the unprecedented demand for supportive housing projects, fueled in large part by the Empire State Supportive Housing Initiative (ESSHI). Over $75 million in requests are lined up for the remaining $22 million in HHAP, making it probable that these funds will be exhausted by the next meeting in December.
Nine of the eleven projects that recieved this funding have already secured ESSHI grants and ten of the eleven awards were won by Network members. These projects will provide supportive housing for 276 individuals and families struggling with a wide range of life challenges that resulted in their homelessness. This includes trauma experienced by veterans as well as people escaping domestic violence. These awards cover the state from Niagara County in the west to Suffolk County in the East.
Here is the list of awardees:
St. Catherine's Center for Children, Inc., Albany County - $5.6 million
20 permanent supportive housing units

Rehabilitation Support Services, Inc., Albany County - $2.5 million
10 units of permanent supportive housing

Albany Housing Coalition, Albany County - $1.8 million
9 units of permanent supportive housing

New Destiny Housing Corporation, Bronx County - $5.7 million
37 units of permanent supportive housing

Unique People Services, Inc., Bronx County - $5.5 million
55 units of permanent supportive housing

CAMBA Housing Ventures, Bronx County - $7.5 million
87 units of permanent supportive housing

Odyssey House, New York County - $1.6 million
15 units of permanent supportive

YWCA of Niagara Frontier Inc., Niagara County - $1.4 million
8 units of permanent supportive housing

Finger Lakes United Cerebral Palsy, Inc., Ontario County - $1.9 million
9 units of permanent supportive housing

Mercy Haven, Suffolk County - $3.2 million
8 units of permanent supportive

Lakeview Health Service, Inc., Tompkins County - $3.7 million
18 units of permanent supportive housing

Congratulations to all the awardees!
|
What's New
,
Funding
,
New York State
---
10.29.2018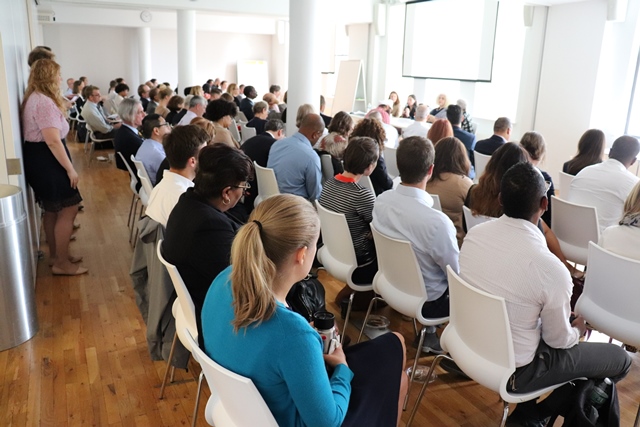 On October 1st, the Network convened a panel on the NYC 15/15 Supportive Housing Initiative. A full audience of 85 of our nonprofit, corporate, and affiliate members, and government partners attended the panel entitled: NYC 15/15 in 2018: Development & Program Updates, presented by Housing Preservation and Development (HPD) Assistant Commissioner, Special Needs Housing Emily Lehman, Human Resources Administration (HRA) Acting Deputy Commissioner, Office of Supportive/Affordable Housing & Services Jennifer Kelly, and Department of Health and Mental Hygiene (DOHMH) Senior Director, Housing Bureau, Gail Wolsk,. Attendees learned about the roles and coordination of the City agencies, the progress on the plan so far, and other valuable information about service models and development.
Jennifer Kelly of HRA emphasized the tremendous progress made so far in the ramp-up of the program, with service awards made for almost 2,700 units. In order to continue the progress, Ms. Kelly underscored the importance of providers taking the time to think about the questions in the RFP and how their program can take advantage of the unprecedented resources available to address the requirements.
Gail Wolsk of DOHMH explained the importance of integrating evidence-based and –informed practices in creating service models. She focused on how the enhanced resources available through NYC 15/15 can truly create a supportive housing program that has a holistic and, in the case of programs serving families, whole-family focus. Ms. Wolsk also explained best practices for program evaluation and staffing, and how property management staff and providers should collaborate. The audience learned about creating a service model that truly fulfills the goals of the ambitious NYC 15/15 initiative.
Emily Lehman of HPD guided the audience through the congregate development process and various HPD capital programs available to fund supportive housing units. Ms. Lehman explained the creation and success of HPD's groundbreaking city-funded project-based rental assistance for NYC 15/15. The audience gained knowledge of how the capital process, services application, and rental assistance application all tie together, and how to best set up a team's internal processes and timing.
For more information, access the PowerPoint from the event here. The Network looks forward to hosting more events as part of our Capacity Building Initiative as we strive to meet the development goals of the NYC 15/15 program and the Empire State Supportive Housing Initiative (ESSHI) and get to 35k!
We are very grateful to Robin Hood for hosting this event in their offices and to our terrific presenters!
|
What's New
,
Funding
,
New York City
---
10.05.2018
Enacted into law by the New York State legislature in 1983, the Homeless Housing and Assistance Program (HHAP) was the first program in the country to target substantial financial resources for the development of homeless housing. Administered by the New York State Office of Temporary & Disability Assistance (OTDA), HHAP provides capital grants and loans for the acquisition, construction or rehabilitation of housing for persons who are homeless and are unable to secure adequate housing without special assistance.
|
What's New
,
Funding
,
New York State
---
10.04.2018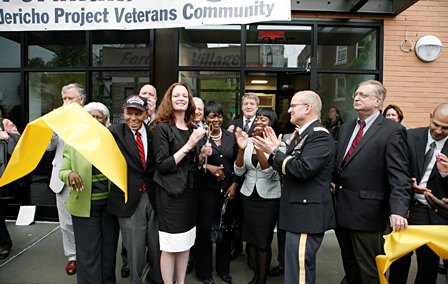 As anyone who develops supportive housing these days knows, acquiring a site is half the battle. It's difficult to imagine now, twelve years into the NYC Acquisition Fund, how the supportive housing community would have fared without it.
The NYC Acquisition Fund (the Fund) was spearheaded by Shaun Donovan, then HPD Commissioner, in 2006, along with LISC, Enterprise, Forsyth Street, and the Rockefeller Foundation. It addressed a growing need to provide early stage capital to developers to acquire sites for affordable and supportive housing. In the eighties and nineties, when supportive housing was born in New York, dilapidated SROs abounded and tax-foreclosed properties could be transferred to nonprofits for a dollar, but by 2006 these options had dried up and nonprofits were competing in the marketplace for privately owned sites.
One of the best features of the Fund is that it provides loans at 130% of the property's value, allowing nonprofits to have additional capital for predevelopment expenses. Many banks stay away from these loans because of their risky nature, but defaults are almost unheard of with the Fund because of close collaboration with government partners, who are engaged in all aspects of the deal at each stage.
"The Fund's structure was novel," says Brian Segel, senior vice president at Forsyth Street. Assembling capital from public and private philanthropic sources allowed for flexibility and a variety of risk appetites.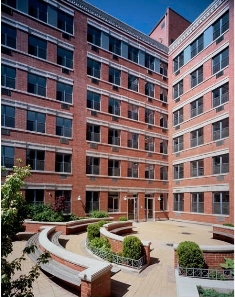 Since its inception, the Fund has enabled the creation of 24 supportive housing residences, serving 1,701 special needs tenants and providing an additional 952 affordable apartments for the community.
Judi Kende, vice president and New York market leader, Enterprise Community Partners notes that in addition to providing much-need affordable homes, the Fund "enables mission-driven, nonprofit and minority and women-owned enterprises to compete with market-rate developers. It is a testament to what can be accomplished when private and public partners come together to improve the lives of New Yorkers"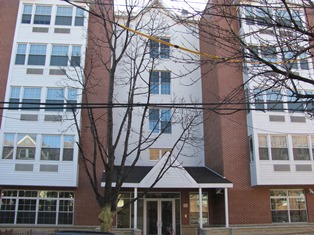 According to Sam Marks, executive director of LISC NYC, the Fund is "designed to share risk across the public, private, and philanthropic sectors, has proven incredibly flexible, and continues even today to innovate in response to the city's evolving challenges and strategic priorities."
|
What's New
,
Funding
,
New York State
---
09.11.2018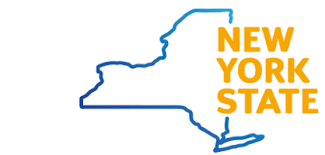 Governor Cuomo announced the third round of conditional awards for the Empire State Supportive Housing Initiative (ESSHI) yesterday. Awards went to 116 nonprofit agencies, totaling 182 projects across the state.
The list of providers that received conditional awards is available here. 70% of the awards went to Network members.
These awards will provide service and operating funding for 1200 units of supportive housing. This is the third year of funding in the Governor's 15 year commitment to develop 20,000 new units of supportive housing.
Awardees will now be able to take these ESSHI conditional awards to secure capital funding for projects.

For more information on ESSHI, please see the Network's website.

Congratulations to all of the organizations who were successful in this round!
|
Funding
,
New York State
---
07.09.2018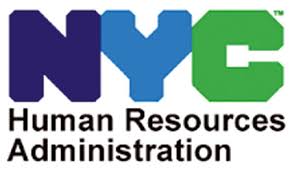 Blog post by Patricia Dawson, Director for Senior and Supportive Housing at NYC Human Resources Administration (HRA)
HRA has just released the City's first scattered-site supportive housing RFP for young adults families. This RFP provides service funding for scattered-site supportive housing serving young adults who are pregnant or parents and who are currently in a DHS or DYCD shelter, are aging out of foster care, or at risk of homelessness. As with the other NYC 15/15 supportive housing RFPs, all referrals will have approved 2010e supportive housing applications and will be coordinated by HRA.
The RFP pulls together the best of what is known for serving young adults who are homeless and who are parents. A team from NYC Human Resources Administration (HRA), NYC Department of Health and Mental Hygiene (DOHMH), NYC Administration for Children's Services (ACS), Department of Youth & Community Development (DYCD) and the City's Center for Innovation through Data Intelligence (CIDI) collaborated to ensure that the program model meets not only the best known practices for this population but will set the standard nationally for what can be done to help young adults transitioning from homelessness to stability and grow through the challenges of young adulthood and early parenthood. Our goal through these programs will be to truly help these young parents succeed and break the cycle of homelessness.
The service expectations for this RFP align with the best evidence to date to serve this population. For this reason, the service rate is fully funded at $30k. Providers will be asked to choose from a pre-selected group of evidence informed and based practices targeting young parents to ground their program. From there, providers will be able to weave in a range of models to support the educational, vocational, health, mental health and social needs of these young parents and of their children. Staffing patterns will need to be robust. Highly experienced and trained teams with on-going staff development are required to ensure staff are at the forefront of this work, and to ensure stability for the young parents and their children.
This RFP is for 90 units, with proposals due August 15th. Unlike the other NYC 15/15 Initiative RFPs, this RFP is not open ended. Three providers will each be awarded 30 units. The program size has been selected to really allow providers to come to scale with staffing and be successful in their programs. The City will be working closely with these providers for on-going program development and evaluation to continue to enhance services for young parents transitioning to stability and independence.
Providers interested to submit proposals can access the RFP through Accelerator. The pre-proposal conference will take place Wednesday July 11th at 4WTC at 2pm. For further information, please contact: Patricia Dawson at dawsonpa@hra.nyc.gov.
|
What's New
,
Funding
---
06.25.2018
HCR RELEASES the 2018-19 MULTIFAMILY OPEN WINDOW RFP



Last week, HCR released its Multifamily Open Window Request for Proposals. Applications will be accepted throughout the year with a final due date of March 31, 2019.
The $697 million affordable housing capital funding opportunity in this RFP consists of 12 different funding programs (listed below), including The Supportive Housing Oppurtunity Program (SHOP).
There are a number of changes to the SHOP term sheet this year, for which the Network advocated over the past several months with our state government partners. These changes include:
1) Maximum Awards in NYC:
Up to $200,000 per unit for ALL residential units in projects where at least 50% of the units are designated as permanent supportive housing.
Projects leveraging funds from the City of New York are eligible for up to $100,000 per unit.
Projects with less than 50% supportive housing and leveraging funds from the City of New York will not be eligible for maximum subsidy amounts and will be evaluated on a case-by-case basis.
Preference is given to projects with at least 50% supportive housing units.
2) Supportive Services & Operating Funding:
HCR anticipates that the operating funding from the services and operating source will at least cover real estate maintenance and operating expenses for the supportive housing units. Applications should underwrite rents for supportive housing units at an amount affordable to households earning at least 50% AMI.
3) High Cost Medicaid User Requirement:
Projects of 15 or more ESSHI units, with 30 or more units in total serving applicable populations, will be required to set aside 25% of designated ESSHI units for high-cost, high-need Medicaid users. The applicable populations are serious mental illness (SMI), substance use disorder (SUD), individuals diagnosed with HIV/AIDS, chronic homelessness, homeless frail elderly/seniors, and individuals with developmental disabilities.
The complete list of programs in this RFP include:
New Construction Programs
Preservation Programs
Public Housing Preservation Program: $46 million
Programs for New Construction & Preservation
Other Programs
Small Building Participation Loan Program: $20 million
For more information on the Open Window RFP, contact:
Leora Jontef
Vice President, Multifamily Finance – New Construction
New York State Homes and Community Renewal
(212) 872-0537
leora.jontef@nyshcr.org
OTDA HHAP RFP OPENS JUNE 28th!
Friendly Reminder – OTDA will begin accepting OTDA HHAP applications this Thursday, June 28th. Get your applications in early! Last year, the window closed after only being open for four months due to the overwhelming demand.
Under HHAP, grants and loans are provided to acquire, construct and rehabilitate housing for persons who are or would otherwise be homeless. Eligible projects may provide permanent, transitional or emergency supportive housing to homeless single individuals or families. Not-for-profit corporations and their subsidiaries, charitable organizations, municipalities, public corporations, public housing authorities, and certain joint-ventures are eligible to apply for HHAP funding.
Priority points will be given to:
Applications that propose supportive housing developed utilizing services and operating funding obtained or to be obtained through the Empire State Supportive Housing Initiative (ESSHI); or

Applications that propose supportive housing projects targeted to veterans or that give priority to veterans by placing them ahead of other homeless populations on the project waiting list.
$64 million is available, of which $5 million may be reserved for the development of projects serving homeless persons with HIV/AIDS. Additionally, up to $1 million may be used for emergency shelter repairs in local social service districts with a population of less than five million.
This RFP is an open-ended RFP, meaning proposals will be accepted for consideration on a continuous basis until it is determined funds are no longer available for award or this methodology no longer serves a purpose for HHAC.
To view the RFP on the OTDA website, click here.
To view the entry for HHAP in our Funding Guide, which outlines the RFP in more detail, please click here.
Important Dates:

Questions may be submitted via mail, fax or email to:
Ms. Dana Greenberg
NYS Office of Temporary and Disability Assistance
40 North Pearl Street, 10-B
Albany, NY 12243
Fax: (518) 486-7068
Dana.Greenberg@OTDA.ny.gov
Empire State Supportive Housing Initiative (ESSHI) Program Changes
Project Based Section 8 - In New York City, housing developers can now access Project-Based Section 8 for rental subsidies. In such instances, the ESSHI services and operating award will be reduced to account for services only.
More Flexibility Between ESSHI Conditional Awards and Capital Funding – According to the ESSHI Questions & Answers the Interagency Workgroup is allowing conditional awardees to modify certain aspects of the proposal based on the needs of the capital funding agency or other issues related to the feasibility of the project. Examples cited include the relocation of the site or changes in number of units. Any changes would have to be approved by the ESSHI Interagency Workgroup.
We appreciate our government partners commitment to this groundbreaking program to create 20,000 supportive housing units over the next 15 years and their willingness to work together to ensure its success!
For any questions related to ESSHI, please call the Network's Albany office at 518-465-3233.
|
What's New
,
Funding
---
06.19.2018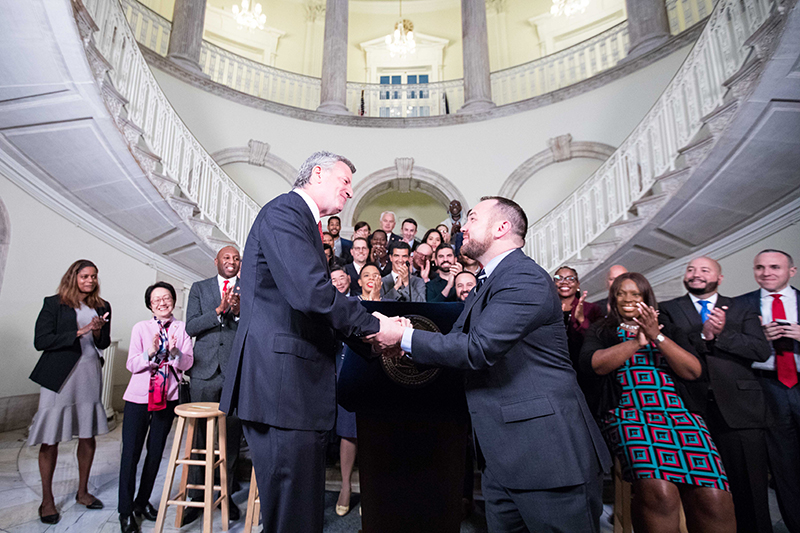 On June 11th, Mayor Bill de Blasio, City Council Speaker Corey Johnson, Council Finance Chair Daniel Dromm and members of the City Council came to an agreement for an on-time and balanced City budget for Fiscal Year 2019, beginning on July 1st. The expense budget totals $89.15 billion and the capital budget totals $11.2 billion.
In light of the acuity of the homelessness crisis and the support of both our agency partners and the City Council, the FY2019 adopted budget accelerates $100 million in capital funding for supportive housing to increase the annual production by 40 percent, from 500 newly constructed units per year to 700. The Network greatly appreciates that the City of New York recognizes the importance of our members' work and looks forward to assisting both the City and our members in implementing the acceleration of NYC 15/15.
Additionally, to implement the acceleration of NYC 15/15 development, the adopted budget added $1.85 million to the HPD expense budget in FY2022 (and baselined into the out-years). This adjustment will provide funding for rental assistance for the additional 200 congregate units produced in FY2019-2022 that will begin coming online. The budget also added $2 million to the DOHMH expense budget beginning in FY2022 (baselined) to fund services for NYC 15/15 units.
|
What's New
,
Funding
---