Showing Posts by Category: Member News
05.30.2019
On May 17th, NYS HCR announced its 2018 Unified Funding Awards. In addition to the three supportive housing projects funded in the early round announced in January, there were 15 projects awarded in the regular round, bringing the total number of supportive housing units to 484 — 22% of the total residential units funded. Network members are involved in 14 separate projects across the state.
Continue Reading …
|
What's New
,
Funding
,
New York State
,
New York City
,
Member News
---
05.29.2019
Photo credit for photo at right: Diane Cho for HPD.
On May 14th, overcast skies were brightened by purple and yellow balloons greeting guests at Network member Services for the Underserved's (S:US) housewarming at 2264 Morris Avenue in the Bronx. Government partners, local elected officials, and private supporters celebrated the completion of the 11-story, mixed-income building, co-developed by S:US and Bronx Pro Group. The building contains 94 units, including 31 units of supportive housing: 17 for at-risk young adults and 14 for formerly homeless adults with mental illness.
Continue Reading …
|
What's New
,
New York City
,
Member News
,
Openings
---
05.28.2019
On May 21st, Network member West Side Federation for Senior and Supportive Housing (WSFSSH) celebrated the completion of Tres Puentes. The project included a refurbishing of Borinquen Court, which continues to house 145 seniors and/or people with physical disabilities in the community, and the creation of two new buildings welcoming 175 new residents. The name "Tres Puentes" refers to the complex's views of the Willis Avenue, Madison Avenue, and Third Avenue bridges nearby, but was heralded as the perfect name for the various relationships that made the project possible.
"The goal is not just buildings, but a place where people can truly live," said Sheldon J. Fine, President of the WSFSSH Board of Directors, who began the speaking program in a large, lively room.
Continue Reading …
|
What's New
,
New York City
,
Member News
,
Openings
---
04.25.2019
On April 16th, the Network joined member Services for the UnderServed (S:US) to celebrate the transformation of a vacant lot in the Bronx into a seven-story apartment building – and the transformation of lives through the offer of permanent homes. With 74 apartments, including 19 reserved for formerly homeless individuals with mental health challenges and 45 reserved for formerly homeless veterans, the housewarming's goal was to wish the building's residents "every hope and every dream that comes with having a new home," said Judith Jackson, Chief of Staff of S:US.
Continue Reading …
|
What's New
,
New York City
,
Member News
,
Openings
---
04.25.2019
On April 3rd, Comunilife welcomed guests, colleagues, partners, and friends to the long-awaited opening of Woodhull Residence after 13 years of work.
Rosa M. Gil, President and CEO of Comunilife, opened the event's speaking program by recalling a conversation with one of the building's newest residents – a formerly homeless woman who, with new keys in hand, uttered disbelief in this new stage of her life. Gil echoed her wonder, saying, "My dream and her dream has become a reality."
Continue Reading …
|
What's New
,
New York City
,
Member News
,
Openings
---
04.23.2019
"For us in the church, this is a no-brainer. It's a duty. It's something we are obliged to do," said Timothy Michael Cardinal Dolan, Archbishop of New York, about developing affordable and supportive housing. Some 100 friends, supporters, and church luminaries attended the opening on April 8th celebrating the long-awaited project which includes 35 units of supportive housing.
Continue Reading …
|
What's New
,
New York City
,
Member News
,
Openings
---
04.17.2019
On March 14th, city, county, and state officials joined Network member DePaul to celebrate the opening of the Skybird Landing Apartments in Geneseo, a National Historic Landmark Village in the Finger Lakes region of New York. Named to honor Geneseo's National Warplane Museum, Skybird Landing consists of 60 affordable and supportive one- and two-bedroom apartments spread across six new buildings.
Continue Reading …
|
What's New
,
New York State
,
Member News
,
Openings
---
03.18.2019
About 100 people gathered on March 1st under a heated tent in the Bronx to celebrate Hebrew Home at Riverdale's groundbreaking of Arthur Avenue Apartments, the result of its second collaboration with Foxy Management. The building promises 54 supportive housing units reserved for formerly homeless or chronically medically ill residents out of a total of 176 affordable housing units dedicated to low-income older adults.
Shelly Fox, President and CEO of Foxy Management, and Jeff Fox, Executive Vice President and General Counsel for Foxy Management, welcomed attendees and introduced the special guests to the event — including Jeff Fox's one-year-old son. This was especially symbolic given that the Fox family's presence in the Bronx had begun four generations earlier with Shelly Fox's father settling first in the borough, where Foxy Management is based.
Continue Reading …
|
What's New
,
New York City
,
Member News
,
Groundbreakings
---
03.12.2019
The Supportive Housing Network is excited to help announce the launch of the Down Payment Assistance Fund (DPAF), whose creation resulted from a multi-year collaboration among stakeholders seeking to accelerate supportive housing development in New York City. DPAF is intended to assist nonprofit developers with down payments on property, allowing them to move more rapidly into contract for privately-owned sites. The nonprofits' ownership will ensure the long-term affordability of the housing developed with DPAF as well as provide critical social services. Eligible projects will include supportive housing residences, in which the majority of units are supportive, and affordable residences in which at least 30 percent of units are set aside as supportive.
Continue Reading …
|
What's New
,
Funding
,
New York City
,
Member News
---
11.13.2018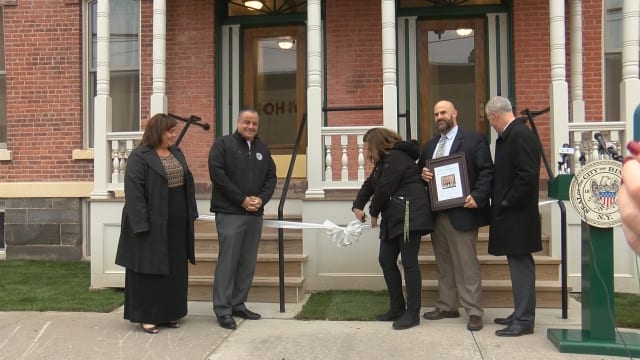 Friends and supporters gathered October 18 to celebrate the opening of 88-90 Carroll Street in downtown Binghamton. This newest development will provide permanent supportive housing for 10 formerly homeless individuals and families, including several who have high medical needs.
"Individuals and families that come here are faced with problems, and housing is usually the first step in addressing those problems," said Mark Silvanic, CEO of Opportunities for Broome.
Dana Greenberg and Jason Harper represented NYS Office of Temporary and Disability Assistance (OTDA) at the ribbon cutting and Binghamton Mayor Rich David was also in attendance to celebrate this opening with the community.
A tenant, Alonzo Harper spoke about the impact having an apartment and working with Opportunities had had on his life: "I landed another job..I actually have a better relationship with my children because I get to see them more often because I have a place… and (the people at Opportunities for Broome) have given me faith in other people. I didn't think that anybody would fight for anybody out here."
The building is a three story brick structure near several Opportunities redevelopment sites and offers comprehensive social services to tenants.
The project is funded by the Office of Temporary and Disability Assistance (OTDA) under the Homeless Housing and Assistance Program (HHAP). Empire State Supportive Housing Initiative funds the services for the 10 supportive housing units. Patricia Every was the architect and WL Kline was the contractor for this project.
|
What's New
,
New York State
,
Member News
,
Openings
---