Showing Posts by Category: Groundbreakings
07.02.2019
On the stormy afternoon of June 20th, Institute for Community Living (ICL) celebrated the launch of construction for a new affordable and supportive housing residence at 50 Nevins Street in downtown Brooklyn.
David Woodlock, President/CEO of ICL, spoke about how ICL's work there would extend the site's history of providing New Yorkers with homes, "grounded in dignity and respect."
Continue Reading …
|
What's New
,
New York City
,
Member News
,
Groundbreakings
---
03.18.2019
About 100 people gathered on March 1st under a heated tent in the Bronx to celebrate Hebrew Home at Riverdale's groundbreaking of Arthur Avenue Apartments, the result of its second collaboration with Foxy Management. The building promises 54 supportive housing units reserved for formerly homeless or chronically medically ill residents out of a total of 176 affordable housing units dedicated to low-income older adults.
Shelly Fox, President and CEO of Foxy Management, and Jeff Fox, Executive Vice President and General Counsel for Foxy Management, welcomed attendees and introduced the special guests to the event — including Jeff Fox's one-year-old son. This was especially symbolic given that the Fox family's presence in the Bronx had begun four generations earlier with Shelly Fox's father settling first in the borough, where Foxy Management is based.
Continue Reading …
|
What's New
,
New York City
,
Member News
,
Groundbreakings
---
11.28.2017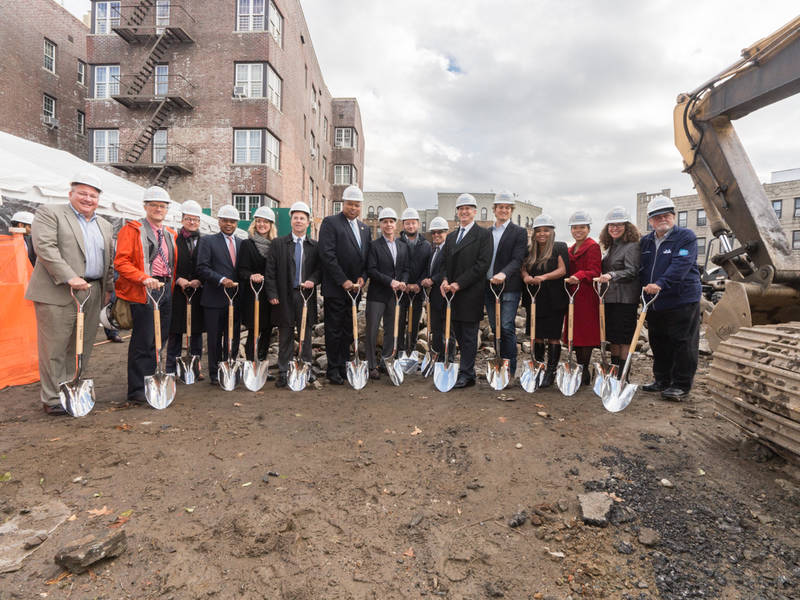 Breaking ground for Bedford Green.
Fifty city, state, federal, and private sector partners gathered on the construction site of Bedford Green House, an extraordinary new affordable/supportive housing development for the Bedford Park section of the Bronx that will feature, a living green façade, an interior green wall, and a rooftop aquaponic system to raise fish and produce in addition to a teaching kitchen, a community playground and a landscaped garden. The 13-story Bedford Green House will be built in two phases, with 118 units going up now and 90 units later. But that's not all that's new and exciting about the project, as Project Renewal CEO Mitchell Netburn pointed out in his welcoming speech: "Bedford Green House continues the organization's 50-year history of "firsts" including the first outreach to homeless alcoholics, the first non-hospital detox, and the first shelter for LGBTQI young adults. Bedford Green House will be Project Renewal's first project to serve families."
On hand to celebrate was Lynne Patton, HUD Regional Administrator for New York and New Jersey who quoted project consultant Jonathan Rose: "today we stick shovels in the ground to build gardens in the sky."
HPD commissioner Maria Torres-Springer pointed out that the project embodies the Mayor's newly released Housing 2.0 Plan, both by creating much needed affordable and supportive housing and through its dependence on a mission-based nonprofit as its developer/owner.
Assembly Member Jose Rivera strongly supported the project and the mission behind it, telling attendees that he too had been homeless when his family first came here, "and, if it wasn't for people like you…"
Also deeply moved was Chris Johnson, the CEO of Hollister, the contractor for Bedford Green House, who told participants that the project was an embodiment of the precepts his mother instilled in him: "You have to give to live."
Fred Harris of Jonathan Rose quipped, "If it takes a village to develop affordable housing, it takes a medium sized city to develop supportive housing."
Luminaries included Office of Temporary and Disability Assistance (OTDA) Commissioner Sam Roberts, NYC Housing Development Corporation (HDC) President Eric Enderlin, Bank of America's Todd Gomez, Bronx CB 7 Chair Adeline Santiago, Deutsche Bank's John Kimble, and CSH's Jen Trepinski.
On site services will include primary medical care, mental health treatment and support, substance use disorder counseling and treatment, conflict resolution, domestic violence counseling and support, family reunification services, horticultural therapy, nutritional counseling, healthy cooking workshops, occupational therapy, STD / HIV prevention, treatment, and support, and respite / alternative caregiving. On site services will be funded by the NYC Department of Health and Mental Hygiene and the Human Resources Administration.
Bedford Green House was financed under HDC's Extremely Low- and Low-Income Affordability (ELLA) program and HPD's Supportive Housing New Construction program. The total development cost for the project is over $58.8 million. HDC provided volume cap bonds, recycled tax-exempt bonds, and nearly $7 million in corporate reserves. HPD provided $8.85 million in City subsidy, inclusive of $2 million in HUD HOME funds and Low-Income Housing Tax Credits (LIHTC), Bank of America served as tax credit investor and provided the construction letter of credit. NYS OTDA provided funding under the Homeless Housing and Assistance Program (HHAP). Additional grant funding was provided by TD Bank and Deutsche Bank Foundation. CSH provided predevelopment loans.
Bedford Green House's development team is led by Mitchell Netburn and Sam Wells at Project Renewal, and consulting services were provided by Jonathan Rose and Dale White at The Jonathan Rose Companies. Hollister Construction Services is serving as the general contractor. Architectural design services are provided by Andrew Knox of Edelman Sultan Knox Wood Architects.
|
What's New
,
New York City
,
Groundbreakings
---
09.01.2017

Breaking ground on Comunilife Woodhull.
On August 16th, elected officials, funders, and other partners joined Comunilife and NYC Health + Hospitals to break ground on a new supportive/affordable housing building on the campus of Woodhull Hospital.
Of the residence's 89 studio units, fifty-four will be set aside as supportive housing for patients of NYC Health + Hospitals/Woodhull who have behavioral health issues and a history of homelessness. The other 35 units will be available to low-income individuals.
The building will include a multi-purpose community room, a community kitchen, a laundry room, bike storage, and a computer room. The property will feature a 2,400-square-foot landscaped backyard, as well as a 2,300-square-foot front yard along Park and Throop Avenues.
Woodhull Hospital CEO Gregory Calliste opened the program congratulating the health and housing stakeholders on bringing the project to fruition. He introduced NYC Deputy Mayor for Health and Human Services Dr. Herminia Palacio who remarked, "Health does not happen within the four walls of a doctor's office, it happens foremost at home. These supportive housing units will go a long way to helping the residents who live here be their healthiest selves."
Dr. Palacio was followed by Comunilife's Board Chair & CEO, Dr. Rosa Gil, who noted that the project had been a dream for many years.
Stanley Brezenoff, Interim President and CEO of NYC Health + Hospitals commented "Our mission is reflected in this building and our commitment to the community."
"This development will have the power to transform lives," said New York State Homes and Community Renewal Commissioner RuthAnne Visnauskas. "I am proud to join our fellow partners in the public and private sectors who combined their dedication and expertise on behalf of the 89 residents who will call Comunilife Woodhull their home."
Other distinguished speakers included NYC Housing Preservation and Development (HPD)'s Emily Lehman, Council Member Robert Cornegy, NYS Assembly Member Tremaine Wright, Council Member Antonio Reynoso as well as Deputy Borough President Diane Reyna and a representative of Congresswoman Nydia Velasquez's office.
Funding for the project came from NYS HCR and NYC HPD. Hudson Housing Capital was the project syndicator, and Sterling National Bank and Chase were lenders. New York State Energy Research and Development provided additional grant funding. On site supportive services will be funded by the NYC Department of Health and Mental Hygiene and provided by Comunilife. Monica Lopez Architects is the project architect and Mega Contracting will provide general contracting services.
|
What's New
,
New York City
,
Groundbreakings
---
08.03.2017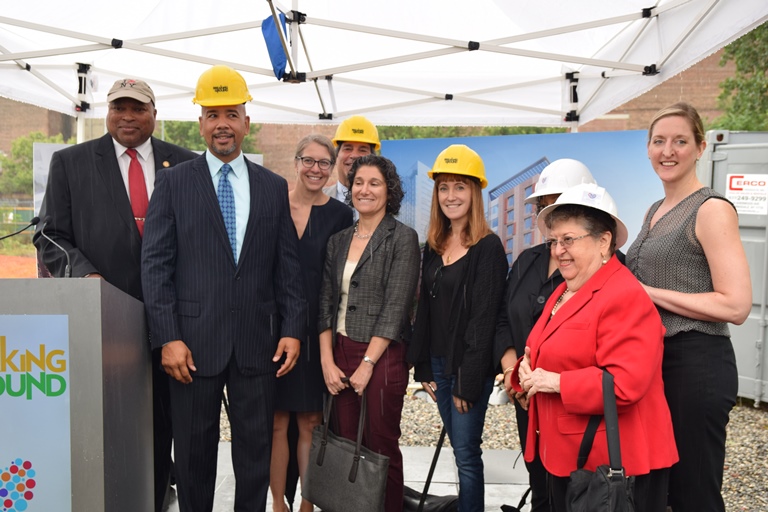 Breaking ground at La Central.
On July 24, Breaking Ground hosted state, city, and local government luminaries to break ground on the first building of what will eventually be a five-building, 1.1 million square foot development in the South Bronx with 992 units of mixed-income housing, a new 50,000 square foot YMCA, a television studio and a skate park! This first building in the La Central project will provide 160 units of supportive/affordable housing for a mix of formerly homeless individuals with special needs and low-income people from the area. As Bronx Borough President Ruben Diaz Jr. remarked: "La Central will go a long way towards showing the rest of the world that we are back: we are no longer the Bronx of the seventies and eighties."
The first La Central building is also notable for its funding: onsite services will be partially funded by the NYS's new Empire State Supportive Housing Initiative (ESSHI) in addition to service funding from HRA-HASA, making La Central among the first supportive housing buildings with ESSHI funding to break ground in the City.
Unfortunately, the groundbreaking took place amid torrential rains. Breaking Ground CEO Brenda Rosen, however, took the opportunity to remind attendees that, as uncomfortable as the speakers were huddled under the only available tent, "Imagine what it would be like to be homeless in the midst of this and what an opportunity this building represents."
Other dignitaries who spoke at the event included Commissioner RuthAnne Visnauskas of NYS Homes and Community Renewal (HCR); Commissioner Samuel Roberts of NYS Office of Temporary and Disability Assistance (OTDA); Deputy Commissioner Molly Park of NYC Department of Housing Preservation and Development (HPD); and CSH's Jennifer Trepinski.
Comunilife CEO Dr. Rosa Gil echoed the Borough President's remarks about the project saying, "La Central marks a new era for this neighborhood." Comunilife will be providing onsite services in the building.
In addition to 160 units of supportive and affordable housing, the La Central supportive housing residence will also include a 4,500 square foot community facility space.
La Central has received capital funding from NYS Housing Finance Agency, NYS HCR, NYC HPD, NYS OTDA, Wells Fargo, and CSH. Wells Fargo is the syndicator. The building was designed by FXFOWLE Architects and MHG Architects. The general contractor is Monadnock Construction, Inc.
|
What's New
,
New York City
,
Groundbreakings
---
02.27.2017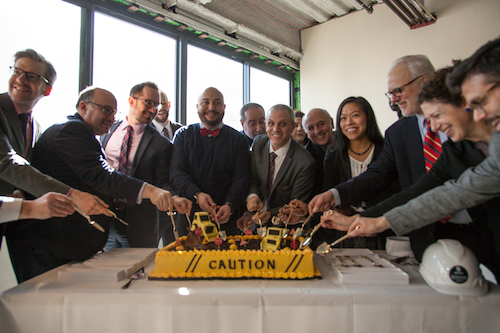 "Breaking ground" at 1880 Boston Road Senior Apartments.
On February 10th, 2017, the Hebrew Home at Riverdale, Foxy Management, and Alembic Community Development held a 'bolting up' celebration for 1880 Boston Road Senior Apartments – a project that will create supportive and affordable housing on top of the building currently in existence (hence the 'bolting up' instead of the traditional 'groundbreaking'). This project is the first of Governor Cuomo's Empire State Supportive Housing Initiative (ESSHI) awards to begin construction in New York City. Of the 168 total units, 51 units will be set aside for homeless and frail seniors.
Continue Reading …
|
What's New
,
New York City
,
Groundbreakings
---
02.23.2017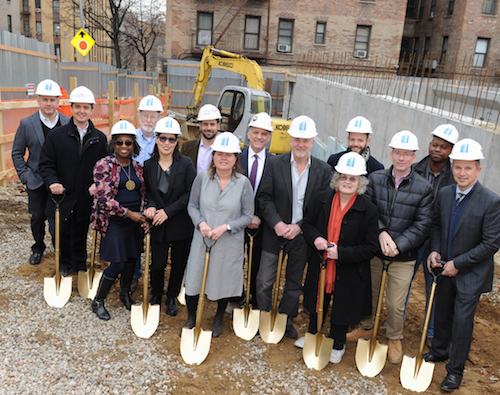 Breaking ground at 111 East 172nd Street.
On February 22, 2017, Community Access held a glorious groundbreaking ceremony for their new 126-unit building at 111 East 172nd Street. Upon completion, the building will include 57 affordable two-bedroom apartments, 8 affordable studio apartments and 60 studio apartments for tenants referred by the New York State Office of Mental Health. Community Access' long-time Director of Real Estate Maggi Knox attended the festivities with a heavy heart – this will be her last groundbreaking before retirement.
Continue Reading …
|
What's New
,
New York City
,
Groundbreakings
---
08.16.2016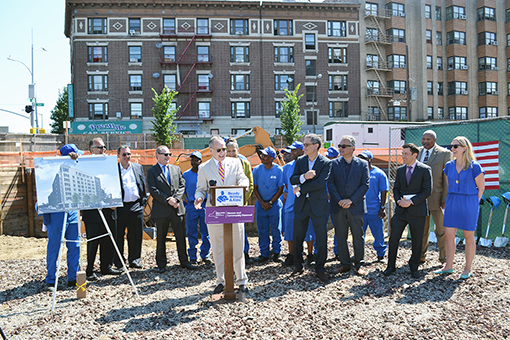 George McDonald, President of The Doe Fund, and dignitaries at the Webster Green groundbreaking.
On July 19th, The Doe Fund held a groundbreaking for Webster Green: a new 82-unit permanent supportive and affordable housing residence in the Norwood neighborhood of the Bronx. The project is a partnership between the Doe Fund and private developer Robert Sanborn Development. Currently a hole in the ground, Webster Green will provide 41 studio apartments for individuals with health-related issues and 41 affordable units for low-income individuals from the community. Magnusson Architecture and Planning is designing the LEED-certified, eight story residence which will include an outdoor common area, community room and laundry facilities as well as space for on-site services. The residence has been designed by Magnusson Architecture, and the general contractor is Galaxy Construction.
Continue Reading …
|
What's New
,
New York City
,
Groundbreakings
---
06.24.2016

Breaking ground at Morris Avenue Apartments.
On May 17, Bronx Pro and Services for the UnderServed (SUS) broke ground on an innovative new project -- Morris Avenue Apartments, a mixed use affordable apartment building in the University Heights neighborhood of the Bronx. The eleven story, 94 unit residence will provide homes to 14 moderate income families, 48 low income individuals and families as well as 31 apartments for a mix of formerly homeless individuals and young adults exiting residential treatment. There will be community rooms with computers, multiple outdoor recreation areas, and access for tenants to a 15-space parking lot. On-site supportive services will be provided by SUS.
Continue Reading …
|
What's New
,
New York City
,
Groundbreakings
---
02.23.2016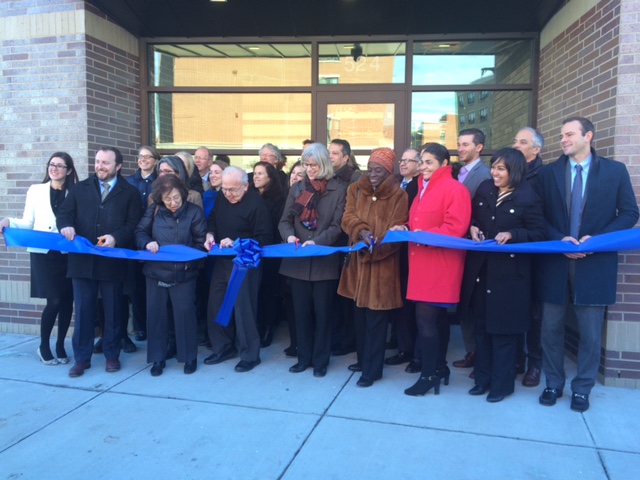 Cutting the ribbon at Alan Epstein Apartments.
On January 27th, the affordable and supportive housing community gathered in Spring Creek, Brooklyn for the ribbon cutting and dedication ceremony of the Alan Epstein Apartments (formerly known as Gateway Elton Street Phase II), a development complex featuring three multi-use buildings and beautifully landscaped outdoor spaces. Alan Epstein Apartments is the second of three phases of affordable, mixed use, and energy efficient developments by the Hudson Companies, Related Retail LP and CAMBA. This complex will consist of 175 affordable apartments, 30 of which will be supportive, as well as 24,000 square feet of ground-floor retail and community facilities. All units will be affordable to households earning between 40% and 60% of AMI.
Continue Reading …
|
What's New
,
Groundbreakings
---