Showing Posts by Category: Research
12.01.2016
On October 27th, the Fortune Society, John Jay College's Prison Re-entry Institute, the Network, and CSH hosted a conference on the obstacles people with criminal justice involvement face trying to access safe, affordable housing and promising practices as to how to overcome them. The sold-out event attracted a deeply engaged audience of 250 people. The Fortune Society's Stanley Richards, the first formerly incarcerated individual appointed by the City Council to be a member of the NYC Board of Corrections, acted as the host for the day.

The day began with an in-depth conversation about the fundamental values and vision that drive policy related to providing housing and services to justice-involved people. Jerilyn Perine, Executive Director of the Citizens Housing Planning Council, spoke eloquently about the essential connection between decent housing and personal well-being. Ana Oliveira, President of the New York Women's Foundation, forcefully declared that housing is a human right, fundamental to a person's dignity and ability to achieve one's full potential. Anthony Thompson, Professor of Criminal Law at NYU law School, spoke powerfully about the importance of valuing the concept of redemption in creating housing policy for justice involved individuals. This opening conversation was facilitated by Ann Jacobs from PRI.
Other panels focused on the barriers justice-involved individuals face accessing housing as well as promising practices in New York and around the country for addressing those impediments. Panelists in the five subject-specific discussions included experts from advocacy organizations including the Osborne Association, the Vera Institute, and MFY Legal Services; housing providers including the Fortune Society, Housing + Solutions, and Greenhope Services for Women; government agencies including the City's Human Resources Administration, the State's Office of Temporary and Disability Assistance, the NYS Council on Community Re-entry and Reintegration, the Mayor's Office of Criminal Justice, and the Kings County DA's Office; as well as research and academic institutions including the Urban Institute and NYU's Furman Center; as well as, panelists with lived experience. One of the highlights of the panel on translating values into action was civil rights attorney John Relman discussing progress on the Fortune Society's groundbreaking litigation challenging blanket bans on housing applicants with criminal justice histories. He also spoke eloquently about the role that historical racism has played in mass incarceration policies.
The Network's Laura Mascuch moderated a panel discussion on successful models for addressing the housing and service needs of justice-involved people from New York and around the country. As part of that panel, Jocelyn Fontaine from the Urban Institute spoke of an innovative program in Ohio in which the Corrections Department is funding supportive housing for disabled homeless individuals exiting prison.
The conference included a series of mini "TED Talks" about several innovative programs and promising practices which included NYCHA's Family Re-entry Pilot Program, the FUSE initiative, the City's Justice Involved Supportive Housing (JISH) and Drew House, the nation's alternative to incarceration program for women with children. Other highlights included Yolanda Johnson-Perkin's spirited presentation on the NYCHA pilot and Rita Zimmer, Executive Director of Housing + Solutions, tossing "Get out of Jail Free" cards from the Monopoly game to illustrate the importance of providing people with alternatives to incarceration.

There are plans to release a report based on the conference, which the Network will share with our members upon publication.
|
What's New
,
Research
,
Network Events
---
02.29.2016
In the wake of the March 2015 collapse of Federation Employment and Guidance Services (FEGS), one of the largest social service providers in the sector, the Human Services Council (HSC), which represents organizations across multiple social service sectors including supportive housing, sought to determine to what extent FEGS' demise was a unique event and to what extent it reflected major sustainability issues within the entire social service sector. The report, "New York Nonprofits in the Aftermath of FEGS: A Call to Action," determined that while FEGS faced its own challenges, the central issues that led to its collapse are common across all nonprofits in the social service sector, concluding that the sector as a whole is "in crisis."
Led by Gordon J. Campbell, a former senior government official and former President and CEO of United Way of New York, the Commission consisted of 32 human services executives, civic and philanthropic leaders, former government officials, and other stakeholders with a vast array of knowledge concerning nonprofit management and oversight.
The ensuing report, the product of exhaustive interviews and surveys, found that a full one in five social service providers was insolvent in 2013 and that half were either operating in the red or just breaking even. The report identified three central issues contributing to the crisis, the most prominent of which is that government contracts do not cover the cost of services. The report found that government contracts currently pay 80 cents on the dollar.
An example is Jewish Board of Family and Children's Services, a Network member and the organization that took over FEGS' contracts. The agency operates $18 million in the red each year, fundraising $13 million of that sum and using $5 million from the organization's endowment.
The human services sector works with 2.5 million New Yorkers, spanning housing, behavioral health services, children's services and job training. The city has 5,100 contracts worth $4.3 billion, and the state has an additional 2,000 contracts worth about $1.5 billion.
The report made seven recommendations, including that government agencies consult with nonprofits as they create new programs. It recommends that wasteful and duplicative oversight regulations should be replaced with meaningful government oversight to ensure that providers are financially and programmatically responsible. The report also states that funders must collaborate with providers in risk assessment and reporting systems to better predict, quantify, understand, and respond to financial, operational, and administrative risks.
The Commission finally recommends that the human services sector establish an RFP ranking system to assess risks and identify problematic government agency policies and practices, better evaluating government performance. This will allow for more informed decision-making around programmatic viability and liability in applying for government contracts to help prevent the collapse of more human services organizations.
"We cannot continue to take on endless government contracts that do not pay the real costs of service, nor should we," the report said. "If contracts and grants do not pay adequate rates or involve significant hurdles such as unfunded mandates or unjustified metrics, the programs cannot be as effective as they could be, and for too long nonprofits have filled the gap. Now, the gap is too large. Providers have to say no, not only to shed light on funding issues, but because these chronic issues eat away at the fabric of the human services delivery system." For the full report click HERE.
|
What's New
,
Research
,
Press
---
10.08.2014
The Mental Health Commission of Canada followed more than 2,000 participants for two years and implemented a five-city supportive housing program using a Housing First (HF) approach using randomized control groups. This is the world's largest trial of HF to date. Housing First is an approach to supportive housing. Their final report was recently released.
The outcomes are impressive: investing in supportive housing for those with high needs saves money and leads to better longer term housing outcomes.
In the last six months of the study, 62% of all HF participants were housed all of the time, 22% some of the time, and 16% none of the time. In the control group ("treatment as usual"), 31% of participants were housed all of the time, 23% were housed some of the time, and 46% none of the time. The study also found out more about the small percentage of HF participants who were housed none of the time and developed ideas for additions or adaptations of HF that may work better for them.
For the highest needs users, the top 10% of those served, every $10 invested saved more than $21 in public costs. For moderate needs users, every $10 invested saved nearly $10 in public costs ($9.60 to be precise) -- so the costs of implementing this type of supportive housing were negligible for moderate needs users, and saved twice what they cost for higher needs users.
Continue Reading …
|
In the Media
,
What's New
,
Research
---
06.02.2014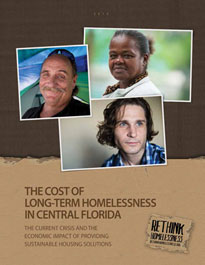 A new study on the cost-effectiveness of supportive housing received significant press coverage last month.
A report from Rethink Homelessness found that providing a homeless person with supportive housing costs taxpayers three times less than leaving a homeless person on the streets. "The Cost of Long-Term Homelessness in Central Florida" echoes the existing research, which has shown that supportive housing both provides formerly homeless individuals with safe, stable homes and saves taxpayer dollars. You can read the full document here.
The report led to stories on the cost-effectiveness of supportive housing in Vox, Think Progress, PolicyMic, the Orlando Sentinel and other media outlets.
The study looked at a group of 107 chronically homeless individuals in Florida. The researchers found that each person while homeless cost $31,065 per year in inpatient hospitalizations, emergency room fees, incarceration and other systems associated with homelessness. By comparison, the report finds that supportive housing for chronically homeless individuals in Central Florida costs just $10,051 per person per year – a 68% reduction in community costs.
Continue Reading …
|
Research
---
04.23.2014
A study released earlier this month reconfirms the economic and health benefits of supportive housing.
The report comes out of Oregon, where supportive housing has helped a group of formerly homeless individuals dramatically cut their healthcare expenses. It finds that tenants on Medicaid at Bud Clark Commons (BCC) averaged roughly $2,000 per month in healthcare costs in their year prior to housing. Once housed, that figure dropped to just $899 a month, a 55% decrease. Collectively, the 59 tenants studied at BCC reduced their Medicaid costs by more than $783,000 in just one year. You can read the full document here.
The report concludes:
"The average resident saw a reduction of over $13,000 in annual [Medicaid] claims, an amount greater than the estimated $11,600 it costs annually to house a resident at BCC. Importantly, this reduction in claims was maintained into and beyond the second year of residency, suggesting that supportive housing had a profound and ongoing impact on health care costs for those living at BCC."
The Center for Outcomes Research & Education (CORE) prepared the report, which is titled "Integrating Housing & Health." You can read the full study here and a press clip on its findings in Affordable Housing Finance here. We urge you to share the latest report on the positive benefits of supportive housing!
|
New York State
,
Research
,
Press
---
03.26.2014
A new report from Charlotte shows that supportive housing can dramatically reduce a formerly homeless person's use of hospitals, emergency rooms and jails.
The study, available here, finds that the 85 tenants of Moore Place have increased incomes, greater social support, fewer arrests and decreased medical expenses within one year of moving into supportive housing. The findings on medical expenses are particularly striking: Tenants billed nearly $1.8 million less in medical expenses during their first year in housing as compared to the previous year. This represents a 70% reduction in hospital and emergency room use.
Moore Place Permanent Supportive Housing Evaluation Study reaffirms what more than two dozen studies have previously shown: that an investment in supportive housing can lead to significant cost savings. The report has already received substantial press coverage from the Huffington Post, the Charlotte Observer and other outlets.
"Housing the homeless not only saves lives – it's actually cheaper than doing nothing," concluded the Huffington Post.
Continue Reading …
|
Research
,
Press
---
02.27.2014
The Network has released a new report on the New York/New York III Supportive Housing Agreement, the landmark 2005 commitment to create 9,000 new units of supportive housing in 10 years.
The report, available here, synthesizes findings from interviews with more than 140 members of the supportive housing community. Taking Stock of the New York/New York III Supportive Housing Agreement: A Community View of the Achievements and Challenges of Implementing the Nation's Largest Supportive Housing Initiative offers an in-depth look at the initiative and explores key areas for growth and improvement for the next great partnership between New York City and State to end homelessness.
"Taking Stock confirms what many of us have known for years: That the New York/New York III Agreement has been a phenomenal engine to house formerly homeless New Yorkers," says Network Executive Director Ted Houghton. "We hope this report will serve as an aid to the supportive housing community, our government partners and other stakeholders as we seek to build upon NY/NY III with a successor agreement. After more than 30 interviews and seven focus groups, we're confident in calling NY/NY III a resounding public policy success."
The Network interviewed an array of stakeholders for this project, including representatives from all 10 of the government signatories of the agreement, supportive housing and shelter providers, NY/NY III tenants, advocates and private sector partners. The goal of the project was to provide a platform for this diverse group of stakeholders to offer feedback on the successes and challenges of the initiative and to elicit their guidance on how best to design future supportive housing agreements.
Continue Reading …
|
New York State
,
New York City
,
Research
---
01.02.2014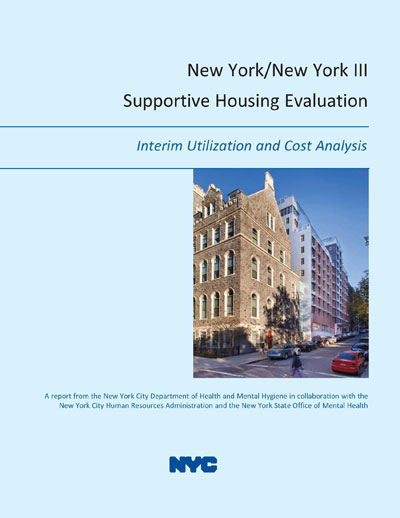 On New Year's Eve, New York City released the first major report on the cost-savings impacts of supportive housing created under the New York/New York III Supportive Housing Agreement. Reviewing data from the first years of the agreement, the report found that homeless or institutionalized people placed into NY/NY III supportive housing saved taxpayers a net average of $10,100 per person per year. The entire report is available here.

The report's analysis confirms similar findings by more than 30 studies nationwide that showed how supportive housing can significantly reduce the costly public expenses associated with homelessness. You can read the NYC Department of Health and Mental Hygiene (DOHMH)'s press release for the repot here.
The New York/New York III Supportive Housing Evaluation was conducted by DOHMH in collaboration with the NYC Human Resources Administration (HRA) and the NYS Office of Mental Health (OMH). The evaluation is particularly significant because it compared those found eligible for and placed into NY/NY III housing with a control group made up of those who were also found eligible but did not receive a supportive housing placement. The study looked at two years of costs prior to placement/non-placement and one year post for everyone who was placed or not placed into NY/NY housing between 2007 and 2009.

The study measured public costs associated with participants' use of shelter, jail, cash assistance, food stamps, state psychiatric care and Medicaid. The report found that, after subtracting the NY/NY III housing and service costs, each NY/NY III tenant housed saves the public an average of $10,100 a year.

The savings occurred across many public systems and varied widely by tenant population, with supportive housing for tenants coming from State-operated psychiatric facilities saving on average an impressive $77,425 per tenant per year. The NY/NY III housing achieved either a complete cost offset or significant savings for all but two of the tenant populations.
Continue Reading …
|
New York State
,
New York City
,
Research
---
12.19.2013
The New England Journal of Medicine has just published a think piece on New York's efforts to reform Medicaid through supportive housing.
Citing numerous studies, the piece argues that investments in social service programs, including supportive housing, can decrease the amount a society spends on healthcare. The article offers the latest example of an emerging consensus: that supportive housing is healthcare. It was written by three esteemed figures in the field: NYS Department of Health Commissioner Dr. Nirav Shah, NYS Office of Health Insurance Programs Deputy Director Elizabeth Misa and Dr. Kelly Doran of New York University. You can read their perspective here.
The authors stress that supportive housing achieves multiple goals for New York State. Our model helps reduce healthcare costs, improves the quality of care for individuals on Medicaid and improves the overall health of these individuals. On the cost-savings front, the authors lay out a clear argument on the benefits of supportive housing:
"New York Medicaid payments for nursing-facility stays are $217 per day, as compared with costs of $50 to $70 per day for supportive housing. Furthermore, preventing even a few inpatient hospitalizations, at $2,219 per day, could pay for many days of supportive housing […] Studies have shown that the costs of supportive housing are largely offset by resultant savings in services used, mostly from reduced use of the health care system. Some studies of high-risk patients have found that savings exceeded the costs of providing housing, thus yielding a net positive return on investment."
We strongly urge you to read and share this emphatic endorsement of supportive housing!
|
In the Media
,
New York State
,
Research
,
Press
---
08.06.2013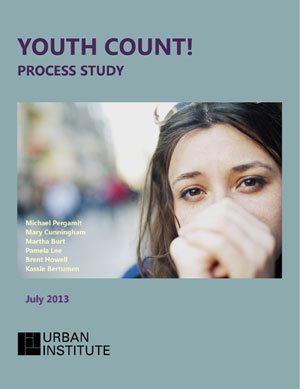 The Urban Institute has released its findings on Youth Count, an effort held earlier this year to count the number of homeless youth in nine cities across the country. The federal government selected New York as one of the nine pilot cities to participate in the count, which was designed as a demonstration project to better understand how best to count homeless youth.
The Institute's report and findings will help shape future youth counts in the city. This invaluable evaluation will help advocates learn from cities across the country about their experiences with this year's youth count. You can read the report here. The Urban Institute also released a video on this year's effort, which features homeless youth from around the country as they discuss the importance of the count effort. See the video below:
Continue Reading …
|
New York City
,
Research
---