Showing Posts by Category: New York City
05.03.2018
On April 24, 2018, the Committee on General Welfare, chaired by Council Member Stephen Levin, held an oversight hearing to examine the progress of the City's new supportive housing program, NYC 15/15. The four-hour long hearing focused on the progress being made towards achieving the goal of 15,000 supportive housing units in 15 years and included testimony on Intro 147, a local law introduced by Council Member Levin, to amend the administrative code of the City of New York in relation to reporting on supportive housing placements.
City Council Speaker Corey Johnson initiated the hearing with positive remarks on the effectiveness of the supportive housing model, and his support for it.
"Supportive housing, which began in the 1970s in response to the homelessness crisis in New York City, is considered the most successful existing model for ending chronic homelessness among vulnerable populations," he said.
He also expressed his commitment to ending homelessness and urged all those present to do everything they can to develop more supportive housing as quickly as possible. "There are homeless people everywhere, living on the streets, and it's heartbreaking," Johnson said.
Commissioner Steven Banks of the Human Resources Administration (HRA), Maria Torres Springer, Housing Preservation and Development (HPD), and Molly Park, Deputy Commissioner for Development at HPD were the first to testify at the hearing.
Commissioner Banks and Commissioner Torres Springer gave an update on the progress towards NYC 15/15 and discussed the issues slowing down progress. Of the 15,000 units in the plan, half are planned as scattered site supportive housing and half as part of single-site, or congregate, residences.
"Through the 15/15 plan thus far, we have made 1,426 awards to providers, including 505 scattered and 921 congregate units," Commissioner Banks stated. "337 clients have already moved into units, 170 more are already linked to units and are in the process of moving in," he added.
Commissioner Banks also identified the tight market for apartments at affordable rents, which have a vacancy rate of 1.15%, as one of the main reasons slowing down the pace of scattered site supportive housing.
Commissioner Torres Springer too described the long lasting benefits of supporting housing in her testimony, including the fact that for every supportive housing unit tax payers save $10,000 per year in public resources. She then turned the conversation back to the council members and asked for their help to overcome the biggest challenge facing any new supportive housing: building community support.
"We need your help in combating the misperceptions associated with homelessness and supportive housing. Communities across the city need to know that they cannot be opposed to the siting of homeless shelters and to the siting of permanent housing for formerly homeless and supportive populations that would ultimately reduce the need for shelters. One is a key solution to the other, and opposing them both gets us nowhere," she said.
In addition to Speaker Johnson and Chair Levin, present council members included Adrienne E. Adams, Diana Ayala, Vanessa L. Gibson, Mark Gjonaj, Barry S. Grodenchik, Brad S. Lander, Antonio Reynoso, Rafael Salamanca, Jr., Ritchie J. Torres and Mark Treyger.
Most of the Council Members present voiced their eagerness to develop more supportive housing.
"First of all, as you've heard from the Speaker, this body is committed to assuring that we help develop as many supportive housing units as possible. So, we not only talk the talk, but we walk the walk and you'll have great partners moving forward," Council Member Gjonaj assured the audience.
The Network's Executive Director, Laura Mascuch, who also serves as the Co-Chair of the New York City Coalition on the Continuum of Care (CoC), the planning body that serves to allocate HUD funding for homelessness and permanent supportive housing programs also testified at the hearing. She spoke about the recommendations from the Mayor's Task Force on Supportive Housing, which were incorporated into NYC 15/15, significantly improving the model and ensuring its success in reducing homelessness. She also reiterated the need for support from council members in overcoming community opposition.
"Apart from the dearth of affordable appropriate land on which to build supportive housing, the single greatest impediment to developing new residences is local opposition, often based in misinformation and fear. We look to the City Council for leadership in this area," she remarked.
The hearing concluded with Committee Chair Stephen Levin emphasizing the need to move people out of the shelter system and into supportive housing and working more diligently to ensure that all who do need supportive housing, get it.
|
What's New
,
New York City
---
11.28.2017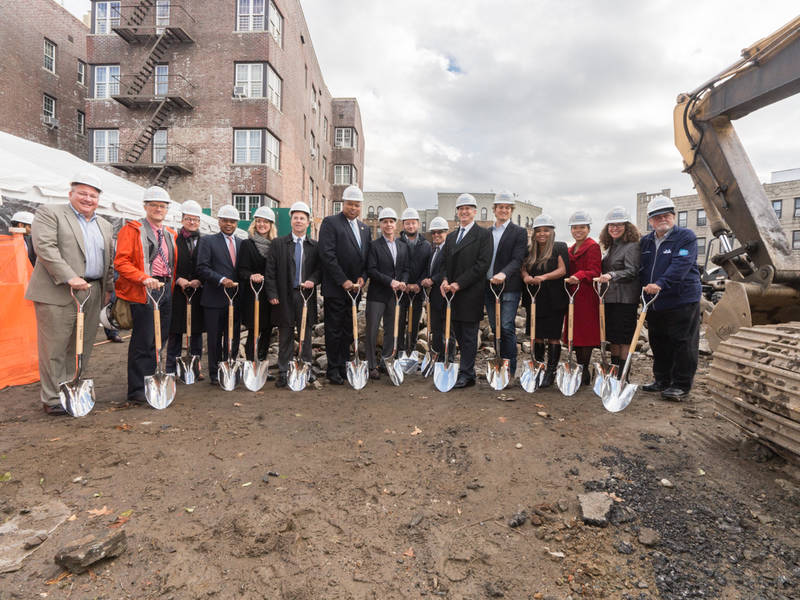 Breaking ground for Bedford Green.
Fifty city, state, federal, and private sector partners gathered on the construction site of Bedford Green House, an extraordinary new affordable/supportive housing development for the Bedford Park section of the Bronx that will feature, a living green façade, an interior green wall, and a rooftop aquaponic system to raise fish and produce in addition to a teaching kitchen, a community playground and a landscaped garden. The 13-story Bedford Green House will be built in two phases, with 118 units going up now and 90 units later. But that's not all that's new and exciting about the project, as Project Renewal CEO Mitchell Netburn pointed out in his welcoming speech: "Bedford Green House continues the organization's 50-year history of "firsts" including the first outreach to homeless alcoholics, the first non-hospital detox, and the first shelter for LGBTQI young adults. Bedford Green House will be Project Renewal's first project to serve families."
On hand to celebrate was Lynne Patton, HUD Regional Administrator for New York and New Jersey who quoted project consultant Jonathan Rose: "today we stick shovels in the ground to build gardens in the sky."
HPD commissioner Maria Torres-Springer pointed out that the project embodies the Mayor's newly released Housing 2.0 Plan, both by creating much needed affordable and supportive housing and through its dependence on a mission-based nonprofit as its developer/owner.
Assembly Member Jose Rivera strongly supported the project and the mission behind it, telling attendees that he too had been homeless when his family first came here, "and, if it wasn't for people like you…"
Also deeply moved was Chris Johnson, the CEO of Hollister, the contractor for Bedford Green House, who told participants that the project was an embodiment of the precepts his mother instilled in him: "You have to give to live."
Fred Harris of Jonathan Rose quipped, "If it takes a village to develop affordable housing, it takes a medium sized city to develop supportive housing."
Luminaries included Office of Temporary and Disability Assistance (OTDA) Commissioner Sam Roberts, NYC Housing Development Corporation (HDC) President Eric Enderlin, Bank of America's Todd Gomez, Bronx CB 7 Chair Adeline Santiago, Deutsche Bank's John Kimble, and CSH's Jen Trepinski.
On site services will include primary medical care, mental health treatment and support, substance use disorder counseling and treatment, conflict resolution, domestic violence counseling and support, family reunification services, horticultural therapy, nutritional counseling, healthy cooking workshops, occupational therapy, STD / HIV prevention, treatment, and support, and respite / alternative caregiving. On site services will be funded by the NYC Department of Health and Mental Hygiene and the Human Resources Administration.
Bedford Green House was financed under HDC's Extremely Low- and Low-Income Affordability (ELLA) program and HPD's Supportive Housing New Construction program. The total development cost for the project is over $58.8 million. HDC provided volume cap bonds, recycled tax-exempt bonds, and nearly $7 million in corporate reserves. HPD provided $8.85 million in City subsidy, inclusive of $2 million in HUD HOME funds and Low-Income Housing Tax Credits (LIHTC), Bank of America served as tax credit investor and provided the construction letter of credit. NYS OTDA provided funding under the Homeless Housing and Assistance Program (HHAP). Additional grant funding was provided by TD Bank and Deutsche Bank Foundation. CSH provided predevelopment loans.
Bedford Green House's development team is led by Mitchell Netburn and Sam Wells at Project Renewal, and consulting services were provided by Jonathan Rose and Dale White at The Jonathan Rose Companies. Hollister Construction Services is serving as the general contractor. Architectural design services are provided by Andrew Knox of Edelman Sultan Knox Wood Architects.
|
What's New
,
New York City
,
Groundbreakings
---
11.27.2017
The Network's collaboration with the Center for Urban Community Services (CUCS) Institute continues this year with an exciting roster of upcoming trainings.
Next up this year is a training on Foundations of Motivational Interviewing, Part 1:
Motivational Interviewing (MI), developed by Millerand Rollnick, is an intervention that helps people recognize and address problem behavior (present or potential), and is intended to help resolve ambivalence and to get a person moving along the path to change. MI serves as an important prelude to other treatment and services by creating an "openness" to change, which paves the way for further important therapeutic work. This training provides an introduction to the basic principles and skills associated with MI including OARS (Open Questions, Affirmation, Reflective Listening, and Summary Reflections), expressing empathy, rolling with resistance, and avoiding common roadblocks to change. It also offers a foundation for Motivational Interviewing Part 2, which expands these skills into actual "change talk" and promotion of commitment to change.
This training is accredited as a New York State Social Work Continuing Education Course and OASAS Certified. You can register for this training here, and use the code SHNNY-MI-12-12-17 as the coupon code for your membership discount.
Founded in 1979, the Center for Urban Community Services (CUCS) is a comprehensive human service agency and the nation's largest provider of supportive housing social services. The CUCS Institute is a leader in the provision of training to professionals in New York City and nationally. The trainers are at the forefront of emerging research and train on a range of topics related to housing and homelessness, behavioral health, criminal justice and clinical practice. The CUCS Institute is recognized as a continuing education provider by the New York State Education Department's State Board for Social Work for licensed social workers and by New York State's Office of Alcohol and Substance Abuse Services (OASAS).
For more information on registering or training content, please contact CUCS Institute.
|
What's New
,
New York City
,
Network Events
---
11.22.2017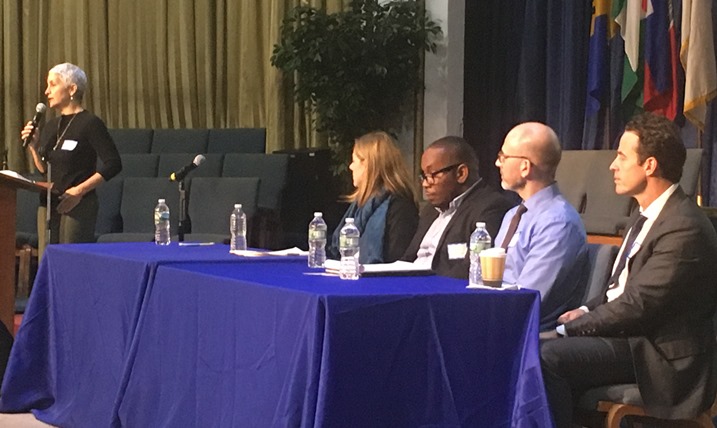 Network Executive Director Laura Mascuch and the panelists at our event on working with mission-driven nonprofits to develop supportive and affordable housing.
Some fifty members of the faith community gathered at New Greater Bethel Ministries (NGBM) in Queens to hear how their churches can work with mission-driven nonprofits to develop supportive and affordable housing. Invited by Dominic Dummett of Signature Building Consultants, hosted by NGBM's Pastor John Boyd and organized by the Network, the gathering featured presentations by the Network's Laura Mascuch, HPD's Theresa Cassano, Association for Neighborhood and Housing Development (ANHD)'s Benjamin Dulchin and RiseBoro's Scott Short.
In his opening remarks, Dominic referenced the context for the day's conversations – namely that churches, plagued by near daily offers by developers have been making ill-advised deals to sell their properties. By partnering with mission-driven nonprofits to develop affordable and supportive housing, however, faith leaders can both gain assets and further their mission to care for "the least of these."
Laura kicked off the morning by talking about supportive housing's deep roots in the faith community, having been invented and promulgated by faith leaders in the early 80s and having, at its core, the intention of helping the most vulnerable among us achieve independence and a life of dignity in the community. She also informed those assembled that between the City's and State's commitments to supportive housing, there are significant resources available to develop residences in New York.
HPD's Theresa Cassano then presented on the numerous programs the City has to encourage the development of supportive and affordable housing. She also walked attendees through the concrete steps faith-based institutions need to take in order to start the process.
ANHD's Benjamin Dulchin then spoke briefly about the importance of working with organizations that share the same values as faith based organizations hold, ticking off the benefits of churches partnering with community-based nonprofit developers. ANHD recently published a white paper about the fact that buildings developed by nonprofits have a deeper level of affordability than those built by for-profits.
Scott Short, of RiseBoro (formerly Ridgewood Bushwick Senior Center) then presented on a number of actual projects that have been developed or are in process of being developed as a result of partnerships with faith-based organizations. In one instance, the church sold its property outright, in another the church was a true Joint Venture partner and in a third the church receives a new worship space and additional rentable commercial space and is providing a long-term ground lease.
A lively well-informed question and answer period followed including questions about the Attorney General's role in these deals (the AG must approve any transfers of church properties) and how churches can know whether they're being taken for a ride ("get a good lawyer")– and what are the different levels of affordability? (ANHD passed out cheat sheets on Area Median Income).
Thank you to everyone who participated and especially to our host, Pastor Boyd and the amazing people at New Greater Bethel Ministries.
|
What's New
,
New York City
,
Network Events
---
10.24.2017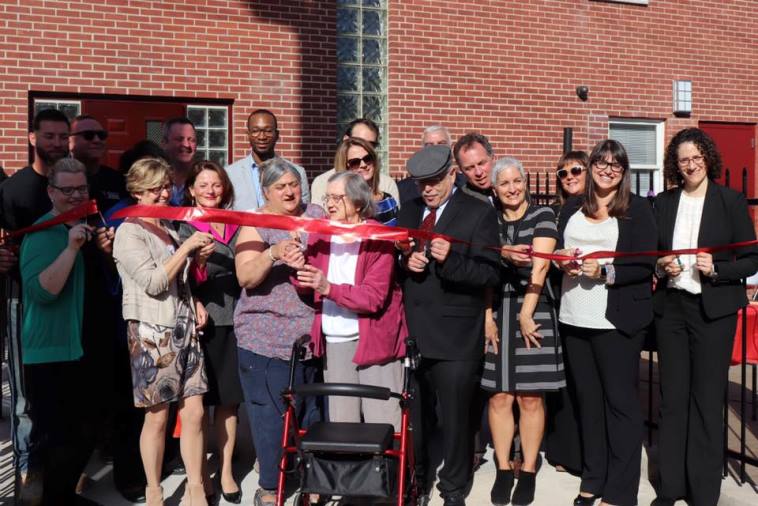 Cutting the ribbon at 411 Vanderbilt.
On an unseasonably warm sunny morning in late October, some fifty friends, staff, partners and well-wishers gathered in the front yard of 411 Vanderbilt to celebrate the long-awaited opening of Project Hospitality's (PH) first single site supportive housing residence in its 35 year history of serving homeless people on Staten Island. The project was also the first New York City project funded through the state's Empire State Supportive Housing Initiative (and only the second supportive housing residence to open on Staten Island). Both Project Hospitality's first Executive Director -- now CEO – Rev. Terry Troia and its new Executive Director Carrie Bloss were on hand to do the honors, as they helped cut the ribbon on 16 beautiful new apartments for formerly homeless individuals.
Project Hospitality Board Chair Rabbi Gerald Sussman told the story of the organization's twenty five year effort to build 411 Vanderbilt, which included multiple owners reluctant to sell, a long stretch in which the building was inhabited by squatters, and a fire that pretty much destroyed the building. Through the vision and tenacity of Project Hospitality and the project's architect Amie Gross, its contractor Mammoth Construction, as well as important funders, 411 Vanderbilt literally rose from the ashes.
Kimberly Smith of the Office for Temporary and Disability Assistance (OTDA) was not the first or last speaker to acknowledge the difficulties in developing this project. Ms. Smith and OTDA's Dana Greenberg presented Project Hospitality with a certificate of recognition from Commissioner Roberts as well as greetings from the Governor. Project Hospitality, for their part, gave out plaqued bricks to significant project partners including CSH, Capital One Richmond County Savings Foundation and the US Department of Housing and Urban Development (HUD).
CSH's Kristin Miller – whose organization had loaned PH the money to acquire the property -- noted that it had taken 25 years to make a loan for supportive housing on Staten Island, and predicted the next loan would not take as long.
Capital One's Heather Gershen pointed out that it "takes a village" not just to support our most vulnerable neighbors, but to support the groups that support them as well.
Arthur McCarthy of Mammoth Construction told listeners that he never forgot where he came from – a modest upbringing -- and that his "heart goes out to people who haven't been as lucky." He then proceeded to offer a check for $2,500 in his recently passed father's name to be used to fill the refrigerators of the 16 people who would be moving into 411 Vanderbilt over the next few days.
Also on hand were representatives from Richmond County Savings Foundation, HUD, OASAS, the Staten Island Foundation, the Network and HSU.
411 Vanderbilt was funded by HUD, OTDA, CSH, Deutsche Bank, Capital One and the aforementioned foundations. Service funding will come from the NYS Department of Health.
|
What's New
,
New York City
,
Openings
---
10.11.2017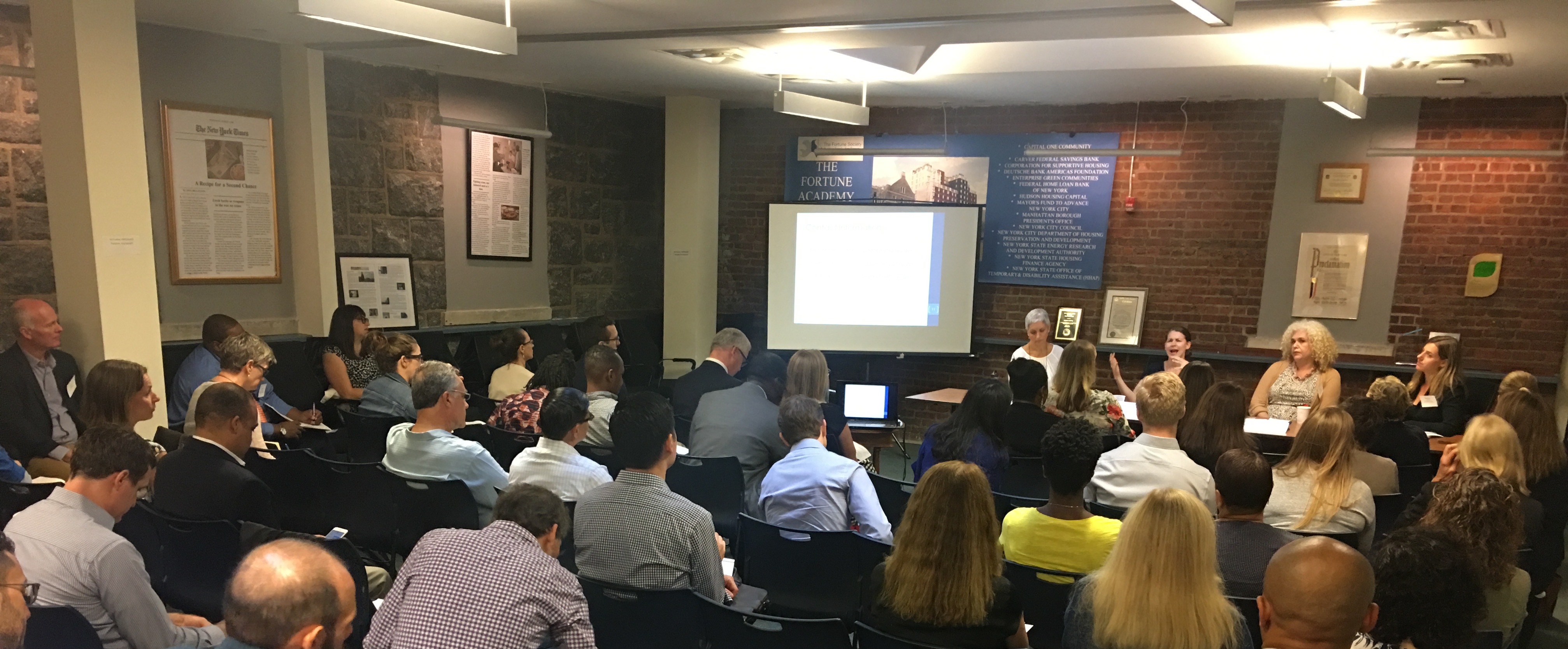 A full house at the Network's NYC 15/15 panel.
Some 90 providers, investors, lawyers and city and state government representatives gathered at Fortune Society's Castle Gardens on September 28th to hear about the City's NYC 15/15 initiative which seeks to create 15,000 new units of supportive housing over the next fifteen years. The panel, moderated by our own Laura Mascuch, featured HRA Deputy Commissioner of Supportive/Affordable Housing & Services Kristin Misner Gutierrez, HPD Deputy Director of the Supportive Housing Loan Program Theresa Cassano, and DOHMH Senior Director, Office of Housing Services Gail Wolsk. Of special interest to those in attendance was information about the City's newly minted rental assistance program which will be separate from service contracts and entirely funded by the City's tax levy funds.
Stanley Richards of Fortune Society welcomed guests with a wish that the residence in which the panel was situated served as an inspiration to those developing the next wave of supportive housing.
Kristin Misner Gutierrez presented a quick overview of NYC 15/15 – both the congregate and the scattered site programs. She summarized the six month process through which the City and the provider community used data and on-the-ground experience to develop recommendations for improving systems and rates, recommendations that the City then integrated into NYC 15/15. She also laid out the City's expectations as to how many units will go to which populations, both in terms of scattered site and single site units.
Gail Wolsk then summarized some of the innovations in service contracts that are new under NYC 15/15, including 1:15 caseloads, programs for families that must include services for children, and the requirement that services be evidence-informed.
Theresa Cassano then took over, laying out for the first time the City's rental assistance program that will be paired with the NYC 15/15 service contracts. She explained that both service and rental assistance contracts can be used in a number of HPD programs beyond the Supportive Housing Loan Program, including ELLA and Mix and Match. The new subsidy will closely resemble Project Based Section 8, although, because the funding is all City tax levy, the subsidy will not trigger Davis-Bacon. Ms. Cassano told attendees that HPD has been meeting with both providers and investors about the subsidy program to address questions and concerns.
The presentation was followed by a lively question and answer period covering a range of concerns about both the scattered site and the single site programs. Panelists also stayed after the session ended to answer participants' questions one-on-one.
Stay tuned for a Guest Blog Post from the three participants answering frequently asked questions.
|
What's New
,
New York City
,
Network Events
---
09.25.2017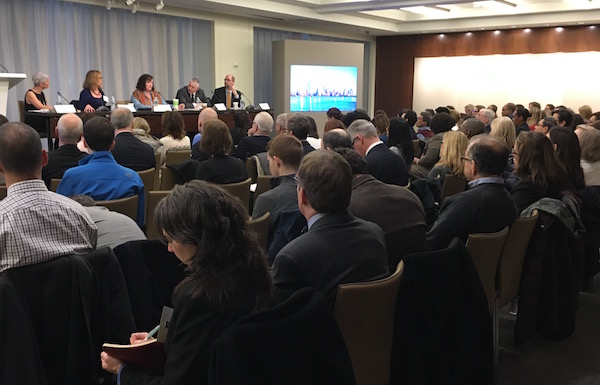 The Network's recent panel on the Empire State Supportive Housing Initiative (ESSHI).
Ever since last year, when the state and city committed to create 35,000 new units of supportive housing in two separate initiatives over the next fifteen years, the Network has focused on supporting our community in meeting this unprecedented opportunity. 27,500 of these units will be single-site. The state's commitment of 20,000 of these units – the Empire State Supportive Housing Initiative (ESSHI) – will be developed through an annual statewide RFP process, while New York City's 7,500 single-site units – part of NYC 15/15 – will be developed through an open, rolling RFP. The total number of units is three times that of any previous commitment.

The Network has embarked on a multi-year Getting to 35K Initiative for our nonprofit community. Last winter, we surveyed members to gauge their interest in developing supportive housing and to identify any impediments to the process. The results of this survey pointed us towards the types of trainings, convenings, and connections our nonprofit members needed to move forward.

In the first eight months of 2017, we convened our state partners for an ESSHI question and answer session which was attended by 100 members of our community. In February, we piloted a small, hands-on training on how to structure a joint venture with representatives from ShermanLaw, Bank of America, and Richman Housing Resources. Throughout the spring, we presented at various forums to help faith-based organizations partner with affordable and supportive housing developers, including a gathering we hosted with the Mayor's Center for Faith and Community Partnerships. Eight of our annual conference workshops were aimed at helping the supportive housing community implement NYC 15/15 and ESSHI. And in July, we held our first Joint Venture 'mixer' – bringing together for-profit developers and nonprofits interested in partnering to develop supportive housing…in a bar!

Over the next several months, we will be holding a number of events across the state on topics including financing a tax credit deal, joint ventures, and HCR's unified funding process. While we will be sending out specific invitations to each of these events, we wanted to keep you abreast of what we're planning to offer.

We would love to hear your thoughts on what else the Network could do to help us all meet our collective vision: ending chronic homelessness in New York State through the creation of sufficient supportive housing.
The Network would like to thank our funders for the Getting to 35K Initiative, without their support this work would not be possible: Bank of America, Capital One, Deutsche Bank, New York Community Trust, the Oak Foundation, Robin Hood, JP Morgan Chase, and the van Ameringen Foundation.
|
What's New
,
New York State
,
New York City
,
Network Events
---
09.01.2017

Breaking ground on Comunilife Woodhull.
On August 16th, elected officials, funders, and other partners joined Comunilife and NYC Health + Hospitals to break ground on a new supportive/affordable housing building on the campus of Woodhull Hospital.
Of the residence's 89 studio units, fifty-four will be set aside as supportive housing for patients of NYC Health + Hospitals/Woodhull who have behavioral health issues and a history of homelessness. The other 35 units will be available to low-income individuals.
The building will include a multi-purpose community room, a community kitchen, a laundry room, bike storage, and a computer room. The property will feature a 2,400-square-foot landscaped backyard, as well as a 2,300-square-foot front yard along Park and Throop Avenues.
Woodhull Hospital CEO Gregory Calliste opened the program congratulating the health and housing stakeholders on bringing the project to fruition. He introduced NYC Deputy Mayor for Health and Human Services Dr. Herminia Palacio who remarked, "Health does not happen within the four walls of a doctor's office, it happens foremost at home. These supportive housing units will go a long way to helping the residents who live here be their healthiest selves."
Dr. Palacio was followed by Comunilife's Board Chair & CEO, Dr. Rosa Gil, who noted that the project had been a dream for many years.
Stanley Brezenoff, Interim President and CEO of NYC Health + Hospitals commented "Our mission is reflected in this building and our commitment to the community."
"This development will have the power to transform lives," said New York State Homes and Community Renewal Commissioner RuthAnne Visnauskas. "I am proud to join our fellow partners in the public and private sectors who combined their dedication and expertise on behalf of the 89 residents who will call Comunilife Woodhull their home."
Other distinguished speakers included NYC Housing Preservation and Development (HPD)'s Emily Lehman, Council Member Robert Cornegy, NYS Assembly Member Tremaine Wright, Council Member Antonio Reynoso as well as Deputy Borough President Diane Reyna and a representative of Congresswoman Nydia Velasquez's office.
Funding for the project came from NYS HCR and NYC HPD. Hudson Housing Capital was the project syndicator, and Sterling National Bank and Chase were lenders. New York State Energy Research and Development provided additional grant funding. On site supportive services will be funded by the NYC Department of Health and Mental Hygiene and provided by Comunilife. Monica Lopez Architects is the project architect and Mega Contracting will provide general contracting services.
|
What's New
,
New York City
,
Groundbreakings
---
08.03.2017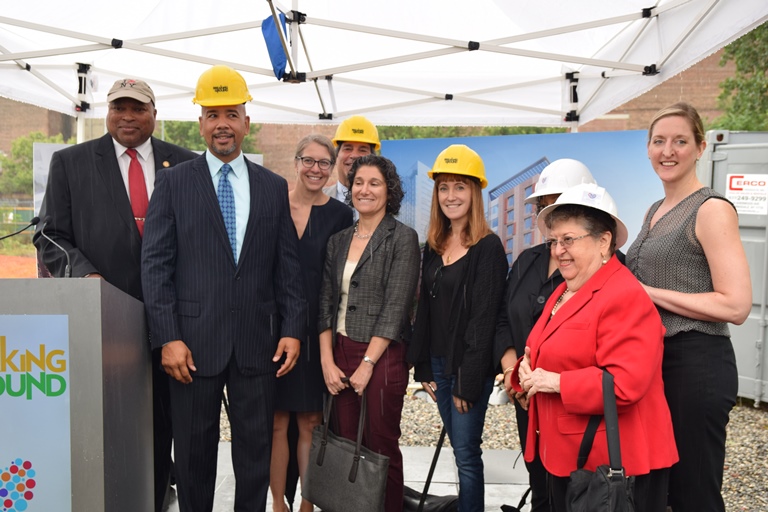 Breaking ground at La Central.
On July 24, Breaking Ground hosted state, city, and local government luminaries to break ground on the first building of what will eventually be a five-building, 1.1 million square foot development in the South Bronx with 992 units of mixed-income housing, a new 50,000 square foot YMCA, a television studio and a skate park! This first building in the La Central project will provide 160 units of supportive/affordable housing for a mix of formerly homeless individuals with special needs and low-income people from the area. As Bronx Borough President Ruben Diaz Jr. remarked: "La Central will go a long way towards showing the rest of the world that we are back: we are no longer the Bronx of the seventies and eighties."
The first La Central building is also notable for its funding: onsite services will be partially funded by the NYS's new Empire State Supportive Housing Initiative (ESSHI) in addition to service funding from HRA-HASA, making La Central among the first supportive housing buildings with ESSHI funding to break ground in the City.
Unfortunately, the groundbreaking took place amid torrential rains. Breaking Ground CEO Brenda Rosen, however, took the opportunity to remind attendees that, as uncomfortable as the speakers were huddled under the only available tent, "Imagine what it would be like to be homeless in the midst of this and what an opportunity this building represents."
Other dignitaries who spoke at the event included Commissioner RuthAnne Visnauskas of NYS Homes and Community Renewal (HCR); Commissioner Samuel Roberts of NYS Office of Temporary and Disability Assistance (OTDA); Deputy Commissioner Molly Park of NYC Department of Housing Preservation and Development (HPD); and CSH's Jennifer Trepinski.
Comunilife CEO Dr. Rosa Gil echoed the Borough President's remarks about the project saying, "La Central marks a new era for this neighborhood." Comunilife will be providing onsite services in the building.
In addition to 160 units of supportive and affordable housing, the La Central supportive housing residence will also include a 4,500 square foot community facility space.
La Central has received capital funding from NYS Housing Finance Agency, NYS HCR, NYC HPD, NYS OTDA, Wells Fargo, and CSH. Wells Fargo is the syndicator. The building was designed by FXFOWLE Architects and MHG Architects. The general contractor is Monadnock Construction, Inc.
|
What's New
,
New York City
,
Groundbreakings
---
07.10.2017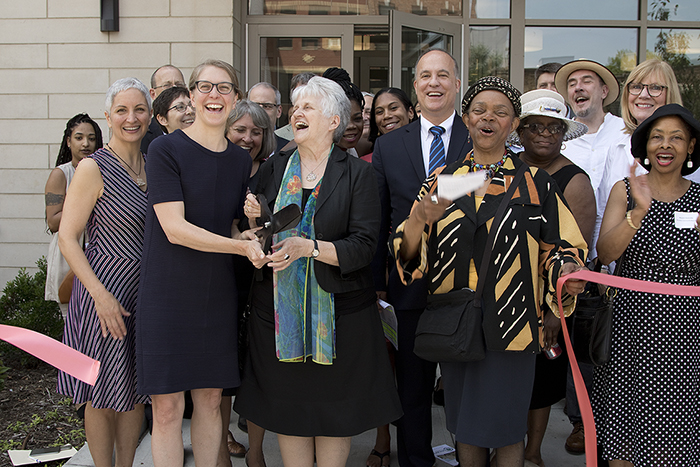 Cutting the Ribbon at Concern Bergen.
On June 30th, a beautiful Friday before the Fourth of July holiday weekend, Concern for Independent Living celebrated the opening of a new residence in the Crown Heights neighborhood of Brooklyn. The newly constructed 90-unit residence stands on what was formerly a blighted lot. Concern Bergen includes 55 supportive housing units for people living with mental illness, including those who spent time in state psychiatric centers, and 35 low-income, affordable units for both individuals and families.
Continue Reading …
|
What's New
,
New York City
,
Openings
---