Showing Posts by Category: New York City
04.18.2019
On the morning of April 9th, 22 Network members gathered to learn more about the art of siting supportive housing. The workshop included presentations from Cynthia Stuart, the Network's Chief Operating Officer, and Ralph Fasano, Executive Director of Concern for Independent Living, extensive discussion among members and an opportunity to examine and respond to fictional siting scenarios.
Continue Reading …
|
What's New
,
New York State
,
New York City
,
Network Events
---
03.25.2019
On March 6th, Network Executive Director Laura Mascuch testified at the New York City Council Committee on Finance's hearing for the Fiscal Year 2020 Preliminary Budget. She expressed gratitude on behalf of the supportive housing community for the City's commitment to NYC 15/15 and the Council's recent request to the administration for its acceleration. Laura then underscored the remaining, urgent need for at least $20 million in funding to augment woefully underfunded service and operating contracts in 1,800 scattered site units contracted by the Department of Health and Mental Hygiene (DOHMH).
Continue Reading …
|
What's New
,
Funding
,
New York City
---
03.18.2019
About 100 people gathered on March 1st under a heated tent in the Bronx to celebrate Hebrew Home at Riverdale's groundbreaking of Arthur Avenue Apartments, the result of its second collaboration with Foxy Management. The building promises 54 supportive housing units reserved for formerly homeless or chronically medically ill residents out of a total of 176 affordable housing units dedicated to low-income older adults.
Shelly Fox, president and CEO of Foxy Management, and Jeff Fox, executive vice president and general counsel for Foxy Management, welcomed attendees and introduced the special guests to the event — including Jeff Fox's one-year-old son. This was especially symbolic given that the Fox family's presence in the Bronx had begun four generations earlier with Shelly Fox's father settling first in the borough, where Foxy Management is based.
Continue Reading …
|
What's New
,
New York City
,
Member News
,
Groundbreakings
---
03.12.2019
The Supportive Housing Network is excited to help announce the launch of the Down Payment Assistance Fund (DPAF), whose creation resulted from a multi-year collaboration among stakeholders seeking to accelerate supportive housing development in New York City. DPAF is intended to assist nonprofit developers with down payments on property, allowing them to move more rapidly into contract for privately-owned sites. The nonprofits' ownership will ensure the long-term affordability of the housing developed with DPAF as well as provide critical social services. Eligible projects will include supportive housing residences, in which the majority of units are supportive, and affordable residences in which at least 30 percent of units are set aside as supportive.
Continue Reading …
|
What's New
,
Funding
,
New York City
,
Member News
---
01.09.2019
Every year, Borough Presidents and City Council Members provide capital funding to nonprofits, schools, and other organizations for projects throughout each borough. This discretionary capital funding (formerly known as Reso A) is valuable subsidy for supportive and affordable housing development projects in NYC. This funding can be helpful to fill a gap in a development budget.
Starting now, nonprofits can apply for grants through the CapGrants portal or applications listed on Elected Officials' websites. Awards are typically announced in the summer. To receive funding, applicants should schedule a meeting with the representative before submitting the application to discuss the project details. Below are the typical deadlines, though some elected officials have additional requirements and deadlines:
Borough President Requests: February 20th
City Council Requests: March 26th
Specific information for representatives can be found here:
Brooklyn Borough President: To apply to the Brooklyn Borough President's Office for capital funding for Fiscal Year 2020, organizations must fill out an application by 11:59 pm on Wednesday, February 13, 2019. In addition, organizations should complete the CapGrants portal application by 5 pm on February 20, 2019.
Bronx Borough President: The office is currently accepting Letters of Intent for Fiscal Year 2020 and orgnaizations should send a letter as soon as possible. Organizations must apply by 5 pm on Wednesday, February 20, 2019.
Manhattan Borough President: Nonprofits can apply for grants on the city's CapGrants portal. Organizations must apply by 5 pm on Wednesday, February 20, 2019.
Queens Borough President: Organizations are encouraged to apply as soon as possible. Organizations must apply by 5 pm on Wednesday, February 20, 2019.
Staten Island Borough President: All requests for capital funding from the Staten Island Borough President must be submitted via mail or email. Applications also should be submitted with a cover letter. The deadline to submit the SI BP's online capital funding application is Friday, February 10th, 2019. Organizations must also apply through CapGrants by 5 pm on Wednesday, February 20, 2019.
City Council Members: Apply through the CapGrants portal by March 26, 2019.
|
What's New
,
Funding
,
New York City
---
12.14.2018
Some 60 friends, funders, tenants and partners gathered on a crisp December morning to celebrate the opening of The Maple Residence- a 66 unit supportive/affordable building in the Crown Heights neighborhood of Brooklyn. Developed by The Bridge, Maple will bring 50 units of supportive housing to vulnerable New Yorkers suffering from mental illnesses, and 16 units of affordable housing to low-income families in the community.
The President of The Bridge's Board of Directors, Cynthia C. Wainwright, began the program by welcoming and thanking everyone in the room for their support. Susan Wiviott, The Bridge CEO, spoke next, thanking all the partners and staff members that made this project possible.
"It takes a million and half people to get this done and we really have great partners to get this done with," said Susan.
The rest of the speaking program included remarks from Brett Hebner, Director of Housing Development and Support at the NYS Office of Mental Health (OMH); Blanca Ramirez, Vice President of Acquisition/Underwriting at Hudson Housing Capital; Jennifer Trepinski, Director of Loan Originations at CSH; and last but not the least, a tenant of the building, Nancy C.
"On behalf of Dr. Anne Sullivan I'm delighted to be here and congratulations to The Bridge on its most recent beautiful building," he remarked to the audience.
Blanca Ramirez also recognized The Bridge for its commitment to provide housing to those that need it most.
"Every building has a story and we were very excited to work with The Bridge to get this beautiful building put together," said Blanca.
"The walk here was really amazing and it was great spotting the building in this corner. CSH is so proud to support The Bridge and get this project started," said Jennifer Trepinski from CSH.
The star of the show was Nancy C., a tenant of the Maple East NY Residence. She spoke of her journey from being hospitalized for mental illness to becoming a graduate student at CUNY.
"A few years ago I was hospitalized for mental illness for nine months and after that I was in a shelter briefly, and then was taken in by The Bridge. They gave me all the tools to get my life back together. I'm extremely grateful to have been selected to live at Maple, a beautiful building," she told the audience.
The Maple/East NY Residence is powered by solar panels on its roof and features a community kitchen, computer lab, and an outdoor community patio for its tenants. Comprehensive social services are funded by OMH. The building was designed by Edelman Sultan Knox Wood Architects and was constructed by DP Group General Contractors.
Capital financing for the Maple Residence was provided by OMH and bonds from the Dormitory Authority of New York and Low Income Housing Tax Credits syndicated by Hudson Housing Capital with HSBC as investor. CSH provided the pre-development loan that included acquisition funding.
|
What's New
,
New York City
---
11.20.2018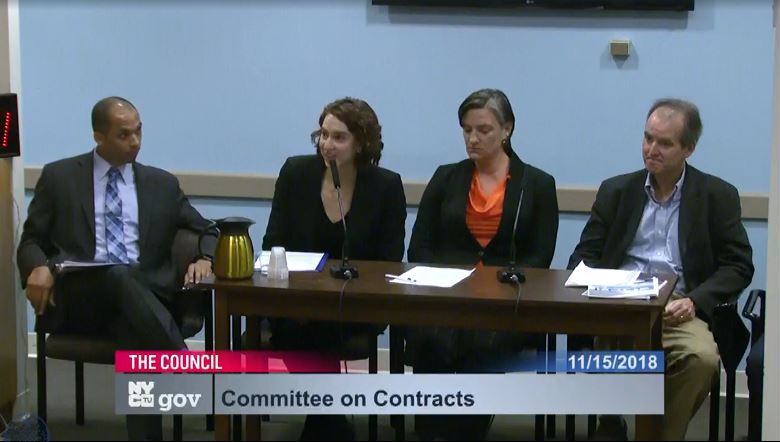 On November 15, The Network testified at the New York City Council Committee on Contracts hearing regarding a new bill that targets late contract payments to nonprofits that are delivering services to the city's most vulnerable, including many that are operating supportive housing throughout the City.
The proposed bill, which would require the Procurement Policy Board to create a process for city agencies to inform vendors of the reason for any late payments, was introduced by Committee Chair Justin L. Brannan and Council Member Rory Lancman. It would also require City agencies to provide the Mayor's Office of Contract Services with reports on any such late payment. The Mayor's Office of Contract Services would then provide a report to the Mayor and Council every six months with information about the late payments from all City agencies. Council members present at the hearing included Inez D. Barron, Bill Perkins, Helen K. Rosenthal and Kalman Yeger.
For a payment to be made on a City contract with a nonprofit, the contract must be registered, a process that includes review from many City agencies and offices, including that which will hold the contract, the Mayor's Offices of Contract Services (MOCS) and the Comptroller. In addition to the issue of late contract payments, many who testified at the hearing brought up the issue of slow contract registration as a root cause.
The Network's Director of Policy and Planning, Rebecca Sauer, testified on behalf of the Network's members that are impacted by late contract registration and payments.
"We hear serious concerns from nonprofit members who have millions of dollars of outstanding receivables on their books and fiscally unhealthy reliance on lines of credit due to late contract registration and delayed payments. Outstanding receivables can lead to audit findings. Nonprofits can spend tens or hundreds of thousands of dollars on interest on lines of credit, which is not reimbursable. The negative financial impact left by late payments can make nonprofits appear to be a risky investment partner or borrower, hindering their ability to access the financing required to develop permanent supportive housing. In their fiduciary capacity, nonprofit boards of directors are also increasingly and understandably reluctant to approve new real estate development while their organizations are supporting structural deficits and bridging late payments from existing human service contracts," she stated to the committee.
The Network thanks the Human Services Council (HSC), who has been leading the charge on efforts to reform procurement and contracting processes that affect nonprofits. Testimonies were also provided by BronxWorks, United Neighborhood Houses, LiveOn NY and many others who emphasized to the committee the human and financial toll of late registration and payments. We look forward to continuing to advocate with our partners for improvements to these administrative processes.
Read the Network's full testimony here.
|
What's New
,
New York City
---
11.16.2018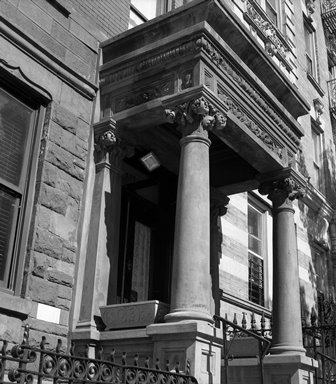 The Supportive Housing Network of New York is proud to be partnered with a coalition of housing advocates, for-profit and non-profit developers, tenant advocates and labor union stakeholders to urge lawmakers for revisions of New York's rent laws during the 2019 state legislative session.
The current regulations are set to expire on June 15, 2019 and will impact 2.5 million New Yorkers living in rent-stabilized housing. The coalition includes Enterprise Community Partners, Legal Aid Society, New York State Association for Affordable Housing (NYSAFAH), New York Housing Conference, Community Service Society, AARP New York, Association for Neighborhood & Housing Development, DC37, Coalition for the Homeless, VOCAL-NY, Center for NYC Neighborhoods, LISC NYC, Corporation for Supportive Housing (CSH), LeadingAge New York, LiveOn NY, Housing Rights Initiative and Neighborhood Preservation Coalition of New York State and the Network.
The coalition is calling on state leaders to enact the following reforms to New York's rent laws during the 2019 legislative session:
End High-Rent Vacancy Decontrol
This pathway toward deregulation, which has only been a feature of rent regulation since 1994, has encouraged the use of both lawful and unlawful means to increase rents past the deregulation threshold of $2,733 per month. These means frequently entail harassment and fraud and have resulted in displacement of long-term tenants from their homes. This year, the rent laws must be restored to their original promise by ending deregulation.

Restore Preferential Rent Protection
The State should return the rent laws to their pre-2003 form and no longer permit landlords to revoke a preferential rent upon lease renewal. Tenants with preferential rents must no longer fear the loss of their homes due to rent increases beyond those allowed under Rent Guidelines Board (RGB) rules.
Reform the Vacancy Allowance, Major Capital Improvements (MCI), and Individual Apartment Improvements (IAI)
The State should reform the provisions governing the Vacancy Allowance and Major Capital Improvement and Individual Apartment Improvement increases in a way that reduces excessive rent hikes but ensures that owners can provide safe and decent housing. Taken together, these provisions produce an exponential impact on regulated rents, creating significant financial incentives for tenant turnover, resulting in displacement.
"The Supportive Housing Network wholeheartedly endorses this coalition's recommendations regarding reforming the City's rent regulations," said Laura Mascuch of the Supportive Housing Network of New York. "The unprecedented loss of truly affordable housing over the last twenty years has led to unprecedented levels of homelessness in New York City – more than 60,000 New Yorkers are homeless right now. We look to the newly constituted legislature to address this pressing issue as its first order of business."
Read more here in this press release.
Daily News: Affordable housing developers teaming with low-income tenant activists to push for rent regulation reforms
|
What's New
,
New York City
---
10.29.2018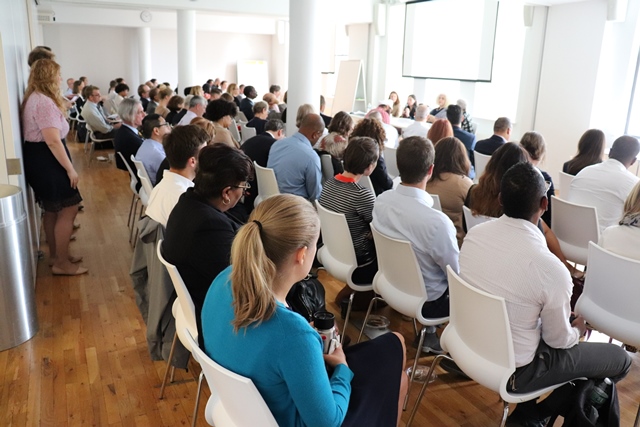 On October 1st, the Network convened a panel on the NYC 15/15 Supportive Housing Initiative. A full audience of 85 of our nonprofit, corporate, and affiliate members, and government partners attended the panel entitled: NYC 15/15 in 2018: Development & Program Updates, presented by Housing Preservation and Development (HPD) Assistant Commissioner, Special Needs Housing Emily Lehman, Human Resources Administration (HRA) Acting Deputy Commissioner, Office of Supportive/Affordable Housing & Services Jennifer Kelly, and Department of Health and Mental Hygiene (DOHMH) Senior Director, Housing Bureau, Gail Wolsk,. Attendees learned about the roles and coordination of the City agencies, the progress on the plan so far, and other valuable information about service models and development.
Jennifer Kelly of HRA emphasized the tremendous progress made so far in the ramp-up of the program, with service awards made for almost 2,700 units. In order to continue the progress, Ms. Kelly underscored the importance of providers taking the time to think about the questions in the RFP and how their program can take advantage of the unprecedented resources available to address the requirements.
Gail Wolsk of DOHMH explained the importance of integrating evidence-based and –informed practices in creating service models. She focused on how the enhanced resources available through NYC 15/15 can truly create a supportive housing program that has a holistic and, in the case of programs serving families, whole-family focus. Ms. Wolsk also explained best practices for program evaluation and staffing, and how property management staff and providers should collaborate. The audience learned about creating a service model that truly fulfills the goals of the ambitious NYC 15/15 initiative.
Emily Lehman of HPD guided the audience through the congregate development process and various HPD capital programs available to fund supportive housing units. Ms. Lehman explained the creation and success of HPD's groundbreaking city-funded project-based rental assistance for NYC 15/15. The audience gained knowledge of how the capital process, services application, and rental assistance application all tie together, and how to best set up a team's internal processes and timing.
For more information, access the PowerPoint from the event here. The Network looks forward to hosting more events as part of our Capacity Building Initiative as we strive to meet the development goals of the NYC 15/15 program and the Empire State Supportive Housing Initiative (ESSHI) and get to 35k!
We are very grateful to Robin Hood for hosting this event in their offices and to our terrific presenters!
|
What's New
,
Funding
,
New York City
---
09.25.2018
The world-renowned HPD Supportive Housing Loan Program (SHLP)– a one-stop shop that provides loans to develop supportive housing in New York City – had humble beginnings. It was started in 1988 and combined the Capital Budget Homeless Housing Program (CBHHP) and the Single Room Occupancy (SRO) Loan Program which at the time was financing the renovation of commercial SROs. Under Tim O'Hanlon during his time at the New York City Department of Housing Preservation and Development (HPD), the newly imagined SRO Loan Program grew to be the primary program the City uses to house chronically homeless New Yorkers.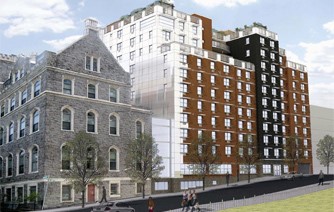 The early Supportive Housing Loan Program (then SRO Loan Program) projects were exclusively existing buildings. The program either renovated or rehabilitated the buildings so that 60% of the apartments served people in need of both housing and onsite services – such as formerly homeless individuals coping with behavioral health issues – and 40% of the apartments were designated for low-income individuals from the community. The supportive/affordable mix had numerous benefits including creating or preserving affordable housing, providing a community benefit, and ensuring buildings were integrated.

Another key element of the Program was its reliance on nonprofits: "When the City started to try to develop homeless housing on its own, parallel to CBHHP, there was too much community resistance. But when local nonprofits developed, the community went for it. They liked the accountability and the accessibility; the organizations were right there in their communities already," said Tim O'Hanlon, Vice President, Hudson Housing Capital and Former Assistant Commissioner of Special Needs Housing, HPD.


Emily Lehman, current Assistant Commissioner of Special Needs Housing, adds,"SHLP is really geared toward working with NFPs; this is a hallmark of what SHLP has always been about. The nonprofit advocate community created supportive housing in NYC, so we have tried to preserve their role to this day. One of the things that I really love about working in this program is that it feels like [the nonprofits and HPD] are all on the same team, working towards the same goal." For-profit developers can now develop supportive housing if in joint venture with a nonprofit, further expanding the universe of actors who can work to bring supportive housing to fruition.

The Program allowed providers to take on massive projects, gut rehabbing dilapidated SROs and hotels, around the city, primarily in the Upper West Side and in the Times Square area. The largest project was the Times Square Hotel. Rosanne Haggerty, former Executive Director of Common Ground (now Breaking Ground) submitted an application to HPD seeking to rehabilitate the former hotel that had been used to provide degraded housing to up to 1,000 tenants becoming in what was known as a "welfare hotel" in the 1980s. Tim O'Hanlon remembers: "At the time no one was spending money to buy buildings. But the City agreed to give Common Ground $30 million to acquire the Times Square Hotel."

The first completely newly constructed supportive housing residence was not built until the mid-1990s. Around the same time, the financing structure for supportive housing deals were beginning to diversify. SHLP funding was paired with 9% Low Income Housing Tax Credits for the first time. In 2018, HPD set-aside 40% of its 9% tax credits to fund supportive housing in New York City.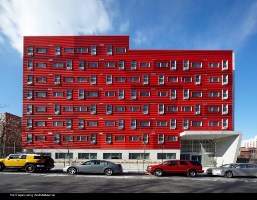 Former HPD Associate Commissioner Jessica Katz commented on the program's flexibility and its role in building the capacity of the nonprofit development community: "Nowhere else is there a program for supportive housing that operates at this scale. One key aspect is that SHLP can operate both as a stand alone program as well as in concert with other mainstream affordable housing resources. This ensures a diversity of projects including smaller deals with smaller nonprofits as well as the ability to incorporate supportive housing within larger affordable housing projects. This builds capacity in the sector and encourages a wide variety of supportive housing options."

Since 1988, the Supportive Housing Loan Program and related historic HPD programs have produced over 19,000 supportive and affordable units.

|
What's New
,
New York City
---