Showing Posts by Category: New York City
05.23.2017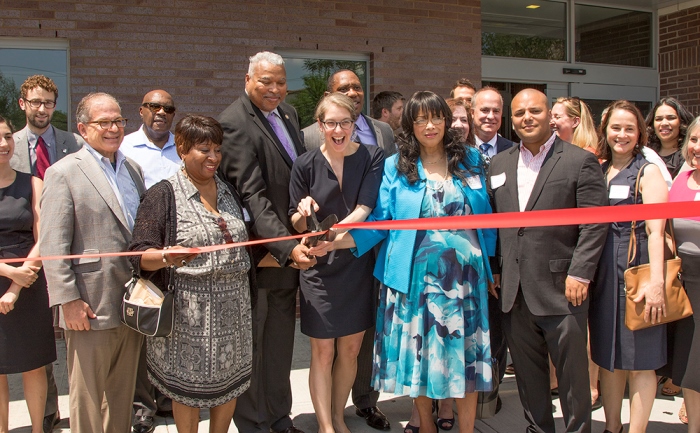 Cutting the ribbon at Norwood Terrace.
More than 80 partners, staff, tenants and well-wishers gathered May 19th to celebrate the opening of Norwood Terrace, a new affordable/supportive residence developed by B&B Urban and Concern for Independent Living in the Norwood section of the Bronx. The 115-unit residence features a library, a computer lab, and a roof garden in addition to its mix of efficiency, one, two and three bedroom apartments; the building is now home to formerly homeless individuals as well as families and individuals from the community.
Concern's Executive Director Ralph Fasano welcomed guests and marveled at the number of people and agencies whose commitment and passion had resulted in Norwood Terrace. He noted the complexity of the project and thanked the agencies, investors, syndicator, lawyer, architect and builders. He even gave the Network a shout-out for its work leading to the creation of the Medicaid Redesign Team Supportive Housing Program, which invested capital in the building to house homeless high cost Medicaid recipients. Mr. Fasano lavished special praise on co-developer Alan Bell of B&B Urban whose "genius" made the project – which knit together eleven sources of funding – work.
Mr. Bell for his part returned the compliment, noting that Norwood Terrace was his first full 50/50 partnership with a nonprofit developer: "Little did I know that I was starting with the best."
HCR Commissioner RuthAnne Visnauskas congratulated the many partners and pointed out that the Governor had just the day before signed legislation authorizing $1 billion for 6,000 units of supportive housing.
Other speakers included OTDA's Samuel Roberts, OMH's Moira Tashjian, Bank of America/Merrill Lynch's Todd Gomez, Richman Housing Resources' Moshe McKie-Krisberg and CSH's Jennifer Trepinski. Brian Loeb of the Federal Home Loan Bank noted that Norwood Terrace was the bank's 13th collaboration with Concern. He encouraged more nonprofit supportive housing developers to "come find us." HPD's Emily Lehman pointed out that the project used $2 million in HUD HOME funding – which, in turn, leveraged tens of millions in state and private financing. She encouraged the crowd to continue to advocate for the HOME program which is currently threatened with devastating cuts.
As always, the highlight of the event came from the new tenants. Victor Rosado brought up Concern staffer Ruth Mercadoto translate his speech from the Spanish. Mr. Rosado told guests he had been homeless and had struggled with a number of issues, including diabetes for years before he came to Norwood Terrace. He said that thanks to his new home and his new Concern family "I am a new man."
Resident Diane Silver also spoke glowingly of her new home and the spectacular staff at Norwood Terrace. She called Ralph her "fairy godfather".
Funding for the project came from NYS Homes and Community Renewal, NYS Office of Temporary and Disability Assistance, NYC Department of Housing Preservation and Development, Federal Home Loan Bank, and CSH. Bank of America Merrill Lynch invested in tax credits which were syndicated by Richman Housing Resources. On-site services are funded by the Office of Mental Health. Hirschen Singer & Epstein were the project's attorneys. HLS Builders Corp. was the general contractor, MHG Architects PC the project architect and Betts Housing Consultants the project consultant.
|
What's New
,
New York City
,
Openings
---
05.22.2017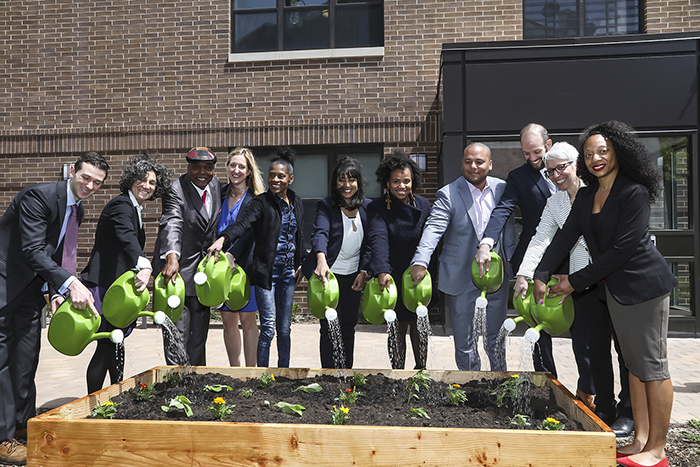 Watering the new garden at SUS' Henry Apartments.
On a sunny May morning, Services for the UnderServed celebrated the opening of Henry Apartments, a beautiful new supportive housing development, in Ocean Hill, Brooklyn, co-developed with Alembic Community Development. The new development, consisting of two neighboring six-story buildings is named after community leader Stan Henry, who, for more than forty years, was the owner and operator of a hardware store that occupied one corner of the development site. As described by Alembic's Benjamin Warnke, "Mr. Henry worked tirelessly to acquire the long-vacant lot adjacent to the store and to complete this project, the latest chapter in a lifetime of service to the neighborhood."
Henry Apartments features 134 total units: 78 supportive units, for formerly homeless individuals with the remaining one-, two-, and three-bedroom affordable apartments for low-income families and individuals.
SUS' Chief of Staff Judith Jackson welcomed guests and made note that "this is not a ribbon-cutting," which, she noted, is all about the building. "This is a housewarming, an occasion that's focused on our building's tenants." (Hence the picture above). CEO Donna Colonna spoke of her gratitude to SUS' "amazing team" and gave a special shout-out to Senior Vice President of Real Estate and Property Development Arlo Chase, for the critical role he played in bringing Henry Apartments into existence.
Tenant Angela Thomas shared some thoughts about how Henry Apartments has transformed her life: "I'd been living in a shelter for five years. I'm 60 years old. I thought I'd never get out, there was stealing, there was beating…when I saw Henry Apartments and how big that studio was, I saw God."
Other speakers at the event included Paula Roy Carethers of NYC Housing Development Corporation, a representative from the office of Senator Velmanette Montgomery, and Genese Morgan, the Chair of Brooklyn Community Board 16. HPD Deputy Commissioner Molly Park described Henry Apartments as a remarkably successful collaboration between the community, government agencies, and SUS.
The two buildings feature, a lovely outdoor recreation space including an area designed for urban farming, and many other typical amenities. On-site services are provided by SUS and are funded by the NYS Office of Mental Health.
Funding for the project was provided by NYC Housing Development Corporation, NYC Department of Housing Preservation and Development, and Corporation for Supportive Housing. The tax syndicator was Richman Housing Resources. The development's architects were Peter L. Woll and Alphonse Diaz and the contractor was Mega Contracting.
|
What's New
,
New York City
,
Openings
---
05.15.2017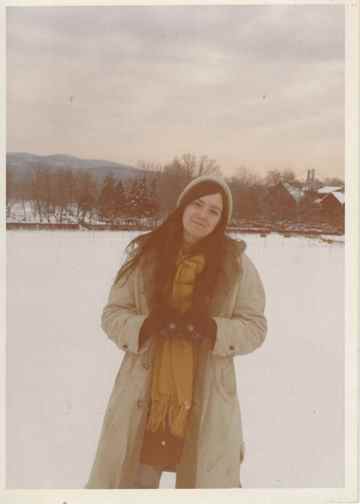 Frances E. Ficklen in an earlier era.
On Friday April 28th, Columba Kavanagh's GEMA Hall dedicated their new tenant lounge to a former tenant Frances E. Ficklen surrounded by the tenant's family members. Tragically, the family had lost touch with Ms. Ficklen due to the onset of mental illness and only found her name associated with GEMA Hall years after her death. The family members found peace in the knowledge that Ms. Ficklen had died peacefully in her sleep surrounded by caring staff and tenants.
Ms. Ficklen's sisters and cousins attended the ceremony and spoke passionately about Frances who had been doing fieldwork in Martinique after earning her Master's degree in Anthropology when she experienced the onset of mental illness. The redecorated tenant lounge – financed as part of the building's Year 15 refinancing, reflects Frances' love of the Caribbean.
|
New York City
,
Openings
---
04.28.2017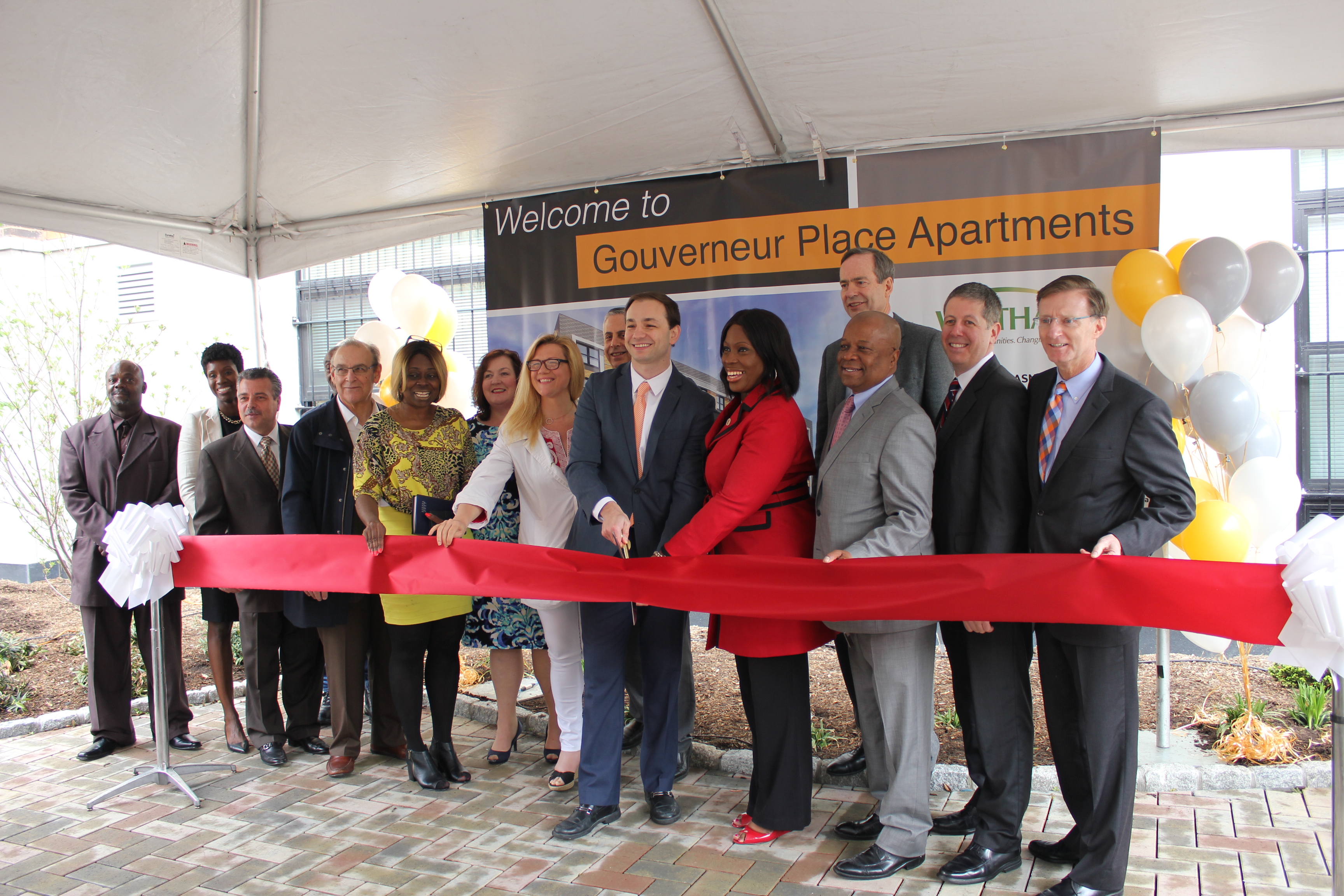 Cutting the ribbon at Gourverneur Place Apartments.
On a blustery April morning, Westhab opened a gracious new supportive housing residence, Gouverneur Place Apartments, in the Bronx. The residence features 68 units: 50 efficiency apartments for people with mental health challenges and 17 one, two, and three bedroom apartments for low-income individuals and families. Westhab is based in Westchester and has many supportive housing residences in that area – this is their first residence in New York City.
Westhab's President & CEO Richard Nightingale welcomed the enthusiastic crowd and referred back to the blazing day in August two years earlier when Westhab had hosted the groundbreaking for this same property, "hopefully, our first of many in New York City!" NYS Office of Mental Health's Moira Tashjian told attendees that actually, the genesis of the project could be traced back eight years, and that its successful completion is a testament to the powerful working relationships that have developed between City, State, and nonprofit partners.
The building features spacious apartments, a lovely outdoor courtyard, and many other on-site amenities including a computer lounge. On-site services are funded by the NYS Office of Mental Health.
Four of the building's tenants spoke movingly about how this beautiful building has transformed their lives. Jeffrey Dantzler said "a year and a half ago, I was sleeping in chairs... it's amazing that now I can put a key in my own door thanks to Westhab!"
UnitedHealthcare employees created move-in baskets for residents filled with household supplies and gift cards. UnitedHealthcare was also the tax credit investor.
Funding for the project was provided by NYS Office of Mental Health, NYS Homes & Community Renewal, the NYC Office of Environmental Remediation, and UnitedHealthcare through a partnership with Enterprise Community Partners, who was the tax syndicator. The residence's architect was SLCE Architects and the contractor was Rende Contracting Corp.
|
What's New
,
New York City
,
Openings
---
04.18.2017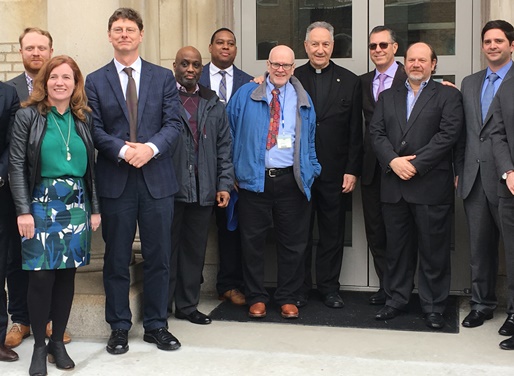 Dignitaries at the dedication ceremony of Bishop Thomas Daily residence.
Some fifty partners, well-wishers and illustrious members of the Archdiocese of Brooklyn and Queens gathered to celebrate the dedication of one of New York's earliest supportive housing residences as the newly refurbished Bishop Thomas V. Daily Residence on April 5th. First opened in 1985 by Catholic Charities Progress of Peoples Development Corporation, the former grammar school recently underwent a gut rehabilitation turning its SRO units into efficiency apartments, updating the building systems and adding six additional apartments!
Catholic Charities of Brooklyn and Queens' President and CEO Monsignor Alfred LoPinto welcomed the guests, inviting his Deputy CEO the Very Reverend Patrick J. Keating to give the opening prayer, with the Bishop of Brooklyn Nicholas DiMarzio offering the closing prayer.
Karim Camara, the Executive Director of the Governor's Office of Faith Based Community Development Services sent greetings from the Governor who was in Albany negotiating the budget (including $1 billion for supportive housing). "He wanted me to tell you that you make his work easier and to thank you."
Among the other featured speakers was Msgr. Ralph Maresca, pastor of the St. Francis of Assisi parish who talked about Bishop Daily's life-long commitment to serving the poor and who would regularly drive past empty buildings in Brooklyn and say "we should buy that building and fix it up for people who have no place to live."
Also speaking was David Selby, a veteran who had moved into the Residence in July. "I'm a combat veteran so I'm usually the person taking care of people. Now I have a family that is taking care of me."
The crowd included former Catholic Charities Progress of Peoples Development Corporation Executive Director and supportive housing founder John Tynan, who had helped create the original residence (that was run by Network Executive Director Laura Mascuch back in the day), new COO Christine Chisholm, and Deputy Borough President Diana Reyna.
The rehabilitation of Bishop Daily Residence was made possible with funding from NYS Homes and Community Renewal, NYC Housing Preservation and Development, Richman Housing Resources, and Wells-Fargo Bank. On site services at the residence are paid for by the Department of Health and Mental Hygiene and NYC Department of Homeless Services. MDG did construction on the project and Dattner Associates was the architect.
|
What's New
,
New York City
,
Openings
---
02.27.2017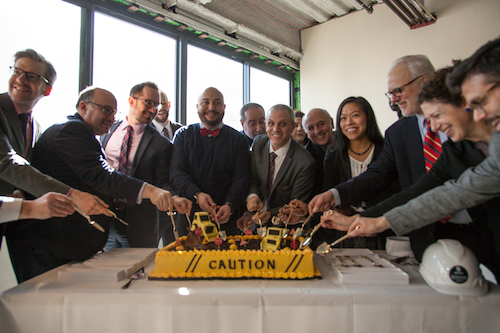 "Breaking ground" at 1880 Boston Road Senior Apartments.
On February 10th, 2017, the Hebrew Home at Riverdale, Foxy Management, and Alembic Community Development held a 'bolting up' celebration for 1880 Boston Road Senior Apartments – a project that will create supportive and affordable housing on top of the building currently in existence (hence the 'bolting up' instead of the traditional 'groundbreaking'). This project is the first of Governor Cuomo's Empire State Supportive Housing Initiative (ESSHI) awards to begin construction in New York City. Of the 168 total units, 51 units will be set aside for homeless and frail seniors.
The celebration was both star-studded and beautifully turned out, with giant black and white drawings of the future residence adorning the walls as well as a huge cake decorated with earth movers, accompanied by gold shovels with which to slice it!
NYS Senator Ruben Diaz opened the program, praising the project for filling an acute need. NYS Assembly Member Luis Sepulveda specifically commended the partners for creating housing that was "truly affordable."
Council Member Rafael Salamanca presented Jeff Fox of Foxy Management a large check for Reso A money in support of the project. Recently appointed HPD Commissioner Maria Torres-Springer was also on hand noting that, "this project helps complete part of the Mayor's plan to build and preserve affordable and senior housing."
Daniel Reingold of Hebrew Home at Riverdale spoke of how his agency created the first shelter for victims of elder abuse in the nation. He commented on the severity of the problem and said, "We are proud to be able to offer services to 51 formerly homeless seniors who may have suffered at the hands of another person. We are so happy to partner with Alembic and Foxy Management on this great project."
1880 Boston Road Senior Apartments is a collaboration between NYCHA, NYS HDC, NYC HPD, NYC Council Member Rafael Salamanca and TD bank. Services will be funded by the Department of Health through an ESSHI award. NYCHA contributed 168 Project Based Section 8 Vouchers, targeting seniors earning no more than $19,000 per year. HDC contributed $37.8 million in bond financing along with $9.2 million in subsidy. HPD's SARA program was included in the financing as well. TD Bank provided a $38 million dollar credit enhancement. Council member Salamanca gave $728,000 in Reso A money to the project. Raymond James was the tax credit syndicator, architects were SLCE. The GC was Lendlease.
|
What's New
,
New York City
,
Groundbreakings
---
02.24.2017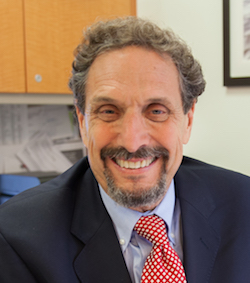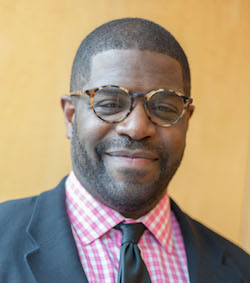 Executive Director Stephan Russo stepped down from his position at Goddard Riverside Community Center ("Goddard") at the end of the year, succeeded by Dr. Roderick Jones, formerly the President and CEO of Grace Hill Settlement House in St. Louis, Missouri. Prior to his eight years at Grace Hill, Dr. Jones served as President and CEO of the Community Place of Greater Rochester.
Except for a stint at the NYC Department of Homeless Services, Mr. Russo spent his entire career at Goddard Riverside, starting as a youth worker in 1976 and becoming Executive Director in 1998. Under his leadership, Goddard significantly expanded its programming to vulnerable children, youth, and adults. Mr. Russo oversaw mergers with two other settlement houses. He was also honored as one of the founders of the supportive housing movement at the Network's awards Gala last year.
The Network's Executive Director Laura Mascuch said, "Stephan has a deep connection to his community where he is loved and admired. I had the privilege of working for him at DHS and witnessed his steadfast nature when combatting the homeless crisis, never wavering in his commitment to serving those in need. While we'll miss Stephan, we are excited to work with Dr. Jones as he takes the reins at Goddard."
|
In the Media
,
What's New
,
New York City
,
Member News
---
02.23.2017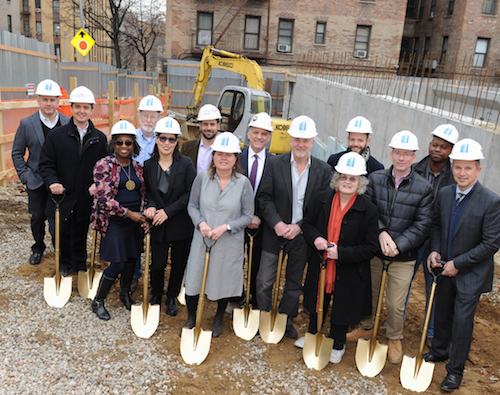 Breaking ground at 111 East 172nd Street.
On February 22, 2017, Community Access held a glorious groundbreaking ceremony for their new 126-unit building at 111 East 172nd Street. Upon completion, the building will include 57 affordable two-bedroom apartments, 8 affordable studio apartments and 60 studio apartments for tenants referred by the New York State Office of Mental Health. Community Access' long-time Director of Real Estate Maggi Knox attended the festivities with a heavy heart – this will be her last groundbreaking before retirement.
Boasting a wide range of health-focused amenities, the residence will provide on-site social services by Community Access staff with OMH funding. Free Wi-Fi, two large community rooms, a collaborative kitchen for integrative cooking and nutrition, 24-hour front-desk security and a large backyard with Community Access' first urban farm will offer residents many ways to cultivate a strong community, centered on holistic health and recovery. The backyard will host a hoop house and raised planting beds, as well as a playground and outdoor exercise area for children and adults.
Community Access' CEO Steve Coe welcomed the crowd, thanking Deputy Chief Executive Director Cal Hedigan, Director of Housing Mark Jennings, and the project's architect Peter Woll, who also designed Community Access' first building in 1984. Mr. Woll noted the positive health impact of the residence evident throughout…from Community Access' pet adoption program, to the presence of a bicycle-powered smoothie-machine, pumping out healthy delicious smoothies for guests!
Board Member Diane Louard-Michel stated that East 172nd Street is "taking supportive housing to a whole new level, bringing low-income New Yorkers home, hope and futures."
Newly-appointed NYS Homes and Community Renewal Commissioner RuthAnne Visnauskas spent her second day on the job at the groundbreaking, citing the supportive housing model as "an investment that grows and strengthens communities."
Molly Park, Deputy Commissioner for Development at NYC Department of Housing Preservation & Development, warmly congratulated the entire team, remarking that the unique residence is "both housing and a farm."
Brett Hebner of the NYS Office of Temporary and Disability Assistance praised the dedication of Community Access - from concept to closing - in all of their projects, as well as the high level of investment from the City and State—an investment "unmatched anywhere in the country."
Kristin Miller, Director of the NYC Metro Region Office of CSH, reminded the crowd of the importance of site acquisition, which is the first step in a supportive housing financing deal. She applauded the MRT units as "housing as healthcare."
Director of Citi Community Capital Bill Yates thanked all development partners for their amazing teamwork, particularly Mr. Coe and Ms. Knox.
The program closed with remarks from Community Access tenant Roshelle Rosa. Surviving a car accident sixty years ago, Rosa lost her ability to work, lived through domestic violence and eventually ended up on the streets. She thanked Community Access for lifting her up and providing her with a space to thrive. She has greatly benefited from their Pet Access Program, and now spends her days with the love of her life, a four-year-old Shih Tzu named Elvira.

The $52 million project is funded by New York State Homes and Community Renewal, the New York State Office of Mental Health and the New York City Department of Housing Preservation & Development. Major funding was also provided by a grant from Citi Community Capital, and tax credit financing syndicated by Richman Housing Resources, LLC, with Citi Community Capital as the sole investor. The New York State Energy Research & Development Authority also provided funding for the project. The general contractor is Mega Contracting Group.
|
What's New
,
New York City
,
Groundbreakings
---
01.31.2017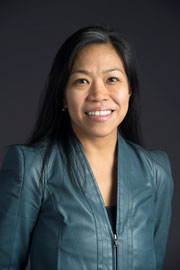 Maria Torres-Springer has been appointed by Mayor de Blasio to serve as the new HPD Commissioner. Ms. Torres-Springer comes to HPD after working on neighborhood planning and the development of public sites as President and CEO of the NYC Economic Development Corporation (NYCEDC) since June 2015, and prior to that, leading the NYC Department of Small Business Services (SBS) as Commissioner.
In a statement, Ms. Torres-Springer said, "Having grown up in Section 8 housing, I know first-hand that the work we do is a lifeline to hundreds of thousands of families. Housing is the top expense for New Yorkers, and for far too many rising rents threaten their ability to stay in the city they love. I've spent my career helping people secure better jobs with better wages, and developing neighborhood projects that provide affordable homes and economic opportunity. Vicki leaves big shoes to fill, but I'm honored to have a chance to keep up the record-breaking progress she's achieved."

As head of NYCEDC, Ms. Torres-Springer was responsible for transforming Spofford, a former juvenile detention center in the Bronx, into a hub for the arts and affordable housing, and has been the de Blasio administration's lead in developing the Downtown Far Rockaway Neighborhood Plan, which included more than $90 million in neighborhood investments and affordable housing to serve both the lowest-income New Yorkers and the middle class. At SBS, Ms. Torres-Springer spearheaded initiatives to raise wages and expand skill-building in workforce placement programs, and streamline the regulatory environment for small businesses. Ms. Torres-Springer began her career working in affordable housing with the Local Initiatives Support Corporation, where she was involved in re-zoning and housing projects.
The Network welcomes Ms. Torres-Springer to her new position and looks forward to working together.
|
In the Media
,
What's New
,
New York City
---
01.26.2017

New York City Council Member, and Chair of the General Welfare Committee, Stephen Levin at the hearing.
"This doesn't just happen to those people," said Jennifer Garris. "Anyone can become homeless."
Ms. Garris has a Masters degree and was a special education teacher for 24 years. But after her husband passed away, she struggled with depression and alcohol use. Soon, she became homeless.
This is a familiar story across the country. No one wakes up and decides "today is the day I become homeless." People lose stability to the unexpected—medical emergencies, sudden layoffs, or an untreated mental health condition. Yes, access to housing is essential to address our homelessness crisis. But housing alone cannot get everyone back on their feet. Some individuals need support to move forward.
Today, Ms. Garris is no longer homeless. She lives at The Schermerhorn, a supportive housing residence in Downtown Brooklyn. The Schermerhorn provides more than affordable housing. It also offers case management, and substance abuse and mental health counseling. Other programs taught Ms. Garris about money management, community building, and self empowerment. "They teach you how to live again," she said.
As a New York City Council Member, and Chair of the General Welfare Committee, I am a fierce advocate of supportive housing. At its core, supportive housing is affordable housing combined with on-site resources. These supportive services help individuals overcome the challenges that left them chronically homeless. Experts agree that supportive housing is an effective way to address homelessness. This is especially true for those with mental health and substance use issues.
More than just a place to live, supportive housing is about community. In Fort Greene, Brooklyn Community Housing and Services provides community space for residents. Neighbors organize baby showers, quinceañeras, neighborhood meetings, and even weddings and funerals. Executive Director Jeff Nemetsky said "The tight-knit community of supportive housing residences cannot be underestimated."
Supportive housing is the way forward. However, the need far exceeds the supply. In New York City, for every person placed into supportive housing there are four more people waiting. The statistics are sobering. There are over 60,000 homeless individuals in the Department of Homeless Services shelter system. Thousands more are in specialized shelters for youth, survivors of domestic violence, and those with HIV/AIDS. These figures do not include individuals living on the streets. If we are to make progress reducing homelessness, we must be aggressive.
That's why I co-chaired a joint hearing on supportive housing on January 19th with Council Member Jumaane Williams of the Housing and Buildings Committee. Participants included a wide range of stakeholders including the City agencies connected to supportive housing -- HRA, HPD, and DOHMH, supportive housing tenants, advocacy organizations, community board chairs and supportive housing providers. Ten Council Members also took part in the half-day hearing.
"We truly appreciate the Councilmembers' decision to hold the hearing in a supportive housing residence—because quite frankly, seeing is believing," said Laura Mascuch, Executive Director of the Supportive Housing Network of New York. "Our hope is that Council Members came away with a clear idea of the enormously successful model of housing-plus-services and its transformative impact both on the lives of the formerly homeless people who live there as well as the neighborhoods in which it's built."
Housing experts came together to share plans on expanding supportive housing. Through the NYC 15/15 Initiative, New York City has committed to build 15,000 units of supportive housing in 15 years. Additionally, the City will put in place 23 recommendations from Mayor de Blasio's Supportive Housing Task Force.
Much of the supportive housing in New York City has been developed through joint collaborations between the City and State. These are known as the NY/NY agreements. New York City has committed to invest in new units. The State has yet to fully deliver on a year-old promise to invest $2 billion in supportive housing. The failure to establish a new NY/NY agreement is a casualty of the politics between New York City and the State. In the meantime, tens of thousands of individuals and families are waiting for shelter.
Enough waiting. We know what works. The evidence shows that supportive housing is one of the best tools we have to address the crisis of homelessness. Let's provide for our most vulnerable neighbors and set them on a path to long-term stability.
|
What's New
,
New York City
---