Showing Posts by Category: Network Events
03.20.2017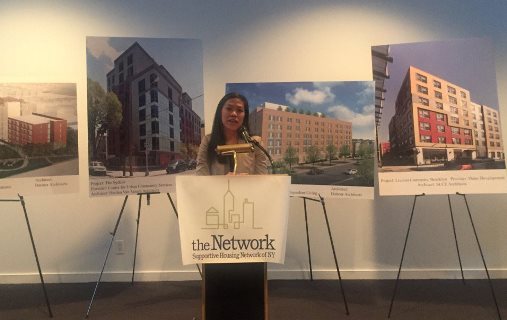 Commissioner Maria Torres-Springer addressing the crowd at Scandinavia House.
Network members gathered on the evening of March 9 at Scandinavia House for the Network's Annual Meeting. Nonprofit providers, architects, developers and other members of our community came together to meet, mingle and hear about the past year's accomplishments.
Newly-appointed HPD Commissioner Maria Torres-Springer addressed the 100 attendees before dashing off to attend a Town Hall meeting in Brooklyn. She expressed her delight at being named Commissioner, noting that although she had not worked specifically in housing, she had a long career in community and economic development most recently as Executive Vice President and Chief of Staff of the NYC Economic Development Corporation, as well as at her very first job in New York City working at LISC.
Ms. Torres-Springer also spoke movingly about her lived experience of the importance of stable housing, having grown up in Section 8 housing. She recounted how terrified her entire family became on the day of annual Section 8 recertification, knowing if it did not go well, her family would become homeless. She effusively praised Network members, pictures of whose new residences graced the room, for the spectacular work they do every day housing New York's most vulnerable individuals and applauded the Network as a national model for supportive housing advocacy.
Executive Director Laura Mascuch then welcomed members and gave an update on the Network's accomplishments in 2016 ending with a call to stay strong in the face of what will unquestionably be enormous challenges in 2017. But, she concluded, "we've always been fighters." Executive Director of Concern for Independent Living Ralph Fasano stood in for Network Board Chair Bill Traylor in welcoming guests, and, as Board Treasurer, presented the Network's financials. Guests spent the evening networking, marveling at the beautiful new residences adorning the walls and showcased in a slideshow, as well as checking out a slideshow of photos from openings and other events from 2016. Catered by the incomparable City Beet Kitchen, the event once again reminded us how lucky we are to represent this stellar community.
|
What's New
,
Network Events
---
03.13.2017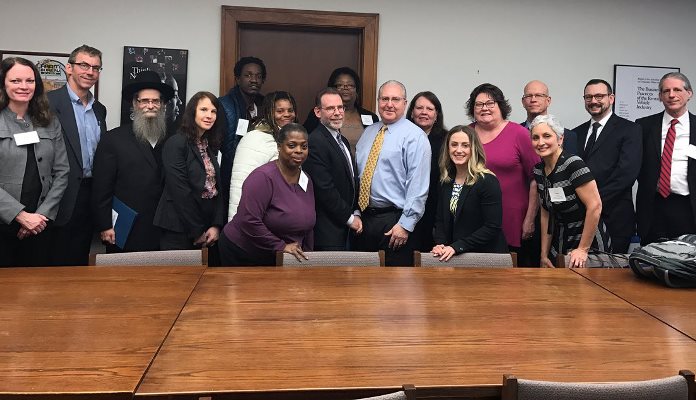 Network members and Executive Director Laura Mascuch with Assembly Member Steven Cymbrowitz.
On March 1st, the Network hosted our annual Albany lobby day. Over 130 of our members' tenants and staff took part in over 60 legislative meetings, including face to face meetings with the Assembly Chairs of Social Services, Mental Health and Housing.
Our legislative agenda received robust bi-partisan support. We continue to press for a complete affordable and supportive housing plan, to be funded at $2.5 billion. This is the first step to implement the plan for 20,000 units of supportive housing over 15 years that the Governor announced in January of 2016.
We also pressed for $35.7 million to raise the rates for all Office of Mental Health Housing, which have been stagnant since the 1990s. This includes OMH scattered site and also some NY/NY 1 and 2 projects that have not even seen meager increases.
Finally, we called for $4.2 million increase in the Office of Temporary and Disability Assistance's New York State Supportive Housing Program. This would fund programs on the waiting list and restore cuts to existing supportive housing programs.
Thanks to all of our members who joined us for an amazing and effective day.
|
What's New
,
New York State
,
Network Events
---
01.25.2017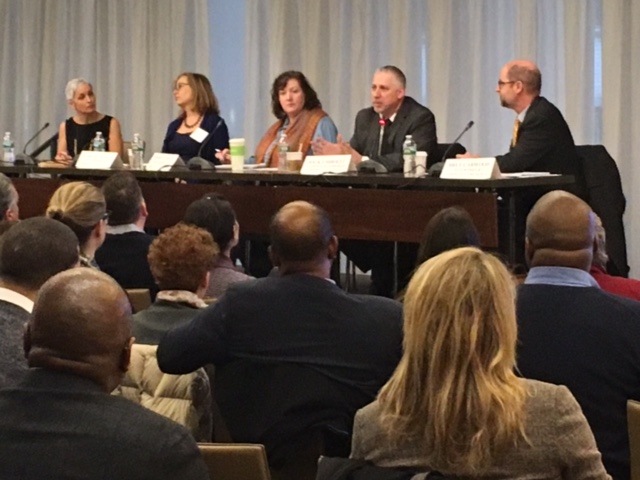 Laura Mascuch, Marian Zucker, Moira Tashjian, Rick Umholtz, Bret Garwood at the Network panel discussion.
On Tuesday, January 24th the Network hosted a panel discussion with our state government partners about the new ways New York State is implementing its supportive housing program through the Empire State Supportive Housing Initiative (ESSHI) and coordinating capital programs: NYS Homes & Community Renewal's Supportive Housing Opportunity Program (SHOP) and the Office of Temporary Disability & Assistance Homeless Housing Assistance Program (HHAP). The event was held at JP Morgan Chase Bank in NYC and had over 100 Network members attend.
Panelists included: Bret Garwood, Senior Vice President, Multifamily, NYS Homes & Community Renewal; Moira Tashjian, Associate Commissioner, NYS Office of Mental Health, and Chair of the ESSHI Interagency Workgroup; Rick Umholtz, Director for the Bureau of Housing and Support Services, NYS Office of Temporary & Disability Assistance and Marian Zucker, President, Finance & Development, NYS Homes & Community Renewal. The Network's Executive Director, Laura Mascuch, moderated.
Panelists covered details about ESSHI, SHOP and HHAP including how these programs all intersect with one another, how to decide what capital resources to apply for, ESSHI timeframes, etc. Panelists also discussed what's next for 2017 and answered questions about how to best access and use this new program.
In 2016, Governor Cuomo announced a commitment to fund 20,000 units of supportive housing over the next 15 years. As part of this commitment, NYS is rolling out the development of 1,200 units a year across the state. To do this, they created a brand new services and operating program called the Empire State Supportive Housing Initiative (ESSHI) intended to be coordinated with various state and local capital resources. The Network is working with our members, government partners and stakeholders in the private sector to help build capacity in the supportive housing community to ensure we can meet the state's goal to develop and fund 1,200 units a year over the next 5 years and a total of 20,000 units over the next 15.
Special thank you to JPMorgan Chase Bank for graciously hosting and sponsoring the event.
|
What's New
,
Funding
,
New York State
,
Network Events
---
12.01.2016
On October 27th, the Fortune Society, John Jay College's Prison Re-entry Institute, the Network, and CSH hosted a conference on the obstacles people with criminal justice involvement face trying to access safe, affordable housing and promising practices as to how to overcome them. The sold-out event attracted a deeply engaged audience of 250 people. The Fortune Society's Stanley Richards, the first formerly incarcerated individual appointed by the City Council to be a member of the NYC Board of Corrections, acted as the host for the day.

The day began with an in-depth conversation about the fundamental values and vision that drive policy related to providing housing and services to justice-involved people. Jerilyn Perine, Executive Director of the Citizens Housing Planning Council, spoke eloquently about the essential connection between decent housing and personal well-being. Ana Oliveira, President of the New York Women's Foundation, forcefully declared that housing is a human right, fundamental to a person's dignity and ability to achieve one's full potential. Anthony Thompson, Professor of Criminal Law at NYU law School, spoke powerfully about the importance of valuing the concept of redemption in creating housing policy for justice involved individuals. This opening conversation was facilitated by Ann Jacobs from PRI.
Other panels focused on the barriers justice-involved individuals face accessing housing as well as promising practices in New York and around the country for addressing those impediments. Panelists in the five subject-specific discussions included experts from advocacy organizations including the Osborne Association, the Vera Institute, and MFY Legal Services; housing providers including the Fortune Society, Housing + Solutions, and Greenhope Services for Women; government agencies including the City's Human Resources Administration, the State's Office of Temporary and Disability Assistance, the NYS Council on Community Re-entry and Reintegration, the Mayor's Office of Criminal Justice, and the Kings County DA's Office; as well as research and academic institutions including the Urban Institute and NYU's Furman Center; as well as, panelists with lived experience. One of the highlights of the panel on translating values into action was civil rights attorney John Relman discussing progress on the Fortune Society's groundbreaking litigation challenging blanket bans on housing applicants with criminal justice histories. He also spoke eloquently about the role that historical racism has played in mass incarceration policies.
The Network's Laura Mascuch moderated a panel discussion on successful models for addressing the housing and service needs of justice-involved people from New York and around the country. As part of that panel, Jocelyn Fontaine from the Urban Institute spoke of an innovative program in Ohio in which the Corrections Department is funding supportive housing for disabled homeless individuals exiting prison.
The conference included a series of mini "TED Talks" about several innovative programs and promising practices which included NYCHA's Family Re-entry Pilot Program, the FUSE initiative, the City's Justice Involved Supportive Housing (JISH) and Drew House, the nation's alternative to incarceration program for women with children. Other highlights included Yolanda Johnson-Perkin's spirited presentation on the NYCHA pilot and Rita Zimmer, Executive Director of Housing + Solutions, tossing "Get out of Jail Free" cards from the Monopoly game to illustrate the importance of providing people with alternatives to incarceration.

There are plans to release a report based on the conference, which the Network will share with our members upon publication.
|
What's New
,
Research
,
Network Events
---
10.27.2016

The founders of the supportive housing movement.
New York's supportive housing community came together on October 13th for a particularly special version of our annual Network Awards Gala in a year that saw historic commitments from the Governor and Mayor for 35,000 new units of supportive housing. We honored Father John McVean, Father John Felice, Ellen Baxter, Tony Hannigan, John Tynan, Laura Jervis, Stephan Russo, Connie Tempel, David Gillcrist (for Project FIND) and our own Bill Traylor -- the pioneers of the supportive housing movement.
More than 600 guests joined us at Capitale to celebrate these outstanding individuals of supportive housing and our amazing community. The mood was festive during the 90 minute cocktail hour as friends and colleagues revived old friendships and forged new ones.

The night's festivities continued with our awards ceremony. This year, in addition to the distinctive recognition offered to our founders, we honored two remarkable tenants, three outstanding residences, and a Private Sector Partner of the Year, Alembic Community Development.
Network Board Chair and Richman Housing Resources President Bill Traylor welcomed the crowd, and introduced the Network's Executive Director, Laura Mascuch, who expressed her heartfelt thanks to the Network's Board, staff and the community for all their support.
Shatiera Freeman, of The Door and Breaking Ground, accepted the first of the evening's two Tenant of the Year awards from the Network's Sydney Kopp-Richardson. Ms. Freeman, a young adult who has spent much of her life in foster care, has dedicated herself to improving the lives of others, most recently in her work as a peer counselor with PAUS (Peers Against Unsafe Sex).
The Network's Rebecca Sauer presented our upstate Residence of the Year award to Marlies Wesolowski of Lt. Colonel Matt Urban Human Services Center of Western New York for their gorgeous Hope Gardens residence, serving 20 chronically homeless women. Ms. Wesolowski spoke movingly about her own experiences growing with a single mom in deplorable public housing "as a small child I'd wake up with a rat crawling across my bed" and described how profoundly this affected her choice to work in supportive housing.
Steve Coe, of Community Access, welcomed Mark Reed of Alembic Community Development to the podium to receive our Private Sector Partner of the Year award, and talked about the huge impact that Alembic has made on New York supportive housing. Alembic's Co-Founder Mark Reed noted that nonprofits are critical to supportive housing development.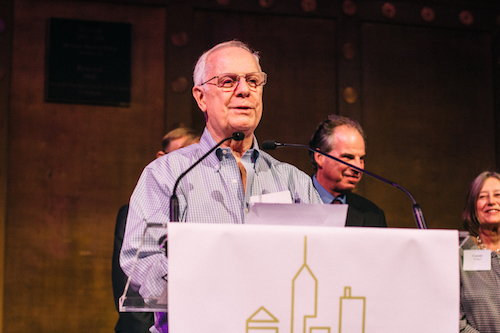 Father John Felice of St. Francis Friends of the Poor.
Network Chair Bill Traylor introduced the special honorees from the founding of the movement with heartfelt words and the personal insight of someone who began his career in supportive housing working with these icons. He invited Father John Felice of St. Francis Friends of the Poor and the other founders in the audience to the stage to receive this Distinctive Recognition– a group in which Traylor himself is included. Father Felice spoke about the early days, and the founders got a standing ovation from the crowd in recognition of their transformative achievements in creating and nurturing our supportive housing movement.
Ms. Sauer presented the second Residence of the Year Award to Dan Johannson of ACMH, Inc., who graciously shared credit with the many amazing partners involved in creating East 144th Street Affordable Housing, all of whom are longtime Network supporters.
The final Tenant of the Year Award was presented to Shannon Landy of Community Access by Ms. Kopp-Richardson. Ms. Landy spoke in detail about the life of incomprehensible trauma that she lived before finding a new life thanks to supportive housing. She is now an advocate for survivors of domestic violence and people living with mental illness.
The magnificent renovation of Goddard Riverside Community Center's Capitol Hall residence claimed the final Residence of the Year Award, presented by Ms. Sauer to Stephan Russo, who gave kudos to the many collaborators who came together to so effectively prepare this early supportive housing residence for the coming decades.
The evening ended with more cocktails, conversation, and delicious desserts!
You can also read more about each of our honorees by following the links here and check out the photos of the evening.
We hope to see you at next year's Gala!
|
What's New
,
Network Events
---
09.19.2016
This year, the Center for Urban Community Services (CUCS) Institute and the Network will offer members the opportunity to accumulate the 25 credits needed to complete the Case Management Certificate Program by attending a six-module comprehensive training series designed to offer direct service staff a nuts-to-bolts overview of case management services. Upon completion of all six trainings, licensed social workers who attend will qualify for 25 Continuing Education credits and certification of completion of the entire series.
CE credits are also available for a number of other trainings offered this year.
This semester's calendar of workshops includes a set of Trauma Informed Care modules (10 Social Work CE Credits). The first training overviews trauma and the related diagnosis as well as explores what Trauma Informed Services look like. The second training emphasizes how to offer support to persons who have histories of trauma in a way that creates a positive therapeutic connection and keeps the individual feeling safe.
This semester's offerings also includes a popular new training on Aging and Wellness in Supportive Housing, as well as some old favorites including Psychiatric Overview, Understanding Compulsive Hoarding and Coordinating Property Management and Social Services.
All trainings will be held at CUCS located at 198 East 121st Street, 5th floor. Registration and sign-in starts at 9am. Trainings start promptly at 9:30am and end at 3:30pm. To qualify for Social Work Continuing Education credits, attendees must be there on time and stay through the entire training.
The Network and the CUCS Institute have developed this year's training collaboration based on membership feedback and needs, providing Social Work or OASAS CE Credits for all trainings this year.
Founded in 1979, the Center for Urban Community Services (CUCS) is a comprehensive human service agency and the nation's largest provider of supportive housing social services. The CUCS Institute is a leader in the provision of training to professionals in New York City and nationally. The trainers are at the forefront of emerging research and train on a range of topics related to housing and homelessness, behavioral health, criminal justice and clinical practice. The CUCS Institute is recognized as a continuing education provider by the New York State Education Department's State Board for Social Work for licensed social workers and by New York State's Office of Alcohol and Substance Abuse Services (OASAS).
For more information on registering or training content, please contact CUCS Institute.
|
What's New
,
Network Events
---
06.15.2016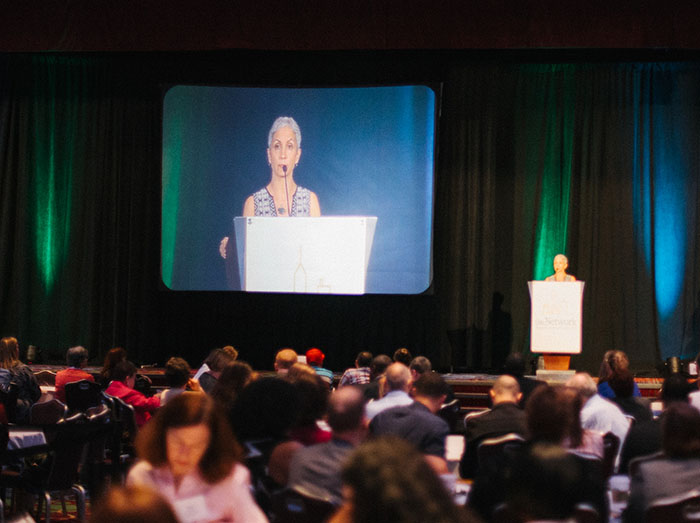 Executive Director Laura Mascuch welcomes the crowd.
The 16th Annual Supportive Housing Conference brought together some 1,300 members of the New York supportive housing community – the largest such gathering in the country -- to celebrate our major achievements this past year: securing commitments from the Mayor and Governor for 35,000 new units (although we are still hanging fire on the Governor's 20K)! Network Board Treasurer Ralph Fasano and Executive Director Laura Mascuch welcomed the crowd. Deputy Mayor Herminia Palacio offered opening remarks, followed by greetings from the Governor delivered by Jamie Rubin, the Commissioner and CEO of NYS' Homes and Community Renewal (HCR). The Center for Urban Community Services' Tony Hannigan, who has been innovating in supportive housing for more than 30 years, described the journey, and introduced two tenants, Jamar Daniels and Enrique Pagan, who shared their personal stories of change and redemption, a crucial and humbling reminder of the human impact of our movement.
We'd like to express enormous gratitude to everyone who attended, spoke and volunteered at the 16th Annual New York State Supportive Housing Conference. We host the conference to shine a light on the extraordinary work being done by our more than 200 nonprofit members. We salute you, and we thank you for creating 50,000 units of supportive housing in New York State and, through working together, winning the largest commitments to supportive housing in history.
This year's workshops reflected the incredible diversity of our community. To learn more about each workshop – including sessions on housing young families, joint ventures, zoning text amendments (ZQA), hoarding, housing first, and many other topics – follow this link.
The conference took off with eight simultaneous workshops to follow the morning session, including one on "Tackling the Housing and Homelessness Crisis" with NYC Department of Housing Preservation and Development (HPD) Commissioner Vicki Been, NYC Department of Social Services Commissioner Steven Banks, NYS Office of Temporary and Disability Assistance (OTDA) Executive Deputy Commissioner Michael Perrin, NYS HCR Commissioner and CEO James S. Rubin, and NYS Office of Mental Health (OMH) Commissioner and M.D. Ann Marie T. Sullivan. Panelists discussed the city and state programs initiated to meet the housing needs of vulnerable New Yorkers.
Another morning workshop informed attendees on the innovative new methods of financing supportive housing projects and featured NYC HPD Division of Special Needs Housing Director of Planning and Development Emily Lehman, Win Vice President of Real Estate Jerry Mascuch, NYC Housing Development Corporation President Gary Rodney, and Nixon Peabody LLP Strategic Policy Advisor Deborah VanAmerongen.
Robert Myers, Ph.D, Senior Deputy Commissioner & Division Director, NYS Office of Mental Health, and Gary Belkin, M.D., Executive Deputy Commissioner for Mental Hygiene, NYC Department of Health and Mental Hygiene led a wide-ranging conversation about what HCBS, DSRIP, and ThriveNYC mean for supportive housing.
Other panels addressed increasingly important issues like serving particularly vulnerable families, such as those with young parents. Panelists included Services for the UnderServed Child Life Specialist Janell Abraham, Parenting Journey Training Director Andrele Jean-Charles, Good Shepherd Services Child Life and Independent Living Specialist Theresa Munson, The Door Program Director Reed Christian, and Services for the UnderServed Clinical Supervisor Emily Wyman.
Attendees had a chance to network over lunch and then returned for early afternoon panels, of which there were seven diverse options. In a session entitled "NYC's 15,000 Units! Nuts & Bolts" NYC HPD Assistant Commissioner and Special Advisor of Housing Jessica Katz, NYC Human Resources Administration (HRA) Deputy Commissioner for Supportive and Affordable Housing and Services Kristin Misner-Gutierrez, and NYC Department of Health and Mental Hygiene (DOHMH) Gail Wolsk discussed the Supportive Housing Task Force's progress and future.
Simultaneously, a discussion on joint ventures in supportive housing featured Services for the UnderServed Senior Vice President of Real Estate and Property Development Arlo Monell Chase, ShermanLaw Attorney Karen Sherman, and Alembic Community Development Principal Benjamin Warnke.
Every seat was filled at a session regarding 4% tax credits and how they can be used to help finance supportive housing projects, as Betts Housing Partners LLC President Chris Betts, Concern for Independent Living Executive Director Ralph Fasano and NYS HCR President of Finance and Development Marian Zucker gave examples from their experiences and kept the crowd laughing and engaged.
The Meditation workshop featured short meditations with Leslie Booker, Founder of the Urban Sangha Project & Director of Trainings at Lineage Project, and Daiken Nelson, Sensei and Founder of Mandala Kitchens & Café, and insights into the challenges and opportunities of meditation practice with Sasha Parmasad, TM Instructor & Associate Director of the Women's Initiative at the David Lynch Foundation, and was moderated by Jonathan Rose, President of Rose Companies & Co-Founder of the Garrison Institute.
BronxWorks Inc.'s Assistant Executive Director Scott Auwarter, West Side Federation for Senior and Supportive Housing, Inc.'s Program Director Joe McKenzie-Hamilton, and Neighborhood Coalition for Shelter Inc.'s Program Director Robert Yancey discussed the use of a housing first approach for a broad range of populations.
Following a brief coffee break, participants reconvened for a final round of panels, including a discussion with state agency leaders on accessing various resources to ensure the construction of 6,000 units of supportive housing in the next five years. NYS HCR Multifamily Programs Senior Vice President Bret Garwood, NYS OTDA Bureau of Housing and Support Service's Assistant Director Brett Hebner, NYS DOH Office of Health Insurance Programs Bureau Director Denard Cummings, and OMH Adult Community Care Group Division of Adult Services Associate Commissioner Moira Tashjian offered insights to providers, advocates and various members of the supportive housing community.
A discussion on the successes and challenges of NY/NY III featuring NYC HRA Deputy Commissioner Michael Bosket, NYC DOHMH Assistant Commissioner and M.D. Myla Harrison and CAMBA's President and CEO Joanne Oplustil was greeted with nods and a slew of interesting and relevant questions.
Other sessions included a presentation on zoning text amendments or ZQA, as copious information was provided by NYC HPD Building and Land Development Services Assistant Commissioner John E. Gearrity, NYC Department of Buildings Borough Commissioner Development Hub RA Scott D. Pavan, Urban Architectural Initiatives AIA and Partner Tony Shitemi, and NYC Department of City Planning Strategic Planning Deputy Executive Director Howard Slatkin.
We'd like to thank the nearly 1,500 registered attendees so much for making this day an absolute pleasure!
|
What's New
,
Network Events
---
11.17.2015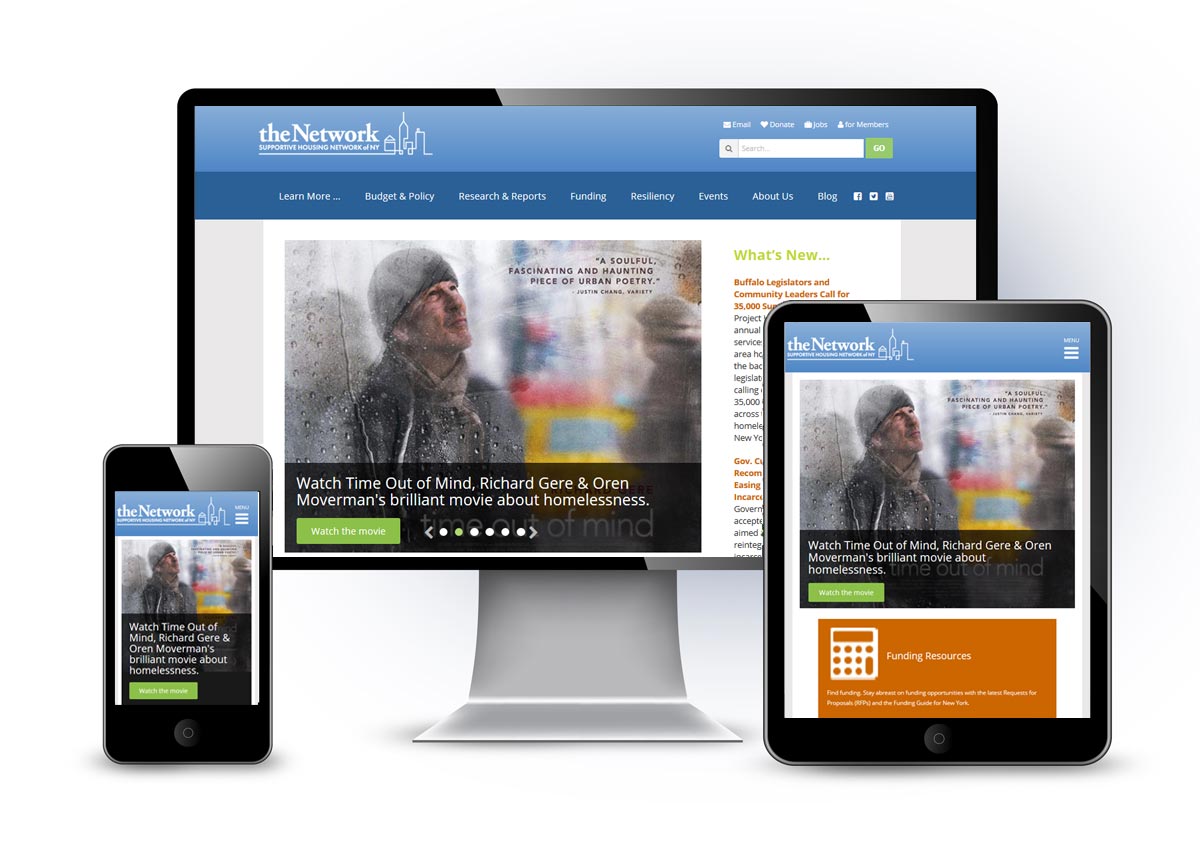 When our site was first designed, the iphone wasn't a phenomenon – and so our site wasn't designed with it in mind. Mobile optimization simply means that the view you see of our website depends upon what device you are using to access the site – it is 'responsive' i.e. it scales differently depending on whether you are on your mobile phone , tablet or desktop – and of course, this scaling makes the interface more user-friendly.
Over 30% of visitors to shnny.org come via smartphones and tablets, and this percentage is growing, so it was the right time for us to transition to a mobile-friendly site design.
Remember to refresh your browser (to see our new structure and design elements).
Some highlights in mobile: you'll see that our homepage slides fill the screen and create a more powerful impact; when you scroll down beneath the homepage slide, you'll see three newly featured areas "Funding Resources," "Find Housing," and "Network Newsfeed" – which have perennially been the most highly trafficked areas of our site, so it makes sense to make it easier for visitors to navigate there rapidly. The hamburger menu (the three little vertical lines) in the upper right corner offers the sub-navigation options as a drop down menu.
Your feedback is very welcome – please email your thoughts and notes about any changes you'd like to see to sschenck@shnny.org.
The Network enlisted Human Service Solutions (HSS) to create the site refresh and mobile optimization. Jason Summerfield, of HSS advises, "There are a few different approaches you can take in order to make a website mobile-friendly. In some cases, you may create a separate site specifically for mobile. But in the case of SHNNY, we took the increasingly popular approach of developing a single 'responsive' website that can scale across all devices - this approach makes maintenance much more efficient, rather than maintaining two separate sites."
And here's a tip from Jason: If you're not sure whether or not your website is mobile-compatible, here is a link where you can check your site with Google's Mobile-Friendly Test. All you have to do is enter your website's URL and it will tell you whether or not it is mobile-friendly to Google's standards.
Many thanks to our fabulous design/tech team from HSS web development, Jason Summerfield and Mike Hessling, for their great work.
|
What's New
,
Network Events
---
11.04.2015

Legislators from around New York State support a robust NY/NY4.

There have been bipartisan calls for 35,000 new units of supportive housing across the state in recent weeks, most notably in Rochester and in Buffalo, as well as in New York City.

On September 22 at Project Homeless Connect, the annual event that provides services to more than 600 Buffalo area homeless individuals, state legislators and community leaders called on Governor Cuomo to fund 35,000 supportive housing units across the state to help address homelessness among the neediest New Yorkers. "New York State should make a significant investment in supportive housing here in Western New York and across the state," said Assembly Member Sean Ryan."The need is great in our community and that is why I support the creation statewide of a 35,000 unit supportive housing program," said Dr. Gale Burstein, Erie County Commissioner of Health. "With the need for supportive housing across New York State at an all-time high, those residents most in need cannot go ignored," said Senator Marc Panepinto. Senator Tim Kennedy added "For so long, Buffalo has been branded the City of Good Neighbors, and now more than ever we need to live up to that name." Also lending support for a 35,000-unit statewide supportive housing initiative were City of Buffalo Comptroller Mark Schroeder and Assembly Member Mickey Kearns.

On October 22 in Rochester, yet another bipartisan group of legislators joined economic development organizations, local businesses and community leaders for a news conference calling for the creation of 35,000 supportive housing units statewide. Senator Rich Funke said: "The bottom line is supportive housing makes our community safer, better protects taxpayers, and creates local jobs along the way." Assembly Majority Leader Joe Morelle said "Unfortunately, the number of low-income families unable to secure affordable housing continues to rise, further threatening the stability of communities across New York State and highlighting the need to increase funding for housing programs. I call on my partners in government to join me in recognizing and responding to this critical need." Assembly Member Harry Bronson said, "Too many families are struggling to find safe, affordable homes. I was proud to join my colleagues in this year's budget investing in our communities and expanding affordable housing options including right here in Rochester at the Carriage Factory in the Susan B. Anthony Neighborhood." Also lending support for a 35,000-unit statewide supportive housing initiative were Councilman Michael Patterson and City of Rochester Deputy Commissioner Kate Washington.

The next day, October 23, a diverse group of legislators also addressed the NYC gathering including Assembly Member Keith Wright who said "Homelessness is tearing our society apart;" State Senator Liz Krueger who said, "Supportive housing is a win/win;" Assembly Member Richard Gottfried who said "Supportive housing is a miracle drug;" Assembly Member Joe Lentol who called for "more supportive housing!" Manhattan Borough President Gale Brewer who said "We want supportive housing in our neighborhood;"and Assembly Member Andrew Hevesi who said, "Supportive housing is the fundamental solution to solving the homeless crisis in New York State."

The Rochester event was covered by WROC-ROC (CBS), Rochester, NY; Time Warner Cable News, Rochester, NY; Minority Reporter; and Democrat & Chronicle.

The Buffalo event was covered by: TWC News Buffalo; WKBW; WBFO; and The Buffalo News.

In addition, CSH released a report last week that underlines the need for this number of new units of supportive housing, Real Supportive Housing Need in New York State. The product of more than ten months of data collection, interviews with more than 100 stakeholders and vetting by all major state and local government stakeholders, the assessment estimates that 36,164 homeless households (30,311 adult, 5,853 families) were in need of supportive housing in 2013. The study was reported in Politico NewYork, The Albany Times Union, The Buffalo News.

Please join the growing chorus to create 35,000 new units of supportive housing statewide by adding your name and organization to the Campaign 4 NY/NY Housing's platform.
|
In the Media
,
What's New
,
Funding
,
New York State
,
New York City
,
Network Events
---
10.29.2015

Left: The crowd of hundreds of supporters of supportive housing at the NY Society for Ethical Culture. Right: Faith Leaders at NYC Housing Forum. Photo credit, right: Trish Anderton.

The Network joined forces with the Campaign 4 NY/NY Housing at the NY Society for Ethical Culture with a diverse coalition of faith leaders, legislators and a huge crowd of supporters to call for 35,000 units of supportive housing statewide on October 23rd.
The event brought together hundreds of housed and homeless New Yorkers to learn about the history of supportive housing in New York as an organic, highly successful and respectful solution to homelessness among the most vulnerable as well as a high-energy endorsement for a statewide NY/NY 4 agreement.

Anne Klaeysen from the NY Society for Ethical Culture welcomed the crowd. Steve Coe of Community Access MC'ed the event, and other speakers from the supportive housing community included Kristin Miller of CSH, the Network's Laura Mascuch, Stephan Russo of Goddard-Riverside Community Center, and Ralph Fasano of Concern for Independent Living.

A diverse group of legislators also addressed the gathering including Assembly Member Keith Wright saying "Homelessness is tearing our society apart;" State Senator Liz Krueger who said, "Supportive housing is a win/win;" Assembly Member Richard Gottfried who said "Supportive housing is a miracle drug;" Assembly Member Joe Lentol who called for "more supportive housing!" Manhattan Borough President Gale Brewer who said "We want supportive housing in our neighborhood;"and Assembly Member Andrew Hevesi who said, "Supportive housing is the fundamental solution to solving the homeless crisis in New York State."

Tenants of supportive housing and New Yorkers in need of supportive housing also spoke including Diana Burgos, Eli Bean, Cynthia East, Mario Gonzalez, Jennifer Johnson, and Bryant Pewritt.

The event generated a tidal wave of tweets to Governor Cuomo on the need for a robust NY/NY 4 agreement and trended within the top ten Democratic political topics being tweeted twice that evening according to the app Potus2016. We're continuing our social media NY/NY4 advocacy campaign and hope that you'll join us. It's easy: just follow @theNetworkNY on twitter and retweet our NY/NY4 tweets!

The audience made ample use of the closing panel featuring Laura Mascuch, Assembly Member Hevesi, Stephan Russo, the Coalition's Shelly Nortz, and RSS's Bill DeVita to ask questions related to supportive housing needs in various communities.

Thank you for joining us!
|
In the Media
,
What's New
,
Network Events
---