Showing Posts by Category: Network Events
04.24.2019
On April 11th, the Network gathered the supportive housing community for the 2019 Annual Meeting. An open bar, passed hors d'oeuvres, and images of supportive housing buildings newly opened in the last year set the scene for lively conversation with familiar and new faces. The group was able to hear from Senator Brian Kavanagh, Network Board Chair Brenda Rosen, Network Board Treasurer Ralph Fasano, and Executive Director Laura Mascuch.
Continue Reading …
|
What's New
,
New York State
,
New York City
,
Network Events
---
04.18.2019
On the morning of April 9th, 22 Network members gathered to learn more about the art of siting supportive housing. The workshop included presentations from Cynthia Stuart, the Network's Chief Operating Officer, and Ralph Fasano, Executive Director of Concern for Independent Living, extensive discussion among members and an opportunity to examine and respond to fictional siting scenarios.
Continue Reading …
|
What's New
,
New York State
,
New York City
,
Network Events
---
03.22.2019
On February 28th, about a week before the Network's annual Lobby Day, some 40 member staff and tenants joined the Network for an interactive workshop generously hosted by Urban Pathways at the Ivan Shapiro House in Manhattan. The training featured everything from the fundamentals of the state budget process to how to navigate the Capitol Building. Yet an overarching goal was to incorporate tenants' and staff's real-life experiences in order to forcefully communicate the need for additional funding for supportive housing.
Continue Reading …
|
What's New
,
Funding
,
New York State
,
Network Events
---
03.11.2019
One of the Network's most beloved days of the year – Lobby Day – began at the crack of dawn on March 5th with staff and tenants from all over the state traveling to Albany for a day of impressing on state legislators the urgent need for increased, adequate funding for new and existing supportive housing. More than 100 tenants and staff from more than 30 organizations met with more than 60 legislators and their staff.
One of the most powerful aspects of our meetings was the presence of tenants who shared real-life stories of how supportive housing has transformed their lives in a holistic, sustainable way. As one tenant said with the conviction of a lived experience:
"Supportive housing is not only a place to be or a roof over the head, but a set of tools and services that empower a person to get back up… and stay up."
Continue Reading …
|
What's New
,
New York State
,
Network Events
---
12.07.2018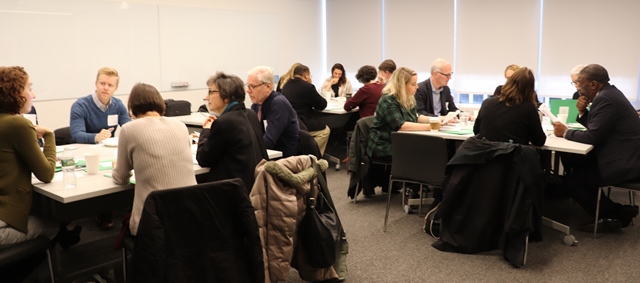 Building on years of joint venture research and events, the Network hosted its first ever hands-on workshop on negotiating joint venture partnerships in supportive housing development. The event was hosted by Capitol One and facilitated by Network and Enterprise Community Partners staff members. CEOs and development professionals from 18 nonprofit organizations in New York City, as well as development partners from Bronx Pro and CSD Housing attended the morning workshop.
The workshop focused on nonprofit developers working through a mock negotiation in small groups to create a joint venture (JV) agreement. Each group was given a case study detailing a hypothetical supportive housing development project of a nonprofit and for-profit developer and was asked to create a term sheet for the deal that leveraged the strength of both the nonprofit and for-profit developers.
"For me this was JV 101 and therefore very useful in helping me understand basic concepts and roles," said one of the nonprofit participants.
Another attendee said, "This helped me get a better understanding of Joint Ventures from all points of view- corporate and nonprofit."
Joint ventures are becoming an increasingly common strategy to leverage the strengths of nonprofit and for-profit partners for supportive housing development. These partnerships can be extremely beneficial for all involved, but also can be intimidating and difficult to navigate for nonprofits with all levels of JV experience. To equip our members with the right tools and knowledge, the Network developed a Joint Venture Guidebook in partnership with Enterprise Community Partners that includes case studies and analysis of JV deals that have been negotiated in the past.
Are you interested in joint ventures? Check out our guidebook and contact Rebecca Sauer, Director of Policy and Planning for questions and more information.
|
Network Events
---
09.06.2018
The Network initiated the first ever supportive housing conference in 2000 to gather the supportive housing community with the goal of sharing and learning about the world of supportive housing. Our New York State Supportive Housing Conference is now the largest supportive housing conference in the nation with over 1700 guests who hear from more than a 100 experts, innovators and leaders in the field. The conference is also a celebration of our community's successes and innovations. Check out the video above for highlights of our guests and speakers over the past 18 years.
|
What's New
,
Network Events
---
07.19.2018
The workshop also explored the homelessness landscape from a racial equity lens. It provided the audience with the historical context of how racism has led to minorities being over represented in the homeless population today.
Workshop 2: Tools to implement anti-racist policies at your agency
The second workshops by Marc Dones centers around providing the audience with tools and strategies that can transform systems to better serve the needs of the most vulnerable populations. They spoke about the importance of specificity in equity-based work and having diversity at the decision making tables.
|
Network Events
---
06.26.2018
View the photo slideshow here!
The 18th Annual Supportive Housing Conference was a celebration of New York's unique leadership in development, financing and social services in supportive housing. With over 1,700 registrants, 22 workshops and a keynote by acclaimed author and poet, Jacqueline Woodson, it was our most successful conference yet!
The day began with the Network's Board Chair Brenda Rosen welcoming the crowd. The Network's Executive Director Laura Mascuch thanked the supportive housing community for setting the example for what supportive housing can do to break the cycle of homelessness. She recognized the social staff and shared their stories of dedication and transformation with the audience.
"I want to take this moment in time to speak about the staff who work in supportive housing day-in and day-out. Many of you are in the room today, you are the reason why transformation can happen in individual lives," she said.
Our keynote speaker for the event, Jacqueline Woodson moved the crowd to tears with her reading of Each Kindness and talking about empathy and kindness and what it means for homeless people to not be seen. She applauded attendees for their dedication and hard work in providing a helping hand to those most in need.
Eight simultaneous workshops in the morning session followed the keynote. The highly popular "Addressing the Homelessness & Affordable Housing Crisis" panel included key city and state policy makers: Steven Banks, NYC Department of Social Services Commissioner; Barbara Guinn, NYS Office of Temporary and Disability Assistance (OTDA)'s Executive Deputy Commissioner; Dr. Ann Marie T. Sullivan, NYS Office of Mental Health (OMH) Commissioner; Maria Torres-Springer, NYC Department of Housing Preservation and Development (HPD) Commissioner; RuthAnne Visnauskas, NYS Homes and Community Renewal (HCR) Commissioner and CEO, and moderated by the Network's Laura Mascuch.
The morning also included a standing-room-only presentation by Marc Dones, a prominent anti-racist trainer and educator. Marc explored the glaring racial disparities in homelessness trends and trajectories and discussed the role racism has played in the homelessness crisis. They also conducted a second late-afternoon workshop on how to implement anti-racist policies at your organization.
This year we also had members of the New York Police Department presenting with representatives from the Department of Health and Mental Hygiene about new strategies and programs they are implementing to improve responses to crises involving people struggling with mental health issues.
Another popular morning session included a panel on siting for new developments. Moderated by Council Member Stephen Levin, the workshop panelists included nonprofit developers, a government partner and a consultant. This group shared tips and success stories on how nonprofits can work with local community groups and businesses to garner support.
Other morning workshops included a panel discussion on the Joint Venture Guidebook, a panel on cost containment, a panel on using the "Explosive Child" approach by members of the Center for Urban Community Services' Intensive Mobile Treatment team and a presentation by Joseph's House & Shelter on "Ethical Dilemmas in Housing First for Families."
Attendees enjoyed a networking luncheon and then returned for two rounds of afternoon workshops.
Some highlights from the afternoon workshops included a thought-provoking discussion moderated by Council Member Rafael Salamanca on how nonprofits and community organizations are battling the opioid crisis among the homeless population with representatives from Acacia Network, Care for the Homeless, Project Renewal and BronxWorks.
A conversation on the City's commitment to creating 15,000 new units of supportive housing was also in the afternoon line-up. It included HRA's Kristin Misner-Gutierrez, HPD's Emily Lehman, and DOHMH's Gail Wolsk, and was moderated by the Network's Rebecca Sauer.
A standing-room-only discussion on "Housing for Health: Lessons from LA" featured Dr. Mitchell Katz, President of NYC Health + Hospitals and Bill Pickel, Executive Director of Brilliant Corners moderated by Deputy Mayor of Health and Human Services, Dr. Herminia Palacio. The panelists discussed the unique program that has already housed more than 4000 homeless people in less than four years, with a goal of eventually housing 10,000. Other workshops focused on conflict resolution and addressing vicarious trauma for staff. We also had an excellent conversation on how best to serve aging tenants and the needs of trans and gender non-conforming tenants.
We also had workshops focusing on development and finance including "Developing Supportive Housing in Trying Times," and "From the Board Room to the Budget: Realizing Your Housing Development Vision."
The late afternoon sessions also featured some more policy focused workshops. Members of the ESSHI workgroup discussed the first two years of implementing and supporting new development under the ESSHI program and the eleven different populations it serves. Other policy conversations included one on hopes and fears of housing policies on a federal level.
There was also a panel to discuss the new CAPS (Coordinated Assessment and Placement Systems) process, which is now mandated by HUD and kicked off implementation in January 2018.
Lamb Financial Group sponsored our ever-popular cocktail reception in the Marriott Marquis' spectacular lounge overlooking Broadway.
We would like to express our enormous gratitude to everyone who attended, spoke at, and volunteered for the conference. We salute you, and thank you for working together to fulfill the largest commitment to supportive housing in history. Hope to see you again at next year's conference!
Watch our conference slideshow here.
|
What's New
,
Network Events
---
04.23.2018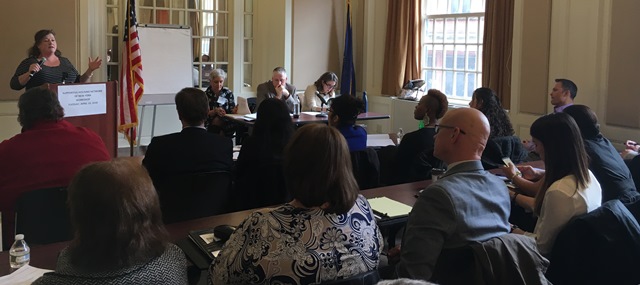 The Network hosted two panel discussions last week on the Empire State Supportive Housing Initiative (ESSHI) in advance of this year's Request for Proposals (RFP),scheduled to be released imminently. The workshops, held in Albany and Buffalo, highlighted the ESSHI process including what what's new in the upcoming RFP, how to access capital funding through both OTDA HHAP (Homeless Housing and Assistance Program), and HCR (Homes and Community Renewal). A robust Q&A followed with the audience covering topics such as NIMBY and siting issues, pre-development funding and clarifications on changes around the Medicaid Redesign Team (MRT) population.
The panels, moderated by the Network's Executive Director, Laura Mascuch, were comprised of representatives from three state agencies: the Office of Mental Health (Moira Tashjian, Associate Commissioner and Chair of the ESSHI Interagency Workgroup), Office of Temporary and Disability Assistance (Rick Umholtz, Director for the Bureau of Housing & Support Services) and Homes and Community Renewal (Leora Jontef, VP of Multifamily Finance-New Construction & Sean Fitzgerald, Assistant Commissioner). In the audience were many of the state agencies also involved in the ESSHI Interagency Workgroup including NYS Office of Alcoholism and Substance Abuse Services (OASAS), NYS Office of Children and Family Services (OCFS) and NYS Office for the Prevention of Domestic Violence (OPDV). Over 150 people attended the events including a mix of nonprofit members, developers, bankers and syndicators.
Several clarifications were discussed. The new RFP will treat the Medicaid Redesign Team (MRT) category differently. Projects serving mental health, substance use disorders, HIV/AIDS, and other Department of Health subpopulations that include 30 or more ESSHI units will be required to dedicate at least 25% of those supportive units to high Medicaid users.
The panelists also clarified that ESSHI will grant extensions beyond the 12 month conditional award period for projects that have demonstrated they are further along in the development process, but they also stressed that there is no penalty for re-applying annually.
Attendees were encouraged to talk to both OTDA and HCR about possible projects early on in the process. Both OMH (Office of Mental Health) and OASAS, have predevelopment funding available that can be accessed once a conditional award is issued.
The Network wishes to thank our hosts for these events, NYS Homes and Community Renewal in Albany and Evergreen Health Services in Buffalo. Both workshops were followed by networking mixers that were robustly attended. We would also like to acknowledge and thank our funders, the Oak Foundation, the van Ameringen Foundation, Robin Hood, New York Community Trust, JPMorgan Chase, Deutsche Bank and Capital One for their generous support of the Network's Getting to 35K Capacity Building Initiative.
|
Funding
,
New York State
,
Network Events
---
03.16.2018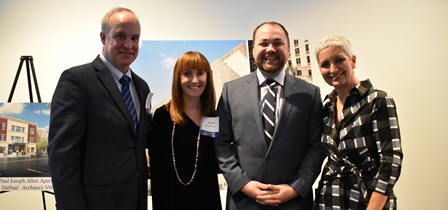 Network members gathered on the evening of March 15 at Scandinavia House for the Network's Annual Meeting. Nonprofit providers, city officials, architects, developers, funders and other members of our community came together to meet, mingle and hear about the past year's accomplishments.
Corey Johnson, the newly elected Speaker of the New York City Council, was our key note speaker, and addressed the 150 attendees in the room with a ton of enthusiasm, praise and support for supportive housing.
"You all know that housing really is health care. Until you put a roof over someone's head, you cannot expect them to be sober, you cannot expect them to fight drug addiction, you cannot expect them to deal with chronic illnesses," he said.
Speaker Johnson also reiterated his commitment to supportive housing and praised our members for their extraordinary accomplishments and work. He added that in the four years he's been on the City Council he's never even once received a single complaint about any of the supportive housing residences in his district.
"Thanks to the amazing work done by you all, we're changing the narrative of "not in my backyard to YES in my backyard," he exclaimed to a cheering audience.
The Network's board chair and CEO of Breaking Ground, Brenda Rosen, kicked off the speaking program with warm welcoming remarks for the supportive housing community. "In the face of all obstacles, we remain steadfast and committed to our work," she said. Executive Director of Concern for Independent Living Ralph Fasano presented the Network's financials to the audience and the Network's Executive Director, Laura Mascuch, shared the networks accomplishments over the last year.
Guests spent the evening networking, marveling at the beautiful new residences adorning the walls and showcased in a slideshow, as well as checking out a slideshow of photos from openings and other events from 2017. Catered by the incomparable City Beet Kitchen, the event once again reminded us how lucky we are to represent this stellar community.
Check out the evening highlights in our Faceboook photo album.
|
What's New
,
Network Events
---