Showing Posts by Category: Openings
12.14.2016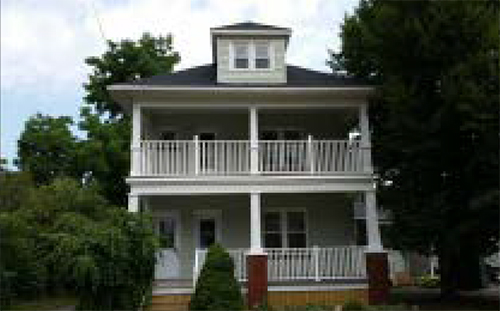 One of the new buildings in the Finger Lakes Rural Initiative Housing Project.
As testament to the fact that supportive housing comes in all sizes and fits into any neighborhood, the Finger Lakes Area Counselling and Recovery Agency (FLACRA) opened four residences in four counties for individuals struggling with homelessness and substance abuse. The four buildings, located across the Finger Lakes region, will provide eight permanent homes for homeless individuals with a disabling condition and 14 transitional units for people in recovery from substance use.
FLACRA's Executive Director Marty Teller said "We are proud to bring these beautiful renovated sites to these great neighborhoods for individuals so deserving in their journey through recovery to independence."
The two day travelling ribbon cutting on November 17th and 18th included Commissioner Samuel Roberts from New York State Office of Temporary and Disability Assistance; Robert Kent, from the New York State Office of Alcohol and Substance Abuse Services; Assembly Member Robert Oaks; New York State Senator-elect Pam Helming; county commissioners of social services, county directors of community services, and other municipal officials. Chief Counsel Kent said, "These are great things in the midst of an unbelievable epidemic of heroin and opiate abuse. Agencies like FLACRA are on the front lines of this fight."
The projects were built with capital from the Homeless Housing Assistance Program and the Federal Home Loan Bank, and a loan from CSH. Services for the supportive housing units are funded by OTDA's NYSSHP program.
The contractor on the project was Hamilton Stern. The architect was TAB Design. The consultant was KLR Consulting.
|
What's New
,
New York State
,
Openings
---
11.28.2016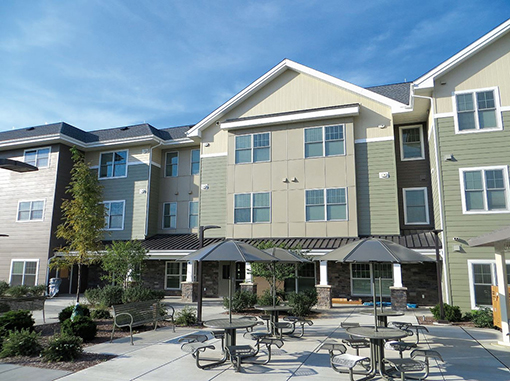 Ebenezer Square Apartments
Living Opportunities of DePaul opened a beautiful supportive housing development, Ebenezer Square Apartments, in West Seneca on November 17th. The mixed-use development rises on the site of a long-vacant big-box store and features 100 affordable apartments, 75 of which are supportive housing units for persons in recovery from mental illness. The name Ebenezer Square is a nod to the Ebenezer Colonies which consisted of settlements of Inspirationists who migrated to what is now the town of West Seneca from Germany in 1843.
Living Opportunities of DePaul's President Mark H. Fuller welcome the crowd, saying "DePaul is so proud to be part of the West Seneca community. Ebenezer Square is an example of progress and partnership in action."
Dignitaries present included NYS Office of Mental Health Commissioner Ann Sullivan; State Senator Timothy Kennedy; West Seneca Town Supervisor Sheila M. Meegan; West Seneca Town Councilman Gene Hart; OMH's Moira Tashjian; NYS HCR's Leonard Skrill; Commissioner Michael Ranney of the Erie County Mental Health Department; and State Assembly Member Michael P. Kearns.
Commissioner Sullivan said, "Residential programs such as Ebenezer have been shown to help their clients find lasting recovery and better connection with their surrounding communities. Under Governor Cuomo's leadership, New York State continues to expand the opportunities and options which enable individuals with disabilities to live fully integrated lives in their home communities."

Residents have access to lounge areas on each floor, outdoor picnic areas, a community room and off-street parking. A green building, Ebenezer Square features the latest energy-saving solar technology: a 150-kilowatt solar array will account for about 75 percent of the building's electrical usage, funded in large part by the New York State Energy Research and Development Authority and using New York State Solar Tax Credits.
Development partners included the Dormitory Authority of the State of New York, New York State Homes and Community Renewal (NYSHCR), New York State Office of Mental Health (NYSOMH), and Red Stone Equity. On-site services are funded by NYS OMH. The architect was SWBR Architects and the contractor was Calamar Construction. The syndicator was Red Stone Equity.
|
What's New
,
New York State
,
Openings
---
11.04.2016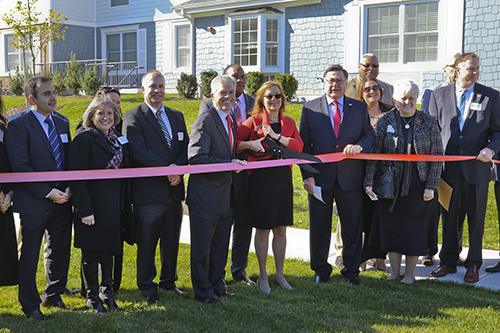 Cutting the ribbon at Liberty Landing.
Concern for Independent Living opened a magnificent new supportive housing development, Liberty Landing, in Ronkonkoma on October 26th. The 59-unit supportive housing development houses 30 formerly homeless veterans, and offers the other 28 units as affordable housing for low income Long Island families, many of whom are also veterans. There are 40 one-bedroom apartments, 15 two-bedroom apartments, and 3 three-bedroom apartments, as well as one unit for the superintendent.
Liberty Landing is beautifully landscaped with trees, flowering bushes, and well-manicured lawns around each unit. Residents have access to a spacious and welcoming community building with an exercise room, a computer room and a room for community gatherings. In addition, the grounds offer many opportunities for recreational activities, such as basketball and bocce.
The grand opening ceremony began with raising the American and military services' flags over Liberty Landing, and the Pledge of Allegiance. Concern's Executive Director and Network Board Member and Treasurer Ralph Fasano graciously welcomed the crowd.
New York State Office of Mental Health Commissioner Dr. Ann Sullivan said "No veteran should ever be homeless – that's the kind of travesty that should never happen. This development is making a difference."
New York State Homes and Community Renewal's Marian Zucker, reading from a letter from Governor Andrew Cuomo, said, "Liberty Landing is an incredible example of what can be accomplished when we come together as state agencies."
New York State Office of Temporary and Disability Assistance Commissioner Samuel D. Roberts said, "Housing alone isn't enough. You have to give (tenants) wraparound services to maintain their health."
Tenants Frank Giaramida, a combat veteran of the U.S. Marine Corps, and Specialist Sarahh Galiotte also spoke. Ms. Galiotte shared a moving story of trauma and recovery, thanks to having stable housing with onsite services, "This is the first time in my whole life I've been at peace with my surroundings. Thanks for giving us a second chance to survive."
Other dignitaries who spoke included: Senator Thomas D. Croci; Assemblyman Al Graf; Suffolk County Executive Steve Bellone; Supervisor of the Town of Brookhaven Edward Romaine; National Equity Fund's Tony Thesing; Community Preservation Corporation's Michael Skrebutenas; and Bank of America's Maurice Coleman.
Funding for Liberty Landing came from the New York State Office of Mental Health; New York State Homes and Community Renewal; the New York State Office of Temporary and Disability Assistance; Suffolk County and The Home Depot Foundation. A construction loan was provided by Bank of America with the permanent financing to be provided by The Community Preservation Corporation.
Onsite services are provided by Concern and are funded by NYS Office of Mental Health. The syndicator is National Equity Fund, the architect is DeLaCour, Ferrara & Church, and the contractor is Jobco, Inc.
|
What's New
,
New York State
,
Openings
---
10.25.2016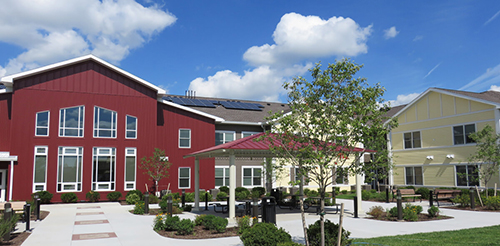 Trolley Station Apartments.
On September 18th, DePaul hosted an open house for its brand new supportive housing residence in Canandaigua, NY. Trolley Station Apartments is a homey and spacious 48-unit affordable/supportive housing complex with 22 units dedicated to serving individuals with mental health challenges. The name pays homage to the site's former use as a stop on a trolley line that transported workers at a large Civil War era orphanage.
There are numerous amenities for tenants including a computer room, a community room, and laundry on each floor. Each apartment features a flat screen tv (with basic cable!), and a fully equipped kitchen. Sidewalks around the complex link to a network of community trails that connect to town parks offering residents a taste of nature and easy opportunity to exercise.
The building also features a rooftop solar element and state-of-the-art free standing solar panels – these are expected to save $16,000 annually by providing 58% of the housing development's electricity. The development incorporates "green" standards, including using Energy Star rated appliances and lighting fixtures and high-efficiency furnaces and condensing units for heating and cooling.
DePaul's Executive Director Mark Fuller acted as MC and was joined by the numerous representatives from the private and public partners who helped make Trolley Station Apartments a reality. Supervisor for the Town of Canandaigua Pamela Helming commented that the town was committed to providing housing for people of all ages and abilities, and that, with Trolley Station Apartments' opening, "We are one step closer to meeting that goal." Other featured speakers included HCR's Leonard Skrill, OMH's Moira Tashjian, the Ontario Mental Health Department's Diane Johnston, Victor Sostar of First Sterling Financial, and JP Morgan Chase's David Walsh.
The building was designed by SWBR architects and built by Christa Construction. The syndicator was First Sterling. Additional funding for a large solar array comes from NYSERDA and Solar Equity.
The project was funded by NYS HCR with MRT capital and NYS HFA with bonds and tax credits. The project was initiated with help from a predevelopment grant from NYS OMH, and on site services are funded by NYS OMH.
|
What's New
,
New York State
,
Openings
---
09.28.2016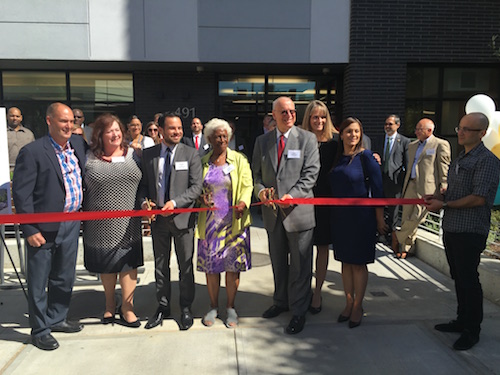 Cutting the ribbon at 165th Street residence.
PSCH staff, partners and government notables joined in the celebration of the opening of PSCH's newest supportive housing project, 165th Street Residence September 13th. The new apartment building provides 58 beautiful new apartments to a mix of formerly homeless individuals and low-income families from the community.
Developed with Christa Construction and CSD Housing, the lovely ten story residence features an exercise room, a spacious outdoor recreation area and bike storage in addition to the beautifully-designed studio, one-and two-bedroom apartments.
PSCH CEO Alan Weinstock and CFO Sherry Tucker hosted the packed celebration, citing the numerous obstacles the project encountered in the multi-year effort to get the building built as well as the roster of partners who helped see the project through to fruition. Partners including OMH's Moira Tashjian, Christa Construction's Mike Dehmler and NYC Community Affairs Liaison Jonathan Soto spoke about the project's physical beauty with its bright yellow architectural highlights as well as its excellent mission, to provide quality housing opportunities for vulnerable New Yorkers. Deputy Bronx Borough President Aurelia Greene was on hand to welcome PSCH to the neighborhood. And Kim Blocker, a tenant of another PSCH residence for the past five years shared her personal story of renewal, reminding those in attendance about the power of supportive housing to transform lives.
165th Street received capital funding from the New York State Office of Mental Health and New York State Housing Finance Agency. The Office of Mental Health is also funding onsite services. Mega Contracting was the contractor, Amy Larovere the development consultant, Hirschen Singer Epstein acted as the project's lawyer. UAI was the project's architect and Richman Housing Resources syndicated tax credits.
|
What's New
,
New York City
,
Openings
---
08.31.2016

Cutting the ribbon at Evergreen Lofts.
On July 25th Evergreen Health Services held a ribbon cutting ceremony for Evergreen Lofts. This new supportive housing project is a collaboration between Network members Evergreen Health Services, providing on site services, and Southern Tier Environments for Living (STEL), the not-for-profit developer. Half of the 56 total units are for homeless individuals living with major chronic health issues. Evergreen embraces the Housing First model.
Steven Ald, Director of Real Estate Development at STEL, thanked the Network for helping with community support in the early stages of the project. Additional speakers included Ronald Silverio, President of Evergreen Health Services; Ruth Anne Visnauskas, Executive Deputy Commissioner, New York State Homes and Community Renewal; and Samuel G. Roberts, Commissioner, New York State Office of Temporary and Disability Assistance. Buffalo area elected officials Congressman Brian Higgins, Senator Tim Kennedy, and State Assembly Member Sean Ryan also spoke.
About 30% of the funding was made available through federal and state historic tax credits. The project was designated as an adapted reuse of an historic site, the Buffalo Manufacturing Company, due in part to the unique beam construction. The exposed beams became a focal point of the project. An original display case on the second floor showcases antique trunks that were made on site.
Additional funding for Evergreen Lofts comes from the Federal Home Loan Bank through First Niagara Financial Group. The project was syndicated by the National Equity Fund. LP Ciminelli was the contractor and SWBR (a new Network member) was the architect.
|
New York State
,
Openings
---
06.22.2016

Cutting the ribbon at The Sydelle.
For decades the nation's largest provider of services in supportive housing, the Center for Urban Community Services opened their third CUCS-developed-and-owned residence June 6th, The Sydelle, in the East Tremont neighborhood of the Bronx. Named for a longstanding supporter of CUCS, Sydelle Ostberg, the Sydelle provides 107 apartments to a mix of low-income and formerly homeless families and individuals.
CUCS Board Chair and CSH Founder Julie Sandorf kicked off the event along with CUCS President and CEO Tony Hannigan. They were followed by a moving address from CUCS tenant Laverne Rogers who told those assembled, "I used to live in fear. Now I feel safe…My neighbors come and check in on me after I've been in the hospital …and I'm filling out job applications!"
City and State partners, including HPD Commissioner Vicki Been, OMH Commissioner Dr. Ann Sullivan, NYC DOHMH Deputy Executive Commissioner Dr. Gary Belkin, NYS Office of Temporary and Disability Assistance Commissioner Samuel D. Roberts, all spoke about the strength of the nonprofit/government partnership that created The Sydelle. Breaking Ground's Brenda Rosen, whose organization once again will be partnering with CUCS to run the building, also spoke as did Enterprise's Judi Kende. The ceremony ended with an address by Ms. Ostberg.
The Sydelle is LEED Silver environmentally certified, features a gym and computer lab and on-site services include crisis prevention and intervention, entitlement and legal assistance, household management and coaching, employment assistance, and primary medical care and psychiatric services.
Funding for the project came from HPD's Supportive Housing Loan Program (SHLP), NYC Housing Development Corporation and NYS Office of Temporary and Disability Assistance's Homeless Housing and Assistance Program (HHAP), with an additional award from NYS Energy Research and Development Authority. Enterprise Community Investment, Inc. functioned as the residence's Low Income Housing Tax Credit syndicator. The architect is Harden + Van Arnam and the contractor was Mega Contracting Group.
|
In the Media
,
What's New
,
New York City
,
Openings
---
04.14.2016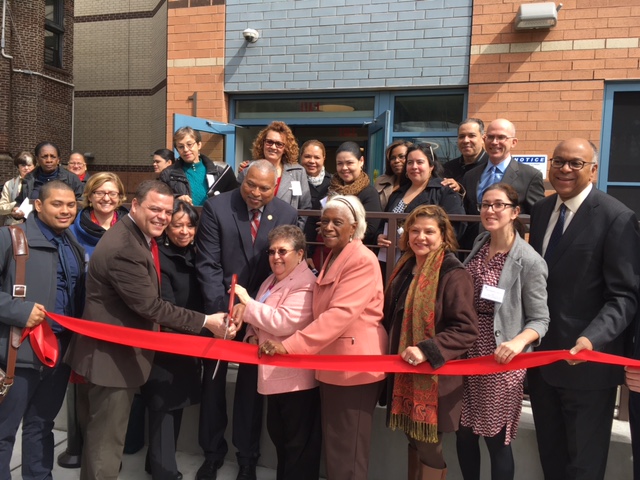 Cutting the ribbon at Comunilife's new El Rio residence in the Bronx.
On a brisk spring day, Comunilife welcomed nearly 75 people to the grand opening of the El Rio Residence on Friday, April 8 in the Bronx neighborhood of East Tremont. Named in honor of the Bronx River which is just steps away, the 65 unit residence has 39 supportive and 26 affordable housing units. El Rio is Comunilife's fourth supportive housing residence in New York City.
Frances Pandolfi of Comunilife's Board of Directors delivered a warm welcome, followed by Dr. Rosa M. Gil, Comunilife's President and CEO. Speakers also included Deputy Bronx Borough President Aurelia Greene, OTDA Commissioner Sam Roberts and Deputy Regional Commissioner of HUD Mirza Orrils, who stated, "This beautiful building is creating community. These individuals' lives are better now." She expressed gratitude to Community Board 6, and highlighted the project's impact on local job creation, particularly for construction workers. Supportive remarks were also made by HPD Assistant Commissioner Jessica Katz, Associate Commissioner of OMH Moira Tashjian, DOHMH Program Manager Rebecca Seivers and CSH Director Kristin Miller.
Richard Roberts, Managing Director of Acquisitions at Red Stone Equity Partners, applauded supportive housing as the solution to chronic homelessness, stating, "We know that providing services on site is the solution. We need receptive, creative people in government, adequate funding and community support, as well as expert organizations to bring all those factors together. It is deeply gratifying to work on a project you know, respect and deeply care about."
Assemblymember Luis R. Sepúlveda of Distrcit 87 credited the Bronx's supportive housing as a citywide model, saying that people in the surrounding community have had no complaints and have warmly welcomed the new building residents. And last, but certainly not least, the crowd was greeted and thanked by a new resident, Betina Murray, who came to El Rio from a shelter. She expressed deep gratitude and love for her new home.
HPD has provided Project Based Section 8 vouchers for the 39 supportive housing residents. HPD provided Low Income Housing Tax Credits for the project, which were syndicated by Red Stone Equity Partners. HPD also provides federal HOME funding. The State provided OTDA and Homeless Housing and Assistance (HHAP) funding, and the Bronx Borough President provided nearly three quarters of a million dollars. Funding for service provision has been allocated from OMH and DOHMH. The project also received funding from CSH. The architect was Gran Kriegel Associates, and the general contractor was Fazio Construction.
|
What's New
,
New York City
,
Openings
---
02.16.2016

Cutting the ribbon at Herkimer Street Residence.
Some 70 partners and well-wishers gathered in the community space at Herkimer Street Residence to celebrate the opening of the Bridge's newest residence, home to a mix of formerly homeless individuals and young adults as well as low-income families. The beautiful new building is the Bridge's largest residence to date and brings the total number of individuals/families housed to 863!
Bridge Board President Cynthia Wainwright acted as MC, introducing Reverend Sharon Williams who blessed the new building. Bridge CEO Susan Wiviott pointed out that Herkimer Street Residence "solves the problems we've all been reading about in the papers: homelessness, youth homelessness and the need for affordable housing," as the 53 unit residence provides housing for young adults, individuals coping with homelessness and mental illness as well as low-income families. Ms. Wiviott also noted that the 35,000 units committed to by the Mayor and Governor would be created "in increments of 30, 40 and 50 units" with the aid of dozens of dedicated partners.
Those partners also spoke at the opening, including Homes and Community Renewal's (HCR) Michael Ferguson, Office of Mental Health's Moira Tashjian, Enterprise's Judi Kende and CSH's Jennifer Trepinski. Maurice Coleman of Bank of America Merrill Lynch alluded to the many challenges faced by the development partners on the long road to the building's completion, quoting Vince Lombardi: "if you chase perfection consistently, you'll catch excellence. We caught excellence." Nan Blackshear seconded that emotion, bringing greetings, congratulations and the desire "to create more housing like this" from Brooklyn Borough President Eric Adams. Senator Velmanette Montgomery also sent a representative.
New tenant and war veteran Stanley D. closed the morning's festivities by recounting his road to housing after two years of homelessness, stating "it is a privilege to live here."
Herkimer Street Residence was developed with funding from HCR, investments by TD Bank, Bank of America Merrill Lynch, Enterprise and CSH. Services and rental subsidies are funded by OMH. Michael Borruto General Contractors built the residence which was designed by DeLaCour, Ferrara and Church Architects.
|
What's New
,
New York City
,
Openings
---
12.11.2015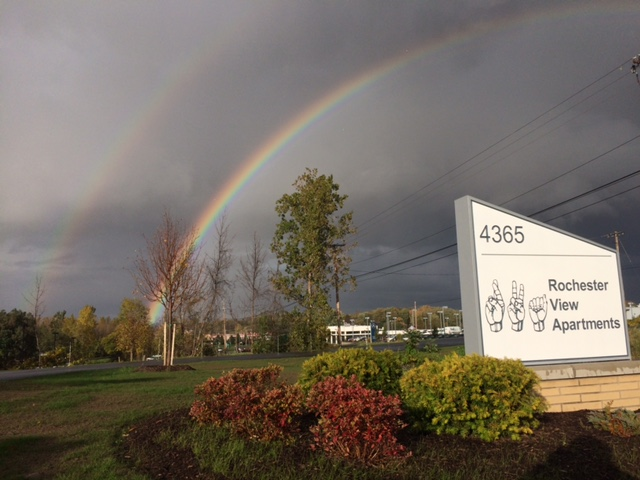 Rochester View Apartments
DePaul Rochester recently opened Rochester View Apartments, a unique affordable and supportive housing residence that became New York State's first apartment community to offer enhanced supports that accommodate tenants who may be deaf, hard of hearing and those using American Sign Language. The apartment complex features 60 apartments providing homes to a mix of hearing challenged individuals many of whom are struggling with mental illness.
The residence incorporates many details designed to address the needs of deaf and hard of hearing residents including bedrooms wired to allow for bed shakers in case of fire or other emergencies and hard-wired strobe lighting for CO2 and fire alarms.
Rochester has one of the nation's largest deaf populations and is home to Rochester Institute of Technology's National Technical Institute for the Deaf, located nearby. Rochester View Apartments will display artwork by NTID students and teachers.
The $17.6 million project was funded by a mix of resources from New York State Homes and Community Renewal, including Low Income Housing Tax Credits, Housing Trust Fund and Urban Initiative. Community Preservation Corporation provided an additional $5.4 million in loans. Onsite services are funded by the New York State Office of Mental Health.
The ribbon cutting on October 29th featured several elected officials, including State Senator Cathy Young, who chairs the Senate Housing Committee and Assembly Member Harry Bronson.
|
In the Media
,
What's New
,
New York State
,
Member News
,
Openings
---