Showing Posts by Category: Openings
11.21.2017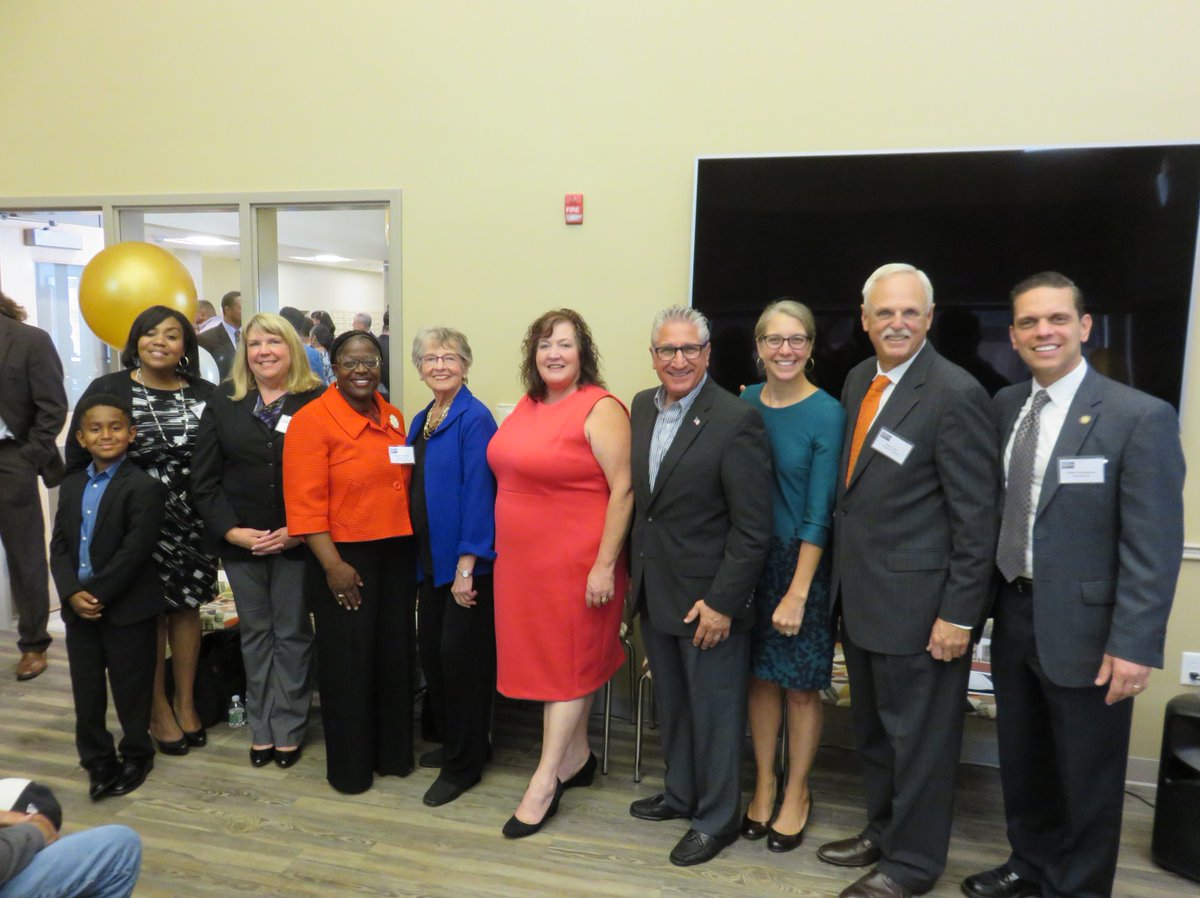 Celebrating the opening of Joseph L. Allen Apartments with Joseph L. Allen's daughter Lakeia Allen-Bowman; his grandson, Raymond Joseph Allen-Bowman; Schenectady Community Action Program Executive Director Debra Schimpf; Schenectady City Councilwoman Marion Porterfield; Vice Chair of the County Legislature Karen Johnson; Associate Commissioner for the Adult Community Care Group within the Division of Adult Services at the New York State Office of Mental Health Moira Tashjian; Senator James Tedisco; New York State Homes and Community Renewal Commissioner RuthAnne Visnauskas; DePaul President Mark Fuller; and Assemblyman Angelo Santabarbara.
The opening of DePaul's Joseph L. Allen Apartments October 5th was an especially heart-warming event: in addition to local and state luminaries, the family of Mr. Allen, Schenectady's first African-American councilman, was on hand. "He would be proud," said his daughter Lakeia Allen Bowman of having the beautiful new Hamilton Hill residence named after him. "He would be humbled, and he would shed a few tears."

Lakeia's young son Raymond added: "Every time I pass the building, it reminds me of how great my grandpa was."

The striking apartments - with gray and orange exterior accents - will provide homes to 51 families and individuals, with half the apartments set-aside for families and individuals struggling with mental illness and the other half providing homes to low-income families and individuals from the community.
Services are provided by Schenectady Community Action Program and funded by the Office of Mental Health (OMH). Onsite services include linkage to medical, clinical, vocational, educational, and recreational services
The environmentally-friendly apartment complex features a large community room with a full kitchen, a computer lab, a landscaped back garden, and free Wi-Fi. Throughout the building hang photos of local landmarks including City Hall, Veterans' Park and Jerry Burrell Park.
Welcoming those assembled, DePaul President Mark Fuller said "We are so proud to be part of the revitalization of the Hamilton Hill neighborhood community and to provide homes for people in need."
State Senator Jim Tedisco and County Legislator Karen Johnson, who served on the City Council with Allen, remarked that the development is a fitting tribute to Councilmember Allen who worked so hard to represent the people of Hamilton Hill.
HCR Commissioner RuthAnne Visnauskas told participants, "This nearly $18 million development enhances the lives of 51 households, strengthens the neighborhood and advances Schenectady's vibrant revitalization drive."
Other dignitaries at the event included Assemblyman Phil Steck, Assemblyman Angelo Santabarbara, City Councilwoman Marion Porterfield, and OMH's Moira Tashjian.

Funding for the Joseph L. Allen Apartments came from NYS Housing Finance Agency, NYS Homes and Community Renewal, NYS Office of Mental Health, JPMorgan Chase, and the Housing Trust Fund Corporation acting by and through the Governor's Office of Storm Recovery (GOSR). The syndicator was Red Stone Equity Partners, LLC. The architect was SWBR Architects and the contractor was Christa Construction.
|
What's New
,
New York State
,
Openings
---
10.24.2017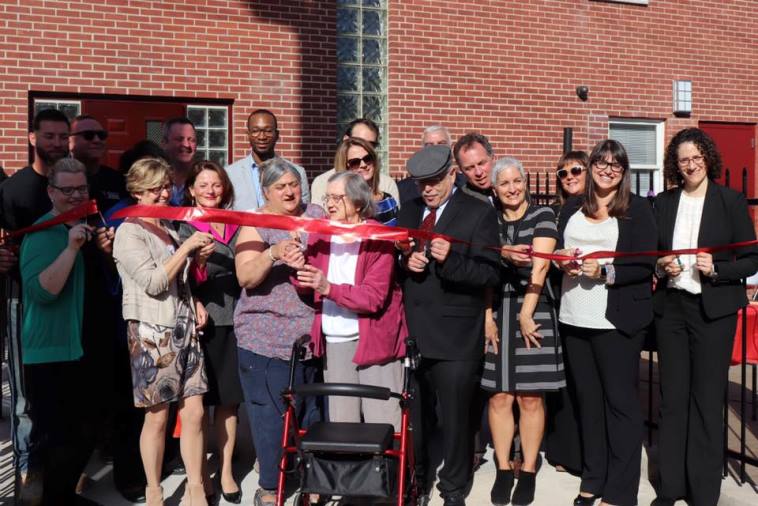 Cutting the ribbon at 411 Vanderbilt.
On an unseasonably warm sunny morning in late October, some fifty friends, staff, partners and well-wishers gathered in the front yard of 411 Vanderbilt to celebrate the long-awaited opening of Project Hospitality's (PH) first single site supportive housing residence in its 35 year history of serving homeless people on Staten Island. The project was also the first New York City project funded through the state's Empire State Supportive Housing Initiative (and only the second supportive housing residence to open on Staten Island). Both Project Hospitality's first Executive Director -- now CEO – Rev. Terry Troia and its new Executive Director Carrie Bloss were on hand to do the honors, as they helped cut the ribbon on 16 beautiful new apartments for formerly homeless individuals.
Project Hospitality Board Chair Rabbi Gerald Sussman told the story of the organization's twenty five year effort to build 411 Vanderbilt, which included multiple owners reluctant to sell, a long stretch in which the building was inhabited by squatters, and a fire that pretty much destroyed the building. Through the vision and tenacity of Project Hospitality and the project's architect Amie Gross, its contractor Mammoth Construction, as well as important funders, 411 Vanderbilt literally rose from the ashes.
Kimberly Smith of the Office for Temporary and Disability Assistance (OTDA) was not the first or last speaker to acknowledge the difficulties in developing this project. Ms. Smith and OTDA's Dana Greenberg presented Project Hospitality with a certificate of recognition from Commissioner Roberts as well as greetings from the Governor. Project Hospitality, for their part, gave out plaqued bricks to significant project partners including CSH, Capital One Richmond County Savings Foundation and the US Department of Housing and Urban Development (HUD).
CSH's Kristin Miller – whose organization had loaned PH the money to acquire the property -- noted that it had taken 25 years to make a loan for supportive housing on Staten Island, and predicted the next loan would not take as long.
Capital One's Heather Gershen pointed out that it "takes a village" not just to support our most vulnerable neighbors, but to support the groups that support them as well.
Arthur McCarthy of Mammoth Construction told listeners that he never forgot where he came from – a modest upbringing -- and that his "heart goes out to people who haven't been as lucky." He then proceeded to offer a check for $2,500 in his recently passed father's name to be used to fill the refrigerators of the 16 people who would be moving into 411 Vanderbilt over the next few days.
Also on hand were representatives from Richmond County Savings Foundation, HUD, OASAS, the Staten Island Foundation, the Network and HSU.
411 Vanderbilt was funded by HUD, OTDA, CSH, Deutsche Bank, Capital One and the aforementioned foundations. Service funding will come from the NYS Department of Health.
|
What's New
,
New York City
,
Openings
---
10.24.2017

Beautiful Renaissance Village in Middle Island, NY. Photo credit: Kimathi Witt (2017 Tenant of the Year).
On October 16th, a beautiful, autumn day, Concern for Independent Living celebrated the opening of Renaissance Village, a 123-unit mixed-income supportive housing development in Middle Island, Suffolk County. Renaissance Village provides 50 units for homeless adults with mental health challenges who are high Medicaid users, 72 units for low-income individuals and families, and one superintendent unit.
After a warm welcome from Concern's Executive Director and Network Board Treasurer Ralph Fasano, Gail Lynch-Bailey, President of the Middle Island Civic Association, spoke movingly about how Renaissance Village is "not only a rebirth for all the people who are starting new lives, but for those of us who have been here a long time, and awaiting a rebirth for our community."
NYS Homes & Community Renewal (HCR) Assistant Commissioner Sean Fitzgerald was honored by Concern at the opening for the integral part he's played in making Concern's many supportive and affordable housing projects a success.
Other dignitaries who spoke at the opening included Commissioner Ann Marie T. Sullivan of NYS Office of Mental Health (OMH) who said "what is really successful is when individuals who are living with mental illness have the opportunity to become part of the community that will help them traverse that road of hope and recovery and that's what you're doing here;" Commissioner Samuel Roberts of NYS Office of Temporary & Disability Assistance (OTDA); Steven Bellone, Suffolk County Executive; Supervisor Edward P. Romaine, Town of Brookhaven; Sarah Anker, Legislator, Suffolk County; Councilman Michael Loguercio, Town of Brookhaven; Brian Loeb of Federal Home Loan Bank of New York; and Maurice Coleman of Bank of America.
Formerly underutilized land in the heart of Middle Island, Renaissance Village now features nine townhouse-style buildings; a community center with exercise room, a computer room, and ample outdoor space for residents to enjoy.
Funding for Renaissance Village was provided by HCR, OMH, Bank of America, County of Suffolk, Federal Home Loan Bank of New York, and Astoria Bank.
The development team included the law firms of Russo, Karl, Widmaier & Cordano, and Nixon Peabody, the project's attorneys; Belfor Long Island, the general contractor; DeLaCour, Ferrara & Church, the project architect; and Betts Housing Consultants.
|
What's New
,
Member News
,
Openings
---
07.10.2017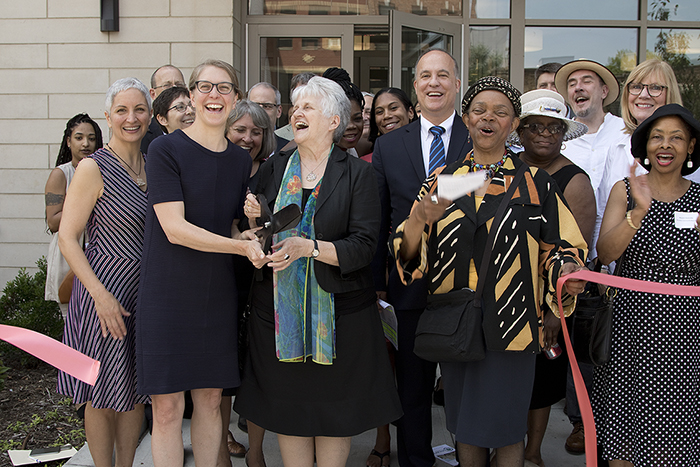 Cutting the Ribbon at Concern Bergen.
On June 30th, a beautiful Friday before the Fourth of July holiday weekend, Concern for Independent Living celebrated the opening of a new residence in the Crown Heights neighborhood of Brooklyn. The newly constructed 90-unit residence stands on what was formerly a blighted lot. Concern Bergen includes 55 supportive housing units for people living with mental illness, including those who spent time in state psychiatric centers, and 35 low-income, affordable units for both individuals and families.
Continue Reading …
|
What's New
,
New York City
,
Openings
---
06.27.2017
Cutting the ribbon at Tapestry on the Hudson.
On June 6th, The Community Builders and Unity House held a ribbon cutting for Tapestry on the Hudson ("Tapestry"), a new affordable and supportive housing residence in Troy. The residence, a former collar factory, was converted into 67 apartments, including 19 supportive units primarily for families. Troy is known as the Collar City having been the one-time center of manufacturing for celluloid collars at the turn of the 20th Century.
Continue Reading …
|
What's New
,
New York State
,
Openings
---
05.23.2017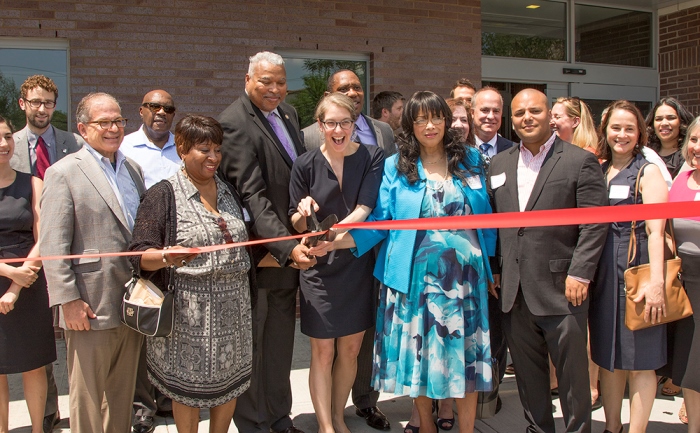 Cutting the ribbon at Norwood Terrace.
More than 80 partners, staff, tenants and well-wishers gathered May 19th to celebrate the opening of Norwood Terrace, a new affordable/supportive residence developed by B&B Urban and Concern for Independent Living in the Norwood section of the Bronx. The 115-unit residence features a library, a computer lab, and a roof garden in addition to its mix of efficiency, one, two and three bedroom apartments; the building is now home to formerly homeless individuals as well as families and individuals from the community.
Continue Reading …
|
What's New
,
New York City
,
Openings
---
05.22.2017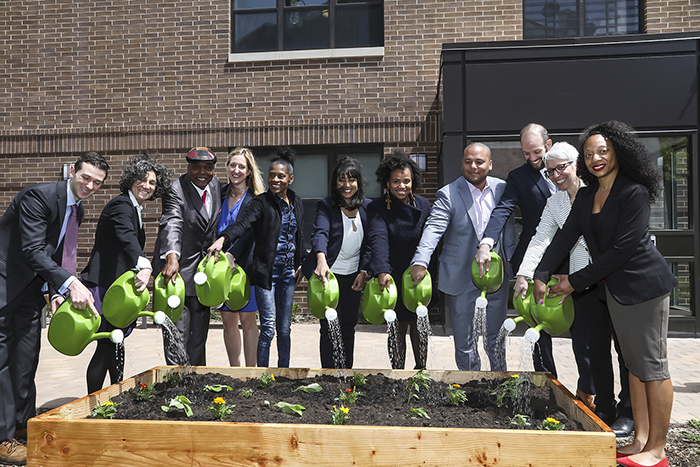 Watering the new garden at SUS' Henry Apartments.
On a sunny May morning, Services for the UnderServed celebrated the opening of Henry Apartments, a beautiful new supportive housing development, in Ocean Hill, Brooklyn, co-developed with Alembic Community Development. The new development, consisting of two neighboring six-story buildings is named after community leader Stan Henry, who, for more than forty years, was the owner and operator of a hardware store that occupied one corner of the development site. As described by Alembic's Benjamin Warnke, "Mr. Henry worked tirelessly to acquire the long-vacant lot adjacent to the store and to complete this project, the latest chapter in a lifetime of service to the neighborhood."
Continue Reading …
|
What's New
,
New York City
,
Openings
---
05.15.2017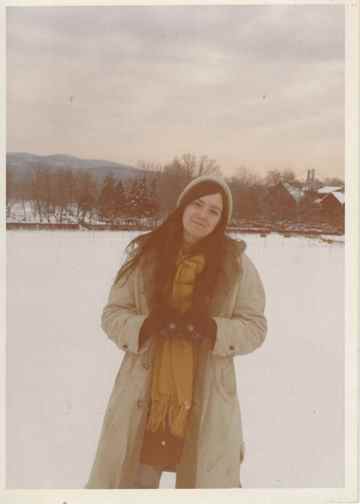 Frances E. Ficklen in an earlier era.
On Friday April 28th, Columba Kavanagh's GEMA Hall dedicated their new tenant lounge to a former tenant Frances E. Ficklen surrounded by the tenant's family members. Tragically, the family had lost touch with Ms. Ficklen due to the onset of mental illness and only found her name associated with GEMA Hall years after her death. The family members found peace in the knowledge that Ms. Ficklen had died peacefully in her sleep surrounded by caring staff and tenants.
Ms. Ficklen's sisters and cousins attended the ceremony and spoke passionately about Frances who had been doing fieldwork in Martinique after earning her Master's degree in Anthropology when she experienced the onset of mental illness. The redecorated tenant lounge – financed as part of the building's Year 15 refinancing, reflects Frances' love of the Caribbean.
|
New York City
,
Openings
---
04.28.2017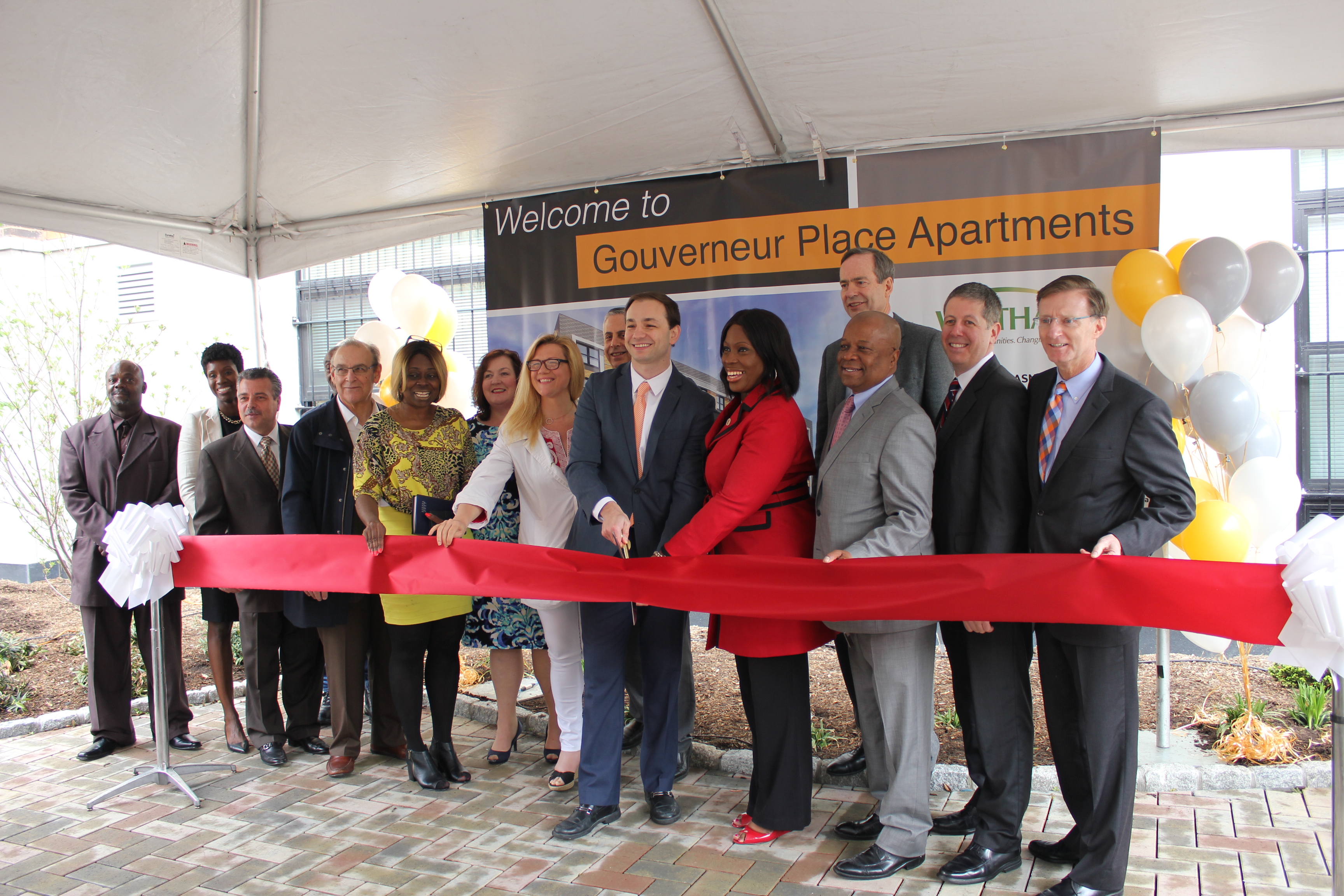 Cutting the ribbon at Gourverneur Place Apartments.
On a blustery April morning, Westhab opened a gracious new supportive housing residence, Gouverneur Place Apartments, in the Bronx. The residence features 68 units: 50 efficiency apartments for people with mental health challenges and 17 one, two, and three bedroom apartments for low-income individuals and families. Westhab is based in Westchester and has many supportive housing residences in that area – this is their first residence in New York City.
Continue Reading …
|
What's New
,
New York City
,
Openings
---
04.18.2017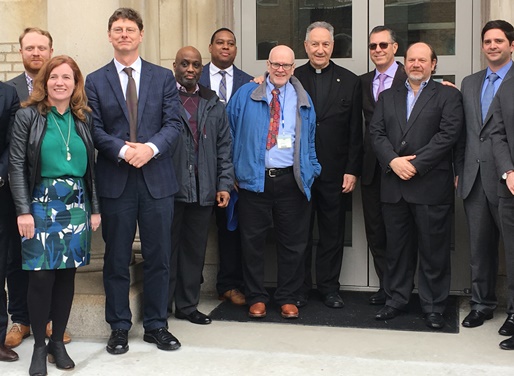 Dignitaries at the dedication ceremony of Bishop Thomas Daily residence.
Some fifty partners, well-wishers and illustrious members of the Archdiocese of Brooklyn and Queens gathered to celebrate the dedication of one of New York's earliest supportive housing residences as the newly refurbished Bishop Thomas V. Daily Residence on April 5th. First opened in 1985 by Catholic Charities Progress of Peoples Development Corporation, the former grammar school recently underwent a gut rehabilitation turning its SRO units into efficiency apartments, updating the building systems and adding six additional apartments!
Continue Reading …
|
What's New
,
New York City
,
Openings
---