Showing Posts by Category: Openings
05.23.2017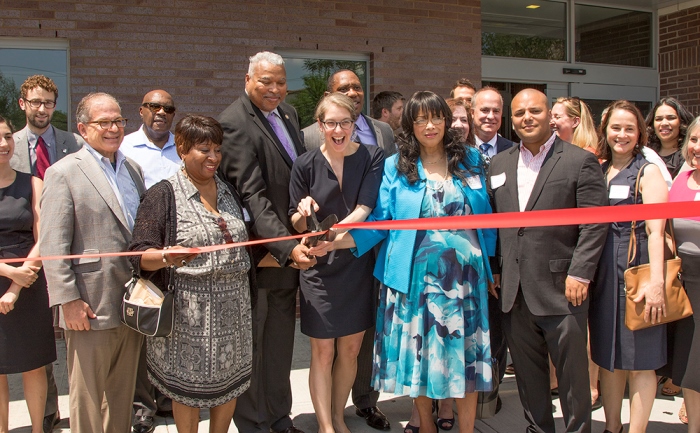 Cutting the ribbon at Norwood Terrace.
More than 80 partners, staff, tenants and well-wishers gathered May 19th to celebrate the opening of Norwood Terrace, a new affordable/supportive residence developed by B&B Urban and Concern for Independent Living in the Norwood section of the Bronx. The 115-unit residence features a library, a computer lab, and a roof garden in addition to its mix of efficiency, one, two and three bedroom apartments; the building is now home to formerly homeless individuals as well as families and individuals from the community.
Concern's Executive Director Ralph Fasano welcomed guests and marveled at the number of people and agencies whose commitment and passion had resulted in Norwood Terrace. He noted the complexity of the project and thanked the agencies, investors, syndicator, lawyer, architect and builders. He even gave the Network a shout-out for its work leading to the creation of the Medicaid Redesign Team Supportive Housing Program, which invested capital in the building to house homeless high cost Medicaid recipients. Mr. Fasano lavished special praise on co-developer Alan Bell of B&B Urban whose "genius" made the project – which knit together eleven sources of funding – work.
Mr. Bell for his part returned the compliment, noting that Norwood Terrace was his first full 50/50 partnership with a nonprofit developer: "Little did I know that I was starting with the best."
HCR Commissioner RuthAnne Visnauskas congratulated the many partners and pointed out that the Governor had just the day before signed legislation authorizing $1 billion for 6,000 units of supportive housing.
Other speakers included OTDA's Samuel Roberts, OMH's Moira Tashjian, Bank of America/Merrill Lynch's Todd Gomez, Richman Housing Resources' Moshe McKie-Krisberg and CSH's Jennifer Trepinski. Brian Loeb of the Federal Home Loan Bank noted that Norwood Terrace was the bank's 13th collaboration with Concern. He encouraged more nonprofit supportive housing developers to "come find us." HPD's Emily Lehman pointed out that the project used $2 million in HUD HOME funding – which, in turn, leveraged tens of millions in state and private financing. She encouraged the crowd to continue to advocate for the HOME program which is currently threatened with devastating cuts.
As always, the highlight of the event came from the new tenants. Victor Rosado brought up Concern staffer Ruth Mercadoto translate his speech from the Spanish. Mr. Rosado told guests he had been homeless and had struggled with a number of issues, including diabetes for years before he came to Norwood Terrace. He said that thanks to his new home and his new Concern family "I am a new man."
Resident Diane Silver also spoke glowingly of her new home and the spectacular staff at Norwood Terrace. She called Ralph her "fairy godfather".
Funding for the project came from NYS Homes and Community Renewal, NYS Office of Temporary and Disability Assistance, NYC Department of Housing Preservation and Development, Federal Home Loan Bank, and CSH. Bank of America Merrill Lynch invested in tax credits which were syndicated by Richman Housing Resources. On-site services are funded by the Office of Mental Health. Hirschen Singer & Epstein were the project's attorneys. HLS Builders Corp. was the general contractor, MHG Architects PC the project architect and Betts Housing Consultants the project consultant.
|
What's New
,
New York City
,
Openings
---
05.22.2017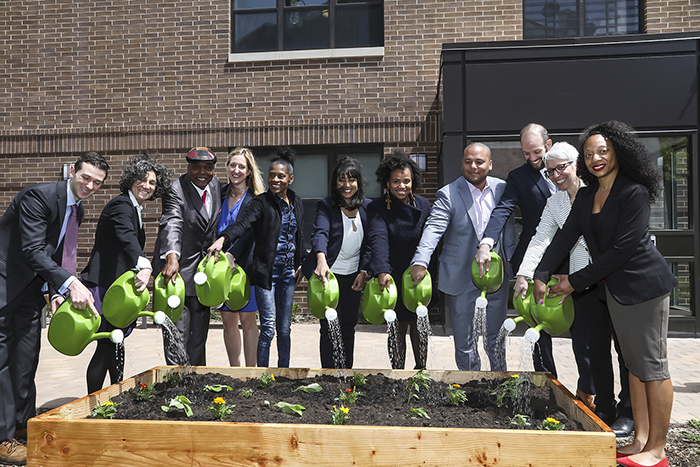 Watering the new garden at SUS' Henry Apartments.
On a sunny May morning, Services for the UnderServed celebrated the opening of Henry Apartments, a beautiful new supportive housing development, in Ocean Hill, Brooklyn, co-developed with Alembic Community Development. The new development, consisting of two neighboring six-story buildings is named after community leader Stan Henry, who, for more than forty years, was the owner and operator of a hardware store that occupied one corner of the development site. As described by Alembic's Benjamin Warnke, "Mr. Henry worked tirelessly to acquire the long-vacant lot adjacent to the store and to complete this project, the latest chapter in a lifetime of service to the neighborhood."
Henry Apartments features 134 total units: 78 supportive units, for formerly homeless individuals with the remaining one-, two-, and three-bedroom affordable apartments for low-income families and individuals.
SUS' Chief of Staff Judith Jackson welcomed guests and made note that "this is not a ribbon-cutting," which, she noted, is all about the building. "This is a housewarming, an occasion that's focused on our building's tenants." (Hence the picture above). CEO Donna Colonna spoke of her gratitude to SUS' "amazing team" and gave a special shout-out to Senior Vice President of Real Estate and Property Development Arlo Chase, for the critical role he played in bringing Henry Apartments into existence.
Tenant Angela Thomas shared some thoughts about how Henry Apartments has transformed her life: "I'd been living in a shelter for five years. I'm 60 years old. I thought I'd never get out, there was stealing, there was beating…when I saw Henry Apartments and how big that studio was, I saw God."
Other speakers at the event included Paula Roy Carethers of NYC Housing Development Corporation, a representative from the office of Senator Velmanette Montgomery, and Genese Morgan, the Chair of Brooklyn Community Board 16. HPD Deputy Commissioner Molly Park described Henry Apartments as a remarkably successful collaboration between the community, government agencies, and SUS.
The two buildings feature, a lovely outdoor recreation space including an area designed for urban farming, and many other typical amenities. On-site services are provided by SUS and are funded by the NYS Office of Mental Health.
Funding for the project was provided by NYC Housing Development Corporation, NYC Department of Housing Preservation and Development, and Corporation for Supportive Housing. The tax syndicator was Richman Housing Resources. The development's architects were Peter L. Woll and Alphonse Diaz and the contractor was Mega Contracting.
|
What's New
,
New York City
,
Openings
---
05.15.2017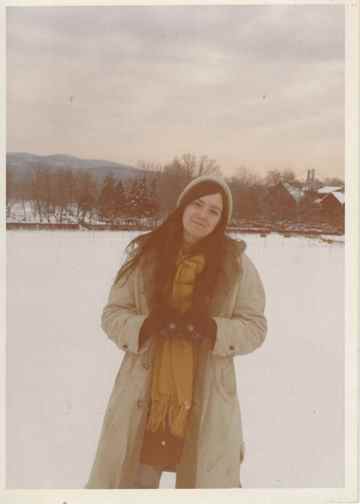 Frances E. Ficklen in an earlier era.
On Friday April 28th, Columba Kavanagh's GEMA Hall dedicated their new tenant lounge to a former tenant Frances E. Ficklen surrounded by the tenant's family members. Tragically, the family had lost touch with Ms. Ficklen due to the onset of mental illness and only found her name associated with GEMA Hall years after her death. The family members found peace in the knowledge that Ms. Ficklen had died peacefully in her sleep surrounded by caring staff and tenants.
Ms. Ficklen's sisters and cousins attended the ceremony and spoke passionately about Frances who had been doing fieldwork in Martinique after earning her Master's degree in Anthropology when she experienced the onset of mental illness. The redecorated tenant lounge – financed as part of the building's Year 15 refinancing, reflects Frances' love of the Caribbean.
|
New York City
,
Openings
---
04.28.2017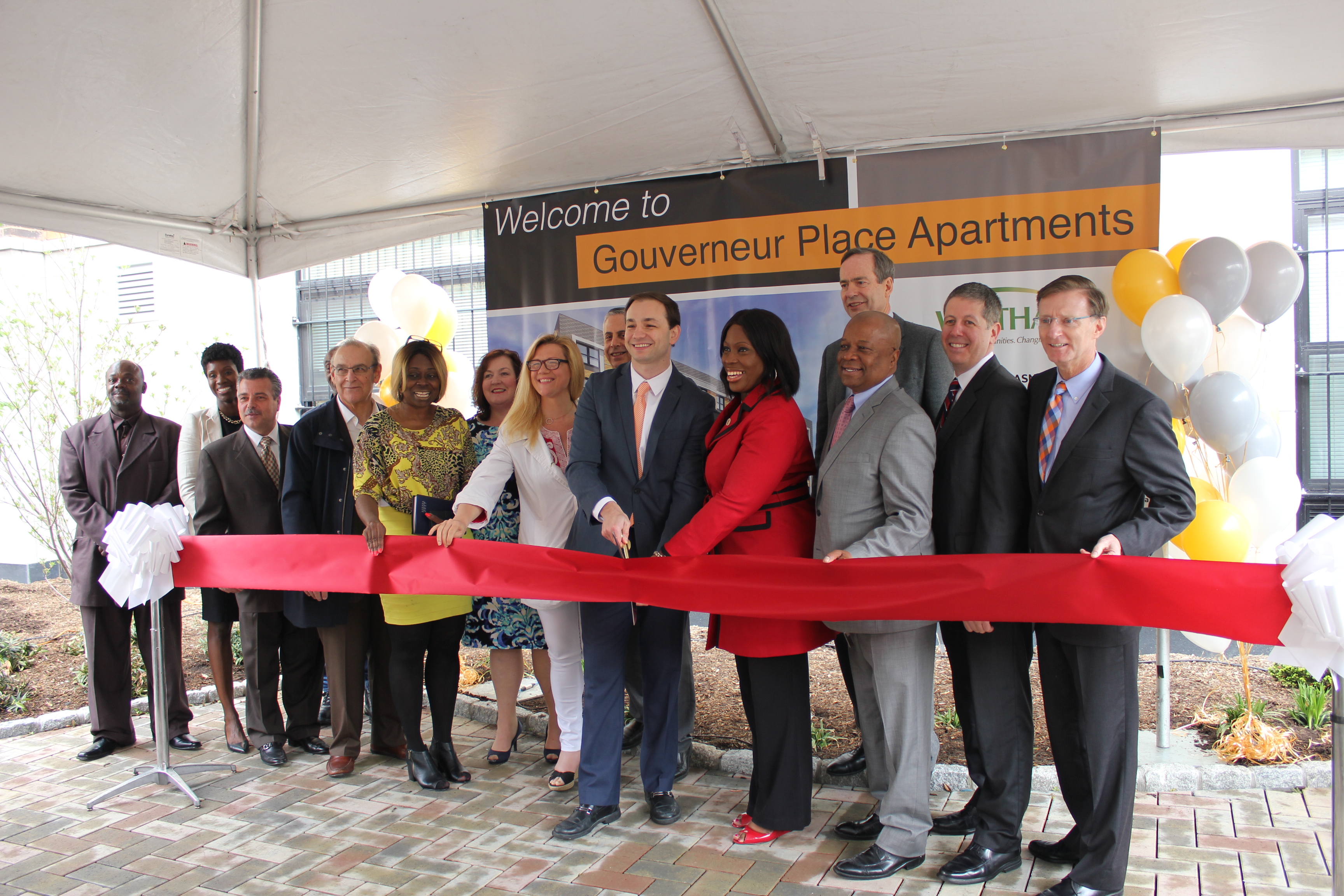 Cutting the ribbon at Gourverneur Place Apartments.
On a blustery April morning, Westhab opened a gracious new supportive housing residence, Gouverneur Place Apartments, in the Bronx. The residence features 68 units: 50 efficiency apartments for people with mental health challenges and 17 one, two, and three bedroom apartments for low-income individuals and families. Westhab is based in Westchester and has many supportive housing residences in that area – this is their first residence in New York City.
Westhab's President & CEO Richard Nightingale welcomed the enthusiastic crowd and referred back to the blazing day in August two years earlier when Westhab had hosted the groundbreaking for this same property, "hopefully, our first of many in New York City!" NYS Office of Mental Health's Moira Tashjian told attendees that actually, the genesis of the project could be traced back eight years, and that its successful completion is a testament to the powerful working relationships that have developed between City, State, and nonprofit partners.
The building features spacious apartments, a lovely outdoor courtyard, and many other on-site amenities including a computer lounge. On-site services are funded by the NYS Office of Mental Health.
Four of the building's tenants spoke movingly about how this beautiful building has transformed their lives. Jeffrey Dantzler said "a year and a half ago, I was sleeping in chairs... it's amazing that now I can put a key in my own door thanks to Westhab!"
UnitedHealthcare employees created move-in baskets for residents filled with household supplies and gift cards. UnitedHealthcare was also the tax credit investor.
Funding for the project was provided by NYS Office of Mental Health, NYS Homes & Community Renewal, the NYC Office of Environmental Remediation, and UnitedHealthcare through a partnership with Enterprise Community Partners, who was the tax syndicator. The residence's architect was SLCE Architects and the contractor was Rende Contracting Corp.
|
What's New
,
New York City
,
Openings
---
04.18.2017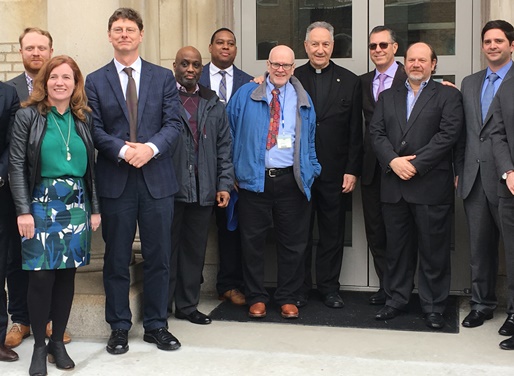 Dignitaries at the dedication ceremony of Bishop Thomas Daily residence.
Some fifty partners, well-wishers and illustrious members of the Archdiocese of Brooklyn and Queens gathered to celebrate the dedication of one of New York's earliest supportive housing residences as the newly refurbished Bishop Thomas V. Daily Residence on April 5th. First opened in 1985 by Catholic Charities Progress of Peoples Development Corporation, the former grammar school recently underwent a gut rehabilitation turning its SRO units into efficiency apartments, updating the building systems and adding six additional apartments!
Catholic Charities of Brooklyn and Queens' President and CEO Monsignor Alfred LoPinto welcomed the guests, inviting his Deputy CEO the Very Reverend Patrick J. Keating to give the opening prayer, with the Bishop of Brooklyn Nicholas DiMarzio offering the closing prayer.
Karim Camara, the Executive Director of the Governor's Office of Faith Based Community Development Services sent greetings from the Governor who was in Albany negotiating the budget (including $1 billion for supportive housing). "He wanted me to tell you that you make his work easier and to thank you."
Among the other featured speakers was Msgr. Ralph Maresca, pastor of the St. Francis of Assisi parish who talked about Bishop Daily's life-long commitment to serving the poor and who would regularly drive past empty buildings in Brooklyn and say "we should buy that building and fix it up for people who have no place to live."
Also speaking was David Selby, a veteran who had moved into the Residence in July. "I'm a combat veteran so I'm usually the person taking care of people. Now I have a family that is taking care of me."
The crowd included former Catholic Charities Progress of Peoples Development Corporation Executive Director and supportive housing founder John Tynan, who had helped create the original residence (that was run by Network Executive Director Laura Mascuch back in the day), new COO Christine Chisholm, and Deputy Borough President Diana Reyna.
The rehabilitation of Bishop Daily Residence was made possible with funding from NYS Homes and Community Renewal, NYC Housing Preservation and Development, Richman Housing Resources, and Wells-Fargo Bank. On site services at the residence are paid for by the Department of Health and Mental Hygiene and NYC Department of Homeless Services. MDG did construction on the project and Dattner Associates was the architect.
|
What's New
,
New York City
,
Openings
---
12.14.2016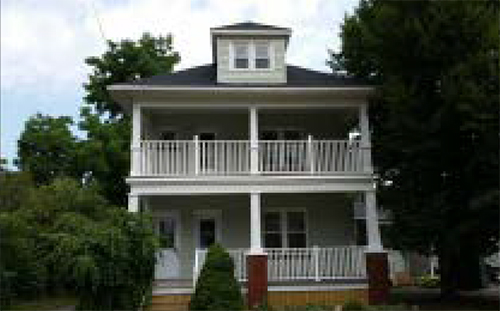 One of the new buildings in the Finger Lakes Rural Initiative Housing Project.
As testament to the fact that supportive housing comes in all sizes and fits into any neighborhood, the Finger Lakes Area Counselling and Recovery Agency (FLACRA) opened four residences in four counties for individuals struggling with homelessness and substance abuse. The four buildings, located across the Finger Lakes region, will provide eight permanent homes for homeless individuals with a disabling condition and 14 transitional units for people in recovery from substance use.
FLACRA's Executive Director Marty Teller said "We are proud to bring these beautiful renovated sites to these great neighborhoods for individuals so deserving in their journey through recovery to independence."
The two day travelling ribbon cutting on November 17th and 18th included Commissioner Samuel Roberts from New York State Office of Temporary and Disability Assistance; Robert Kent, from the New York State Office of Alcohol and Substance Abuse Services; Assembly Member Robert Oaks; New York State Senator-elect Pam Helming; county commissioners of social services, county directors of community services, and other municipal officials. Chief Counsel Kent said, "These are great things in the midst of an unbelievable epidemic of heroin and opiate abuse. Agencies like FLACRA are on the front lines of this fight."
The projects were built with capital from the Homeless Housing Assistance Program and the Federal Home Loan Bank, and a loan from CSH. Services for the supportive housing units are funded by OTDA's NYSSHP program.
The contractor on the project was Hamilton Stern. The architect was TAB Design. The consultant was KLR Consulting.
|
What's New
,
New York State
,
Openings
---
11.28.2016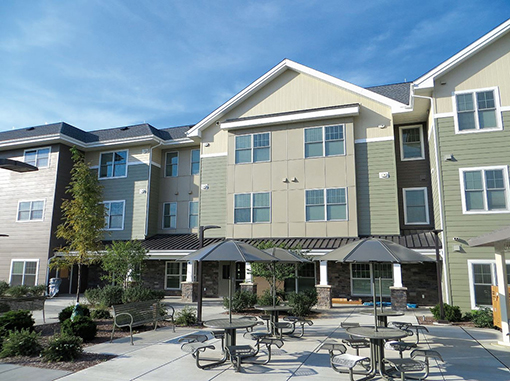 Ebenezer Square Apartments
Living Opportunities of DePaul opened a beautiful supportive housing development, Ebenezer Square Apartments, in West Seneca on November 17th. The mixed-use development rises on the site of a long-vacant big-box store and features 100 affordable apartments, 75 of which are supportive housing units for persons in recovery from mental illness. The name Ebenezer Square is a nod to the Ebenezer Colonies which consisted of settlements of Inspirationists who migrated to what is now the town of West Seneca from Germany in 1843.
Living Opportunities of DePaul's President Mark H. Fuller welcome the crowd, saying "DePaul is so proud to be part of the West Seneca community. Ebenezer Square is an example of progress and partnership in action."
Dignitaries present included NYS Office of Mental Health Commissioner Ann Sullivan; State Senator Timothy Kennedy; West Seneca Town Supervisor Sheila M. Meegan; West Seneca Town Councilman Gene Hart; OMH's Moira Tashjian; NYS HCR's Leonard Skrill; Commissioner Michael Ranney of the Erie County Mental Health Department; and State Assembly Member Michael P. Kearns.
Commissioner Sullivan said, "Residential programs such as Ebenezer have been shown to help their clients find lasting recovery and better connection with their surrounding communities. Under Governor Cuomo's leadership, New York State continues to expand the opportunities and options which enable individuals with disabilities to live fully integrated lives in their home communities."

Residents have access to lounge areas on each floor, outdoor picnic areas, a community room and off-street parking. A green building, Ebenezer Square features the latest energy-saving solar technology: a 150-kilowatt solar array will account for about 75 percent of the building's electrical usage, funded in large part by the New York State Energy Research and Development Authority and using New York State Solar Tax Credits.
Development partners included the Dormitory Authority of the State of New York, New York State Homes and Community Renewal (NYSHCR), New York State Office of Mental Health (NYSOMH), and Red Stone Equity. On-site services are funded by NYS OMH. The architect was SWBR Architects and the contractor was Calamar Construction. The syndicator was Red Stone Equity.
|
What's New
,
New York State
,
Openings
---
11.04.2016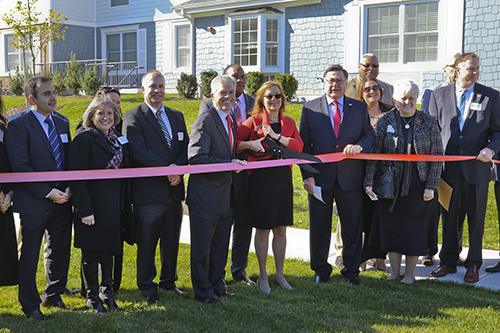 Cutting the ribbon at Liberty Landing.
Concern for Independent Living opened a magnificent new supportive housing development, Liberty Landing, in Ronkonkoma on October 26th. The 59-unit supportive housing development houses 30 formerly homeless veterans, and offers the other 28 units as affordable housing for low income Long Island families, many of whom are also veterans. There are 40 one-bedroom apartments, 15 two-bedroom apartments, and 3 three-bedroom apartments, as well as one unit for the superintendent.
Liberty Landing is beautifully landscaped with trees, flowering bushes, and well-manicured lawns around each unit. Residents have access to a spacious and welcoming community building with an exercise room, a computer room and a room for community gatherings. In addition, the grounds offer many opportunities for recreational activities, such as basketball and bocce.
The grand opening ceremony began with raising the American and military services' flags over Liberty Landing, and the Pledge of Allegiance. Concern's Executive Director and Network Board Member and Treasurer Ralph Fasano graciously welcomed the crowd.
New York State Office of Mental Health Commissioner Dr. Ann Sullivan said "No veteran should ever be homeless – that's the kind of travesty that should never happen. This development is making a difference."
New York State Homes and Community Renewal's Marian Zucker, reading from a letter from Governor Andrew Cuomo, said, "Liberty Landing is an incredible example of what can be accomplished when we come together as state agencies."
New York State Office of Temporary and Disability Assistance Commissioner Samuel D. Roberts said, "Housing alone isn't enough. You have to give (tenants) wraparound services to maintain their health."
Tenants Frank Giaramida, a combat veteran of the U.S. Marine Corps, and Specialist Sarahh Galiotte also spoke. Ms. Galiotte shared a moving story of trauma and recovery, thanks to having stable housing with onsite services, "This is the first time in my whole life I've been at peace with my surroundings. Thanks for giving us a second chance to survive."
Other dignitaries who spoke included: Senator Thomas D. Croci; Assemblyman Al Graf; Suffolk County Executive Steve Bellone; Supervisor of the Town of Brookhaven Edward Romaine; National Equity Fund's Tony Thesing; Community Preservation Corporation's Michael Skrebutenas; and Bank of America's Maurice Coleman.
Funding for Liberty Landing came from the New York State Office of Mental Health; New York State Homes and Community Renewal; the New York State Office of Temporary and Disability Assistance; Suffolk County and The Home Depot Foundation. A construction loan was provided by Bank of America with the permanent financing to be provided by The Community Preservation Corporation.
Onsite services are provided by Concern and are funded by NYS Office of Mental Health. The syndicator is National Equity Fund, the architect is DeLaCour, Ferrara & Church, and the contractor is Jobco, Inc.
|
What's New
,
New York State
,
Openings
---
10.25.2016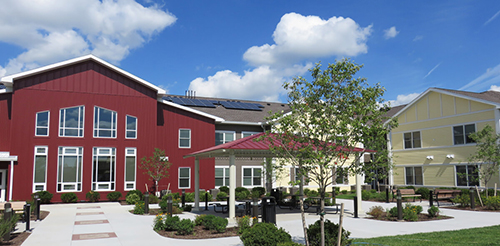 Trolley Station Apartments.
On September 18th, DePaul hosted an open house for its brand new supportive housing residence in Canandaigua, NY. Trolley Station Apartments is a homey and spacious 48-unit affordable/supportive housing complex with 22 units dedicated to serving individuals with mental health challenges. The name pays homage to the site's former use as a stop on a trolley line that transported workers at a large Civil War era orphanage.
There are numerous amenities for tenants including a computer room, a community room, and laundry on each floor. Each apartment features a flat screen tv (with basic cable!), and a fully equipped kitchen. Sidewalks around the complex link to a network of community trails that connect to town parks offering residents a taste of nature and easy opportunity to exercise.
The building also features a rooftop solar element and state-of-the-art free standing solar panels – these are expected to save $16,000 annually by providing 58% of the housing development's electricity. The development incorporates "green" standards, including using Energy Star rated appliances and lighting fixtures and high-efficiency furnaces and condensing units for heating and cooling.
DePaul's Executive Director Mark Fuller acted as MC and was joined by the numerous representatives from the private and public partners who helped make Trolley Station Apartments a reality. Supervisor for the Town of Canandaigua Pamela Helming commented that the town was committed to providing housing for people of all ages and abilities, and that, with Trolley Station Apartments' opening, "We are one step closer to meeting that goal." Other featured speakers included HCR's Leonard Skrill, OMH's Moira Tashjian, the Ontario Mental Health Department's Diane Johnston, Victor Sostar of First Sterling Financial, and JP Morgan Chase's David Walsh.
The building was designed by SWBR architects and built by Christa Construction. The syndicator was First Sterling. Additional funding for a large solar array comes from NYSERDA and Solar Equity.
The project was funded by NYS HCR with MRT capital and NYS HFA with bonds and tax credits. The project was initiated with help from a predevelopment grant from NYS OMH, and on site services are funded by NYS OMH.
|
What's New
,
New York State
,
Openings
---
09.28.2016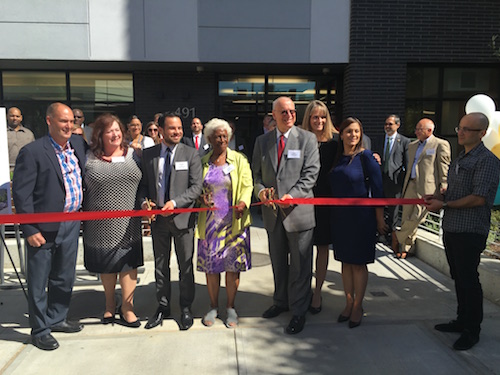 Cutting the ribbon at 165th Street residence.
PSCH staff, partners and government notables joined in the celebration of the opening of PSCH's newest supportive housing project, 165th Street Residence September 13th. The new apartment building provides 58 beautiful new apartments to a mix of formerly homeless individuals and low-income families from the community.
Developed with Christa Construction and CSD Housing, the lovely ten story residence features an exercise room, a spacious outdoor recreation area and bike storage in addition to the beautifully-designed studio, one-and two-bedroom apartments.
PSCH CEO Alan Weinstock and CFO Sherry Tucker hosted the packed celebration, citing the numerous obstacles the project encountered in the multi-year effort to get the building built as well as the roster of partners who helped see the project through to fruition. Partners including OMH's Moira Tashjian, Christa Construction's Mike Dehmler and NYC Community Affairs Liaison Jonathan Soto spoke about the project's physical beauty with its bright yellow architectural highlights as well as its excellent mission, to provide quality housing opportunities for vulnerable New Yorkers. Deputy Bronx Borough President Aurelia Greene was on hand to welcome PSCH to the neighborhood. And Kim Blocker, a tenant of another PSCH residence for the past five years shared her personal story of renewal, reminding those in attendance about the power of supportive housing to transform lives.
165th Street received capital funding from the New York State Office of Mental Health and New York State Housing Finance Agency. The Office of Mental Health is also funding onsite services. Mega Contracting was the contractor, Amy Larovere the development consultant, Hirschen Singer Epstein acted as the project's lawyer. UAI was the project's architect and Richman Housing Resources syndicated tax credits.
|
What's New
,
New York City
,
Openings
---