Showing Posts by Category: Openings
06.21.2019
On May 22nd, an array of partners and supporters gathered in Syracuse to celebrate the opening of Catherine Street Apartments, a 50-unit building with 30 reserved for individuals with mental health disorders. The apartments were developed through a partnership between Network members Central New York Services, Inc. (CNYS) and CSD Housing, development consultants.
Continue Reading …
|
What's New
,
New York State
,
Member News
,
Openings
---
05.29.2019
Photo credit for photo at right: Diane Cho for HPD.
On May 14th, overcast skies were brightened by purple and yellow balloons greeting guests at Network member Services for the Underserved's (S:US) housewarming at 2264 Morris Avenue in the Bronx. Government partners, local elected officials, and private supporters celebrated the completion of the 11-story, mixed-income building, co-developed by S:US and Bronx Pro Group. The building contains 94 units, including 31 units of supportive housing: 17 for at-risk young adults and 14 for formerly homeless adults with mental illness.
Continue Reading …
|
What's New
,
New York City
,
Member News
,
Openings
---
05.28.2019
On May 21st, Network member West Side Federation for Senior and Supportive Housing (WSFSSH) celebrated the completion of Tres Puentes. The project included a refurbishing of Borinquen Court, which continues to house 145 seniors and/or people with physical disabilities in the community, and the creation of two new buildings welcoming 175 new residents. The name "Tres Puentes" refers to the complex's views of the Willis Avenue, Madison Avenue, and Third Avenue bridges nearby, but was heralded as the perfect name for the various relationships that made the project possible.
"The goal is not just buildings, but a place where people can truly live," said Sheldon J. Fine, President of the WSFSSH Board of Directors, who began the speaking program in a large, lively room.
Continue Reading …
|
What's New
,
New York City
,
Member News
,
Openings
---
04.25.2019
On April 16th, the Network joined member Services for the UnderServed (S:US) to celebrate the transformation of a vacant lot in the Bronx into a seven-story apartment building – and the transformation of lives through the offer of permanent homes. With 74 apartments, including 19 reserved for formerly homeless individuals with mental health challenges and 45 reserved for formerly homeless veterans, the housewarming's goal was to wish the building's residents "every hope and every dream that comes with having a new home," said Judith Jackson, Chief of Staff of S:US.
Continue Reading …
|
What's New
,
New York City
,
Member News
,
Openings
---
04.25.2019
On April 3rd, Comunilife welcomed guests, colleagues, partners, and friends to the long-awaited opening of Woodhull Residence after 13 years of work.
Rosa M. Gil, President and CEO of Comunilife, opened the event's speaking program by recalling a conversation with one of the building's newest residents – a formerly homeless woman who, with new keys in hand, uttered disbelief in this new stage of her life. Gil echoed her wonder, saying, "My dream and her dream has become a reality."
Continue Reading …
|
What's New
,
New York City
,
Member News
,
Openings
---
04.23.2019
"For us in the church, this is a no-brainer. It's a duty. It's something we are obliged to do," said Timothy Michael Cardinal Dolan, Archbishop of New York, about developing affordable and supportive housing. Some 100 friends, supporters, and church luminaries attended the opening on April 8th celebrating the long-awaited project which includes 35 units of supportive housing.
Continue Reading …
|
What's New
,
New York City
,
Member News
,
Openings
---
04.17.2019
On March 14th, city, county, and state officials joined Network member DePaul to celebrate the opening of the Skybird Landing Apartments in Geneseo, a National Historic Landmark Village in the Finger Lakes region of New York. Named to honor Geneseo's National Warplane Museum, Skybird Landing consists of 60 affordable and supportive one- and two-bedroom apartments spread across six new buildings.
Continue Reading …
|
What's New
,
New York State
,
Member News
,
Openings
---
11.13.2018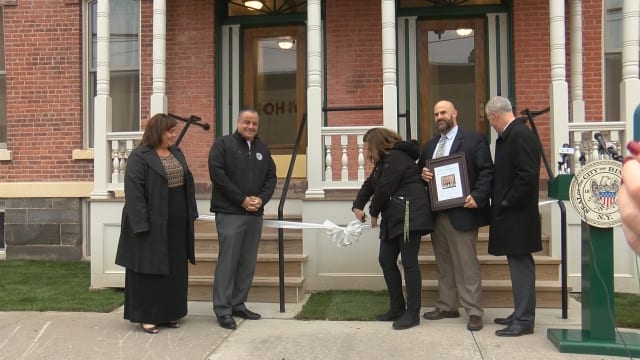 Friends and supporters gathered October 18 to celebrate the opening of 88-90 Carroll Street in downtown Binghamton. This newest development will provide permanent supportive housing for 10 formerly homeless individuals and families, including several who have high medical needs.
"Individuals and families that come here are faced with problems, and housing is usually the first step in addressing those problems," said Mark Silvanic, CEO of Opportunities for Broome.
Dana Greenberg and Jason Harper represented NYS Office of Temporary and Disability Assistance (OTDA) at the ribbon cutting and Binghamton Mayor Rich David was also in attendance to celebrate this opening with the community.
A tenant, Alonzo Harper spoke about the impact having an apartment and working with Opportunities had had on his life: "I landed another job..I actually have a better relationship with my children because I get to see them more often because I have a place… and (the people at Opportunities for Broome) have given me faith in other people. I didn't think that anybody would fight for anybody out here."
The building is a three story brick structure near several Opportunities redevelopment sites and offers comprehensive social services to tenants.
The project is funded by the Office of Temporary and Disability Assistance (OTDA) under the Homeless Housing and Assistance Program (HHAP). Empire State Supportive Housing Initiative funds the services for the 10 supportive housing units. Patricia Every was the architect and WL Kline was the contractor for this project.
|
What's New
,
New York State
,
Member News
,
Openings
---
10.29.2018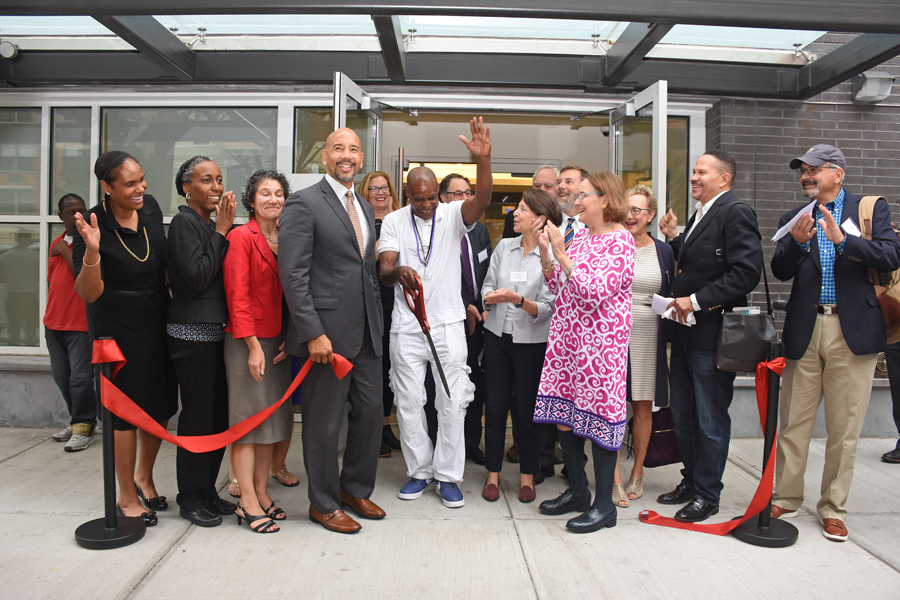 Some 70 friends and supporters gathered September 14th to celebrate the opening of The Bridge's new Melrose Commons residence in the Melrose section of the Bronx. Hosted by The Bridge's Board Chair Cynthia Wainwright and CEO Susan Wiviott, the gathering included electeds as well as representatives from the City, the State and the private sector, tenants and Bridge staff. Melrose Commons will provide permanent supportive housing for 58 formerly homeless individuals with mental health conditions.
Bronx Borough President Ruben Diaz Jr. kicked off the festivities by noting that, in addition to Melrose Commons' transforming tenants' lives, the beautiful new building is contributing to the neighborhood's revitalization. "I grew up here and I remember playing in the rubble", said Mr. Diaz. He congratulated all the partners on the project and took time to hug Robert Tandy, the Melrose Commons tenant who spoke at the opening. The Borough President had previously shown support for the project by allocating $600,000 in funding.
State Senator Luis Sepulveda also grew up in the Melrose area and remarked on the positive changes. He also congratulated all involved in the project: "I salute The Bridge for bringing this impressive residence and its services to those in need. I wish I could provide more like it."
HDC's Eric Enderlin, HPD's Molly Park and OTDA's Dana Greenberg also spoke, noting the amount of time (EIGHT YEARS!) and effort that had gone into the project. Capital One's Desiree Francis (a Bronx native as well) and CSH's Maygen Moore participated.
As always, the star of the program was Robert Tandy, a tenant of Melrose Commons. Robert has struggled for many years on the streets and recently moved into The Bridge's Safe Haven in the Bronx where, for the first time in many years, he felt safe. When Melrose opened, he was ready to consider leaving transitional housing for his own fully furnished studio apartment in a new building offering permanent supportive housing.
The building features a green roof, a large outdoor recreational space that features a garden, a ping pong table, and comfortable seating; a common space with a communal kitchen for cooking classes (using produce from the garden); and a conference room/training center. Comprehensive on-site services (including case management and 24/7 front desk coverage) are funded by the NYC Department of Health and Mental Hygiene.
Funding for the building was provided by NYC Housing Development Corporation (HDC), NYC Department of Housing Preservation and Development (HPD), LIHTC, NYS Homeless Housing and Assistance Corporation, Bronx Borough President Ruben Diaz Jr., and the Mayor's Office of Environmental Remediation. National Equity Fund was the syndicator and Capital One the tax credit investor. Predevelopment funds were provided by the Corporation for Supportive Housing, Citibank and Local Initiatives Support Corporation. The Bridge was awarded the property, which was deeded by the City for $1, through a competitive RFP process. The architect was Magnusson Architecture and Planning and the contractor was the J. Pilla Group.
|
What's New
,
Openings
---
07.24.2018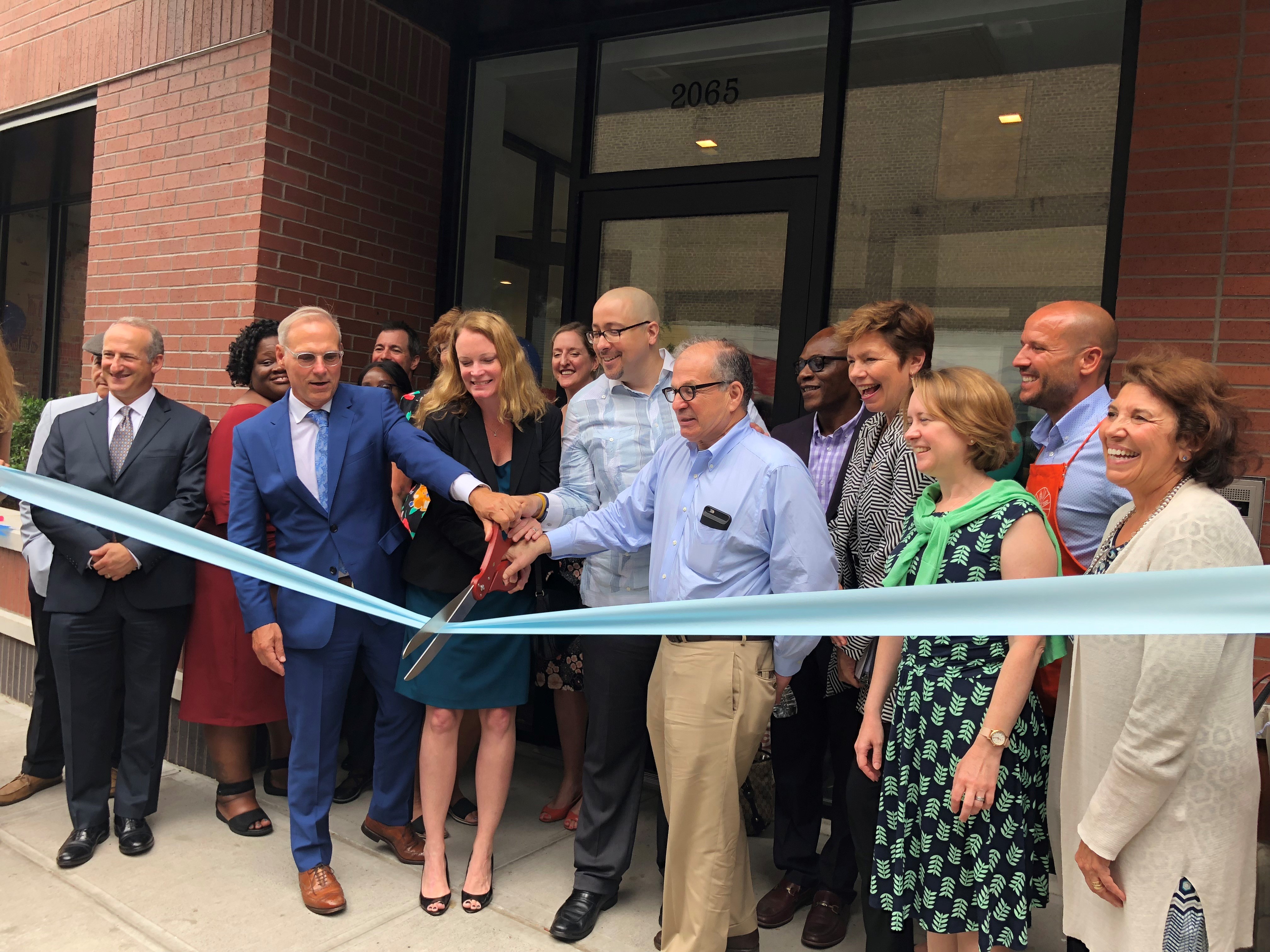 State and city officials, partners and friends gathered on July 17 to celebrate the opening of Walton House, the first supportive housing congregate site to open doors under Mayor Bill de Blasio's NYC 15/15 initiative. Developed by Jericho Project and B & B Urban, Walton House will bring 89 units of supportive housing to homeless veterans and young adults.
Tori Lyon, CEO of Jericho Project welcomed the audience and introduced all the speakers for the program including Senator Gustavo Rivera; Deputy Mayor of Health and Human Services Dr. Herminia Palacio; Human Resources Administration (HRA) Commissioner Steven Banks; NYC Department of Veterans' Services Commissioner Loree Sutton; First Deputy Commissioner of NYC Housing Preservation and Development (HPD) Don Shacknai; NYS Office of Temporary and Disability Assistance Commissioner Samuel D. Roberts and other key government and private sector partners.
"Thank you for believing in what we do and opening the doors for so many," said CEO Tori Lyon to the audience in her opening remarks.
State Senator Gustavo Rivera who represents the 33rd District in the Bronx talked about his commitment to supportive housing.
"I have been educated on how important these projects are not only to those who live here but also the community overall. It brings so much beauty and positivity to the community and that's why I'm always in support of supportive housing," said the senator.
Dr. Herminia Palacio also spoke at the event. She talked about the struggles of LGBTQ and HIV positive youth she witnessed firsthand as a medical practitioner in 1980's San Francisco and how important safe housing is to gain stability.
"We are opening a way to new life, we are opening a way for stability and are opening a way to new tools so young adults and those who've fought fearlessly for this country could make their lives better," she said.
Commissioner Steven Banks remarked on the collective will and collaboration among all the various funders and partners to make this happen.
"There's no silver bullet that's going to solve this problem (of homelessness) but it is our continued partnerships that will keep moving the needle and keep us going," he added.
Located in the Mount Hope section of the Bronx, Walton House has 89 apartments –56 of which are reserved for veterans and 33 for young adults. It features two community rooms, a beautiful mural showcasing all the famous landmarks in the Bronx by artist Rafael Esquer, an outdoor garden with exercise equipment and a library. Comprehensive onsite social services are funded by NYC Department of Health and Mental Hygiene (DOHMH) and HUD's Veterans Affairs Supportive Housing (VASH).
The financing for Walton House was provided by a mix of government and private sector partners including the NYC Housing Development and Preservation (HPD), Office of Temporary and Disability Assistance (OTDA) and Wells Fargo and Federal Home Loan Bank. Additional support was provided by Home Depot Foundation and Citi Community Development. A pre-development loan was provided by the Corporation for Supportive Housing (CSH).
Walton House was designed by MHG Architects PC and the contractor was Cheever Development Corporation.
|
Openings
---