Showing Posts by Date: 09/2017
09.25.2017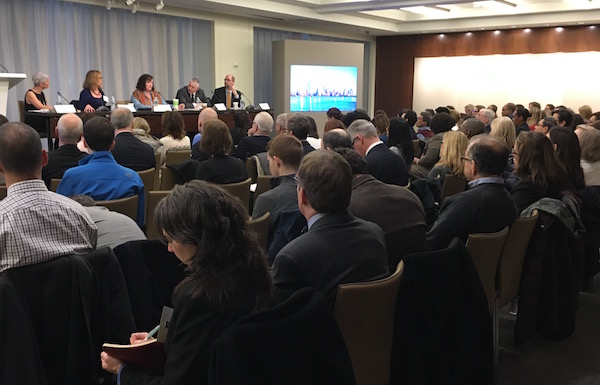 The Network's recent panel on the Empire State Supportive Housing Initiative (ESSHI).
Ever since last year, when the state and city committed to create 35,000 new units of supportive housing in two separate initiatives over the next fifteen years, the Network has focused on supporting our community in meeting this unprecedented opportunity. 27,500 of these units will be single-site. The state's commitment of 20,000 of these units – the Empire State Supportive Housing Initiative (ESSHI) – will be developed through an annual statewide RFP process, while New York City's 7,500 single-site units – part of NYC 15/15 – will be developed through an open, rolling RFP. The total number of units is three times that of any previous commitment.

The Network has embarked on a multi-year Getting to 35K Initiative for our nonprofit community. Last winter, we surveyed members to gauge their interest in developing supportive housing and to identify any impediments to the process. The results of this survey pointed us towards the types of trainings, convenings, and connections our nonprofit members needed to move forward.

In the first eight months of 2017, we convened our state partners for an ESSHI question and answer session which was attended by 100 members of our community. In February, we piloted a small, hands-on training on how to structure a joint venture with representatives from ShermanLaw, Bank of America, and Richman Housing Resources. Throughout the spring, we presented at various forums to help faith-based organizations partner with affordable and supportive housing developers, including a gathering we hosted with the Mayor's Center for Faith and Community Partnerships. Eight of our annual conference workshops were aimed at helping the supportive housing community implement NYC 15/15 and ESSHI. And in July, we held our first Joint Venture 'mixer' – bringing together for-profit developers and nonprofits interested in partnering to develop supportive housing…in a bar!

Over the next several months, we will be holding a number of events across the state on topics including financing a tax credit deal, joint ventures, and HCR's unified funding process. While we will be sending out specific invitations to each of these events, we wanted to keep you abreast of what we're planning to offer.

We would love to hear your thoughts on what else the Network could do to help us all meet our collective vision: ending chronic homelessness in New York State through the creation of sufficient supportive housing.
The Network would like to thank our funders for the Getting to 35K Initiative, without their support this work would not be possible: Bank of America, Capital One, Deutsche Bank, New York Community Trust, the Oak Foundation, Robin Hood, JP Morgan Chase, and the van Ameringen Foundation.
|
What's New
,
New York State
,
New York City
,
Network Events
---
09.25.2017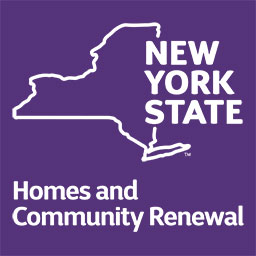 The competitive round of funding that includes 9% Low Income Housing Tax Credits (LIHTC) has been released. This is a major source of funds to develop supportive housing to meet New York State's commitment to build 6,000 units of supportive housing over five years. That commitment is demonstrated by an increase in the supportive housing set aside for LIHTC, from $4 million to $5 million out of an estimated total of $28 million.
Other capital resources are available through the Unified Funding Round, including:
Supportive Housing Opportunity Program (SHOP) - $35 million
Housing Trust Fund (HTF) - $65.2 million
NYS HOME Program - $7 million
Rural and Urban Community Investment Fund (CIF) - $44.9 million
Middle Income Housing Program (MIHP) - $16 million
Homes for Working Families (HWF) - $4 million
Public Housing Preservation Program (PHP) - $10 million
Multifamily Preservation Program (MPP) - $15 million
New York State Low Income Housing Tax Credit (SLIHC) – $4 million
There are three separate deadlines for the application, including one specific to shovel-ready supportive housing projects:
Early Award Projects – by 5:00 PM, October 5, 2017
Early Round Empire State Supportive Housing Projects (ESSHI) – by 5:00 PM, November 7, 2017
Other capital applications – by 5:00 PM, December 5, 2017
Supportive housing projects not ready for the early round may apply before the regular deadline of December 5, 2017.
To read the full RFP and access other resources on HCR's website please click here. Information is also available on the Network's website here.
Prior to the applicable application deadlines, prospective applicants may submit questions to UnifiedFunding@nyshcr.org. Answers to questions submitted by email will be posted on the UF 2017 webpage.
For Network Members, those with ESSHI conditional awards who are new to this funding opportunity, please contact Steve Piasecki at spiasecki@shnny.org with questions or for additional resources.
|
What's New
,
New York State
---
09.20.2017
Panelists address the crowd at the presentation of the Medicaid Redesign Team Supportive Housing Program evaluations.
Some 70 representatives from a broad spectrum of health and housing organizations gathered at the offices of Robin Hood September 12th for a presentation on first year evaluations of the Medicaid Redesign Team Supportive Housing Program by representatives of the Department of Health (DOH) and SUNY Albany.
Welcomed by Robin Hood's Managing Director for Health programs, Sarah Oltmans, the Network's Laura Mascuch then framed the morning's focus and introduced the presenters. She also summarized the Evaluation's overall findings: that the programs reduced inpatient days by 40%; reduced emergency department visits by 26%; reduced rehab admissions by 44% and inpatient psych admissions by 27%; and reduced overall Medicaid spend by 15%.
DOH Deputy Medicaid Director Liz Misa kicked off the presentation by giving an overview of the MRT program, by far the largest investment in housing by any state health agency in the country. To date the program has invested $641 million over seven years; served 11,000 high need Medicaid recipients, developed 19 rental subsidy and supportive service programs statewide, added 1,482 units to the state's supportive housing inventory and prioritized placements in single-site residences for the most vulnerable Medicaid recipients. Ms. Misa then showed a brief film created by BronxWorks in which tenants of their Health Home Supportive Housing Pilot Program described the impact of having stable housing. That program has produced a 46% reduction for the first seven participants for whom they have data, according to the Bronx Health and Housing Consortium.
The research team from SUNY Albany then took over, unpacking cost and utilization data from the tenants of 11 MRT housing-related programs. Dr. Lauren Polvere led off, describing the tenants in terms of their demographics, ethnicity and chronic conditions. Dr. Sandra McGinnis and Dr. Diane Dewar took attendees through the utilization and cost reports, paying special attention to two of the supportive housing programs that had the most robust outcomes in cost and utilization – scattered-site programs for high-need Medicaid recipients run by the Office of Alcohol and Substance Abuse Services (OASAS) and the Office of Mental Health.
Representatives from city and state government, MRT supportive housing, Managed Care Organizations, foundations and health care professionals then participated in an hour-long discussion of the results and proposed next steps. Presenters told attendees that additional studies are being conducted to inform effective targeting of participants for the MRT units as well as to better understand unmet need. Ms. Misa left open the possibility of expansion or creation of new programs depending on budget discussions.
We thank the presenters as well as our Robin Hood hosts for the opportunity to discuss this groundbreaking work.
|
What's New
,
New York State
,
Network Events
---
09.18.2017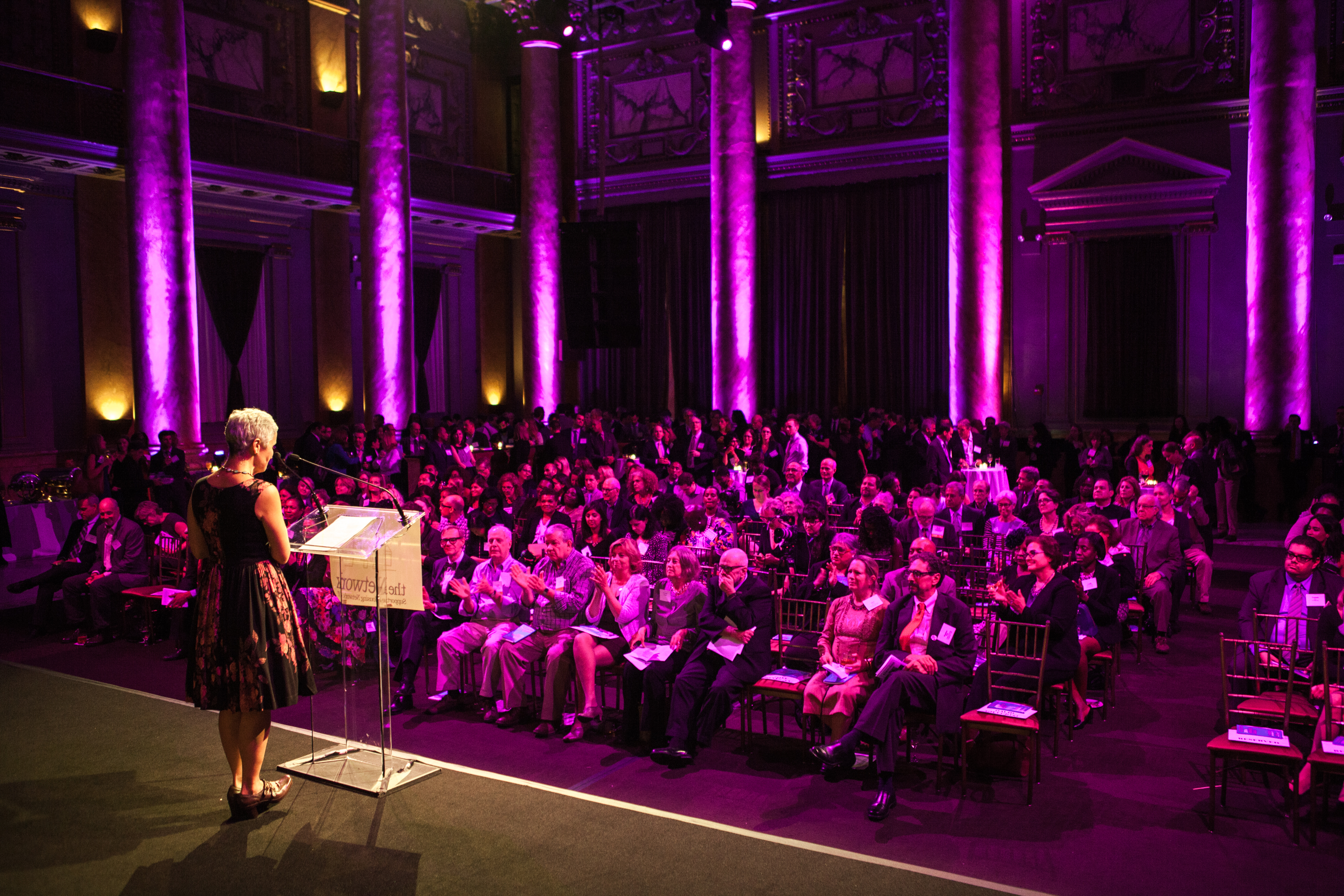 Executive Director Laura Mascuch addressing the 2016 Network gala.
There are only a few weeks left before our 2017 Awards Gala on Wednesday, October 18th at Capitale. We have much to celebrate this year, so please plan to attend this wonderful event! We'll be honoring RuthAnne Visnauskas Commissioner & CEO of NYS Homes & Community Renewal as Government Partner of the Year, for her pivotal role in securing the state's landmark Empire State Supportive Housing Initiative as well as her part in ensuring its swift implementation. We are also delighted to honor the decades-long contributions of Deutsche Bank as Private Sector Partner of the Year, including Deutsche's creation of the innovative DB Share program and the bank's longstanding support of both the Network and our nonprofit providers.
We also look forward to honoring our outstanding supportive housing tenants and residences of the year.
The Network would like to thank our Gala co-chairs, Hercules Argyriou of Mega Contracting Group and Ralph Fasano of Concern for Independent Living and the Gala Committee for spearheading our fundraising efforts.
We look forward to seeing you and celebrating your achievements next month.
Hope you can join us!
|
What's New
,
Network Events
---
09.01.2017

Breaking ground on Comunilife Woodhull.
On August 16th, elected officials, funders, and other partners joined Comunilife and NYC Health + Hospitals to break ground on a new supportive/affordable housing building on the campus of Woodhull Hospital.
Of the residence's 89 studio units, fifty-four will be set aside as supportive housing for patients of NYC Health + Hospitals/Woodhull who have behavioral health issues and a history of homelessness. The other 35 units will be available to low-income individuals.
The building will include a multi-purpose community room, a community kitchen, a laundry room, bike storage, and a computer room. The property will feature a 2,400-square-foot landscaped backyard, as well as a 2,300-square-foot front yard along Park and Throop Avenues.
Woodhull Hospital CEO Gregory Calliste opened the program congratulating the health and housing stakeholders on bringing the project to fruition. He introduced NYC Deputy Mayor for Health and Human Services Dr. Herminia Palacio who remarked, "Health does not happen within the four walls of a doctor's office, it happens foremost at home. These supportive housing units will go a long way to helping the residents who live here be their healthiest selves."
Dr. Palacio was followed by Comunilife's Board Chair & CEO, Dr. Rosa Gil, who noted that the project had been a dream for many years.
Stanley Brezenoff, Interim President and CEO of NYC Health + Hospitals commented "Our mission is reflected in this building and our commitment to the community."
"This development will have the power to transform lives," said New York State Homes and Community Renewal Commissioner RuthAnne Visnauskas. "I am proud to join our fellow partners in the public and private sectors who combined their dedication and expertise on behalf of the 89 residents who will call Comunilife Woodhull their home."
Other distinguished speakers included NYC Housing Preservation and Development (HPD)'s Emily Lehman, Council Member Robert Cornegy, NYS Assembly Member Tremaine Wright, Council Member Antonio Reynoso as well as Deputy Borough President Diane Reyna and a representative of Congresswoman Nydia Velasquez's office.
Funding for the project came from NYS HCR and NYC HPD. Hudson Housing Capital was the project syndicator, and Sterling National Bank and Chase were lenders. New York State Energy Research and Development provided additional grant funding. On site supportive services will be funded by the NYC Department of Health and Mental Hygiene and provided by Comunilife. Monica Lopez Architects is the project architect and Mega Contracting will provide general contracting services.
|
What's New
,
New York City
,
Groundbreakings
---