Upcoming Events
Supportive Housing Development - Getting to 35K Initiative

Fall/Winter 2017 Calendar
Financing a Tax Credit Deal
December 12, NYC, CohnReznick
Description: For nonprofits with less development experience, learn the basics of tax credits (4% and 9%), the budget sources and uses for a typical deal, and how to blend different sources of capital, service and operating funds available in New York State.
Presenter: Amy Larovere, President, A. Larovere Consulting
Open to: Nonprofit members
Coming in 2018…
Joint Venture Workshop – Level II
Joint Venture Mixer
For more information, contact Sydney Kopp-Richardson
To RSVP, contact Edeana Martinez
CUCS/Network Trainings
The Network organizes and/or sponsors dozens of events and workshops every year across New York State. Many of the workshops we list on this page are collaborations with the Center for Urban Community Services. Our roster for 2017-2018 can be downloaded here.
Please follow the steps listed here to register, as CUCS has developed a NEW REGISTRATION SYSTEM:
To learn more and register for trainings please click here.
Then follow these steps and you will be on your way!
Create/Complete your own personal login profile
View upcoming courses
Enroll
Foundations of Motivational Interviewing, Part 1
Motivational Interviewing (MI), developed by Miller and Rollnick, is an intervention that helps people recognize and address problem behavior (present or potential), and is intended to help resolve ambivalence and to get a person moving along the path to change. MI serves as an important prelude to other treatment and services by creating an "openness" to change, which paves the way for further important therapeutic work. This training provides an introduction to the basic principles and skills associated with MI including OARS, expressing empathy, rolling with resistance, and avoiding common roadblocks to change. It also offers a foundation for Motivational Interviewing Part 2, which expands these skills into actual "change talk" and promotion of commitment to change.
****Accredited as a New York State Social Work Continuing Education Course and OASAS Certified
Just a reminder, please be on time, as you will not receive credit if you are more than 10 minutes late.
Date: Tuesday, December 12
Time: 9:30am-4pm
Location: Center for Urban Community Services, 198 East 121st Street, 5th Floor
You can register for this training here, and use the code SHNNY-MI-12-12-17 as the coupon code for your membership discount.
Roster of Upcoming Trainings: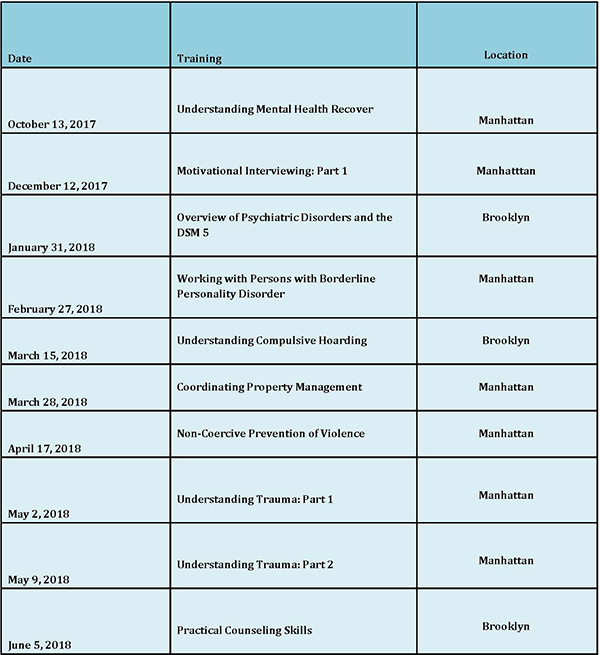 Join Our Email List


for News and Updates
Did you know…
In one Los Angeles program, formerly homeless individuals decreased their public and hospital costs from $63,808 when homeless to $16,913 when housed.