Showing Posts by Date: 05/2017
05.24.2017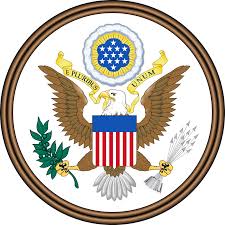 On May 23rd, President Trump released his first budget proposal for FY 2018, which begins October 1, 2017. While it provides more detail than the "skinny budget" short-form budget released in March, it slashes domestic spending dramatically and HUD programs are specifically under attack. Whole block grant programs (which are critical to the production of supportive housing), including Community Development Block Grant and HOME Investment Partnerships are eliminated, along with the Interagency Council on Homelessness. It also strips funding from the National Housing Trust Fund, funding specifically targeted to building affordable housing to the nation's poorest households. The Veterans Affairs Supportive Housing (VASH) receives no new vouchers in the president's budget proposal.
Continue Reading …
|
What's New
,
Funding
,
Federal
---
05.24.2017


Scenes from the 2016 conference.
We hope you will join us for the 17th Annual New York State Supportive Housing Conference! This year's conference will take place on Thursday, June 1st at the New York Marriott Marquis in New York City. You may register online for this event through the end of the day, Friday, May 26th.
Continue Reading …
|
What's New
,
Network Events
---
05.24.2017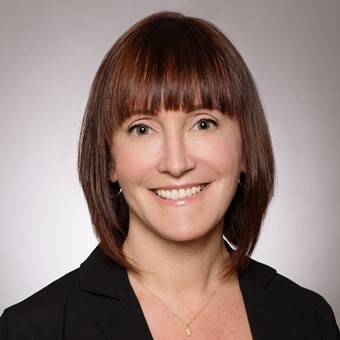 On May 17, the Network welcomed Brenda Rosen, President and CEO of Breaking Ground, as the new Chair of our Board of Directors. Ms. Rosen replaces Richman Housing Resources LLC President William Traylor, who stepped down as Board Chair after twelve years of dedicated service in this role.
Continue Reading …
|
What's New
---
05.23.2017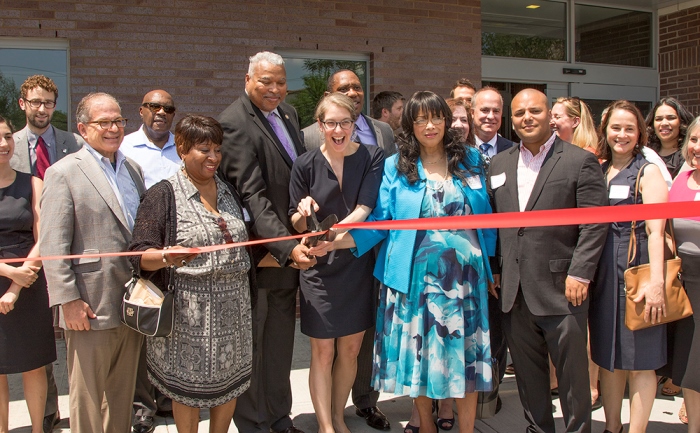 Cutting the ribbon at Norwood Terrace.
More than 80 partners, staff, tenants and well-wishers gathered May 19th to celebrate the opening of Norwood Terrace, a new affordable/supportive residence developed by B&B Urban and Concern for Independent Living in the Norwood section of the Bronx. The 115-unit residence features a library, a computer lab, and a roof garden in addition to its mix of efficiency, one, two and three bedroom apartments; the building is now home to formerly homeless individuals as well as families and individuals from the community.
Continue Reading …
|
What's New
,
New York City
,
Openings
---
05.22.2017

Sharing a blessing at the forum for leaders of faith institutions. Photo credit: Chris Lowry.
On May 12, the Network, in partnership with the Mayor's Center for Faith and Community Partnerships, and the NYC Department of Housing Preservation and Development, hosted a forum for leaders of faith institutions who may want to either develop or champion supportive housing. Generously donated by Breaking Ground, the ballroom of their beautifully-restored supportive housing residence, The Prince George, served as a perfect setting for the event.
Continue Reading …
|
What's New
,
Network Events
---
05.22.2017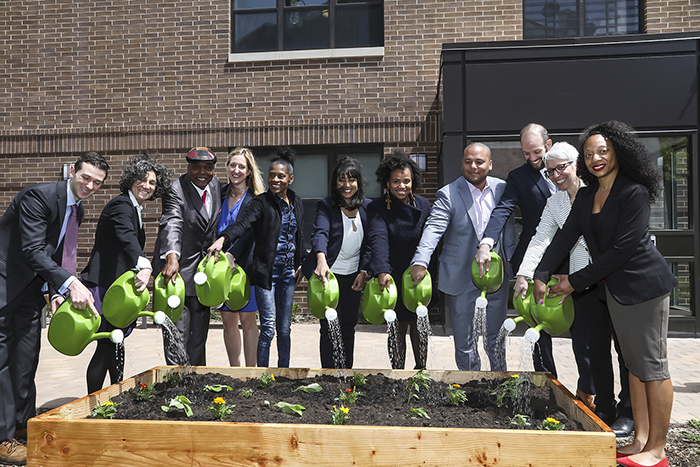 Watering the new garden at SUS' Henry Apartments.
On a sunny May morning, Services for the UnderServed celebrated the opening of Henry Apartments, a beautiful new supportive housing development, in Ocean Hill, Brooklyn, co-developed with Alembic Community Development. The new development, consisting of two neighboring six-story buildings is named after community leader Stan Henry, who, for more than forty years, was the owner and operator of a hardware store that occupied one corner of the development site. As described by Alembic's Benjamin Warnke, "Mr. Henry worked tirelessly to acquire the long-vacant lot adjacent to the store and to complete this project, the latest chapter in a lifetime of service to the neighborhood."
Continue Reading …
|
What's New
,
New York City
,
Openings
---
05.19.2017

Governor Andrew Cuomo with advocates at the bill signing.
Yesterday Governor Andrew Cuomo, accompanied by Speaker of the New York State Assembly Carl Heastie, Building and Construction Trades Council of Greater New York President Gary LaBarbera, and Breaking Ground's President and CEO Brenda Rosen, signed a historic bill announcing $2.5 billion for the creation and preservation of 6,000 new units of supportive housing and over 110,000 units of affordable housing over the next five years, in the ballroom of Breaking Ground's The Prince George. This capital funding is the first installment in the Governor's unprecedented commitment to build 20,000 new units of supportive housing over the next fifteen years.
Continue Reading …
|
What's New
,
Funding
,
New York State
---
05.15.2017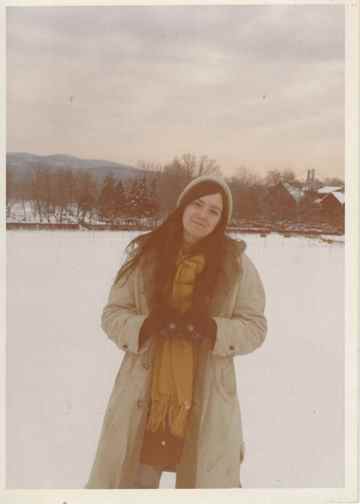 Frances E. Ficklen in an earlier era.
On Friday April 28th, Columba Kavanagh's GEMA Hall dedicated their new tenant lounge to a former tenant Frances E. Ficklen surrounded by the tenant's family members. Tragically, the family had lost touch with Ms. Ficklen due to the onset of mental illness and only found her name associated with GEMA Hall years after her death. The family members found peace in the knowledge that Ms. Ficklen had died peacefully in her sleep surrounded by caring staff and tenants.
Ms. Ficklen's sisters and cousins attended the ceremony and spoke passionately about Frances who had been doing fieldwork in Martinique after earning her Master's degree in Anthropology when she experienced the onset of mental illness. The redecorated tenant lounge – financed as part of the building's Year 15 refinancing, reflects Frances' love of the Caribbean.
|
New York City
,
Openings
---
05.15.2017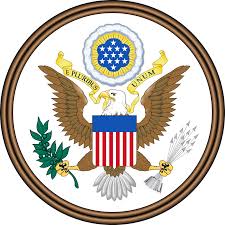 President Trump signed the final FY 2017 budget May 5th, in the form of a bi-partisan supported omnibus spending package. HUD programs are funded from October 1, 2016 through September 30, 2017 at levels that will ensure that most key supportive housing programs will be sustained.
Continue Reading …
|
Funding
,
Federal
---