Newsfeed Categories
Community CornerFundingNew York StateNew York CityFederalResearchPressMember NewsOpeningsGroundbreakingsNetwork Events
Oct.23.2019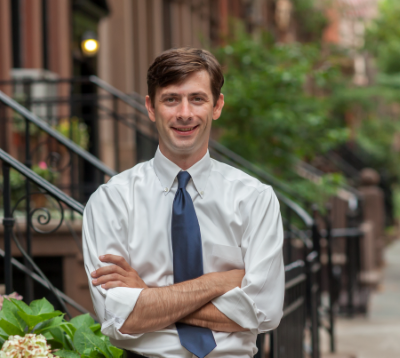 At every step of his career, Stephen Levin has truly talked the talk and walked the walk as one of supportive housing's most effective champions. Elected to New York City Council in 2009, he represents the diverse communities of Greenpoint, Vinegar Hill, Dumbo, Brooklyn Heights, Downtown Brooklyn, Boerum Hill, and parts of Bedford-Stuyvesant and Williamsburg. Stephen has used his position strategically to proclaim supportive housing's transformative power in communities and has earned a reputation of credibility and steadfastness.
Stephen was among the first in government to seriously ramp up the cause for a new NY/NY Agreement in City Council, holding a hearing about supportive housing's benefits and participating in the Network's conferences. In 2015, just after Mayor de Blasio announced his landmark NYC 15/15 commitment, Stephen led a rally at City Hall both to celebrate and to call on the Governor to match the city commitment. He then helped lead a City Council hearing and press conference to further amplify the need.
More recently, as Chair of the General Welfare Committee, Stephen held a hearing on the progress being made on NYC 15/15, which led to the addition of $100 million in last year's budget to accelerate the development of congregate supportive housing.
Critically, Stephen's commitment to supportive housing starts in his own backyard. He has long been a vocal supporter of Breaking Ground's work in his district, most recently the addition of over 500 units of supportive and affordable housing beginning in 2020 with 90 Sands Street.
"Council Member Levin has shown us time and again that there is always a way," said Brenda Rosen, President and CEO of Breaking Ground. "We are extremely grateful for his staunch support of The Schermerhorn, his visionary role in helping us to acquire 90 Sands Street, and his leadership in fighting to create more supportive housing for vulnerable New Yorkers."
Stephen is leading the movement to build community and political support for supportive housing, co-authoring an op-ed with Council Member Rafael Salamanca last year and this year helping bring Los Angeles' Everyone In campaign to New York City.
NYC Council Speaker Corey Johnson said, "Council Member Stephen Levin has been a fierce advocate for our most vulnerable New Yorkers and the need for supportive housing. He is a valuable partner in finding solutions for the homelessness crisis. I cannot ask for a better colleague and friend."
For his outstanding integrity and commitment to supportive housing across the city, the Network is honored to name Stephen Levin Government Partner of the Year.