Categories: New York City, Openings
04.18.2017
First opened in 1985 by Catholic Charities Progress of Peoples Development Corporation.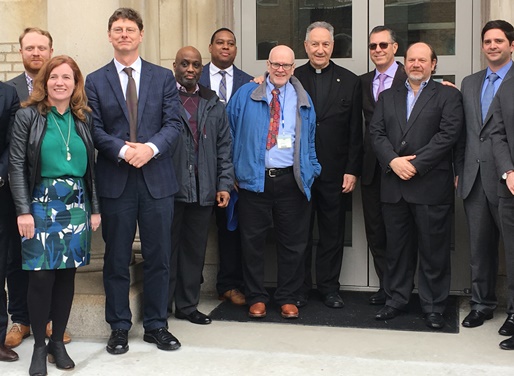 Dignitaries at the dedication ceremony of Bishop Thomas Daily residence.
Some fifty partners, well-wishers and illustrious members of the Archdiocese of Brooklyn and Queens gathered to celebrate the dedication of one of New York's earliest supportive housing residences as the newly refurbished Bishop Thomas V. Daily Residence on April 5th. First opened in 1985 by Catholic Charities Progress of Peoples Development Corporation, the former grammar school recently underwent a gut rehabilitation turning its SRO units into efficiency apartments, updating the building systems and adding six additional apartments!
Catholic Charities of Brooklyn and Queens' President and CEO Monsignor Alfred LoPinto welcomed the guests, inviting his Deputy CEO the Very Reverend Patrick J. Keating to give the opening prayer, with the Bishop of Brooklyn Nicholas DiMarzio offering the closing prayer.
Karim Camara, the Executive Director of the Governor's Office of Faith Based Community Development Services sent greetings from the Governor who was in Albany negotiating the budget (including $1 billion for supportive housing). "He wanted me to tell you that you make his work easier and to thank you."
Among the other featured speakers was Msgr. Ralph Maresca, pastor of the St. Francis of Assisi parish who talked about Bishop Daily's life-long commitment to serving the poor and who would regularly drive past empty buildings in Brooklyn and say "we should buy that building and fix it up for people who have no place to live."
Also speaking was David Selby, a veteran who had moved into the Residence in July. "I'm a combat veteran so I'm usually the person taking care of people. Now I have a family that is taking care of me."
The crowd included former Catholic Charities Progress of Peoples Development Corporation Executive Director and supportive housing founder John Tynan, who had helped create the original residence (that was run by Network Executive Director Laura Mascuch back in the day), new COO Christine Chisholm, and Deputy Borough President Diana Reyna.
The rehabilitation of Bishop Daily Residence was made possible with funding from NYS Homes and Community Renewal, NYC Housing Preservation and Development, Richman Housing Resources, and Wells-Fargo Bank. On site services at the residence are paid for by the Department of Health and Mental Hygiene and NYC Department of Homeless Services. MDG did construction on the project and Dattner Associates was the architect.