Categories: New York City, Groundbreakings
02.27.2017
51 units will be set aside for homeless and frail seniors.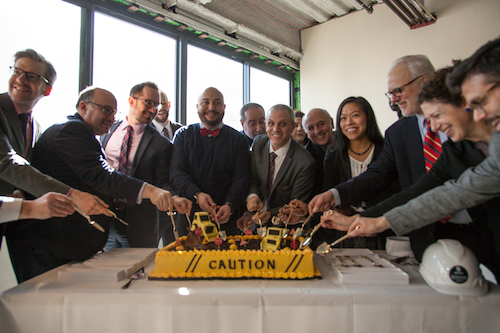 "Breaking ground" at 1880 Boston Road Senior Apartments.
On February 10th, 2017, the Hebrew Home at Riverdale, Foxy Management, and Alembic Community Development held a 'bolting up' celebration for 1880 Boston Road Senior Apartments – a project that will create supportive and affordable housing on top of the building currently in existence (hence the 'bolting up' instead of the traditional 'groundbreaking'). This project is the first of Governor Cuomo's Empire State Supportive Housing Initiative (ESSHI) awards to begin construction in New York City. Of the 168 total units, 51 units will be set aside for homeless and frail seniors.
The celebration was both star-studded and beautifully turned out, with giant black and white drawings of the future residence adorning the walls as well as a huge cake decorated with earth movers, accompanied by gold shovels with which to slice it!
NYS Senator Ruben Diaz opened the program, praising the project for filling an acute need. NYS Assembly Member Luis Sepulveda specifically commended the partners for creating housing that was "truly affordable."
Council Member Rafael Salamanca presented Jeff Fox of Foxy Management a large check for Reso A money in support of the project. Recently appointed HPD Commissioner Maria Torres-Springer was also on hand noting that, "this project helps complete part of the Mayor's plan to build and preserve affordable and senior housing."
Daniel Reingold of Hebrew Home at Riverdale spoke of how his agency created the first shelter for victims of elder abuse in the nation. He commented on the severity of the problem and said, "We are proud to be able to offer services to 51 formerly homeless seniors who may have suffered at the hands of another person. We are so happy to partner with Alembic and Foxy Management on this great project."
1880 Boston Road Senior Apartments is a collaboration between NYCHA, NYS HDC, NYC HPD, NYC Council Member Rafael Salamanca and TD bank. Services will be funded by the Department of Health through an ESSHI award. NYCHA contributed 168 Project Based Section 8 Vouchers, targeting seniors earning no more than $19,000 per year. HDC contributed $37.8 million in bond financing along with $9.2 million in subsidy. HPD's SARA program was included in the financing as well. TD Bank provided a $38 million dollar credit enhancement. Council member Salamanca gave $728,000 in Reso A money to the project. Raymond James was the tax credit syndicator, architects were SLCE. The GC was Lendlease.