Categories: New York State, Network Events
03.13.2017
Over 130 of our members' tenants and staff took part.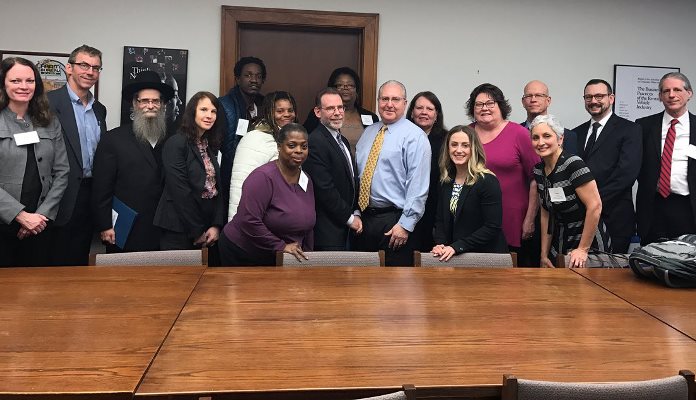 Network members and Executive Director Laura Mascuch with Assembly Member Steven Cymbrowitz.
On March 1st, the Network hosted our annual Albany lobby day. Over 130 of our members' tenants and staff took part in over 60 legislative meetings, including face to face meetings with the Assembly Chairs of Social Services, Mental Health and Housing.
Our legislative agenda received robust bi-partisan support. We continue to press for a complete affordable and supportive housing plan, to be funded at $2.5 billion. This is the first step to implement the plan for 20,000 units of supportive housing over 15 years that the Governor announced in January of 2016.
We also pressed for $35.7 million to raise the rates for all Office of Mental Health Housing, which have been stagnant since the 1990s. This includes OMH scattered site and also some NY/NY 1 and 2 projects that have not even seen meager increases.
Finally, we called for $4.2 million increase in the Office of Temporary and Disability Assistance's New York State Supportive Housing Program. This would fund programs on the waiting list and restore cuts to existing supportive housing programs.
Thanks to all of our members who joined us for an amazing and effective day.