Categories: New York State
02.27.2017
RuthAnne Visnauskas to succeed James S. Rubin as Commissioner of HCR.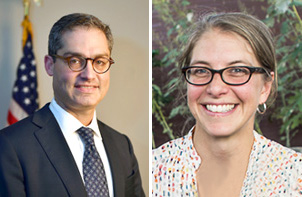 Former HCR Commissioner James S. Rubin and new HCR Commissioner RuthAnne Visnauskas.
On February 10, 2017 Governor Cuomo announced that James S. Rubin, Commissioner of New York State Homes and Community Renewal (HCR), would become the new Director of Operations for the Executive Chamber. A week later, the Governor appointed RuthAnne Visnauskas to succeed Mr. Rubin as Commissioner of HCR.
Mr. Rubin was appointed Commissioner of HCR by Governor Cuomo in May 2015, prior to which he served as Executive Director of the Governor's Office of Storm Recovery. He was also Chairman of the Board of Network member Breaking Ground.
Ms. Visnauskas previously served as Executive Deputy Commissioner for Housing Development at HCR, where she was responsible for strategic leadership and oversight of all housing and finance programs.
Before joining HCR, Ms. Visnauskas was Managing Director of the Housing Advisory Board for the Robin Hood Foundation. The Housing Advisory Board was established to fund initiatives to advance the quantity and quality of affordable housing for low-income New Yorkers. Earlier in her career, Ms.Visnauskas was Commissioner of the New York City Department of Housing Preservation and Development.