Newsfeed Categories
Community CornerFundingNew York StateNew York CityFederalResearchPressMember NewsOpeningsGroundbreakingsNetwork Events
Oct.23.2019
Doniqua Earl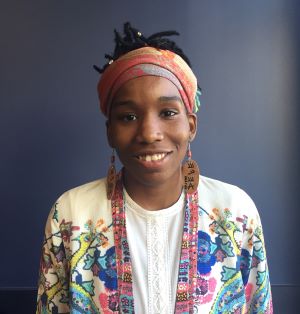 Doniqua Earl carries a light within her that brightens every room she enters – a light she has cultivated through decades of hardship. After a grim life in foster care, Doniqua began a new chapter at The Bridge's Herkimer Residence in November 2016. Initially wary of trusting anyone, she slowly began to believe that staff would stick by her and empower her with whatever she needed to become her best self. Soon, her wit, wisdom, hope, and generosity toward others were in full force, benefiting everyone around her.
"My dream is to shine, to be a survivor, and to be there for other people any way I can," Doniqua said, describing her ambitions to pay it forward because of how much she has thrived at the Herkimer.
Even when she was withdrawn and guarded, "you could tell there was a fire behind her eyes," said Danielle DeLaurenzo, Area Director at the Bridge. Doniqua's history in foster care began when she was four years old and involved repeated uprooting between unstable and abusive living situations. She experienced years of physical abuse, neglect, and self-harm. But Doniqua has turned these very experiences into assets of empathy and advocacy in her new ambitions to care for others. "She has not only been an example to other residents, she has also taught staff through her experiences how to support clients on a more individual level," Danielle said.
"She's done everything possible to demonstrate how resilient she is," said Liana Roman, Young Adult Case Manager at the Herkimer.
While doing the hard, brave work of diving into her own past to understand her trauma, Doniqua has taken advantage of every opportunity available to her. She pursued and completed training to become a Certified Nursing Assistant, recently passing her licensing exam; she is now enrolling in an EKG certificate program to bolster her medical ambitions. She also taught herself how to ride a bike, is getting a driver's license, and is planning for college. She is an active volunteer in nursing homes through New York Cares, saying, "Just being there for someone who has no one else, no family – I can relate to that. There's always something I can talk about."
Doniqua has become a model and an advocate for her peers at home, personifying transformation and turning her life experiences into points of connection with others around her. In light of her bravery, hope, and magnanimous spirit, we are honored to name Doniqua a 2019 Tenant of the Year.
---
Daniel Broome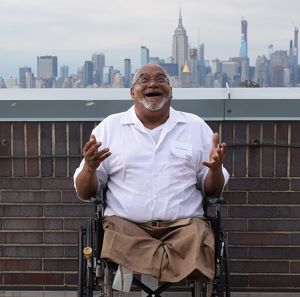 "Mayor of the building" is how staff and residents now know Daniel Broome, an individual of contagious laughter and triumphant spirit, against all odds.
Daniel's story "exemplifies victory over the many traumatic events people face in the severely underserved community," said Celso Castillo, Jr., Daniel's Wellness Coach through Services for the UnderServed (S:US), a partner with Breaking Ground running 1191 Boston Road where Daniel lives. Once surrounded by a family, his life was slowly ravaged by a long struggle with drug addiction, which at one climactic moment contributed to his falling off a roof six floors up. The impact shattered the bones in both his legs, leading to a double amputation and a 19-month hospital stay. Upon his release, Daniel spent over five years on the streets without a stable home, sleeping in hallways and door frames, suffering third-degree burns, and continuing to battle addiction.
But among the most significant moments in Daniel's life is when, after years of hiding from a local Breaking Ground street outreach team, that he realized "they were offering me a second chance." With their assistance, Daniel moved off the street and into 1191 Boston Road in 2016.
His transition into a full life at the residence was "a beautiful transformation," according to Dimas Tollinchi-Castor, Assistant Program Director of the residence through S:US. Daniel admitted to being surprised that "they didn't kick me out, when a lot of other people would have." Before long, with the support of staff, "like a butterfly" Daniel became a public and welcome figure around the hallways and common spaces, cracking wheelchair-related jokes like, "I'm a stand-up guy!" and "OW! My feet!" to passersby before smiling broadly at them.
Daniel has been repeatedly recognized by his community for his leadership and dedication both to others and to self-improvement. He plays an instrumental role in the residence in the way he encourages others in their personal goals. Daniel is actively involved in a Writer's Club – even winning the National Library of Poetry's Critics Choice Award. "He's like a brother," said Martin Weeks, a close friend, neighbor, and member of the club, "and seeing him every day is something I look forward to."
"I've been through so much, and to think about where I am today… I go to bed with a smile on my face," Daniel said. "If I can do it, anybody can do it."
For his tenacity and humor in the face of hardship, Daniel is more than deserving of the title of 2019 Tenant of the Year.