Newsfeed Categories
Community CornerFundingNew York StateNew York CityFederalResearchPressMember NewsOpeningsGroundbreakingsNetwork Events
Oct.23.2019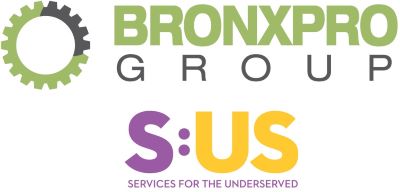 Persistence, shared values, and celebration of each other's strengths – this is how close relationships are often described. This year, the Network honors two organizations who have cultivated these very things to build homes, earning them the inaugural Partnership of the Year Award.
"It was like love at first sight," said Donna Colonna, CEO of Services for the UnderServed (S:US).
The organizations officially "met" in 2000, when Samantha Magistro, Managing Director of Bronx Pro Group, attended an S:US housewarming. Samantha was struck by S:US incredible work. After tours of each other's properties, "it was clear that we had the right ingredients for a good partnership." Their first joint venture (JV) was also Bronx Pro Group's first: 1070 Washington Avenue.
"They were steeped in and respected by the community," was one of Donna's earliest observations about Bronx Pro Group. The two partners bonded over a shared, deep commitment to the Bronx community, which paved the way for subsequent JV projects at 3361 3rd Avenue and 2264 Morris Avenue.
Learning together through both success and challenge has been a pillar of the partnership. "It's not like everything has been a bed of roses," said Samantha about the inevitable obstacles in building supportive housing, "but we figure it out together." The relationship sits on a foundation of trust, built on understanding of each other's unique priorities and perspectives. Now, they are at the "next level" of their relationship, with 50-50 split ownership of all projects moving forward.
They are a "posterchild for interagency cooperation," said Jane Silverman, Executive Director at Chase, about the partners at their most recent housewarming on Morris Avenue in the Bronx this past spring.
When S:US wanted to redevelop their huge Starhill property as a mixed-use, mixed-income project they put out an RFP, and Bronx Pro's proposal won! Donna was unsurprised: "When you find the right partner, the projects are better, both short term and long term. You can do more together, have more of an impact, and expand your capacity." Starhill will be the partners' seventh joint venture, with more than 500 supportive housing units.
"You can have a partnership where you're just building buildings, and that's great," said Donna. "But we could tell from the start that this was going to be more than that."
Bronx Pro Group and S:US have inspired us with a partnership as strong as the bedrock beneath the Bronx. We are thrilled to honor them with the Partnership of the Year Award.