Showing Posts by Date: 12/2018
12.19.2018

On November 19th, the Network submitted comments on the Community Reinvestment Act (CRA) regulations, in response to an Advanced Notice of Proposed Rulemaking (ANPR) issued by the Office of the Comptroller of the Currency (OCC), one of three federal entities that oversees the program. The CRA was passed in 1977 as a response to redlining, the discriminatory practice of denying investment and mortgage financing opportunities to communities of color. According to the statute, banks are required to meet the credit and deposit needs of the "communities in which they are chartered," including low- and moderate-income (LMI) neighborhoods. Banks receive a rating based on qualitative and quantitative data in three areas: lending, services, and investment.
The Network's comments focused on ensuring that the CRA will continue to be an incentive to banks to dedicate resources to supportive housing residences and nonprofit organizations as part of a larger community development strategy. The CRA has historically channeled investment to mission-driven nonprofits and their affordable and supportive housing projects through the Low Income Housing Tax Credit (LIHTC) program, as well as through loans and relationships with local nonprofits.
The Network's comments focused on the following areas:
Maintaining the three part exam structure – lending, services, and investments – as opposed to the proposed "one-ratio" approach that overly simplifies performance and may detract from critical LIHTC investment

Maintaining a focus on affordable housing and community development

Emphasizing loans, services, and investments that support organizations with a mission of community or economic development, and with proven track records

Encouraging a local focus without drawing arbitrary boundaries of banks' service, investment, and lending areas, ensuring proper attention is paid to New York's dual housing and homelessness crises
Read the submitted comments here.
|
What's New
---
12.14.2018
Some 60 friends, funders, tenants and partners gathered on a crisp December morning to celebrate the opening of The Maple Residence- a 66 unit supportive/affordable building in the Crown Heights neighborhood of Brooklyn. Developed by The Bridge, Maple will bring 50 units of supportive housing to vulnerable New Yorkers suffering from mental illnesses, and 16 units of affordable housing to low-income families in the community.
The President of The Bridge's Board of Directors, Cynthia C. Wainwright, began the program by welcoming and thanking everyone in the room for their support. Susan Wiviott, The Bridge CEO, spoke next, thanking all the partners and staff members that made this project possible.
"It takes a million and half people to get this done and we really have great partners to get this done with," said Susan.
The rest of the speaking program included remarks from Brett Hebner, Director of Housing Development and Support at the NYS Office of Mental Health (OMH); Blanca Ramirez, Vice President of Acquisition/Underwriting at Hudson Housing Capital; Jennifer Trepinski, Director of Loan Originations at CSH; and last but not the least, a tenant of the building, Nancy C.
"On behalf of Dr. Anne Sullivan I'm delighted to be here and congratulations to The Bridge on its most recent beautiful building," he remarked to the audience.
Blanca Ramirez also recognized The Bridge for its commitment to provide housing to those that need it most.
"Every building has a story and we were very excited to work with The Bridge to get this beautiful building put together," said Blanca.
"The walk here was really amazing and it was great spotting the building in this corner. CSH is so proud to support The Bridge and get this project started," said Jennifer Trepinski from CSH.
The star of the show was Nancy C., a tenant of the Maple East NY Residence. She spoke of her journey from being hospitalized for mental illness to becoming a graduate student at CUNY.
"A few years ago I was hospitalized for mental illness for nine months and after that I was in a shelter briefly, and then was taken in by The Bridge. They gave me all the tools to get my life back together. I'm extremely grateful to have been selected to live at Maple, a beautiful building," she told the audience.
The Maple/East NY Residence is powered by solar panels on its roof and features a community kitchen, computer lab, and an outdoor community patio for its tenants. Comprehensive social services are funded by OMH. The building was designed by Edelman Sultan Knox Wood Architects and was constructed by DP Group General Contractors.
Capital financing for the Maple Residence was provided by OMH and bonds from the Dormitory Authority of New York and Low Income Housing Tax Credits syndicated by Hudson Housing Capital with HSBC as investor. CSH provided the pre-development loan that included acquisition funding.
|
What's New
,
New York City
---
12.07.2018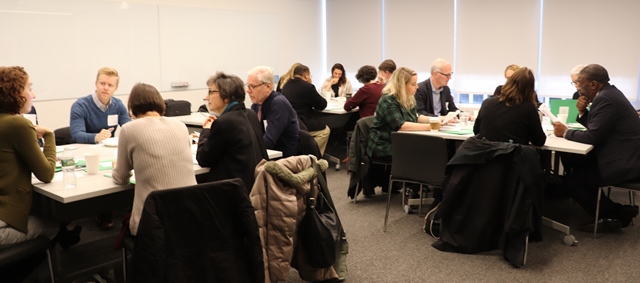 Building on years of joint venture research and events, the Network hosted its first ever hands-on workshop on negotiating joint venture partnerships in supportive housing development. The event was hosted by Capitol One and facilitated by Network and Enterprise Community Partners staff members. CEOs and development professionals from 18 nonprofit organizations in New York City, as well as development partners from Bronx Pro and CSD Housing attended the morning workshop.
The workshop focused on nonprofit developers working through a mock negotiation in small groups to create a joint venture (JV) agreement. Each group was given a case study detailing a hypothetical supportive housing development project of a nonprofit and for-profit developer and was asked to create a term sheet for the deal that leveraged the strength of both the nonprofit and for-profit developers.
"For me this was JV 101 and therefore very useful in helping me understand basic concepts and roles," said one of the nonprofit participants.
Another attendee said, "This helped me get a better understanding of Joint Ventures from all points of view- corporate and nonprofit."
Joint ventures are becoming an increasingly common strategy to leverage the strengths of nonprofit and for-profit partners for supportive housing development. These partnerships can be extremely beneficial for all involved, but also can be intimidating and difficult to navigate for nonprofits with all levels of JV experience. To equip our members with the right tools and knowledge, the Network developed a Joint Venture Guidebook in partnership with Enterprise Community Partners that includes case studies and analysis of JV deals that have been negotiated in the past.
Are you interested in joint ventures? Check out our guidebook and contact Rebecca Sauer, Director of Policy and Planning for questions and more information.
|
Network Events
---
12.06.2018


On November 29th, Governor Cuomo announced the winners for the first phase of the Vital Brooklyn RFP. The Network congratulates the winners, including Network members Services for the UnderServed (SUS), RiseBoro, CAMBA, Federation of Organizations, Apex Building Company, and MDG Design + Construction.
Vital Brooklyn, launched in spring of 2017, is New York State's comprehensive community development initiative that addresses chronic social, economic, and health disparities in Central Brooklyn, one of the most underserved areas in the State.
Winners of the First Four Sites

The former Brooklyn Developmental Center will be redeveloped by a team comprised of Apex Building Company, L+M Development Partners, RiseBoro Community Partnership and SUS, representing a $1.2 billion investment in East New York. The development will provide more than 2,400 units of affordable housing, including:

45 percent of units available to households earning up to 50 percent of Area Median Income (AMI)

Approximately 207 units for formerly homeless individuals and families

Approximately 185 units for intellectually and developmentally disabled individuals

Approximately 156 units for seniors

None of the units will be available to households earning more than 80 percent of AMI

"Interfaith Broadway: Site C" will be redeveloped by CAMBA. CAMBA will transform Site C, on grounds owned by One Brooklyn Health, creating 57 apartments affordable to a variety of income levels, and on-site services for seniors and chronically homeless families.

"Brookdale Hospital: Site B" will be redeveloped by a joint venture between MDG Design + Construction, Smith & Henzy Advisory Group, and the Foundling Group. The new development will create 152 apartments affordable to a variety of income levels, and on-site services for the developmentally disabled and individuals aging out of foster care.

"Interfaith Herkimer: Site A" will be redeveloped by Federation of Organizations. The new development will create 119 affordable homes on a 21,000 square foot lot across the street from Interfaith Medical Center.
Second RFP

On November 29th, HCR also released the second phase of its Vital Brooklyn RFP, due February 28th (Sites E, F, G, H & I) and April 30th, 2019 (Site J, K & L). Through this RFP, HCR seeks to develop eight high-quality, sustainable, and mixed-use permanently affordable housing developments in Brooklyn. Affordable housing may include multi-family, senior, and/or supportive housing.
If you are interested in responding to the RFP to create supportive housing and are looking for development partners, please contact the Network and we will do our best to make introductions.
View the RFP on the HCR website here.
|
Funding
,
New York State
---