Categories: Openings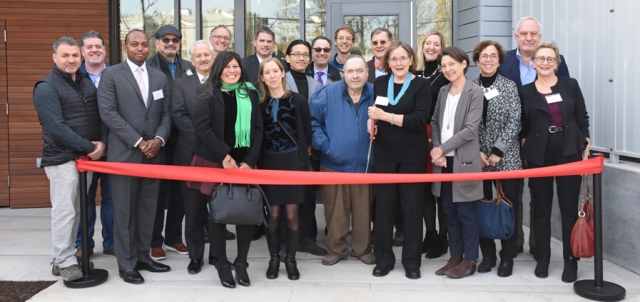 12.14.2018
Developed by The Bridge, Maple will bring 50 units of supportive housing to vulnerable New Yorkers suffering from mental illnesses.
Some 60 friends, funders, tenants and partners gathered on a crisp December morning to celebrate the opening of The Maple Residence- a 66 unit supportive/affordable building in the Crown Heights neighborhood of Brooklyn. Developed by The Bridge, Maple will bring 50 units of supportive housing to vulnerable New Yorkers suffering from mental illnesses, and 16 units of affordable housing to low-income families in the community.
The President of The Bridge's Board of Directors, Cynthia C. Wainwright, began the program by welcoming and thanking everyone in the room for their support. Susan Wiviott, The Bridge CEO, spoke next, thanking all the partners and staff members that made this project possible.
"It takes a million and half people to get this done and we really have great partners to get this done with," said Susan.
The rest of the speaking program included remarks from Brett Hebner, Director of Housing Development and Support at the NYS Office of Mental Health (OMH); Blanca Ramirez, Vice President of Acquisition/Underwriting at Hudson Housing Capital; Jennifer Trepinski, Director of Loan Originations at CSH; and last but not the least, a tenant of the building, Nancy C.
"On behalf of Dr. Anne Sullivan I'm delighted to be here and congratulations to The Bridge on its most recent beautiful building," he remarked to the audience.
Blanca Ramirez also recognized The Bridge for its commitment to provide housing to those that need it most.
"Every building has a story and we were very excited to work with The Bridge to get this beautiful building put together," said Blanca.
"The walk here was really amazing and it was great spotting the building in this corner. CSH is so proud to support The Bridge and get this project started," said Jennifer Trepinski from CSH.
The star of the show was Nancy C., a tenant of the Maple East NY Residence. She spoke of her journey from being hospitalized for mental illness to becoming a graduate student at CUNY.
"A few years ago I was hospitalized for mental illness for nine months and after that I was in a shelter briefly, and then was taken in by The Bridge. They gave me all the tools to get my life back together. I'm extremely grateful to have been selected to live at Maple, a beautiful building," she told the audience.
The Maple/East NY Residence is powered by solar panels on its roof and features a community kitchen, computer lab, and an outdoor community patio for its tenants. Comprehensive social services are funded by OMH. The building was designed by Edelman Sultan Knox Wood Architects and was constructed by DP Group General Contractors.
Capital financing for the Maple Residence was provided by OMH and bonds from the Dormitory Authority of New York and Low Income Housing Tax Credits syndicated by Hudson Housing Capital with HSBC as investor. CSH provided the pre-development loan that included acquisition funding.