01.18.2018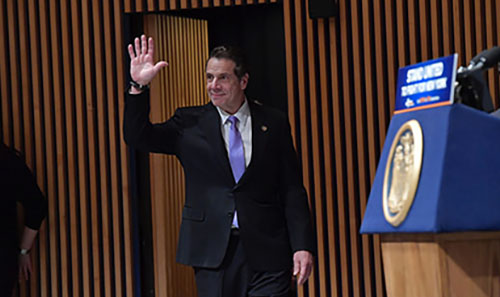 Governor Cuomo released the SFY 2019 executive budget on January 16th which starts the clock ticking for budget season in Albany! Here is our first analysis of the budget areas important to the supportive housing community.
5 YEAR HOUSING & HOMELESSNESS PLAN
Included in the executive budget is a re-appropriation of last year's $2.5 billion 5 year housing and homelessness plan that includes funding for 6,000 units of supportive housing over 5 years. This specifically includes $950 million in capital funding and $124.5 million for service and operating expenses for the first 6,000 units over the next 5 years.
In addition to this funding other budget areas of interest include:
OFFICE OF TEMPORARY AND DISABILITY ASSISTANCE
Homeless Housing Assistance Program (HHAP) - $64 million – Same funding amount as last year
Homeless Housing Preventative Services Program - $36.8 million - $1.4 million INCREASE
The Executive Budget increased the Homeless Housing Preventative Services (HHPS) Program by $1.4 million over last year's final budget. HHPS funds the New York State Supportive Housing Program (NYSSHP), the Solutions to End Homelessness Program (STEHP) and the Operational Support for AIDS Housing (OSAH) Program.
HOMES & COMMUNITY RENEWAL
Housing Trust Fund - $44.2 million – Baselined
The Executive budget proposes funding the Housing Trust Fund at $44.2 million which is $21 million less than last year when there was additional funding added from the mortgage insurance fund.
OFFICE OF MENTAL HEALTH
OMH Supportive Housing – $10 million Increase to Enhance Support for Existing Residential Programs.
The budget increases funds for supported housing and single residence occupancy programs by $10 million. This is significantly less than what is needed to maintain the existing units and will be an advocacy priority for the Network this year.
Workforce Increase
The Budget includes $255 million to support the 6.5 percent salary increase provided to direct care professionals and 3.2 percent salary increase for clinical staff to support the increase included in last year's budget.
DEPARTMENT OF HEALTH/MEDICAID REDESIGN TEAM (MRT)
MRT Supportive Housing Fund - $63 million – Same funding amount as last year
Last year, the funding was cut by $20 million and funded at $63 million. The cut did not impact any existing programs, but rather impacted programs outlined in the allocation plan that had not been implemented. This year, DOH is proposing to keep it funded at the same level, with no additional cuts.
Delays Cost of Living Increases for Staff
The Budget language defers a COLA increase for 2017 until 2019.
The budget now must be passed by the Legislature and signed by the Governor no later than April 1st. In the next few weeks, the Senate and the Assembly will hold budget hearings and negotiate with the Governor. The Network's advocacy in the upcoming weeks will focus on the proposed initiatives outlined above. We are currently planning a March 6 Advocacy Day. We encourage all Network members to participate. Please email Steve Piasecki at spiasecki@shnny.org to register.
| What's New
---
01.18.2018
State, city and local luminaries were on hand January 9th to break ground on a new three-building affordable/supportive housing project in the Mt. Hope section of the Bronx, a collaboration of Thorobird Companies and ACMH. The project is unique on a number of fronts: it is the first and largest ground-up affordable project developed by an African American firm since 2011 and is among the few developments to mix supportive, affordable and middle-income housing. Of the 138 units, 41 will be supportive – funded through the Empire State Supportive Housing Initiative; of the affordable, 14 are set-aside for households earning 90% of AMI and the rest for families and individuals at 40-60% AMI.
Thorobird's Thomas Campbell welcomed the crowd saying "The Grand is the first step to providing one of the city's most economically-challenged areas with quality affordable homes."
HCR Commissioner RuthAnne Visnauskas echoed those sentiments, adding "the Grand is a profound statement that when we build our city and our state, we include everyone in the process."
Bronx Borough President Ruben Diaz emphasized the project's income/unit mix "Creating affordable housing units was a top priority since my first day in office, and the work we have done in the Mount Hope and Morris Heights neighborhoods are a testament to the efforts we are putting in to make this happen. These 138 units in three buildings will provide true mixed-income housing, addressing the needs of low- and middle-income residents, providing supportive units for our most vulnerable residents. I want to thank Thorobird and ACMH on this partnership, as well as Gov. Cuomo and all the New York City agencies that lent their leadership to continue our growth, as a borough."
ACMH's Executive Vice-President and CEO Dan Johansson closed out the program with these words: "Supportive housing is the golden thread, or better still, the iron thread, that runs through the fabric of great projects like this one. It's gold because it brings the experience and mission-driven commitment of non-profits to everything from the design to the operation; its iron because it brings underwriting that makes projects durable, sustainable, and resilient. It's a thread because when you step back and look at the fabric of the community, supportive housing is neither seen nor heard. Think about it: people down on their luck due to age, disability or poverty are only seen when they are on the street. When they have permanent, affordable housing and access to a lifeline of social supports like here at the Grand, they are just like you and me, going about their daily lives and contributing to their community. "They" are no longer them; they are us."
Funding for the project came from NYS Homes and Community Renewal, NYC's Housing Preservation and Development Department, and NYSERDA. The Bronx Borough President, Councilmember Ritchie Torres and Councilmember Fernando Cabrera each contributed Reso A funds with the councilmembers contributing $250,000 and the Borough President contributing $500,000. On-site supportive services are funded through the Empire State Supportive Housing Initiative and will be provided by ACMH. The tax credits were syndicated by CREA, the architect is GF55 and the contractor is M. Melnick & Co., Inc.
| What's New
---
01.09.2018
Addressing homelessness is a moral imperative, and a central goal of Housing New York, Mayor Bill de Blasio's plan to create 300,000 affordable apartments by 2026. At the forefront of this effort is supportive housing – a proven, effective model that pairs affordable housing with on-site services, saves public dollars, and meets the special needs of the most vulnerable New Yorkers. That is why, in November 2015, Mayor Bill de Blasio announced the NYC Supportive Housing Initiative to create 15,000 new units of supportive housing in New York City over the next 15 years.
This far reaching initiative includes a projected 7,500 newly-constructed congregate (single-site) units, which will be financed by the NYC Department of Housing Preservation and Development (HPD) and 7,500 scattered-site apartments that will be created by the NYC Human Resources Administration (HRA). NYC DOHMH will manage the service contracts on an ongoing basis.
HPD has a strong track record of financing new construction and preservation of supportive housing through its various loan programs. To date under Housing New York, the agency has financed over 3,000 supportive housing units, which includes early progress towards the NYC Supportive Housing Initiative. And we recently launched the NYC 15/15 Rental Assistance Program to subsidize rent for homeless individuals and households living in permanent, rent stabilized supportive housing units. This City-funded project-based rental assistance is modelled after the project-based Section 8 program, but is not subject to changes in federal funding levels and requirements, making it a particularly critical and timel innovation.
HRA is the lead agency for procuring service awards for the scattered site and congregate units through a Request for Proposals (EPIN: 09617I0006 available through HSS Accelerator). HPD will match NYC 15/15 Rental Assistance to units that are awarded services under HRA's RFP. Once a project receives a tentative award letter, the application for rental assistance is quick and straightforward – sponsors only need to fill out a two-page application with basic project information. HPD will then work with applicants to issue a commitment letter for NYC 15/15 Rental Assistance that aligns with the HRA award.
Similar to Section 8, the initial contract rents for NYC 15/15 congregate units will be up to the Fair Market Rent (FMR), and owners may request annual increases. Similar to Section 8, owners receive an Agreement to enter into Rental Assistance Contract prior to construction closing. Once the project has a Certificate of Occupancy and units have passed a Housing Quality Standards (HQS) inspection, the owner can allow tenants to move in and sign a Rental Assistance Contract (RAC) to begin payments.
We do this work in the face of incredible uncertainty. For decades, the federal government has been chipping away at programs and resources for affordable housing. Today, it seems all of the programs we rely on –the HOME Investment Partnership Program, Section 8, the Low Income Housing Tax Credit, Private Activity Bonds – are under threat. And while ultimately we are in a better place because of the fierce and coordinated advocacy of the Network and affordable housing groups across the country, the fight is far from over.
While there are many threats and challenges on the course ahead, there are also opportunities. Indeed, New York City has long been a leader in showing how the supportive housing community can adapt and innovate. Now, more than ever, we need creative solutions like this new rental assistance program to serve those who are most in need of supportive housing, while demanding that no level of government walk away from its obligation to house our most vulnerable.
More information about the NYC 15/15 Rental Assistance Program can be found on HPD's website. If you have a site in mind, we encourage you to talk to us! We are open for business and eager to work with you to make your supportive housing project a reality.
We are grateful to our friends at the Network for their tireless advocacy and support to develop these buildings, and to all the providers who turn them into homes. We wish you all the best for a happy, healthy New Year, and look forward to continuing our partnership to provide safe, high-quality affordable housing and services for New Yorkers across the five boroughs.
NYC 15/15 Rental Assistance Program Frequently Asked Questions
NYC 15/15 Rental Assistance Application Package
| What's New
---
12.30.2017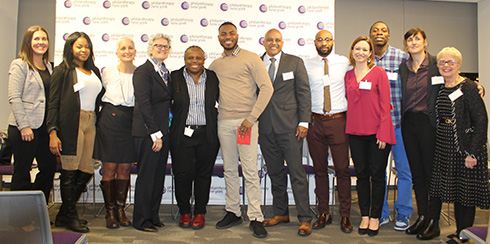 Representatives from more than a dozen philanthropies came together on December 12th to hear from providers, young adults, and representatives from city government about the challenges young adults who are transitioning from foster care face in terms of finding and keeping housing. Part two of a series "Helping Foster Youth Succeed," the panel was organized by the NYC Youth Funders (Katie Napolitano of the Tiger Foundation and Natasha Lifton of New York Community Trust spearheaded the event) and took place at Philanthropy New York. The panel was moderated by the Network's Executive Director Laura Mascuch, and included Denise Hinds of Good Shepherd Services, Jeremy Kohomban of Children's Village, Liz Northcutt of City Living NY, Maryanne Schretzman of the Director of NYC Center for Innovation through Data Intelligence, and Judi Trotter of the Administration for Children's Services, as well as three former foster youth -- Hasani Callwood, Jahlika Hamilton, and Maurice Reid.
Katie Napolitano introduced the panelists, and Maryanne Schretzman framed the panel with an overview of the research on foster youth, including the trajectories of transition age youth and the impacts of various systems on housing stability. Liz Northcutt discussed ways City Living NY has worked with youth to navigate the application to and maintenance of affordable housing once young people leave foster care. Judi Trotter discussed the promising practices of ACS: its Housing Academy; a new program that pays for transitioning youth's expenses while in college; and the requirement that caseworkers help youth apply to both NYCHA and supportive housing as they leave foster care. Jeremy Kohomban showcased programming at The Children's Village and the demographics and needs of young people in the foster care system.
As always, it was the young adults who were the stars of the afternoon. Hasani Callwood, who had lived at Good Shepherd Services' Chelsea Foyer and had recently moved to their Edwin Gould Academy apartments, spoke about his difficulties adjusting to the rent differentials between the two programs. At Foyer, he paid a set amount that was put into a savings account for him to use once he left the program; at EGA his rent was calculated at 30% of his gross income. Both Maurice Reid, formerly with Children's Village, and Jahlika Hamilton strongly agreed that this rent calculation – and their unpreparedness for the stark impact it had on their ability to maintain housing – had presented major difficulties. While the 30% standard for rent payment is typical across NYCHA and supportive housing, these youth were expecting to pay 30% of their take-home pay, not 30% of their before-tax gross income. When incomes are low, the difference between those two calculations can be large and have serious implications on a household budget. Maurice told of Children's Village's advocacy on his behalf when he was turned down for public housing, a fight that took three years to resolve. Jahlika had everyone in tears when she told attendees about the difference City Living had made in her life by painting and decorating her 'prison grey' NYCHA apartment one weekend. All three addressed NYCHA's requirement that applicants choose a borough as part of their housing application, leading some to have to turn down apartments because they were located in neighborhoods the young people were trying to escape.
Natasha Lifton wrapped up the intense conversation by noting that there were some clear policy issues raised that afternoon that philanthropy could address, while Maryann Schretzman noted the same could be said about policies the city controlled.
| What's New
---
12.21.2017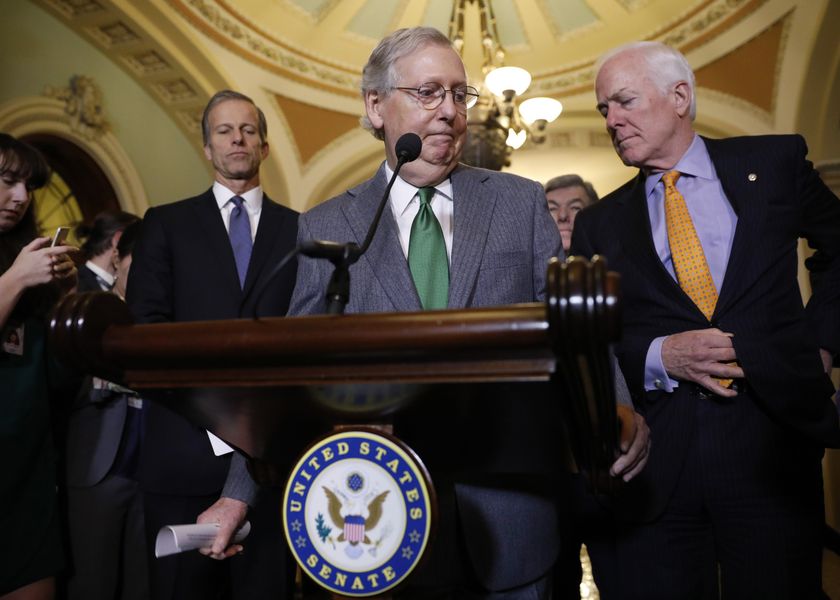 Tax reform has now been passed by Congress and signed into law by the president. The Network has been focused primarily on the restoration of tax-exempt, private activity housing bonds (PABs), which were eliminated in the original House proposal. While the final bill will present challenges for supportive housing and its residents, we are happy to say that PABs were restored in the final version of the bill. This is important as PABs play a vital role in affordable housing development in conjunction with 4% as-of-right Low Income Housing Tax Credits (Housing Credits). This capital funding source has become increasingly important to supportive housing development over the past decade, and will be even more crucial to meet New York State's supportive housing production goal of 1,200 units per year and New York City's supportive housing production goal of 500 units per year.
For the past two months the Network has been active in gaining commitments from the majority party members to protect PABs and six of nine weighed in to support our cause: Reps. Donovan, Faso, Katko, King, Stefanik, and Zeldin. We thank them for their support.
The 9% Housing Credit is preserved and no additional amendments were added in the final bill. The 130% basis boost remains the same. However, by lowering the corporate tax rate from 35% to 21%, the bill is anticipated to have a negative effect on the value of the Housing Credit – decreasing it by approximately 14% – and projects will require additional capital funding to be made whole. Actions to ameliorate this impact were not included in the final bill, but the Network will be focusing on legislation to address the issue moving forward.
Finally, both Historic Tax Credits and New Markets Tax Credits were retained.
With tax reform behind us, we will focus our advocacy efforts on the budget, fighting to ensure that critical programs to provide affordable housing and end homelessness are not sacrificed. We anticipate that tax reform's $1.4 trillion in budget shortfalls will trigger automatic spending cuts equal to $146 billion each year for ten years. If automatic cuts do in fact go into effect, there would be reductions across a range of programs including the Department of Housing and Urban Development (HUD) according to the Times.
Here is the full conference bill: http://docs.house.gov/billsthisweek/20171218/CRPT-115HRPT-466.pdf
Relevant news and analysis on the impact on affordable housing can be found on the ACTION Campaign's website: http://rentalhousingaction.org/.
| What's New, Federal
---
12.20.2017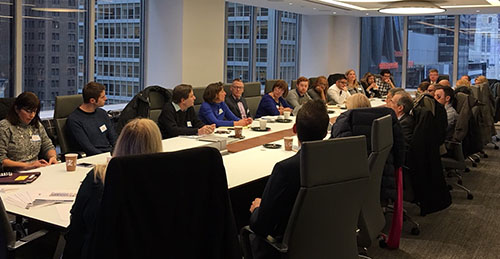 On December 12th, the Network convened a workshop on nonprofit housing development. Twenty-four of our nonprofit members from New York City, Long Island, and downstate participated in the workshop titled: Financing a Tax Credit Deal, presented by Amy Larovere, President of A. Larovere Consulting, and Network Board member Oliver Chase, Partner at Hirschen Singer & Epstein LLP. Attendees learned about available financing options, the basics of Low Income Housing Tax Credit development, and the costs, risks and rewards of tax credit projects.
Participants, including both nonprofits testing the waters of development and nonprofits who have not developed supportive housing recently, gained a deeper comprehension of development financing mechanics and how they should approach structuring a development deal. Presenters emphasized the importance of assembling a strong development team and ensuring the proposed development fits the needs of a community. Participants discussed adapting existing sites to accommodate development and communicating with communities throughout the development process. The Network looks forward to hosting more events as part of our Capacity Building Initiative for nonprofits as we strive to meet the development goals of the Empire State Supportive Housing Initiative (ESSHI) and the NYC 15/15 program.
We are very grateful to CohnReznick for hosting this event in their offices and to our terrific presenters.
|
---
12.11.2017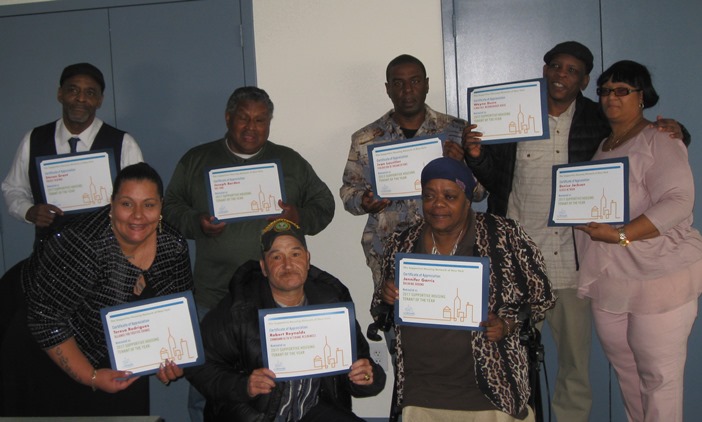 2017 Network Awards Gala Tenant of the Year Nominees.
Every year, the Network honors remarkable tenants at the Annual Awards Gala for their leadership and growth in supportive housing. Nominations this year were abundant and inspirational, so we decided to bring all tenant nominees together to share their stories, bond with other tenants and staff, and receive honorary certificates as a group. On November 30, supportive housing tenants came together at Fortune Society's Castle Gardens Residence for a celebratory breakfast. Together, we shared a meal, laughed, and connected across experiences in a truly meaningful gathering. Here are some of the conversations held throughout the event.

After decades of drinking, Joseph Borden (The Doe Fund) announced that he is proud to be sober for almost a year, despite all the challenges thrown his way. Joseph spoke with animation about his appreciation for supportive housing, grateful for how far he has come. He advocated for more scattered site residential groups, and adores and respects his case manager, Yolanda Jones, who was at his side throughout the event.
Wayne Dunn (Lennox Hill Neighborhood House) quit smoking this year with his program's smoking cessation class! He also works every week to plan, prepare, and serve community meals in his building. He also advocated for and attended Casa Mutua's Overdose Prevention Training for staff and tenants. He spoke with great enthusiasm for supportive housing, and is known as a strong and kind leader in his community.
Jennifer Garris (Breaking Ground/CUCS) spoke from the heart about the devastating impact of her husband's death, which led to her battle with alcohol, homelessness, and depression. She loves The Schermerhorn's Tai Chi and jewelry-making classes, and she makes her way down from the 11th floor of the building every Sunday to cheerfully wish all residents well and check in on her neighbors. "God is not done with me yet," she explains. Ms. Garris is a true inspiration amongst tenants and staff.

Denise Jackson (Institute for Puerto Rican/Hispanic Elderly) bravely shared the traumatic story of witnessing her mother's murder, subsequent responsibilities as the family's "Cinderella," and eventual drug use and suicide attempts. Today, she is a mother of five, grandmother of 24, and has a great-grandchild on the way. She gives back to her community and has committed to sobriety and wellness in honor of her mother. She is known as one of the most active, beloved, motivating and respected tenants in her building, and had comforting words of support and love for everyone present.

Ivan Lassitier (Federation of Organizations) has shared, "In five years, I see myself living on my own, married, and holding down a good job. You have to stay positive. There are going to be obstacles ahead but you have to get up and dust yourself off. Keep doing the things that are right." Ivan attends Mosque every Friday and continues to connect with friends and family members. He is grateful for the structure of supportive housing, which has assisted him in the process of living fully to better thrive.

Jamicka Martin (Guidance Center of Westchester) shared her struggles with addiction and poignant reflections on how it impacted her child. She has now graduated with her Associates Degree in Applied Science and Chemical Dependency Counseling, and she is a certified Substance Abuse Counselor. She passionately spoke about how her journey has led her to help others, as her life's work is to support people struggling to find a power higher than their addiction. Jamicka spoke with confidence and love about her advocacy and her calling to give back.

Tina Miller (Services for the UnderServed) has lived in her residence since 2009, and praised every part of the journey! She proudly stated that she will stay there with her two children until she has saved enough money to buy a house, and she is actively pursuing her nursing degree at Bronx Community College, soon to enroll in Hunter College. A doting mother who has maintained her sobriety, Tina encouraged other tenants at the breakfast to network amongst peers, as that has been her pathway to positive changes in her life and her community.

Robert Reynolds was stationed in the Army years ago in Germany, and he shared the story of his recent return to what used to be the Army base and is now a high school. Robert spoke to the German school's graduating class! He has reconnected with his daughter in Germany after 32 years, and is eagerly anticipating his next visit to see her and his two grandchildren this spring. Robert entered and left the event smiling from ear to ear.
Teresa Rodriguez (Alliance for Positive Change) spoke openly about her years of drug addiction and the impact it had on her life, including a prison sentence. She is now sober and an advocate for other tenants and her community—she helps new residents get settled in with Housewarming Kits and runs weekly arts-and-crafts groups and movie groups. Teresa's work has recently been featured in the newspaper and on the local news, discussing the work she does for supportive housing! She connected with other tenants at the breakfast, expressing love, support and hope for others.

Alongside tenants, it was also wonderful to meet the dedicated staff who work with tenants daily and continue to help tenants create new pathways forward in supportive housing. CUCS Case Manager Phylisha Peters-Howard provided information about the innovative emotional healing group she is co-developing with tenants, utilizing relationships and trauma-informed tools to address painful emotional experiences, with an emphasis on tenant-driven curriculum development. Phylisha also spoke at length with Network staff about strategies to address diversity in spirituality and religious faith in tenants' recovery processes.
Network Executive Director Laura Mascuch addressed the group, thanking them for their strength and leadership, and providing the group with a brief history of supportive housing in New York. It was humbling and inspiring to hear from such amazing tenants and to honor their journeys—the Network will absolutely be holding a tenant breakfast in the years to come.
| What's New, Network Events
---
11.28.2017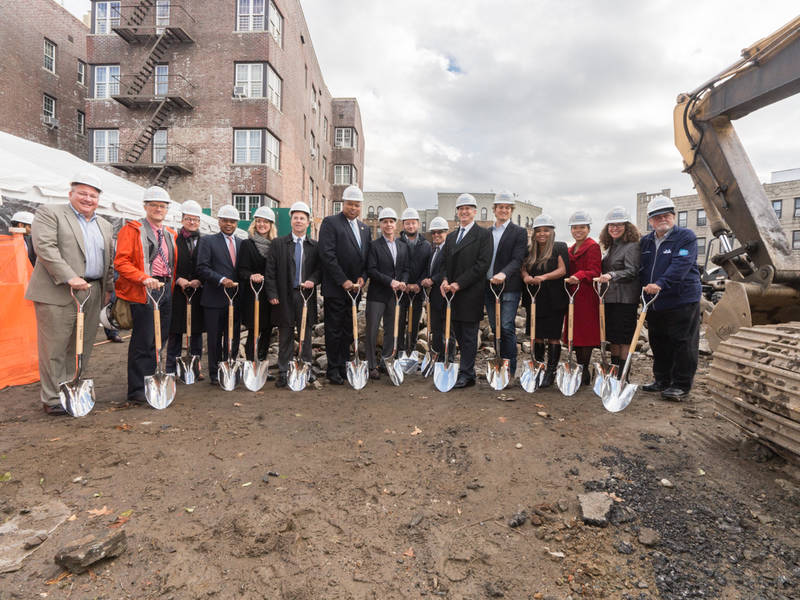 Breaking ground for Bedford Green.
Fifty city, state, federal, and private sector partners gathered on the construction site of Bedford Green House, an extraordinary new affordable/supportive housing development for the Bedford Park section of the Bronx that will feature, a living green façade, an interior green wall, and a rooftop aquaponic system to raise fish and produce in addition to a teaching kitchen, a community playground and a landscaped garden. The 13-story Bedford Green House will be built in two phases, with 118 units going up now and 90 units later. But that's not all that's new and exciting about the project, as Project Renewal CEO Mitchell Netburn pointed out in his welcoming speech: "Bedford Green House continues the organization's 50-year history of "firsts" including the first outreach to homeless alcoholics, the first non-hospital detox, and the first shelter for LGBTQI young adults. Bedford Green House will be Project Renewal's first project to serve families."
On hand to celebrate was Lynne Patton, HUD Regional Administrator for New York and New Jersey who quoted project consultant Jonathan Rose: "today we stick shovels in the ground to build gardens in the sky."
HPD commissioner Maria Torres-Springer pointed out that the project embodies the Mayor's newly released Housing 2.0 Plan, both by creating much needed affordable and supportive housing and through its dependence on a mission-based nonprofit as its developer/owner.
Assembly Member Jose Rivera strongly supported the project and the mission behind it, telling attendees that he too had been homeless when his family first came here, "and, if it wasn't for people like you…"
Also deeply moved was Chris Johnson, the CEO of Hollister, the contractor for Bedford Green House, who told participants that the project was an embodiment of the precepts his mother instilled in him: "You have to give to live."
Fred Harris of Jonathan Rose quipped, "If it takes a village to develop affordable housing, it takes a medium sized city to develop supportive housing."
Luminaries included Office of Temporary and Disability Assistance (OTDA) Commissioner Sam Roberts, NYC Housing Development Corporation (HDC) President Eric Enderlin, Bank of America's Todd Gomez, Bronx CB 7 Chair Adeline Santiago, Deutsche Bank's John Kimble, and CSH's Jen Trepinski.
On site services will include primary medical care, mental health treatment and support, substance use disorder counseling and treatment, conflict resolution, domestic violence counseling and support, family reunification services, horticultural therapy, nutritional counseling, healthy cooking workshops, occupational therapy, STD / HIV prevention, treatment, and support, and respite / alternative caregiving. On site services will be funded by the NYC Department of Health and Mental Hygiene and the Human Resources Administration.
Bedford Green House was financed under HDC's Extremely Low- and Low-Income Affordability (ELLA) program and HPD's Supportive Housing New Construction program. The total development cost for the project is over $58.8 million. HDC provided volume cap bonds, recycled tax-exempt bonds, and nearly $7 million in corporate reserves. HPD provided $8.85 million in City subsidy, inclusive of $2 million in HUD HOME funds and Low-Income Housing Tax Credits (LIHTC), Bank of America served as tax credit investor and provided the construction letter of credit. NYS OTDA provided funding under the Homeless Housing and Assistance Program (HHAP). Additional grant funding was provided by TD Bank and Deutsche Bank Foundation. CSH provided predevelopment loans.
Bedford Green House's development team is led by Mitchell Netburn and Sam Wells at Project Renewal, and consulting services were provided by Jonathan Rose and Dale White at The Jonathan Rose Companies. Hollister Construction Services is serving as the general contractor. Architectural design services are provided by Andrew Knox of Edelman Sultan Knox Wood Architects.
| What's New, New York City, Groundbreakings
---
11.27.2017

Renaissance Village, affordable/supportive housing for homeless veterans on Long Island was developed with Private Activity Bonds that have been eliminated in House's version of tax reform.
While both the Senate and House versions of tax reform would result in huge deficits that will impact all non-defense spending including homeless housing programs, the House bill (HR 1) that passed on November 16, would have a devastating impact on affordable and supportive housing by eliminating tax exempt private activity bonds (PAB). These bonds provide capital funding in conjunction with the 4% LIHTC. These credits are available as-of-right, and automatically qualify for PABs. They are responsible for about half of the affordable housing development across New York State.
While HR 1 preserves the 9% Low Income Housing Tax Credit (LIHTC), drastic proposed cuts to the corporate tax rate will erode the LIHTC's value by an estimated 25%.
It is estimated that the state will lose $4.5 billion dollars and 17,000 units of affordable housing annually with these changes. Also eliminated are Historic Tax Credits and New Market Tax Credits, two valuable tools used to spur housing and community development.
The Network, along with a broad swath of affordable housing groups and housing agencies, immediately began advocating against HR1: We alerted our membership to share their opinions about the bill with their representatives; we put out a joint press release; and we published editorials defending the restoration of private activity bonds to the bill. We also led a series of key meetings in Washington, D.C. with several of the Republican representatives whose votes were in play.
In the end, all amendments to the bill were defeated along straight party lines. HR1 passed with 227 votes for, and 205 votes against, with only 13 Republicans voting against it. This group of Republican dissenters includes five New York State representatives: Donovan, Faso, King, Stefanik, and Zeldin, whose opposition was based primarily on the elimination of deductibility for state and local taxes. The PAB cuts are a concern that several of these representatives raised during a press conference explaining their votes. All Democrats voted against the bill.
The Senate Finance Committee introduced its own tax reform bill, after rejecting the House bill unanimously. This bill preserves the PAB, and the 9% LIHTC although, again, the drastic cut to corporate tax rates will lead to the same 25% devaluation of tax credits. It will only require a majority to pass in the Senate, which is closely divided. Both New York Senators are opposed, as are the rest of the Democrats. This bill passed out of the Finance Committee and will face fierce debate on the senate floor. A vote is expected after Thanksgiving recess. If this competing bill passes, the House and Senate will form a reconciliation committee to produce a final version of the bill.
Attempts are also being made to improve both versions of the bill, by addressing the loss of value to the 9% LIHTC, and by adding provisions of the Cantwell-Hatch bill that would improve the efficiency of the program. Some of these provisions may make it into the final Senate bill. Unless the Senate bill fixes the loss in valuation of the credit, there will be a significant loss of capacity to develop affordable and supportive housing.
In other news, The FY 2018 budget has yet to be resolved. At the beginning of the tax reform process the House agreed to the Senate's higher overall budget numbers, to allow for the Senate to vote on tax reform under reconciliation, which requires a simple majority. In general, the last Senate HUD budget proposal, was the most favorable to supportive housing with modest increases to McKinney and Section 8, and flat funding in other key programs. The final budget details have not been formalized and another short term continuing resolution is expected, as the current CR expires December 8.
The Network will continue to work with our local affordable housing partners and our national partners, including the ACTION Coalition, National Alliance to End Homelessness and the National Low Income Housing Coalition to fight for increased resources for affordable and supportive housing.
| What's New, Funding, Federal
---
11.27.2017
The Network's collaboration with the Center for Urban Community Services (CUCS) Institute continues this year with an exciting roster of upcoming trainings.
Next up this year is a training on Foundations of Motivational Interviewing, Part 1:
Motivational Interviewing (MI), developed by Millerand Rollnick, is an intervention that helps people recognize and address problem behavior (present or potential), and is intended to help resolve ambivalence and to get a person moving along the path to change. MI serves as an important prelude to other treatment and services by creating an "openness" to change, which paves the way for further important therapeutic work. This training provides an introduction to the basic principles and skills associated with MI including OARS (Open Questions, Affirmation, Reflective Listening, and Summary Reflections), expressing empathy, rolling with resistance, and avoiding common roadblocks to change. It also offers a foundation for Motivational Interviewing Part 2, which expands these skills into actual "change talk" and promotion of commitment to change.
This training is accredited as a New York State Social Work Continuing Education Course and OASAS Certified. You can register for this training here, and use the code SHNNY-MI-12-12-17 as the coupon code for your membership discount.
Founded in 1979, the Center for Urban Community Services (CUCS) is a comprehensive human service agency and the nation's largest provider of supportive housing social services. The CUCS Institute is a leader in the provision of training to professionals in New York City and nationally. The trainers are at the forefront of emerging research and train on a range of topics related to housing and homelessness, behavioral health, criminal justice and clinical practice. The CUCS Institute is recognized as a continuing education provider by the New York State Education Department's State Board for Social Work for licensed social workers and by New York State's Office of Alcohol and Substance Abuse Services (OASAS).
For more information on registering or training content, please contact CUCS Institute.
| What's New, New York City, Network Events
---