12.07.2018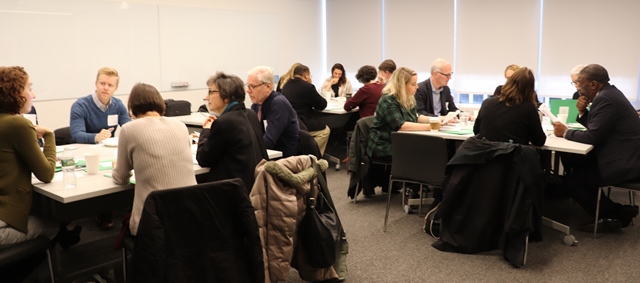 Building on years of joint venture research and events, the Network hosted its first ever hands-on workshop on negotiating joint venture partnerships in supportive housing development. The event was hosted by Capitol One and facilitated by Network and Enterprise Community Partners staff members. CEOs and development professionals from 18 nonprofit organizations in New York City, as well as development partners from Bronx Pro and CSD Housing attended the morning workshop.
The workshop focused on would-be developers working through a mock negotiation in small groups to create a joint venture (JV) agreement. Each group was given a case study detailing a hypothetical supportive housing development project of a nonprofit and for-profit developer and was asked to create a term sheet for the deal that leveraged the strength of both the nonprofit and for-profit developers.
"For me this was JV 101 and therefore very useful in helping me understand basic concepts and roles," said one of the nonprofit participants.
Another attendee said, "This helped me get a better understanding of Joint Ventures from all points of view- corporate and nonprofit."
Joint ventures are becoming an increasingly common strategy to leverage the strengths of nonprofit and for-profit partners for supportive housing development. These partnerships can be extremely beneficial for all involved, but also can be intimidating and difficult to navigate for nonprofits with all levels of JV experience. To equip our members with the right tools and knowledge, the Network developed a Joint Venture Guidebook in partnership with Enterprise Community Partners that includes case studies and analysis of JV deals that have been negotiated in the past.
Are you interested in joint ventures? Check out our guidebook and contact Rebecca Sauer, Director of Policy and Planning for questions and more information.
| Network Events
---
12.06.2018


On November 29th, Governor Cuomo announced the winners for the first phase of the Vital Brooklyn RFP. The Network congratulates the winners, including Network members Services for the UnderServed (SUS), RiseBoro, CAMBA, Federation of Organizations, Apex Building Company, and MDG Design + Construction.
Vital Brooklyn, launched in spring of 2017, is New York State's comprehensive community development initiative that addresses chronic social, economic, and health disparities in Central Brooklyn, one of the most underserved areas in the State.
Winners of the First Four Sites

The former Brooklyn Developmental Center will be redeveloped by a team comprised of Apex Building Company, L+M Development Partners, RiseBoro Community Partnership and SUS, representing a $1.2 billion investment in East New York. The development will provide more than 2,400 units of affordable housing, including:

45 percent of units available to households earning up to 50 percent of Area Median Income (AMI)

Approximately 207 units for formerly homeless individuals and families

Approximately 185 units for intellectually and developmentally disabled individuals

Approximately 156 units for seniors

None of the units will be available to households earning more than 80 percent of AMI

"Interfaith Broadway: Site C" will be redeveloped by CAMBA. CAMBA will transform Site C, on grounds owned by One Brooklyn Health, creating 57 apartments affordable to a variety of income levels, and on-site services for seniors and chronically homeless families.

"Brookdale Hospital: Site B" will be redeveloped by a joint venture between MDG Design + Construction, Smith & Henzy Advisory Group, and the Foundling Group. The new development will create 152 apartments affordable to a variety of income levels, and on-site services for the developmentally disabled and individuals aging out of foster care.

"Interfaith Herkimer: Site A" will be redeveloped by Federation of Organizations. The new development will create 119 affordable homes on a 21,000 square foot lot across the street from Interfaith Medical Center.
Second RFP

On November 29th, HCR also released the second phase of its Vital Brooklyn RFP, due February 28th (Sites E, F, G, H & I) and April 30th, 2019 (Site J, K & L). Through this RFP, HCR seeks to develop eight high-quality, sustainable, and mixed-use permanently affordable housing developments in Brooklyn. Affordable housing may include multi-family, senior, and/or supportive housing.
If you are interested in responding to the RFP to create supportive housing and are looking for development partners, please contact the Network and we will do our best to make introductions.
View the RFP on the HCR website here.
| Funding, New York State
---
11.20.2018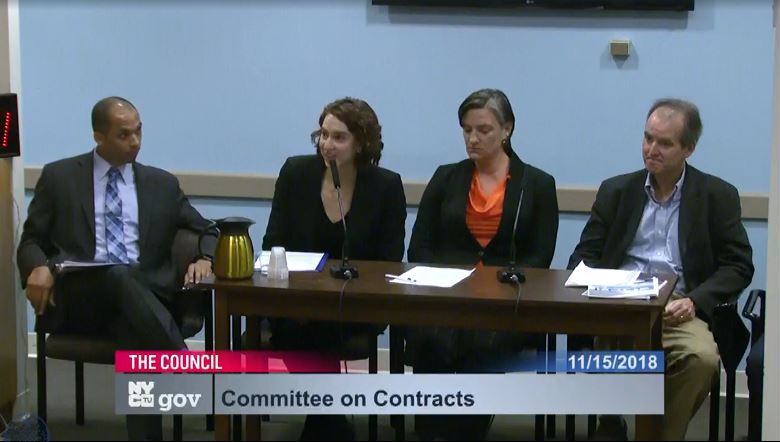 On November 15, The Network testified at the New York City Council Committee on Contracts hearing regarding a new bill that targets late contract payments to nonprofits that are delivering services to the city's most vulnerable, including many that are operating supportive housing throughout the City.
The proposed bill, which would require the Procurement Policy Board to create a process for city agencies to inform vendors of the reason for any late payments, was introduced by Committee Chair Justin L. Brannan and Council Member Rory Lancman. It would also require City agencies to provide the Mayor's Office of Contract Services with reports on any such late payment. The Mayor's Office of Contract Services would then provide a report to the Mayor and Council every six months with information about the late payments from all City agencies. Council members present at the hearing included Inez D. Barron, Bill Perkins, Helen K. Rosenthal and Kalman Yeger.
For a payment to be made on a City contract with a nonprofit, the contract must be registered, a process that includes review from many City agencies and offices, including that which will hold the contract, the Mayor's Offices of Contract Services (MOCS) and the Comptroller. In addition to the issue of late contract payments, many who testified at the hearing brought up the issue of slow contract registration as a root cause.
The Network's Director of Policy and Planning, Rebecca Sauer, testified on behalf of the Network's members that are impacted by late contract registration and payments.
"We hear serious concerns from nonprofit members who have millions of dollars of outstanding receivables on their books and fiscally unhealthy reliance on lines of credit due to late contract registration and delayed payments. Outstanding receivables can lead to audit findings. Nonprofits can spend tens or hundreds of thousands of dollars on interest on lines of credit, which is not reimbursable. The negative financial impact left by late payments can make nonprofits appear to be a risky investment partner or borrower, hindering their ability to access the financing required to develop permanent supportive housing. In their fiduciary capacity, nonprofit boards of directors are also increasingly and understandably reluctant to approve new real estate development while their organizations are supporting structural deficits and bridging late payments from existing human service contracts," she stated to the committee.
The Network thanks the Human Services Council (HSC), who has been leading the charge on efforts to reform procurement and contracting processes that affect nonprofits. Testimonies were also provided by BronxWorks, United Neighborhood Houses, LiveOn NY and many others who emphasized to the committee the human and financial toll of late registration and payments. We look forward to continuing to advocate with our partners for improvements to these administrative processes.
Read the Network's full testimony here.
| What's New, New York City
---
11.16.2018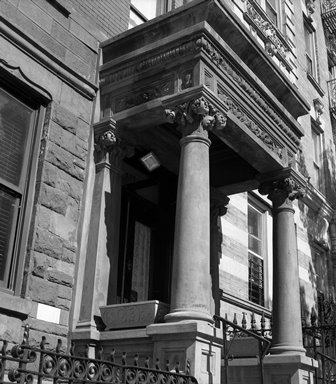 The Supportive Housing Network of New York is proud to be partnered with a coalition of housing advocates, for-profit and non-profit developers, tenant advocates and labor union stakeholders to urge lawmakers for revisions of New York's rent laws during the 2019 state legislative session.
The current regulations are set to expire on June 15, 2019 and will impact 2.5 million New Yorkers living in rent-stabilized housing. The coalition includes Enterprise Community Partners, Legal Aid Society, New York State Association for Affordable Housing (NYSAFAH), New York Housing Conference, Community Service Society, AARP New York, Association for Neighborhood & Housing Development, DC37, Coalition for the Homeless, VOCAL-NY, Center for NYC Neighborhoods, LISC NYC, Corporation for Supportive Housing (CSH), LeadingAge New York, LiveOn NY, Housing Rights Initiative and Neighborhood Preservation Coalition of New York State and the Network.
The coalition is calling on state leaders to enact the following reforms to New York's rent laws during the 2019 legislative session:
End High-Rent Vacancy Decontrol
This pathway toward deregulation, which has only been a feature of rent regulation since 1994, has encouraged the use of both lawful and unlawful means to increase rents past the deregulation threshold of $2,733 per month. These means frequently entail harassment and fraud and have resulted in displacement of long-term tenants from their homes. This year, the rent laws must be restored to their original promise by ending deregulation.

Restore Preferential Rent Protection
The State should return the rent laws to their pre-2003 form and no longer permit landlords to revoke a preferential rent upon lease renewal. Tenants with preferential rents must no longer fear the loss of their homes due to rent increases beyond those allowed under Rent Guidelines Board (RGB) rules.
Reform the Vacancy Allowance, Major Capital Improvements (MCI), and Individual Apartment Improvements (IAI)
The State should reform the provisions governing the Vacancy Allowance and Major Capital Improvement and Individual Apartment Improvement increases in a way that reduces excessive rent hikes but ensures that owners can provide safe and decent housing. Taken together, these provisions produce an exponential impact on regulated rents, creating significant financial incentives for tenant turnover, resulting in displacement.
"The Supportive Housing Network wholeheartedly endorses this coalition's recommendations regarding reforming the City's rent regulations," said Laura Mascuch of the Supportive Housing Network of New York. "The unprecedented loss of truly affordable housing over the last twenty years has led to unprecedented levels of homelessness in New York City – more than 60,000 New Yorkers are homeless right now. We look to the newly constituted legislature to address this pressing issue as its first order of business."
Read more here in this press release.
Daily News: Affordable housing developers teaming with low-income tenant activists to push for rent regulation reforms
| What's New, New York City
---
11.14.2018

"It is revolutionary for any trans person to choose to be seen and visible in a world that tells us we should not exist." –Activist, writer, public speaker, actor, Laverne Cox
In recognition of Transgender Awareness Week, the Supportive Housing Network of New York upholds the humanity and dignity of transgender and gender non-conforming communities. It is particularly timely, as the Trump administration's recent memo seeks to legally define sex as a biological and immutable definition under Title IX. In an effort to delegitimize the existence of transgender, gender non-conforming and intersex (TGNCI) people, this new definition will undo federal recognition of the estimated 1.4 million Americans who identify as a gender other than the one they were assigned at birth, rolling back long-fought protections and posing increased risk for discrimination and erasure of TGNCI communities. With this drastic effort to reverse protections, the Network stands with the millions of TGNCI people in America, as well as coalitions of LGBTQ advocates and allies across New York, affirming our commitment to the safety and resilience of TGNCI people as central to our mission to end homelessness.

In the current political climate, our work must lead with the voices of people living in the margins. We know that TGNCI communities experience housing instability and homelessness at highly disproportional rates, further exacerbating the risk of experiencing hate violence, sexual violence and intimate partner violence.

The Network will continue to support and advocate for the dignity and rights of TGNCI staff and tenants in the supportive housing community. This includes naming and addressing the barriers that TGNCI communities continue to face in accessing housing, mental health services, and all other forms of support. We oppose all efforts to alter or erase long-fought protections for TGNCI people, as bias against some of our community is a direct attack on our movement and vision for a more just world.


Resources:
Volunteer or attend the Transgender Day of Remembrance on November 20
7 Action Items to Protect Trans and GNC People
Support TGNC Youth and Students
Model Policy for TGNC People in Housing and Shelter
Transgender Law Center: Tips on How to Be a Good Ally
Transgender Law Center Action Center
Report Anti-TGNC Violence for National Data Collection
Glossary of Terms
Request a (FREE) Training
| What's New
---
11.13.2018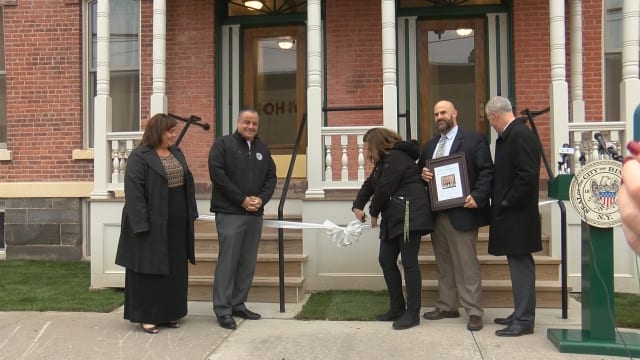 Friends and supporters gathered October 18 to celebrate the opening of 88-90 Carroll Street in downtown Binghamton. This newest development will provide permanent supportive housing for 10 formerly homeless individuals and families, including several who have high medical needs.
"Individuals and families that come here are faced with problems, and housing is usually the first step in addressing those problems," said Mark Silvanic, CEO of Opportunities for Broome.
Dana Greenberg and Jason Harper represented NYS Office of Temporary and Disability Assistance (OTDA) at the ribbon cutting and Binghamton Mayor Rich David was also in attendance to celebrate this opening with the community.
A tenant, Alonzo Harper spoke about the impact having an apartment and working with Opportunities had had on his life: "I landed another job..I actually have a better relationship with my children because I get to see them more often because I have a place… and (the people at Opportunities for Broome) have given me faith in other people. I didn't think that anybody would fight for anybody out here."
The building is a three story brick structure near several Opportunities redevelopment sites and offers comprehensive social services to tenants.
The project is funded by the Office of Temporary and Disability Assistance (OTDA) under the Homeless Housing and Assistance Program (HHAP). Empire State Supportive Housing Initiative funds the services for the 10 supportive housing units. Patricia Every was the architect and WL Kline was the contractor for this project.
| What's New, New York State, Member News, Openings
---
11.07.2018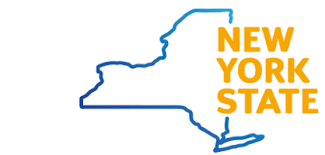 The New York State Office of Temporary and Disability Assistance's Homeless Housing Assistance Program (HHAP) approved capital funding for eleven supportive housing projects, totaling $41 million during its first meeting of the fiscal year. About two thirds of the annual available HHAP allocation is now committed, due to the unprecedented demand for supportive housing projects, fueled in large part by the Empire State Supportive Housing Initiative (ESSHI). Over $75 million in requests are lined up for the remaining $22 million in HHAP, making it probable that these funds will be exhausted by the next meeting in December.
Nine of the eleven projects that recieved this funding have already secured ESSHI grants and ten of the eleven awards were won by Network members. These projects will provide supportive housing for 276 individuals and families struggling with a wide range of life challenges that resulted in their homelessness. This includes trauma experienced by veterans as well as people escaping domestic violence. These awards cover the state from Niagara County in the west to Suffolk County in the East.
Here is the list of awardees:
St. Catherine's Center for Children, Inc., Albany County - $5.6 million
20 permanent supportive housing units

Rehabilitation Support Services, Inc., Albany County - $2.5 million
10 units of permanent supportive housing

Albany Housing Coalition, Albany County - $1.8 million
9 units of permanent supportive housing

New Destiny Housing Corporation, Bronx County - $5.7 million
37 units of permanent supportive housing

Unique People Services, Inc., Bronx County - $5.5 million
55 units of permanent supportive housing

CAMBA Housing Ventures, Bronx County - $7.5 million
87 units of permanent supportive housing

Odyssey House, New York County - $1.6 million
15 units of permanent supportive

YWCA of Niagara Frontier Inc., Niagara County - $1.4 million
8 units of permanent supportive housing

Finger Lakes United Cerebral Palsy, Inc., Ontario County - $1.9 million
9 units of permanent supportive housing

Mercy Haven, Suffolk County - $3.2 million
8 units of permanent supportive

Lakeview Health Service, Inc., Tompkins County - $3.7 million
18 units of permanent supportive housing

Congratulations to all the awardees!
| What's New, Funding, New York State
---
10.29.2018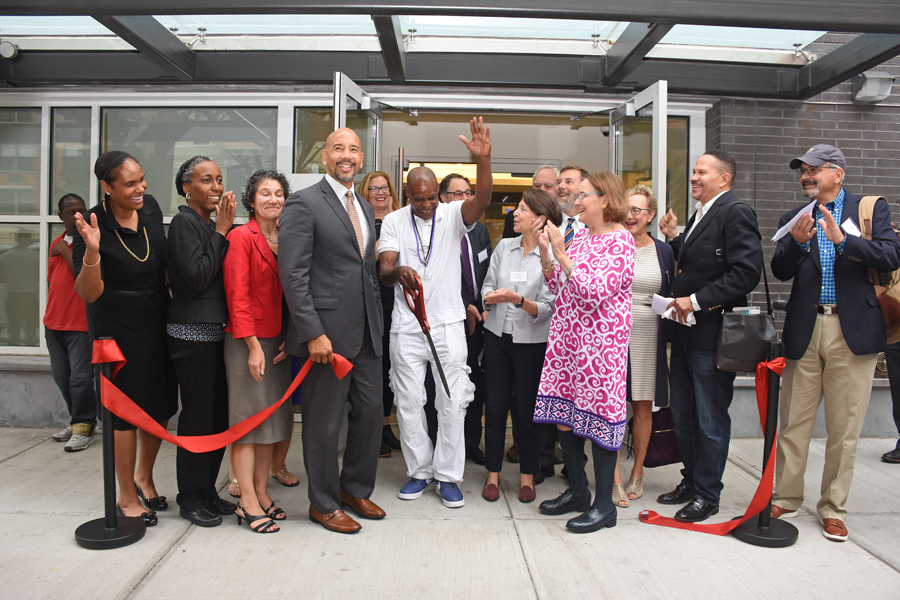 Some 70 friends and supporters gathered September 14th to celebrate the opening of The Bridge's new Melrose Commons residence in the Melrose section of the Bronx. Hosted by The Bridge's Board Chair Cynthia Wainwright and CEO Susan Wiviott, the gathering included electeds as well as representatives from the City, the State and the private sector, tenants and Bridge staff. Melrose Commons will provide permanent supportive housing for 58 formerly homeless individuals with mental health conditions.
Bronx Borough President Ruben Diaz Jr. kicked off the festivities by noting that, in addition to Melrose Commons' transforming tenants' lives, the beautiful new building is contributing to the neighborhood's revitalization. "I grew up here and I remember playing in the rubble", said Mr. Diaz. He congratulated all the partners on the project and took time to hug Robert Tandy, the Melrose Commons tenant who spoke at the opening. The Borough President had previously shown support for the project by allocating $600,000 in funding.
State Senator Luis Sepulveda also grew up in the Melrose area and remarked on the positive changes. He also congratulated all involved in the project: "I salute The Bridge for bringing this impressive residence and its services to those in need. I wish I could provide more like it."
HDC's Eric Enderlin, HPD's Molly Park and OTDA's Dana Greenberg also spoke, noting the amount of time (EIGHT YEARS!) and effort that had gone into the project. Capital One's Desiree Francis (a Bronx native as well) and CSH's Maygen Moore participated.
As always, the star of the program was Robert Tandy, a tenant of Melrose Commons. Robert has struggled for many years on the streets and recently moved into The Bridge's Safe Haven in the Bronx where, for the first time in many years, he felt safe. When Melrose opened, he was ready to consider leaving transitional housing for his own fully furnished studio apartment in a new building offering permanent supportive housing.
The building features a green roof, a large outdoor recreational space that features a garden, a ping pong table, and comfortable seating; a common space with a communal kitchen for cooking classes (using produce from the garden); and a conference room/training center. Comprehensive on-site services (including case management and 24/7 front desk coverage) are funded by the NYC Department of Health and Mental Hygiene.
Funding for the building was provided by NYC Housing Development Corporation (HDC), NYC Department of Housing Preservation and Development (HPD), LIHTC, NYS Homeless Housing and Assistance Corporation, Bronx Borough President Ruben Diaz Jr., and the Mayor's Office of Environmental Remediation. National Equity Fund was the syndicator and Capital One the tax credit investor. Predevelopment funds were provided by the Corporation for Supportive Housing, Citibank and Local Initiatives Support Corporation. The Bridge was awarded the property, which was deeded by the City for $1, through a competitive RFP process. The architect was Magnusson Architecture and Planning and the contractor was the J. Pilla Group.
| What's New, Openings
---
10.29.2018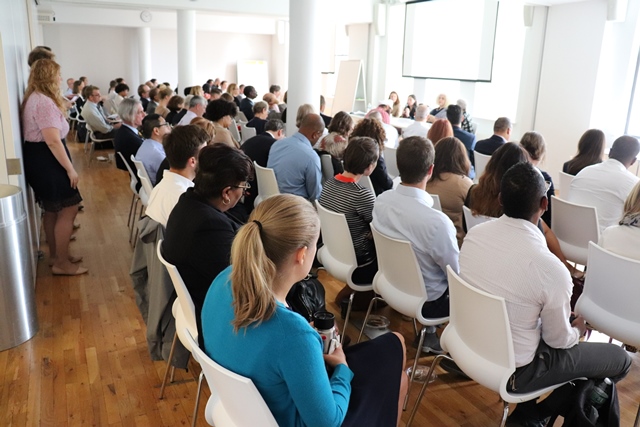 On October 1st, the Network convened a panel on the NYC 15/15 Supportive Housing Initiative. A full audience of 85 of our nonprofit, corporate, and affiliate members, and government partners attended the panel entitled: NYC 15/15 in 2018: Development & Program Updates, presented by Housing Preservation and Development (HPD) Assistant Commissioner, Special Needs Housing Emily Lehman, Human Resources Administration (HRA) Acting Deputy Commissioner, Office of Supportive/Affordable Housing & Services Jennifer Kelly, and Department of Health and Mental Hygiene (DOHMH) Senior Director, Housing Bureau, Gail Wolsk,. Attendees learned about the roles and coordination of the City agencies, the progress on the plan so far, and other valuable information about service models and development.
Jennifer Kelly of HRA emphasized the tremendous progress made so far in the ramp-up of the program, with service awards made for almost 2,700 units. In order to continue the progress, Ms. Kelly underscored the importance of providers taking the time to think about the questions in the RFP and how their program can take advantage of the unprecedented resources available to address the requirements.
Gail Wolsk of DOHMH explained the importance of integrating evidence-based and –informed practices in creating service models. She focused on how the enhanced resources available through NYC 15/15 can truly create a supportive housing program that has a holistic and, in the case of programs serving families, whole-family focus. Ms. Wolsk also explained best practices for program evaluation and staffing, and how property management staff and providers should collaborate. The audience learned about creating a service model that truly fulfills the goals of the ambitious NYC 15/15 initiative.
Emily Lehman of HPD guided the audience through the congregate development process and various HPD capital programs available to fund supportive housing units. Ms. Lehman explained the creation and success of HPD's groundbreaking city-funded project-based rental assistance for NYC 15/15. The audience gained knowledge of how the capital process, services application, and rental assistance application all tie together, and how to best set up a team's internal processes and timing.
For more information, access the PowerPoint from the event here. The Network looks forward to hosting more events as part of our Capacity Building Initiative as we strive to meet the development goals of the NYC 15/15 program and the Empire State Supportive Housing Initiative (ESSHI) and get to 35k!
We are very grateful to Robin Hood for hosting this event in their offices and to our terrific presenters!
| What's New, Funding, New York City
---
10.23.2018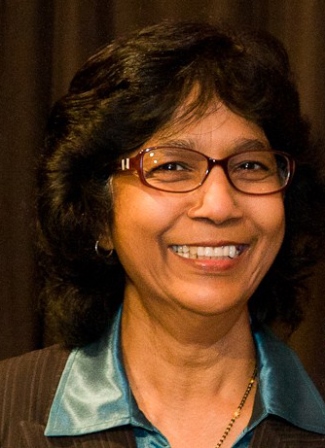 As we celebrate our history, it only seems fitting that we also take a moment to honor a dear friend of mine that has helped transition this organization from its modest beginnings to what we are today!
Under Raj Hosein's leadership, the Network has grown from five staff to 11, from a $500,000 organization to a $2 million organization and from 70 members to over 200 members today.
And while each of those benchmarks are impressive, they don't truly describe who Raj is, or what she has contributed to the Network and our community over the past 17 years.
To those that know Raj, you might describe her as very detail oriented, someone with only the highest of standards, the person that keeps the trains running. She knows what needs to be done - and she does it – always well and always with pride.
But for me and the Network, she is so much more than that. She's someone who can be relied upon for the smallest of tasks and the largest of tasks. She's the person that donates her own money to give a personal gift to the Tenants of the Year at the Network's Gala each year. And she's always there to listen, to think through a problem and come up with a solution.
She's not just the backbone of this organization, but the heart and soul that has made us who we are today.
That's why I'm honored to present Raj with the Distinguished Service Award. After nearly two decades with us, as Director of Finance & Administration, she's retiring at the end of the year. It's bittersweet to see her go and I honestly can't imagine us without her.
BUT, we're very happy and excited for her and her husband Al. We wish them a wonderful retirement and bright future ahead.
|
---