Categories: New York City, Openings
04.14.2016
This beautiful new 65 unit residence has 39 supportive and 26 affordable housing units.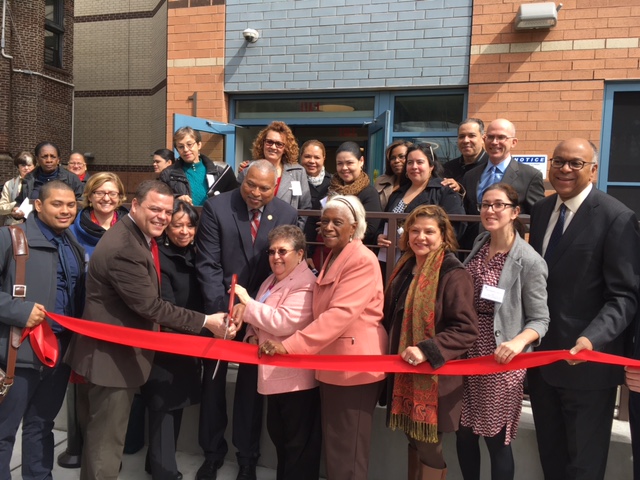 Cutting the ribbon at Comunilife's new El Rio residence in the Bronx.
On a brisk spring day, Comunilife welcomed nearly 75 people to the grand opening of the El Rio Residence on Friday, April 8 in the Bronx neighborhood of East Tremont. Named in honor of the Bronx River which is just steps away, the 65 unit residence has 39 supportive and 26 affordable housing units. El Rio is Comunilife's fourth supportive housing residence in New York City.
Frances Pandolfi of Comunilife's Board of Directors delivered a warm welcome, followed by Dr. Rosa M. Gil, Comunilife's President and CEO. Speakers also included Deputy Bronx Borough President Aurelia Greene, OTDA Commissioner Sam Roberts and Deputy Regional Commissioner of HUD Mirza Orrils, who stated, "This beautiful building is creating community. These individuals' lives are better now." She expressed gratitude to Community Board 6, and highlighted the project's impact on local job creation, particularly for construction workers. Supportive remarks were also made by HPD Assistant Commissioner Jessica Katz, Associate Commissioner of OMH Moira Tashjian, DOHMH Program Manager Rebecca Seivers and CSH Director Kristin Miller.
Richard Roberts, Managing Director of Acquisitions at Red Stone Equity Partners, applauded supportive housing as the solution to chronic homelessness, stating, "We know that providing services on site is the solution. We need receptive, creative people in government, adequate funding and community support, as well as expert organizations to bring all those factors together. It is deeply gratifying to work on a project you know, respect and deeply care about."
Assemblymember Luis R. Sepúlveda of Distrcit 87 credited the Bronx's supportive housing as a citywide model, saying that people in the surrounding community have had no complaints and have warmly welcomed the new building residents. And last, but certainly not least, the crowd was greeted and thanked by a new resident, Betina Murray, who came to El Rio from a shelter. She expressed deep gratitude and love for her new home.
HPD has provided Project Based Section 8 vouchers for the 39 supportive housing residents. HPD provided Low Income Housing Tax Credits for the project, which were syndicated by Red Stone Equity Partners. HPD also provides federal HOME funding. The State provided OTDA and Homeless Housing and Assistance (HHAP) funding, and the Bronx Borough President provided nearly three quarters of a million dollars. Funding for service provision has been allocated from OMH and DOHMH. The project also received funding from CSH. The architect was Gran Kriegel Associates, and the general contractor was Fazio Construction.