Thanks to Our Government Partners for $1 Billion in Supportive Housing Capital!
04.28.2017
An unprecedented capital commitment for 6,000 new supportive housing units.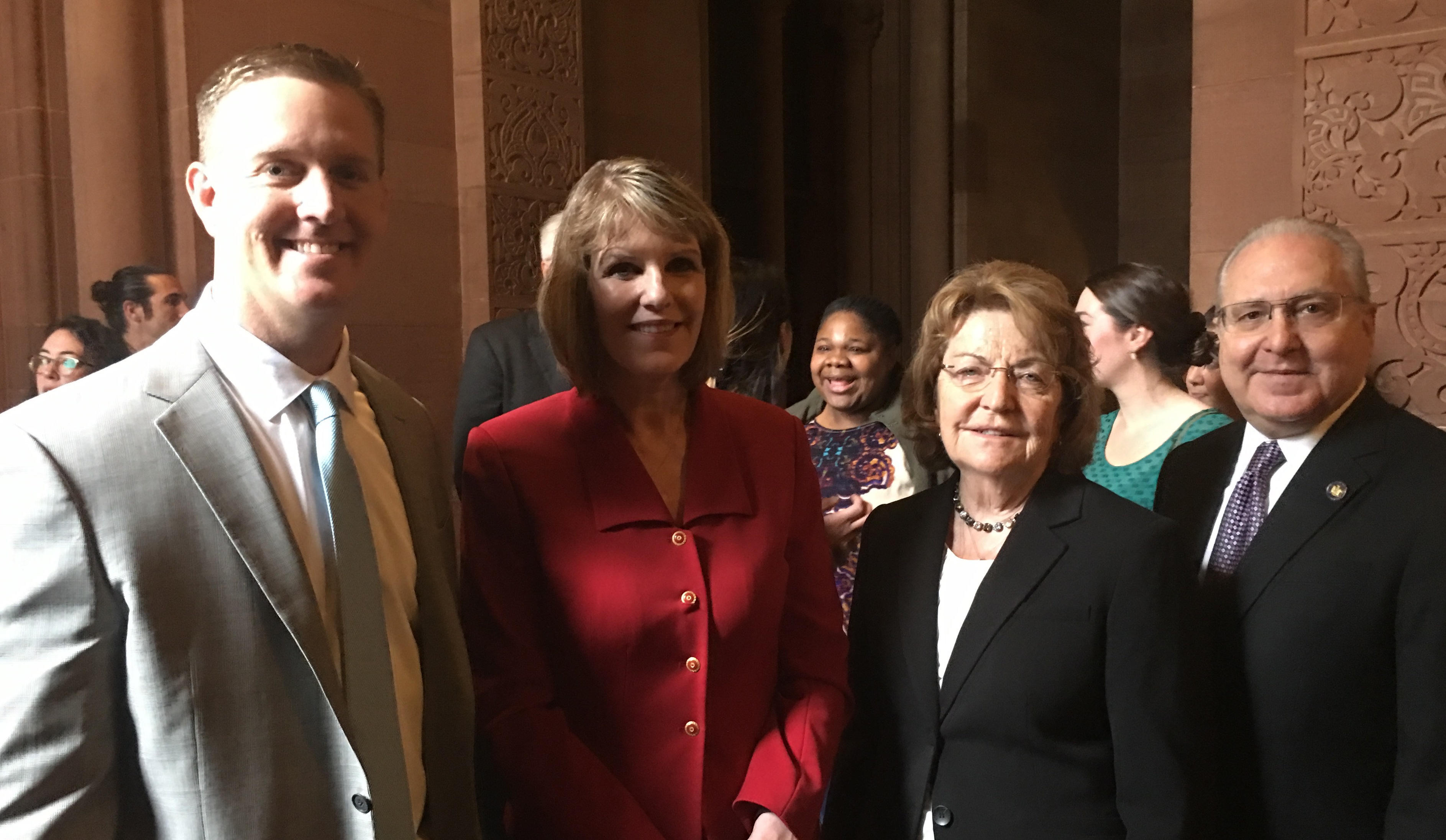 Assembly Member Andrew Hevesi, Senator Cathy Young, Senator Betty Little, and Assembly Member Steve Cymbrowitz being recognized for their critical support.
A press conference was held April 26th at the Capitol in Albany to thank our government partners and celebrate the successful culmination of the Campaign 4 NY Housing. We now have an unprecedented capital commitment for 6,000 new supportive housing units over five years from New York State.
Senator Cathy Young, Chair of the Senate Finance Committee acknowledged the importance of supportive housing and the hard fight to achieve this victory. We thanked Senator Young for co-leading the Senate support letter and being a real champion of supportive housing in her Western New York district.
Senator Betty Little, Chair of the Senate Housing Committee, spoke about how this program will address homelessness across New York, including our rural areas. We thanked Senator Little for pushing for a comprehensive affordable and supportive housing plan while protecting the supportive housing commitment.
Assembly Member Steve Cymbrowitz, Chair of the Assembly Housing Committee, talked with pride about his experience as a nonprofit supportive housing developer and the many projects he funded while at HPD. We thanked Chair Cymbrowitz for leading the Assembly in winning the largest supportive housing plan in our state's history.
Assembly Member Andrew Hevesi, Chair of the Social Services Committee, finished the press conference by thanking the Campaign for a hard fought win. We thanked him for his early support and leadership on many fronts, including hosting regional briefings that allowed the Campaign to make a compelling case for supportive housing to legislators across the state.
St. Catherine's Center for Children of Albany crafted a thank you card for the legislature which will be placed on the supportive housing wall in Assembly Member Hevesi's conference room.
After the event, Laura Mascuch and Steve Piasecki made personal visits to thank some of the key legislative staff who made this victory possible.
| More Posts about:
What's New
,
Funding
,
New York State