Categories: New York State, New York City, Research
01.02.2014
Report issued by DOHMH, HRA, OMH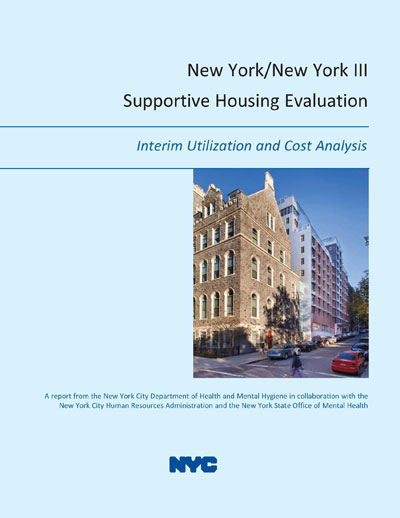 On New Year's Eve, New York City released the first major report on the cost-savings impacts of supportive housing created under the New York/New York III Supportive Housing Agreement. Reviewing data from the first years of the agreement, the report found that homeless or institutionalized people placed into NY/NY III supportive housing saved taxpayers a net average of $10,100 per person per year. The entire report is available here.

The report's analysis confirms similar findings by more than 30 studies nationwide that showed how supportive housing can significantly reduce the costly public expenses associated with homelessness. You can read the NYC Department of Health and Mental Hygiene (DOHMH)'s press release for the repot here.
The New York/New York III Supportive Housing Evaluation was conducted by DOHMH in collaboration with the NYC Human Resources Administration (HRA) and the NYS Office of Mental Health (OMH). The evaluation is particularly significant because it compared those found eligible for and placed into NY/NY III housing with a control group made up of those who were also found eligible but did not receive a supportive housing placement. The study looked at two years of costs prior to placement/non-placement and one year post for everyone who was placed or not placed into NY/NY housing between 2007 and 2009.

The study measured public costs associated with participants' use of shelter, jail, cash assistance, food stamps, state psychiatric care and Medicaid. The report found that, after subtracting the NY/NY III housing and service costs, each NY/NY III tenant housed saves the public an average of $10,100 a year.

The savings occurred across many public systems and varied widely by tenant population, with supportive housing for tenants coming from State-operated psychiatric facilities saving on average an impressive $77,425 per tenant per year. The NY/NY III housing achieved either a complete cost offset or significant savings for all but two of the tenant populations.
The savings identified by this first interim report are conservatively measured and indicate that future reports may show even greater savings, when more data becomes available. The study is limited primarily to scattered-site supportive housing created in the first year of the agreement and includes data only on the first year of placement, often the least stable and most expensive year of tenants' placements. The study does not count costs associated with foster care or the youth shelter system, prison, medical services not reimbursed by Medicaid or non-Medicaid substance abuse treatment services, to name a few additional potential expenses.

The report also notes that the evaluation did not measure the many additional positive outcomes known to be achieved by a stable home and access to services, notably improved healthcare, increased employment, educational advancement and other hallmarks of a stable life. DOHMH continues to evaluate NY/NY III eligible individuals and families, placed and unplaced, for the years following 2009 and is beginning to capture data on some of these other outcomes.

We thank DOHMH, HRA and OMH for conducting this essential study and the signatories of the agreement for having the foresight to fund such an evaluation. These findings both reflect the vital work of our members and offer us invaluable new data on the effectiveness of supportive housing. We urge you to share this report with your friends and colleagues!