Gary Hattem Departs Deutsche Bank Americas Foundation
12.15.2016
Mr. Hattem inaugurated or was a lead funder in a number of game-changing innovations.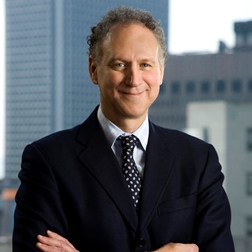 Gary Hattem – a leading light in the affordable and supportive housing world for decades -- is retiring as President of the Deutsche Bank Americas Foundation at the end of the year. Mr. Hattem, was responsible for the firm's corporate social responsibility activities in the Americas region, Deutsche Bank's social finance activities globally and established the Community Development Finance Group in 1990. More than $2.5 billion has been deployed through these activities in the U.S., and the international work has led to over $300 million in funds under management.
Mr. Hattem inaugurated or was a lead funder in a number of game-changing innovations. Under his leadership, Deutsche Bank launched the DB SHARE (Supportive Housing Acquisition and Rehabilitation Effort) program, which provides funding to providers to cover the early costs of supportive housing development. In its nearly 20 year history, DB Share has supported the creation of over 7,000 units and the latest round of awards will support an additional 1,500 units in the coming years. Mr. Hattem also led the creation of what is now the Change Capital Fund, a collaborative of foundations and most of New York City's banks to support community development organizations in NYC; the NYC Housing and Recovery Donors Collaborative, to support low-income communities impacted by Hurricane Sandy; and led funder support of other initiatives like the Joint Ownership Entity Initiative and the Gateway Housing Demonstration Initiative.
Prior to joining Deutsche Bank, Gary Hattem helped found Astella Development Corporation in Coney Island and was Executive Director of the St. Nicholas Neighborhood Preservation Corporation.
John Kimble, Deutsche Bank's Vice President for Philanthropic Initiatives, said "Gary has devoted his life and considerable talents to investing in the well-being and success of the most vulnerable and marginalized among us. It has been a tremendous honor to work with and learn from a person of such passion, intelligence, integrity, and commitment to build a more just, equitable, and inclusive society."
Marc Jahr, the principal of Community Development Futures, LLC, said, "For 25 years, Gary has been instrumental in harnessing Deutsche Bank's capital to a sensitive understanding of the needs of the City's communities and nonprofits. He has been one the Nation's great social entrepreneurs, whose immense creativity has been matched by his extraordinary ambition. ‎ His presence at Deutsche Bank will be deeply missed."
Laura Jervis, founder of West Side Federation for Senior and Supportive Housing, said "Emerging from the grassroots neighborhood development world, Gary's astounding achievements in the heady worlds of philanthropy and finance can be traced directly to the values and integrity he demonstrated leading the St. Nicholas Neighborhood Preservation Corporation (now St. Nick's Alliance) in its earliest days. Always putting the needs of neighborhood people first whether relating to housing, work, economic development, or child care, St. Nick's became the model for the community development movement. When he joined Deutsche Bank, his neighborhood became the entire world. The programs initiated under his watch all start at the grassroots, from micro-finance lending to self-expression in the arts to cleaning up water in villages, he is both a thought leader and an activist for improving the lives of low income people everywhere. For us in the New York City nonprofit affordable and supportive housing world his innovative multi-year grant/loan programs have deepened our capacity and increased our production of housing beyond measure. Always generous with advice and encouragement, we will continue to rely on his wisdom and friendship. What a mensch!"
| More Posts about:
What's New
,
Member News