Categories: New York State, Openings
12.14.2016
Four residences in Penn Yan, Geneva, Newark, and Waterloo.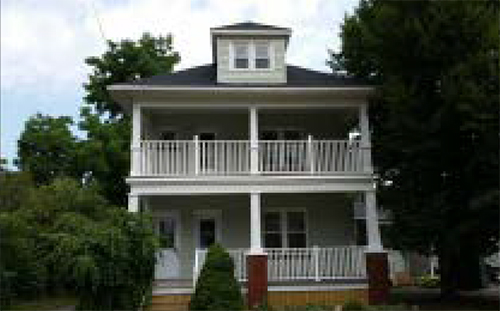 One of the new buildings in the Finger Lakes Rural Initiative Housing Project.
As testament to the fact that supportive housing comes in all sizes and fits into any neighborhood, the Finger Lakes Area Counselling and Recovery Agency (FLACRA) opened four residences in four counties for individuals struggling with homelessness and substance abuse. The four buildings, located across the Finger Lakes region, will provide eight permanent homes for homeless individuals with a disabling condition and 14 transitional units for people in recovery from substance use.
FLACRA's Executive Director Marty Teller said "We are proud to bring these beautiful renovated sites to these great neighborhoods for individuals so deserving in their journey through recovery to independence."
The two day travelling ribbon cutting on November 17th and 18th included Commissioner Samuel Roberts from New York State Office of Temporary and Disability Assistance; Robert Kent, from the New York State Office of Alcohol and Substance Abuse Services; Assembly Member Robert Oaks; New York State Senator-elect Pam Helming; county commissioners of social services, county directors of community services, and other municipal officials. Chief Counsel Kent said, "These are great things in the midst of an unbelievable epidemic of heroin and opiate abuse. Agencies like FLACRA are on the front lines of this fight."
The projects were built with capital from the Homeless Housing Assistance Program and the Federal Home Loan Bank, and a loan from CSH. Services for the supportive housing units are funded by OTDA's NYSSHP program.
The contractor on the project was Hamilton Stern. The architect was TAB Design. The consultant was KLR Consulting.