Supportive Housing Program
Status
Archived
Type
Capital, Operating, Services
Source
Federal
Procurement Agency
US HUD
AKA/Previously Known As
For most updated info please refer to Continuum of Care (McKinney-Vento Homeless Assistance Program). The Network will no longer update this page, as all funding now goes through the Continuum of Care/McKinney-Vento Program.
Total Annual Award
This program represented part of the $180 million that New York State receives in McKinney-Vento Homeless Assistance Program funding.
Tenant Eligibility Criteria
For permanent supportive housing, tenants must be homeless individuals and families with disabilities including mental illness, substance abuse, HIV/AIDS and domestic violence. Funding was used for a non-disabled homeless population for services and/or transitional housing.
Eligible Applicants
Permanent supportive housing, transitional housing and support services only.
Funding Award Details
Part of the $180 million that New York State received in McKinney-Vento funding in 2010. That year, HUD awarded $6,123,529 for 25 new permanent supportive housing projects and $46,096,964 to renew 231 existing projects.
Amount Details
Up to $400,000 for capital. Open on operating and services.
Term
Initial grant is for two or three years, after which the grant is renewable annually.
Network Notes
Projects must have had site control within one year of initial award. Capital funding was limited to $400,000 and requires a 100% match. Operating funding required a 25% cash match. Services funding required a 20% cash match. Rental assistance was not adjustable once the fair market rent is set.
OTDA or DHS may negotiate a reimbursement rate with each provider, related to the size of the building and ranging from $125 to $200 per unit per month.
For More Information
To learn more about the Supportive Housing Program, visit HUD's website. Resources include a program overview and factsheet.
Last updated: 07/06/2017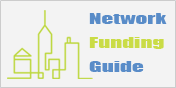 Did you know…
Medicaid costs for tenants in Oregon supportive housing dropped 55% compared to costs the year before when they were homeless.