New York City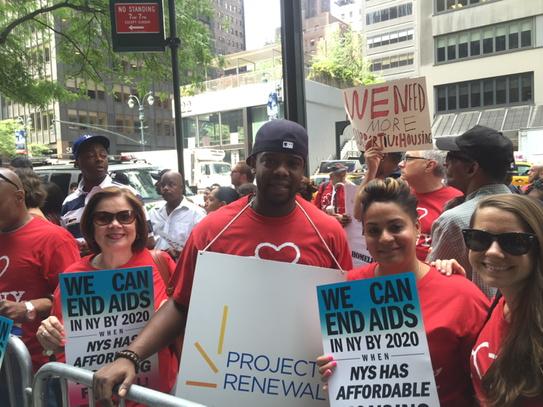 Rallying in support of the Campaign 4 NY/NY Housing in June, 2015.
THANK YOU MAYOR DE BLASIO FOR 15,000 UNITS OF SUPPORTIVE HOUSING! Read details here and here.
Headquartered in Midtown Manhattan, the Network employs staff to meet with New York City officials, testify before City Council, shape policy decisions of city agencies and organize rallies with the goal of advancing the growth and effectiveness of supportive housing. Thanks in part to the Network's leadership and driven by the innovation of nonprofit supportive housing providers, New York City has become the supportive housing capital of the nation. More than 32,000 units of supportive housing currently operate in the city. Much of this development comes thanks to a series of landmark NY/NY Agreements between the city and state. These agreements have created thousands of supportive housing units. Below, you'll find a summary of the Network's city policy positions. You'll also find copies of our written testimonies delivered before city legislators. Finally, you will find a detailed history of the three city/state NY/NY Agreements, including the Network's involvement with securing each commitment, a sampling of advocacy materials used in previous and current city policy campaigns.
Our four core policy priorities for supportive housing in New York City.
Transcripts of testimonies delivered before the New York City Council and other citybodies. Documents are downloadable as PDF files.
A historical overview and assessment of the city-state NY/NY Agreements, signed in 1990, 1999 and 2005.

Join Our Email List


for News and Updates
Did you know…
Tenants at a supportive housing program in Massachusetts reduced their annual Medicaid expenses from $26,124 before housing to $8,500 after housing.