The Network is researching, compiling and posting all information relating to COVID-19 and the supportive housing community and updating this site weekly.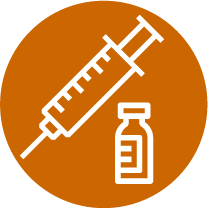 VACCINES
Sign Up for Vaccines
Vaccine Hub Appointment Scheduler
General Vaccination Resources
Vaccine eligibility and data
Sign up for City updates
Video from Dr. Tyson Boudreaux, clinical director of Bronx Psychiatric Center, encouraging staff and others to get their COVID-19 vaccination. The video also addresses the mistrust many people of color are experiencing regarding the vaccine and the healthcare system in general.
CDC's Community-Based Organizations COVID-19 Vaccine Toolkit
OMH has a new educational video on the benefits of the COVID-19 vaccine posted to Youtube. The video is in Spanish, and features Ms. Evelyn Mendez and Dr. Roger Beauplan from Pilgrim Psychiatric Center.
Urgent Care Closed Clinics
Centers for Urgent Care is a provider that is reserving appointments exclusively for supportive housing. Click here to read a letter from DOHMH regarding the program and instructions for how to register. Centers for Urgent Care is currently piloting this program at four locations:
o East New York - 1203 Elton St
o Middle Village – 6122G Fresh Pond Road
o Gravesend - 2370 Coney Island Ave
o Coney Island – 626 Sheepshead Bay Road
o Manhattan – 62 Mott Street
O-Agency Link-Outreach-Vaccinate (O-LOV) COVID-19 Vaccination Program
OMH Psychiatric Centers have launched eight vaccination hubs at OMH Psychiatric Centers, four in NYC and four upstate, for eligible OMH and OASAS tenants and staff. There are two models for making an appointment: "Provider Agency Group Scheduling," for which all eligible OMH or OASAS providers will be reached out to by an outreach team that will facilitate setting up vaccination appointments or dispatching a mobile vaccination team if eligible, and "Individual Scheduling," which allows eligible individuals to schedule an individual appointment. Click here to read more about sites, eligibility, both scheduling models, and find the link to schedule an individual appointment. Click here to access slides from a February 11th OMH presentation on the O-LOV program.
Expanded eligibility for not-for-profit workers and workforce vaccination sites
On March 17th, the State expanded vaccine eligibility for not-for-profit workers who provide public-facing-essential services to New Yorkers in need. Public-facing employees either are required to have in-person contact with members of the public or with coworkers, or are unable to work remotely. Contracted program employees in nonprofits performing public-facing-essential services are permitted to receive a vaccination at a city workforce vaccination site. You will be notified by your city agency of which staff are eligible and asked to complete this letter that eligible staff can bring with them as proof of eligibility when visiting the city's workforce vaccination sites for their appointments. You may find the city workforce sites listed below:
The Bronx: https://somosvaccinations.com
X410 Taft High School Campus
240 E 172nd St, The Bronx, NY 10457
Hours of Operation: Monday-Saturday, 10 AM - 10 PM

Brooklyn: https://somosvaccinations.com
George Wingate High School
600 Kingston Ave, Brooklyn, NY 11203
Hours of Operation: Monday-Saturday, 10 AM - 10 PM

Manhattan: https://somosvaccinations.com
Louis D. Brandeis High School
145 W 84th St, New York, NY 10024
Hours of Operation: Monday-Saturday, 10 AM - 10 PM
Queens: https://vax4nyc.nyc.gov/patient/s/
John Adams High School
101-01 Rockaway Blvd, Queens, NY 11417
Hours of Operation: Monday-Sunday, 12 PM - 8 PM

Staten Island: https://vax4nyc.nyc.gov/patient/s/
Susan E. Wagner High School
1200 Manor Rd, Staten Island, NY 10314
Hours of Operation: Monday-Sunday, 12 PM - 8 PM


GUIDANCE
New York State Guidance
OMH telehealth guidance during the COVID-19 emergency period (updated 3/25/21)
Guidance for The New York State COVID-19 Vaccination Program
Revised Protocols for Personnel in Clinical and Direct Care Settings to Return to Work Following COVID-19 Exposure or Infection (updated 4/26/21)
OMH Infection Control Manual for Public Mental Health System Programs (5/20/21)
DOH Health Advisory - Discontinuation of Transmission-Based Precautions for Patients with COVID-19 Who Are Hospitalized or in Nursing Homes, Adult Care Facilities, or Other Congregate Settings with Vulnerable Residents (5/3/21)
New York City Guidance
NYC DOHMH Congregate Setting Guidance
Face Coverings: FAQ and How to Wear Two Face Coverings
CDC's Interim Public Health Recommendations for Fully Vaccinated People
MONITORING COVID-19
NYS Department of Health COVID-19 Tracker
A statewide tracker monitoring testing rates and positive cases in each county.
NYC Health Public Health Milestones
A city tracker monitoring key health indicators such as percent of residents who test positive, new cases, and hospital admissions.
RE-OPENING SUPPORT
COVID-19 Safety Plan Recommendations (Updated as of 2/22/2021)
The Network's Supportive Housing Re-Opening Committee provides a regularly updated list of recommendations for supportive housing providers to consider when developing COVID-19 safety plans for supportive housing offices and residences.

New York Forward
New York State's information about re-opening with guidelines for industries identified in PHASE II, III, and IV, and safety plan templates to prepare for reopening.
COVID-19 TESTING
Click here to find a testing site and other information on COVID-19 testing
HOTELING
Isolation hotel rooms are provided by NYC Health + Hospitals (H+H). If a tenant in a shared congregate resident (dorm style, SRO, or scattered site apartment) is unable to isolate on-site and has tested positive for COVID-19, has COVID-19 symptoms, or has been in close contact for over 10 minutes with someone who has been diagnosed with COVID 19, H+H has a specific referral form for congregate program referrals so they can be prioritized and expedited. See here for the form and send to: expeditedref@nychhc.org.
General H+H Isolation Hotel Program Number: 646-694-3500; Seven days a week, 8 AM - 12 AM

TELEMENTAL HEALTH GUIDANCE & TRAININGS
Click here to find guidances and resource material from SAMHSA, NASW, and American Psychiatric Association.
TENANT ENGAGEMENT
Find a one pager of tenant engagement strategies from our providers here.
RENTAL HARDSHIP
COVID-19 and economic hardship has impacted individuals' ability to pay rent. The Network has collected resources on Emergency Assistance Grants and hosted a webinar in partnership with LSNY on navigating the One Shot Deal process. Click here for more information.
Contact Us:
The Network would like to hear from you about emerging concerns and questions that we can elevate to our government partners. Please send these to Joelle Ballam-Schwan (jballam-schwan@shnny.org), Engagement & Communications Manager.