The Network Testifies at a Hearing of the City Council Committee on Contracts
11.20.2018
The hearing was regarding a new bill that targets late contract payments to nonprofits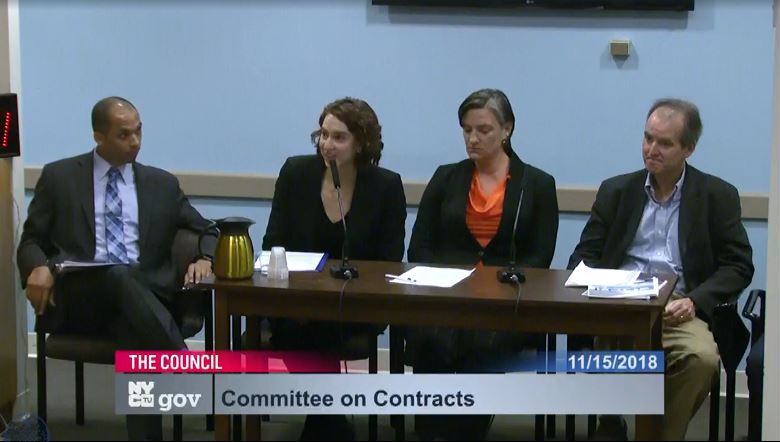 On November 15, The Network testified at the New York City Council Committee on Contracts hearing regarding a new bill that targets late contract payments to nonprofits that are delivering services to the city's most vulnerable, including many that are operating supportive housing throughout the City.
The proposed bill, which would require the Procurement Policy Board to create a process for city agencies to inform vendors of the reason for any late payments, was introduced by Committee Chair Justin L. Brannan and Council Member Rory Lancman. It would also require City agencies to provide the Mayor's Office of Contract Services with reports on any such late payment. The Mayor's Office of Contract Services would then provide a report to the Mayor and Council every six months with information about the late payments from all City agencies. Council members present at the hearing included Inez D. Barron, Bill Perkins, Helen K. Rosenthal and Kalman Yeger.
For a payment to be made on a City contract with a nonprofit, the contract must be registered, a process that includes review from many City agencies and offices, including that which will hold the contract, the Mayor's Offices of Contract Services (MOCS) and the Comptroller. In addition to the issue of late contract payments, many who testified at the hearing brought up the issue of slow contract registration as a root cause.
The Network's Director of Policy and Planning, Rebecca Sauer, testified on behalf of the Network's members that are impacted by late contract registration and payments.
"We hear serious concerns from nonprofit members who have millions of dollars of outstanding receivables on their books and fiscally unhealthy reliance on lines of credit due to late contract registration and delayed payments. Outstanding receivables can lead to audit findings. Nonprofits can spend tens or hundreds of thousands of dollars on interest on lines of credit, which is not reimbursable. The negative financial impact left by late payments can make nonprofits appear to be a risky investment partner or borrower, hindering their ability to access the financing required to develop permanent supportive housing. In their fiduciary capacity, nonprofit boards of directors are also increasingly and understandably reluctant to approve new real estate development while their organizations are supporting structural deficits and bridging late payments from existing human service contracts," she stated to the committee.
The Network thanks the Human Services Council (HSC), who has been leading the charge on efforts to reform procurement and contracting processes that affect nonprofits. Testimonies were also provided by BronxWorks, United Neighborhood Houses, LiveOn NY and many others who emphasized to the committee the human and financial toll of late registration and payments. We look forward to continuing to advocate with our partners for improvements to these administrative processes.
Read the Network's full testimony here.
| More Posts about:
What's New
,
New York City