Housing Is Healthcare Coalition Launches
02.03.2014
Federal effort seeks Medicaid funding for supportive housing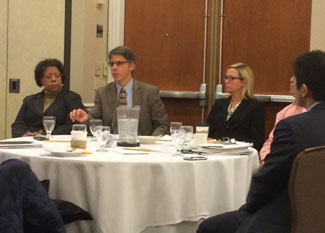 The Network participated in a kick-off planning meeting last month for the Housing Is Healthcare Coalition, a new nationwide campaign to fund supportive housing programs using federal Medicaid funding. This advocacy effort aims to convince federal policymakers of the fiscal and quality-of-life benefits of supportive housing for individuals who are high-cost Medicaid users. As members of the supportive housing community have long argued, housing and support services can have tremendous health benefits for formerly homeless individuals and other vulnerable populations. Studies have shown that supportive housing can lead to fewer emergency room visits, fewer nights at the hospital and greater overall health for people living with HIV/AIDS and other medically frail homeless individuals.
Four strategies emerged from last month's meeting to persuade lawmakers to recognize the healthcare benefits of housing. These strategies include:
Explore the possibility of applying for Medicaid waivers (either 1915i or 1115) with special benefits for homeless people with chronic conditions. This plan would include cost-reduction incentives that could be met through housing.
Explore other bundling and funding mechanisms to harness Medicaid to address the housing needs of vulnerable populations.
Bring together a caucus of Medicaid directors from across the country to discuss opportunities in this arena.
Explore legislative fixes to facilitate the use of Medicaid for supportive housing.
Organized by Network member Housing Works, the session began with a presentation by Ginny Shubert of Shubert-Botein Policy Associates on recent research on housing's positive effect on health outcomes. Network Executive Director Ted Houghton moderated a panel of experts at the meeting, which included Emily Rosenoff of the US Department of Health and Human Services (HHS), Robert Greenwald of the Center for Health Law and Policy Innovation, Peggy Bailey of CSH and Elizabeth Misa of the NYS Department of Health (DOH). Also in attendance were representatives from several Network members and allies, including the Council for Senior Centers and Services, the National Alliance to End Homelessness and AARP.

If you'd like to learn how you can get involved in the Housing Is Healthcare campaign, please email the Network's Steve Piasecki at spiasecki@shnny.org.
Photo caption: Network Executive Director Ted Houghton moderates a discussion on Medicaid and supportive housing at a kick-off planning meeting for Housing Is Healthcare in Washington, D.C.
| More Posts about:
Federal