Housing Opportunities for Persons With AIDS (HOPWA) Competitive Grants
Status
Closed
Type
Capital, Operating, Services, Pre-development/Acquisition
Source
Federal
Procurement Agency
US HUD
Total Annual Award
In FY 2014, HOPWA's competitive program annually allocated $34.9 million nationwide. Of that, $2.76 million annually funded New York State based projects.
Tenant Eligibility Criteria
Low-income individuals with HIV/AIDS and their families. Eligible individuals generally have incomes at or below 80% area median income (AMI).
Eligible Applicants
Housing projects run by States, local governments or nonprofit organizations that benefit the eligible population.
Funding Award Details
HOPWA is the dedicated federal source of capital to develop housing for people with HIV/AIDS. Funds are split between HOPWA's federal Competitive Program (10%) and its Formula Program (90%). Competitive grant funds may be used for acquisition, development, rehabilitation and construction-related costs.
Since 2001, it has been mandatory that competitive grants be directed toward permanent supportive housing programs seeking funding renewals. If funding remains, however, grants are distributed under the annual Notice of Funding Availability (NOFA) competition to two types of projects: Special Projects of National Significance (SPNS) or New Long-Term Projects. SPNS are considered innovative, directed toward underserved populations, and expected to serve as national models. New long-term projects provide supportive housing in areas that do not qualify for HOPWA formula programs; as a result, New York State is not eligible for new long-term projects.
Amount Details
In FY 2014 HOPWA's competitive program allocated $29 million nationally. $2.8 million, funding two programs in New York State.
Term
Contracts are issued annually and grants are a maximum of three years with a possible one-year extension.
Network Notes
Programs seeking funding renewal are given priority over new applications and annual renewals take up the majority of the competitive HOPWA budget. Support services cannot exceed 35% of overall program budget.
Most, if not all, competitive grants in recent years have been grant renewals. It is incredibly difficult for new applicants to secure funding from the HOPWA competitive program.
For More Information
For general information about HOPWA, see HUD's website.
To find information about current agencies receiving competitive HOPWA grants, see here and here.
HUD Buffalo Field Office
William O'Connell
(716) 551-5755, x5800
william.t.o'connell@hud.gov
HUD New York Regional Office
Vincent Hom
(212) 542-7401
vincent.hom@hud.gov
Last updated: 07/06/2017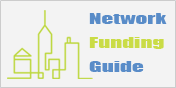 Did you know…
Medicaid costs for tenants in Oregon supportive housing dropped 55% compared to costs the year before when they were homeless.