Historic Tax Credits
Status
Available
Type
Capital
Source
Federal, State
Procurement Agency
NYS SHPO
AKA/Previously Known As
Federal Investment Tax Credit Program for Income Producing Properties
Total Annual Award
N/A
Tenant Eligibility Criteria
All populations are eligible.
Eligible Applicants
Projects must meet both State and Department of Interior review. Basic requirements are:
Building must be listed or capable of being listed on the National Register of Historic Places
The amount spent on the rehabilitation must be equal to or greater than the present value of the building, not including the land
Building must pass a review by SHPO and National Parks Service and meet historic preservation standards.
All standards must be met. If an agency meets the requirements, the tax credits will be issued.
The tax credits may be bundled and sold by a nonprofit developer or a limited partnership between a nonprofit and for-profit developer. After the tax credits are released, the developer has two years to complete the work. If more time is needed, the project may be submitted in phases over a five-year term.
Funding Award Details
There is no limit to the credit and they are non-competitive.
Amount Details
20% of rehab costs.
Term
Once a building has been declared historic, it must remain so in perpetuity. Any future rennovations must be approved by SHPO.
Network Notes
For eligible projects, 20% of all rehabilitation costs.
New York State also provides state tax credits, which will pay for an additional 20% of the rehabilitation costs, up to $5,000,000, if the project is located in a low-income area. These are now currently available to projects that are awarded the federal credit. There are no additional application requirements.
A recent example, Evergreen Lofts in Buffalo generated 30% of its capital budget with historic tax credits, $2.8 million in federal and $1.9 million in state.
Siting a project in a historical building or site brings a whole new level of complexity to the rehabilitation process. It will become more costly and the development cycle will frequently take longer. A historic preservation project might help with siting issues, as there is often greater community buy-in if a significant site can be saved from the wrecking ball. The amenities of the project might be better than could be hoped for from new construction. A supportive housing project in an historical building can have symbolic resonance. For example: The YWCA of Niagara developed supportive housing for women and families, Carolyn's House, in a former nurse's residence that was part of Niagara University. This adaptive re-use continued the tradition of housing for women. More significantly, it led to links with the university that established university-run vocational services within Carolyn's House.
For More Information
See here.
New York State Historic Preservation Office
Peebles Island Resource Center
P.O. Box 189
Waterford, NY 12188-0189
(518) 237-8643
Fax: (518) 233-9049
Last updated: 09/30/2016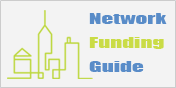 Did you know…
Supportive housing for youth aging out of foster care can generate a lifetime net savings of $90,000 in public sector money for every young adult.