Deutsche Bank Supportive Housing Acquisition and Rehabilitation Effort (DB SHARE)
Status
Closed
Type
Pre-development/Acquisition
Source
Private
Procurement Agency
Private
AKA/Previously Known As
DB SHARE
Total Annual Award
$1.25 million each year awarded to ten agencies for three years.
Tenant Eligibility Criteria
Formerly homeless individuals with special needs.
Eligible Applicants
New York City permanent supportive housing providers seeking funds for a number of uses including: site search and acquisition, design, environmental assessment, costs associated with adopting an energy efficiency design, development of community support strategies and service program methodologies, and project management.
2016 awards were made. The next RFP will be released in 2019.
Funding Award Details
In its first six funding cycles, Deutsche Bank Americas Foundation's SHARE program granted awards to 59 organizations developing and preserving over 7,000 supportive housing units. Awards are made available every three years. DB SHARE 7 was announced in the fall of 2016.
Amount Details
Each grant recipient receives a three-year award of $125,000 per year for a total of $375,000. The annual award amount consists of a $85,000 project-specific grant and a $40,000 recoverable grant to be repaid within three years of disbursement (the three loan installments must be repaid in years four, five and six, respectively.)
Term
Three years.
Network Notes
Applying organizations must have:
A history of sound financial management
Proof of New York State nonprofit and tax-exempt status
Its headquarters and proposed development located within the five boroughs of New York City
To submit a competitive application, Deutsche Bank recommends that the applicant have (or be close to obtaining) site control. Letters of interest should evidence resources such as land, funding and development partners that are committed in support of achieving plan objectives. Less experienced organizations are recommended to partner with well-established nonprofit or for-profit allies. Deutsche Bank asks that applicants highlight best practices, innovation and design quality.
For More Information
John Kimble
Vice President/ Philanthropic Initiatives
john.kimble@db.com
Last updated: 04/22/2018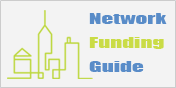 Did you know…
A program for formerly incarcerated individuals with mental illness found that those receiving supportive housing were 40% less likely to be re-arrested than those in a comparison group.