Cooperative Agreements to Benefit Homeless Individuals
Status
Archived
Type
Services
Source
Federal
Procurement Agency
US HHS
AKA/Previously Known As
In 2013, this grant was called Cooperative Agreements to End Homelessness. This program was funded through the Grants to Benefit Homeless Individuals account in the HHS/SAMHSA budget. It is now called the Cooperative Agreements to Benefit Homeless Individuals (CABHI).
Total Annual Award
$19,576,000 in 2016.
Tenant Eligibility Criteria
Homeless adults, families and children.
Eligible Applicants
States, Local Governments and Nonprofits and other organizations for mental health and substance abuse services including case management and housing.
Funding Award Details
2016 awards included 31 projects: 2 statewide awards, 11 local government awards and 18 agency/nonprofit awards. Two of the nonprofits are located in New York State.
Amount Details
Grants range up to $400,000 per year for nonprofits, and more for state and local governments.
Term
Up to three years.
Network Notes
Grants may be hard to renew or replace. They come with an expectation that they will be supplanted by mainstream resources (i.e. Medicaid).
Grants are often targeted to specific categories of homeless people. Chronically homeless, serial inebriates, veterans, and young adults have been the focus in past grant cycles. This is a growing funding stream that should take on increased significance with the advent of health care reform, making it more possible for services in supportive housing to be paid for via Medicaid. Substance Abuse and Mental Health Services Administration (SAMHSA) grants are widely regarded as one of the most complicated and time-consuming funding streams
For More Information
Read the grant application here.
Program
Maia Banks-Scheetz
Center for Mental Health Services
Substance Abuse and Mental Health Services Administration
5600 Fishers Lane
Room 14N38C
Rockville, Maryland 20857
(240) 276-1969
maia.banks-scheetz@samhsa.hhs.gov(link sends e-mail)
Grants Management and Budget Issues
Eileen Bermudez
Office of Financial Resources, Division of Grants Management
Substance Abuse and Mental Health Services Administration
1 Choke Cherry Road
Room 7-1091
Rockville, Maryland 20857
(240) 276-1412
FOACSAT@samhsa.hhs.gov
1 Choke Cherry Road Room 7-1095
Rockville, Maryland 20857
(240) 276-1653
love.foster-horton@samhsa.hhs.gov
Last updated: 09/30/2016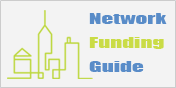 Did you know…
For every $1 spent on a Los Angeles supportive housing program, public and hospital costs were reduced by $2 in the first year and $6 in later years.