501(c)(3) Bond Financing Program
Status
Available
Type
Capital
Source
State
Procurement Agency
NYS HCR
Total Annual Award
Total awards are only limited by state bond volume cap.
Tenant Eligibility Criteria
Low-, moderate- and middle-income persons, including populations with special needs.
Eligible Applicants
This program makes the proceeds of 501(c)(3) tax-exempt bonds available to nonprofit organizations for the new construction, rehabilitation and preservation of affordable multifamily rental housing projects. Projects currently owned by a 501(c)(3) organization and financed by an entity other than HCR may be eligible for this financing.
Funding Award Details
This is a rolling application that may be layered with other subsidy.
Amount Details
Based on assessed value of property.
Term
15 years.
Network Notes
Cannot be blended with low-income housing tax credits. This funding stream can only work for certain not-for-profit projects that don't need the additional tax credit equity. As such, they are only useful for projects where the nonprofit agency wishes to keep sole ownership.
This resource may become the best answer for refinacing affordable housing tax credit projects that have reached the end of their initial 15-year term of affordability. It would allow the nonprofit partner to assume direct ownership over the project.
For More Information
See HCR's website.
Roger Harry
(212) 872-0506
Roger.Harry@nyshcr.org
Last updated: 09/26/2016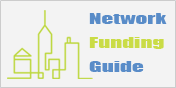 Did you know…
Homeless people given supportive housing saved NYS taxpayers an average of $10,100 per person per year.