Stephen Bates- Tenant of the Year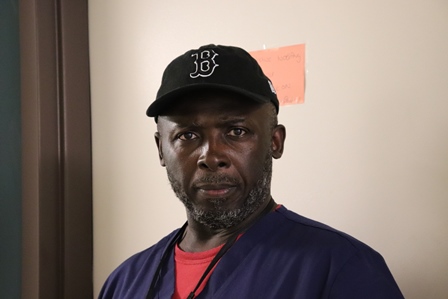 Everyone who knows Stephen Bates is moved to tears by his story. He struggled with undiagnosed psychiatric issues from a very young age, issues that manifested as severe behavioral problems including stealing and skipping school. One of seven children, he was too much for his single mother to handle and she sent him to a group home when he was 14. He ran away and continued to act out, burglarizing homes, doing drugs, and stealing from his family. His mother threw him out of the house and he became homeless. He landed in Spofford Juvenile Jail not long after, the beginning of what would be twenty-two years of imprisonment.
It was during those two decades that Stephen heard from his sister that their mother was gravely ill. Stephen was allowed to leave prison to visit her at the hospital. This visit, and his mother's passing a few days later, changed everything; Stephen "made a promise to my mother, to myself and to God" to turn his life around.
When Stephen was finally released, he was able to start making good on that promise, first seeking out psychiatric treatment from Manhattan Psychiatric Center and later moving into Odyssey House's Soundview Residence in 2014. Says Administrative Assistant and Entitlement Specialist Monica Tracey, "Odyssey House was truly blessed to have been graced with his presence…he is an amazing individual with a heart of gold."
Since moving to Soundview, Stephen has focused his life on giving back. He volunteers at the Presbyterian Church across the street, pays for food at community gatherings, makes goody bags for local children, acts as DJ at summer barbecues, helps keep up the residence garden, and uses his thirst for knowledge to help residents with advice on a range of issues. Says neighbor Vivian Jackson. "He's a good friend. If I feel upset or depressed sometimes, I go talk to him. And he does cookouts and we all meet to eat, dance and laugh. It's very special."
Not long after moving in, Stephen met the woman whom he has asked to marry him, Lynette Childs, who, showing off her engagement ring states simply: "He makes me the happiest person ever."
Insisting that he does not want to be a "taker," Stephen also got off SSI and holds down a job as a Home Health Aide. He is proud of his achievements, demonstrating how far he has grown from his younger days of hustling on the streets.
For overcoming a life of institutionalization, mental health challenges, and addiction, we are delighted to honor Stephen Bates as the 2018 Tenant of the Year.
Buddy Jones- Tenant of the Year
Buddy Jones' entire childhood and young adulthood were rife with physical, emotional, and sexual abuse at the hands of multiple family members.

Not surprisingly, fifty-year-old Buddy struggled through most of his life, grappling with his sense of self and battling substance abuse, self-harm, and other risky behaviors. He survived multiple suicide attempts, as well as institutionalization, rehab stints, more sexual assault, and homelessness. Buddy could not maintain stable housing and was in a state of perpetual crisis. He had to find a place of safety.

In 2013, things began to change once Buddy moved into Breaking Ground's Prince George, where services are provided by Center for Urban Community Services (CUCS). At first completely isolated, he gradually began attending meetings at New York City's LGBT Center. In 2015, he came out as transgender and worked with his case manager to obtain a legal name change. Feeling motivated, Buddy also enrolled in CUCS' Career Network Program, and now works at the Board of Elections every year. He also was able to land his dream job last summer—a seasonal shift at Mets Stadium, the home of his most beloved team.
During his time at the Prince George, Buddy has developed positive relationships with other tenants helping with errands and walking their dogs and has reconnected with old friends. Program Director Shaun Adams states, "Each year he's become more himself. He inspires each of us by his example of how to live an authentic life." Clinical Supervisor Muriel Radocchio reflects, "Buddy reminds us that feeling safe enough to take the risks associated with change is often the most important service supportive housing provides." Today, Buddy has maintained his sobriety for many years and has not engaged in self-harm since moving into the building. He takes great pride in his impeccably clean apartment, which he shares with his loving cat Miranda.
During the past year, Buddy was diagnosed with terminal cancer and started chemotherapy treatment. Unwilling to let the diagnosis slow his stride, Buddy is committed to his health and maintains his treatment with an upbeat outlook, inspiring tenants and staff with his resilience. CUCS Clinical supervisor Michael Embrey remarks, "His resilience is outstanding. He continues to show amazing growth and perseverance despite what life throws at him and has been facing new challenges with a smile on his face." For this, we are honored to recognize Buddy Jones as Tenant of the Year.