Milagros Bursey after accepting her Tenant of the Year award from Network Executive Director Laura Mascuch.
Milagros Bursey-YWCA of Rochester and Monroe County
"The beautiful part about this agency is that they don't turn anyone away."

The arc of Milagros Bursey's life is one of struggle, transition and spirit. In 1982, the YWCA of Rochester and Monroe County welcomed Milagros with open arms, supporting her for a year while she navigated an abusive marriage. The YWCA then helped her relocate to Chicago with her son, providing a path to safety. Settled and starting anew, she ran a home-based aid service business. After many years of success, she moved back to Rochester, only to suffer a massive stroke soon afterwards. Medically frail, without family or supports, she found herself in a homeless shelter. Remembering the love she found at the YWCA, she reconnected. And that's where she found permanent supportive housing to nurse both her body and her mind back to health.
Milagros took full advantage of the YWCA's support services, developing health goals, building a family network, and finding ways to give back to her community—the most important aspect of Mila's colorful life. Today, you might find Milagros planning an event, crafting, testing staff on their Spanish, or building strong peer support services. She is the resident advisor in her building, and she even delivered a baby in the lobby of the YWCA!
Mila's advocacy extends beyond the doors of her residence. She obtained her GED at age 59, conducts homeless street outreach, and volunteers at her church to build trauma-responsive communities. She shares her story to break down stigma and raise awareness. This past year, she convinced the YWCA's previous Board Chair to pledge $5000 towards a campaign to raise money for the agency, and the campaign soon grew to raise over $40,000 from the board—all to support the YWCA's supportive housing work.
Milagros' case manager has deep admiration for her, stating, "She has a spirit of giving which drives her to give back to her community and the women who have experienced trauma and housing instability. Milagros has taken her tragic situation of domestic violence and turned it into a story for others to give hope and be empowered."
Deemed an ambassador of supportive housing, Milagros Bursey embodies the possibility of survivorship as a tool for community impact. Recovery, transformation and empowerment are her story, and we are honored to name Mila the 2017 Tenant of the Year.

Robert Offley giving his Tenant of the Year award acceptance speech.
Robert Offley- Urban Pathways
Robert Offley's life has been far from easy: born and raised by his mother in the Bronx, he experienced addiction, mental health battles and street homelessness for more than twenty years before finally obtaining housing with Urban Pathways in 2016.
Robert was introduced to alcohol at age 14 and drugs at 16. Substance use changed the trajectory of his life. By 23, Robert was married with three children and was on a destructive path of hard drugs. He worked in shipping for ten years and as a porter for seven, but he was fired due to substance use and eventually arrested for possession. Robert spent one year in jail and was diagnosed with manic depression. Upon release, Robert was homeless and stayed in Madison Square Park for over ten years.
Things began to look up slightly when Robert finally secured an apartment of his own. But he was forced to give it up to care for a sick relative for five years, followed by doing the same for his father until his passing. After losing each family member, Robert returned to the familiar benches of the park.
One day, Robert suffered an aneurysm in his sleep. Following hospitalization, he decided to finally engage with Urban Pathways' outreach team. After two months, Robert received permanent supportive housing near Yankee Stadium in his home-borough—the Bronx.
That is when Robert's life turned around. He became an active participant in his building and in client advocacy groups, beloved by residents and staff alike. Robert unfailingly visits his mother in the Bronx and enjoys spending quality time with his grandchildren.
But Robert does not forget his chosen family—he travels to Madison Square Park to see his friends regularly and to advocate for those who are sick and unable to care for themselves. His story inspires his peers. Thanks to Robert, some of his friends are also on their way to gaining permanent housing.
Supportive housing has allowed Robert the space to actively engage with his community and build a healthy life for himself. He wakes up each morning with a purpose, he has found himself, and he brightens every room with his contagious smile. A pillar of hope and perseverance, we are delighted to honor Robert Offley as the 2017 Tenant of the Year.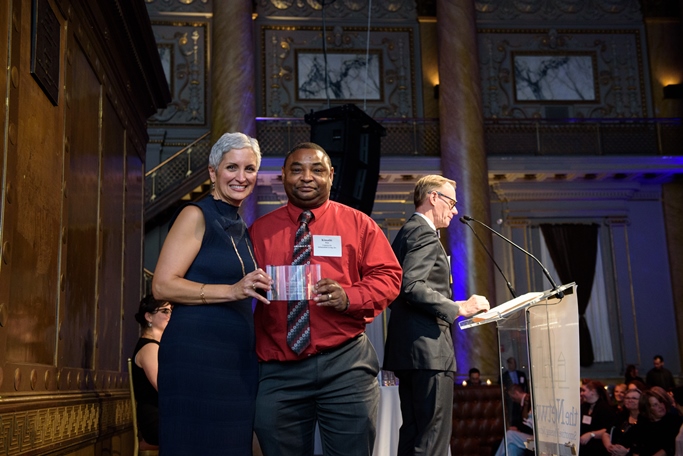 Kimathi Witt with Network Executive Director Laura Mascuch.
Kimathi Witt- Concern for Independent Living
Kimathi Witt is a remarkable tenant, a successful student, an entrepreneur, a devoted parent and loving husband. But his journey has been filled with obstacles.
Kimathi had been both physically and emotionally abused as a child, as well as isolated racially: his parents moved from the Bronx to Holbrook, Long Island when he was six, where he was one of the only children of color. Struggling with what was then undiagnosed manic depression, he attempted suicide at seven. In his teens, he turned to drugs and alcohol to self-medicate; by his mid-twenties, he was cycling between homelessness, jails and psychiatric institutions. During that time, Kimathi met and married his first wife, who, also homeless and addicted, committed suicide not long after, leading to multiple suicide attempts by Kimathi.
Kimathi then re-connected to his high school sweetheart from Long Island and they had a son. But Kimathi was still using and still homeless. It wasn't until his girlfriend brought their four-year old son to visit him and the boy did not recognize him that, as Kimathi says "something broke inside." That is when he started fighting for his sobriety.
Kimathi found a program that referred him to Concern for Independent Living. And that is when Kimathi's life started taking a dramatic turn for the best. With the support of Concern, Kimathi reunited with his son, married his girlfriend, and, again with Concern's assistance, moved into an apartment where they could live as a family.
That's not all: Since moving in with Concern, Kimathi has completed one Master's Degree and is actively working to complete his second. He was inducted into the Phi Theta Kappa Honor Society. He has started his own photography/videography business and one of his clients is Concern.
Kimathi is also a supportive husband and father: his son had been diagnosed as being on the autism spectrum, but Kimathi both helped him get the extra support he needed in school and encouraged him to participate in school activities and sports. His son is now excelling, is no longer in resource classes, and is achieving honor roll grades.
Kimathi willingly notes that supportive housing saved his life. An inspiration to tenants and staff, Kimathi is celebrated for his determination, growth and personal development, in the face of extraordinary barriers. We are delighted to showcase Kimathi's strength as the Network's 2017 Tenant of the Year.