Shannon Landy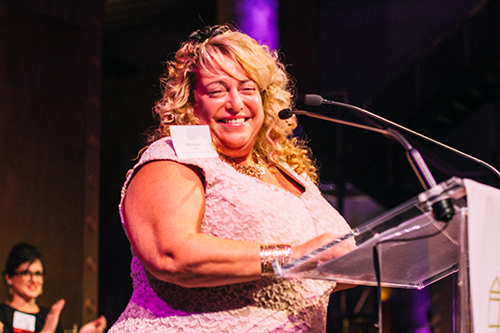 Shannon Landy
Peers lovingly refer to 53-year-old Shannon Landy as "Bubblez"—an apt nick-name for the resident extro-vert. But Shan-non's cheerful reputation and unrelenting humor may come as a surprise considering her story of incomprehensible trauma.
A child of Maryland, Shannon has dealt with undiagnosed bipolar disorder and PTSD from a lifetime of victimization, including uncountable physical and sexual assaults and unrelenting years of domestic violence. As a means of coping, she started self-medicating with crack at the age of 27. Two years later she got clean, but she relapsed after her father died in her arms.
Shannon purchased a dream home in Seabrook, Maryland but became involved with a man who physically and psychologically abused her for years; she eventually saw no option but to sign over the deed, and she fled to California. There she was again sexually assaulted, this time at the hands of the police. She attempted suicide soon after, and her treatment team suggested she move back to her family on the East Coast. There, she was hospitalized again.
For the next two years, Shannon was homeless, battling addiction and in and out of psychiatric hospitals – more than twenty times, in fact.
Finally, in 2001, she became a tenant at Community Access' Gouverneur Court and things started to change. In 2005, she fell in love with her current life partner, fellow resident Kenny, and they together vowed to get clean. Community Access staff helped her with her addic-tion, and to this day she is drug-free. In 2008, following the heartbreaking death of her mother in a fire that decimated her childhood home, an affirming Commu-nity Access team provided support and tools for her to grieve. In 2010, Shan-non began full time work at the Social Security Administration and also, with the support of staff, enrolled in John Jay College. In 2015, she not only graduat-ed with a Master's degree but received a Graduate Achievement Award for her 163-page thesis: a research project on domestic violence and addiction among women on the Lower East Side.
Shannon has channeled her experiences of trauma into a fierce voice for social change. Today, you might see Shannon advocating for tenants at Gouverneur Court, presenting at conferences on domestic violence, or at events such as the Disability Pride Walk or the Phila-delphia Mental Health Rally. She is also a Credentialed Alcohol and Substance Abuse Counselor.
Shannon uses her story as a catalyst for community empowerment, vocally advocating for overdose prevention and housing for survivors of domestic violence. We are thrilled to honor her bravery and accomplishments as an 2016 Outstanding Tenant of the Year.
Shatiera Freeman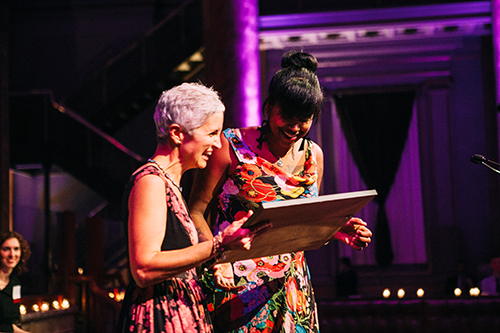 Laura Mascuch and Shatiera Freeman
Although only 24, Shatiera Freeman has already survived a great deal, including abandonment, depression, exploitation and heart-breaking loss. But through her resiliency, intelligence, resourcefulness and humor, she has grown into a leader among her peers and a role model for young people, especially those coming from the foster care system.
Shatiera was placed into foster care as an infant and was adopted at age 4. She formed a wonderful relationship with her adoptive mother and they remained close until her mother passed away when Shatiera was 15. That is when things became rough. She was left battling depression and placed back into foster care. Over the course of the next eight years, she moved over sixteen times, bouncing among place-ments, a stint in college in Virginia and finally back to New York.
Back in New York, Shatiera reconnected with The Door, where she had origi-nally sought services at their Runaway and Homeless Youth Program when she was 15. That connection has made all the difference: she has taken advantage of nearly every youth development service offered. She has become deeply involved in the organization's Peers Against Unsafe Sex (PAUS) program, training and being hired as a Peer Educator at the Adolescent Health Center. There, she is advancing her skills as an advocate and using her talents as an artist as she creates a wide array of marketing materials to better reach the middle and high schoolers and com-munity groups with whom she works, stating, "Even in health you need pamphlets, cartoons, all sorts of ways to make people feel comfortable."
The Door also supported Shatiera through her application and acceptance into Breaking Ground's The Lee residence fifteen months ago, where she has truly come into her own, becoming a role model to the other young tenants who have transitioned out of foster care. Shatiera says The Lee is the first place where she feels people truly and honestly are on her side, crediting staff with inspiring her to be her best self. When asked how she wants people to remember her, she hopes they'll say, "Shatiera had it hard, but always made it through in the best possible way that she could. She didn't always know how, but sheesh, she did it!" And she feels good to know that about herself.
The Network is proud to honor Shatiera's resilience and looks forward to her future accomplishments as this year's 2016 Outstanding Tenant of the Year.