Tim O'Hanlon Unsung Hero of the Year Award
Robert Myers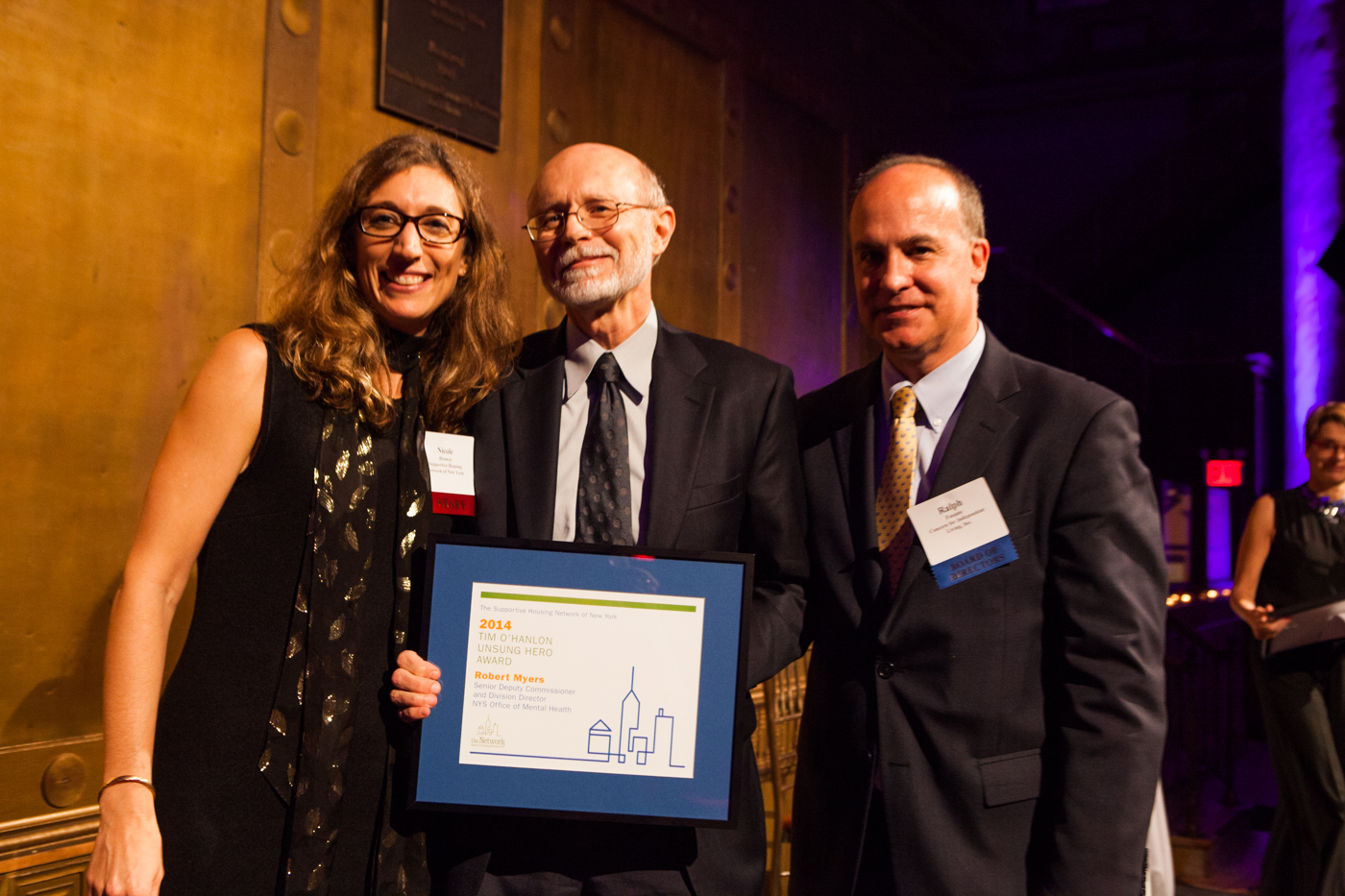 Bob Myers accepts his 2014 Tim O'Hanlon Unsung Hero of the Year Award. (Left to right: Nicole Branca, Bob Myers, Ralph Fasano).
The embodiment of an unsung hero, Bob Myers has been quietly impacting the way New York helps people with behavioral health challenges his entire working career. In his leadership role at the New York State Office of Mental Health (OMH), Dr. Myers has played a critical role in the proliferation of supportive housing as the best possible means of helping individuals with psychiatric disabilities lead fulfilling lives in the community. His accomplishments are historically significant and have improved the lives of thousands of vulnerable New Yorkers.
Dr. Myers has always focused not on what we were required to do but what should do for people with behavioral health challenges: John Warren of Central New York Services saw Dr. Myers asking "How can we create environments where they can conduct their daily lives in a manner no different from anyone else's?"
Dr. Myers' distinguished career includes implementing both the first and second New York/New York Agreements as well as acting as lead negotiator for implementation of NY/NY III. He was the OMH Housing Director from 1984-1990, and under his guidance, OMH's housing portfolio increased from 6,000 units in 1984 to 38,000 units today. Dr. Myers also formed collaborative relationships with other state and NYC housing agencies to develop an innovative form of integrated housing projects that include people with disabilities in mainstream affordable housing.
"Bob saw that the support for the construction of housing would change, and worked on marrying affordable housing with housing for people with mental illness – we have that hybrid today, and it's still developing," noted John Warren.
Mark Fuller of DePaul calls Dr. Myers "A visionary whose efforts have made quality housing more widely available. Bob is always at the forefront in the development and financing of innovative, integrated housing options that meet current needs."
Dr. Myers' responsibilities include policy and planning for adult mental health services in 57 counties and New York City and oversight of fifteen psychiatric centers. His recent focus has been on integrating housing providers into Health Homes and managed care implementation. Dr. Myers has lead responsibility to develop a home and community based Medicaid waiver which will provide Medicaid funding for services related to supportive housing.
Says Toni Lasicki of ACL, "Bob has been in the center of every major OMH housing initiative for people with psychiatric illnesses since 1980. He is doing it again in the context of managed care, home and community based services."
For his unwavering dedication to finding solutions for the most vulnerable New Yorkers, the Network is delighted to make Dr. Robert W. Myers the third recipient of The Tim O'Hanlon Unsung Hero of the Year Award.

Join Our Email List


for News and Updates
Did you know…
Tenants at a supportive housing program in Massachusetts reduced their annual Medicaid expenses from $26,124 before housing to $8,500 after housing.