Showing Posts by Category: Federal
03.25.2014
With an Executive Budget proposed by President Obama earlier this month, our attention has now turned to the House and Senate budgets for the 2015 fiscal year. Several "Dear Colleague" letters are now in circulation to support funding increases for key programs that impact the supportive housing world. We urge you to call your elected officials and call on them to sign on in support. For a rundown of key programs within the US Department Housing and Urban Development (HUD), see below.
McKinney-Vento Homeless Assistance
Rep. Gwen Moore is leading a sign-on letter for her colleagues in the House of Representatives in support of the President's request of $2.405 billion in funding for HUD's McKinney-Vento Homeless Assistance Grants in FY 2015. The deadline for representatives to join the letter is April 4. Members of the House can sign on to the letter by contacting Sean Gard of Rep. Moore's office.
Similarly, Sen. Jack Reed is circulating a sign-on letter in the Senate in support of funding for McKinney programs in FY 2015. The deadline for senators to sign on to the letter is April 1. Members of the Senate can join by contacting James Ahn in Senator Reed's office.
Housing Choice Vouchers
New York Rep. Jerold Nadler's Dear Colleague letter supports increased funding for Housing Choice Vouchers. In order to restore all lost Housing Choice Vouchers (HCV) due to sequestration, HUD needs an additional $320 million above the President's budget request. The deadline for the letter is March 31. The contact in Rep. Nadler's office is Melissa Connolly.
Continue Reading …
|
Federal
---
03.05.2014
President Obama released his budget for the 2015 fiscal year yesterday, and it includes a 2.6% total increase for the US Department of Housing and Urban Development (HUD). The budget, if passed, would begin to undo the damage caused to HUD programs by sequestration.
A key highlight from this budget is a 14% increase to the McKinney-Vento Homeless Assistance Grant program. This increase would bring the program to over $2.4 billion, allowing it to fund all grant renewals and some new projects. HUD Secretary Shaun Donovan recently acknowledged that the difficult budgets of the past two years have prevented HUD from achieving its goal of ending chronic homelessness by 2015, but he has renewed the commitment to achieve that goal by the end of 2016.
Rental assistance programs also fair well in the executive budget. New vouchers for veterans, seniors and people with disabilities are included, along with full funding for the Section 8 programs. Proposed funding for Project Based Section 8 vouchers would see a decrease, but this is due a welcomed move to fund the program on a calendar year basis. As a result, next year the program would require a substantial lift to annualize this change. Stabilizing this fund will do much to improve investor confidence in Project Based-funded supportive housing.
See the below table for a breakdown of the key HUD programs in the executive budget:
Continue Reading …
|
Federal
---
02.03.2014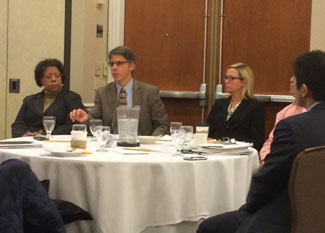 The Network participated in a kick-off planning meeting last month for the Housing Is Healthcare Coalition, a new nationwide campaign to fund supportive housing programs using federal Medicaid funding. This advocacy effort aims to convince federal policymakers of the fiscal and quality-of-life benefits of supportive housing for individuals who are high-cost Medicaid users. As members of the supportive housing community have long argued, housing and support services can have tremendous health benefits for formerly homeless individuals and other vulnerable populations. Studies have shown that supportive housing can lead to fewer emergency room visits, fewer nights at the hospital and greater overall health for people living with HIV/AIDS and other medically frail homeless individuals.
Four strategies emerged from last month's meeting to persuade lawmakers to recognize the healthcare benefits of housing. These strategies include:
Explore the possibility of applying for Medicaid waivers (either 1915i or 1115) with special benefits for homeless people with chronic conditions. This plan would include cost-reduction incentives that could be met through housing.
Explore other bundling and funding mechanisms to harness Medicaid to address the housing needs of vulnerable populations.
Bring together a caucus of Medicaid directors from across the country to discuss opportunities in this arena.
Explore legislative fixes to facilitate the use of Medicaid for supportive housing.
Continue Reading …
|
Federal
---
01.14.2014
After months of behind-the-scenes negotiations, the US House and Senate Appropriations Committees yesterday released their budget for the 2014 federal fiscal year.
This budget provides significant relief to US Department of Housing and Urban Development (HUD) programs from the harmful effects of sequestration cuts. McKinney-Vento Homeless Assistance funding rose by 9%, which should minimize cuts to existing programs in next year's Continuum of Care competition. This increase will have no impact on the 5% of programs that are on the chopping block in the current round of funding, however.
Both tenant-based and project-based rental assistance (Section 8) were increased in this budget. These programs, thankfully, will be funded above pre-sequester levels. The budget aims to avoid having any current tenant lose an existing voucher.
This is a substantial improvement over the sequestration budget levels. Overall, however, the budget remains a tight one. It will probably take a couple of months before New York State, the City and other localities know the exact program funding levels they will receive from HUD.
Continue Reading …
|
Funding
,
Federal
---
12.05.2013
The U.S. Department of Housing and Urban Development (HUD) has opened the competition for Continuum of Care (CoC) funding for the 2013 and 2014 fiscal years. New York State's 25 CoCs must each submit a comprehensive application by February 3, 2014. Providers must submit their project applications in e-snaps at least 30 days prior to this. You can read the HUD Notice of Funding Availability (NOFA) here.
Unlike previous applications, the recently-released community application spans two years: FY 2013 and 2014. This move will allow HUD to get its application process back on track and hopefully avoid cutting funding for renewal projects, as is happening in this round. It is also a strong indication that there will likely be no new funding to address homelessness for the foreseeable future.
This application includes a number of other noteworthy changes from prior years. Chief among them is the stipulation that the only way to create a new project is through reallocation of existing funding. This is due to sequestration, which has eliminated any funding for bonus projects this year. HUD further stipulated that new (reallocated) project funding can only be used for supportive housing for people who are chronically homeless or rapid rehousing for families.
HUD has also required CoCs to create two tiers of projects -- the second tier being the list of projects that will likely get defunded due to sequestration. Like other HUD programs, CoCs are being told to plan for a 5% reduction in funding. In New York City alone, that is a loss of nearly $6 million, affecting housing and services for over 1,200 homeless individuals and families.
Other noteworthy changes in the NOFA include:
Continue Reading …
|
New York State
,
New York City
,
Federal
---
11.20.2013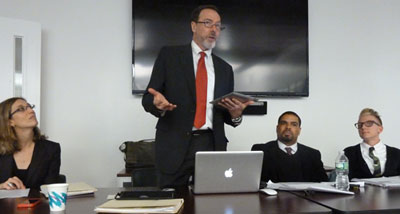 A new report on youth homelessness offers insights on the plight of young adults living on the street in New York City.
Yesterday, the New York City Coalition on the Continuum of Care (NYC CCoC) released a report on the results of a 2013 survey of unaccompanied NYC homeless youth. The report synthesizes the results of a 27-question survey administered to homeless young adults on the night of January 28, 2013.
Among its startling findings, A Count of Unaccompanied Homeless Youths in New York City reveals that the median duration of homelessness for these young adults is 730 days, or roughly two years. You can read the entire report here. For a quick summary of its findings, see this handout.
The report was commissioned by the CCoC's Youth Committee, a body co-chaired by the Network and the Ali Forney Center. The report reveals a number of distressing traits about those surveyed:
40% indentified as either gay, lesbian, bisexual or transgendered.
90% were either black or Latino.
66% left their homes before the age of 18.
25% were pregnant or parenting.
53% have had contact with the criminal justice system.
34% cited physical, mental or sexual abuse as a reason for becoming homeless.
Only 47% have a high school diploma, despite the average respondent being 21 years old.
Continue Reading …
|
New York City
,
Federal
---
10.01.2013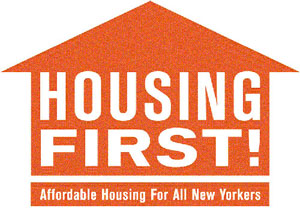 The co-chairs of the Housing First! coalition published an op-ed in today's Gotham Gazette on the need for federal action to spur affordable housing development.
In the piece, Network Executive Director Ted Houghton and Network Board Member Todd Gomez argue that affordable housing programs should have bipartisan appeal in Washington, DC. These programs help drive the economy, create housing for low-income Americans and reduce the amount of money spent on costly public services such as emergency care.
The writers urge Congress to enact three specific measures before the end of this year:
"1) Exempt HUD homeless and housing programs from the sequester and further cuts, 2) Protect LIHTC and tax-exempt bonds in tax reform, and legislate minimum and permanent fixed LIHTC rates, and 3) Provide government guarantees for low-income rental housing in GSE reform, including a dedicated revenue source for the National Housing Trust Fund."
We strongly support the arguments made here by our Executive Director and Board Member. We urge you to read the article and share it with those you know.
|
Federal
,
Press
---
09.26.2013
Over the past few months, the Network has fought to highlight the often-ignored effects of budget sequestration on low-income individuals and housing programs. In the below interview, we speak with Jim Dill, Executive Director of Housing & Services, Inc. (HSI), a supportive housing provider in New York City. Jim tells us about sequestration and its continued effects on HSI's supportive housing residences and the vulnerable tenants they house. He speaks in particular about two residences: The Kenmore and The Cecil. To learn more about sequestration's impact on the poor and formerly homeless, see our Sequestration Stories page.
The Network: Kenmore Hall provides housing and services to 325 of New York's most vulnerable citizens. How has sequestration impacted the well-being of the residence and its tenants?
Jim Dill: The Kenmore currently has seven vacant apartments attributable to sequestration. The sequester has led to a freeze on new tenant-based Section 8 vouchers. We are scrambling now to see if we can fill these empty units with another referral source. This is proving quite difficult, because tenants at Kenmore must meet HUD's criteria for homelessness and have a rent subsidy. In the meantime, seven perfectly good apartments at the Kenmore remain vacant. Housing and services at this residence costs roughly $14,000 per year. That's cheaper than any of the alternatives for New York's most vulnerable: shelters, jails, hospitals, rehab, etc. It costs about $28,000 a year, for example, to house a single adult in a DHS shelter. That's a $14,000 difference per person. With these seven vacancies, we could save the city at least $98,000 a year. Instead, because of sequestration, the apartments are just sitting there.
Has sequestration jeopardized the building's day-to-day operations?
Yes. In accordance with our regulatory agreements, our tenants must have very low incomes and their rent is restricted to 30% of whatever they make. In the past, any rent increases would be funded through Section 8. Sequestration has frozen such rent increases.
Continue Reading …
|
New York City
,
Federal
,
Member News
---
09.10.2013
Robert Carrion was ready to move on. A military veteran living in the Bronx, Robert had plans to relocate to Orlando with his girlfriend. He secured a Section 8 voucher and visited Florida to find an affordable apartment. He found an ideal spot and began preparations for his big move.
It was then he got the call. Robert's Section 8 voucher had been frozen. He held the phone, dumbfounded.
"I just thought, 'What happened?'" Robert says. "That's when I found out about sequestration."
All across the country, sequestration has quietly affected the lives of low-income individuals like Robert. A result of the 2011 Budget Control Act, sequestration has forced the U.S. Department of Housing and Urban Development (HUD) to freeze the issuance of Section 8 vouchers.
For Robert, sequestration has cost him an apartment, his new life in Florida and, sadly, even his relationship. Taxpayers, meanwhile, will lose out as well. Robert must now remain at Fordham Village, a supportive housing residence for veterans run by the nonprofit Jericho Project. The final blow: Another homeless veteran, one who could have moved into Robert's apartment at Fordham Village and stabilized his life enough to move on, will remain homeless as a result of sequestration.
Continue Reading …
|
New York City
,
Federal
---
08.28.2013
Public housing authorities (PHAs) across the country are feeling the dire effects of sequestration. With budgets sharply curtailed as a result of the 2011 Budget Control Act, housing authorities have had to freeze the issuance of Section 8 vouchers for low-income individuals and families. Media outlets have begun to cover this crisis, as illustrated by these recent articles on sequestration's effects in Vermont and Jacksonville.
To add to the current wealth of dismal data, we've just received some startling numbers from the Municipal Housing Authority for the City of Yonkers. The Yonkers PHA recently un-froze its Section 8 wait-list and received a staggering 11,000 applications in just a single week.
In an average year, 100 Section 8 households open up due to turnover in Yonkers. It'd thus take 110 years to work through the wait-list generated in seven days. In short, the demand for this housing wildly exceeds the current supply.
Sequestration has made this dire situation worse. The 5.1% sequestration effectively defunded 230 Section 8 vouchers in Yonkers. That's a little more than 5% of the city's total. The PHA is removing these vouchers by attrition. As a result, Yonkers will have NO Section 8 lease-ups for at least the next several years.
Continue Reading …
|
Federal
---