05.09.2016
The proposal would finance approximately 400,000 additional units of affordable housing nationwide.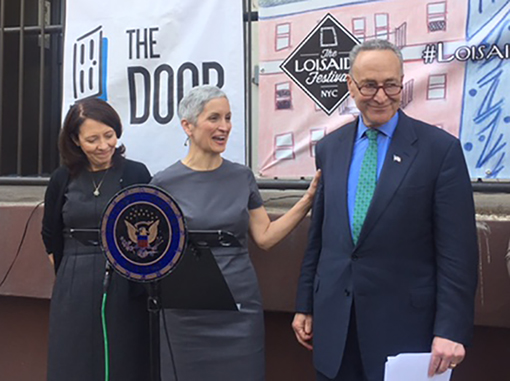 Senator Maria Cantwell, the Network's Laura Mascuch, Senator Charles Schumer at The Door.
On April 22nd, Senators Charles E. Schumer (D-NY) and Maria Cantwell (D-WA) gathered together with the supportive housing community, government officials and advocates to urge Congress to expand the Low-Income Housing Tax Credit (LIHTC) using The Door's and Phipps Houses' East 9th Street residence as a backdrop.
Cantwell and Schumer are calling for a 50% expansion of the LIHTC, and reforms that target the lowest income populations. The LIHTC has financed nearly three million homes across the United States, since its creation three decades ago, including over 122,000 units in New York City alone. The proposal would finance approximately 400,000 additional units of affordable housing nationwide over the next decade, including an additional 14,000 in New York state.
"Access to affordable housing is essential for the health of our families and the economic strength of our communities and that's why expanding the LIHTC is so important," said Senator Schumer. "With thousands of homeless and housing-needy people in New York City alone, we need to do all we can to provide families and children with safe and affordable housing options."
Senator Cantwell continued, "Like Washington State, New York and our nation as a whole face serious challenges when it comes to affordable housing and homelessness. The LIHTC is a critical tool that communities across the nation can use to address these issues. The project that we are visiting today is a perfect example of how housing tax credits can bring together federal, state, local, nonprofit and investors to solve one of our most pressing problems."
The Network's Executive Director, Laura Mascuch, thanked both Senators for their leadership and said, "Senator Cantwell's proposal could not have come at a better time. Both New York state and New York City are actively engaged in unprecedented efforts to develop supportive housing. New York City is committed to 15,000 units of supportive housing and New York state is finalizing its plan to produce 20,000 units. Having more Low Income Housing Tax Credits in one of the most competitive housing markets will leverage the massive private investment that we need."
Other speakers included: Jamie Rubin, Commissioner of NYS Homes and Community Renewal; Julie Shapiro, Executive Director, The Door; Gary Rodney, President of The New York City Housing Development Corporation; Jolie Milstein, president & CEO of the New York State Association for Affordable Housing (NYSAFAH); Rachel Fee, Executive Director of the New York Housing Conference; and Judi Kende, Vice President and New York Market Leader, Enterprise Community Partners, Inc.
East 9th Street provides supportive housing to a mix of formerly homeless young families and young adults struggling with mental illness. LIHTC is an integral part of this development's financing.
Schumer and Cantwell also released a report titled, "Addressing the Challenges of Affordable Housing & Homelessness: The Housing Tax Credit," which found that across the country there are 3.9 million extremely low-income families. According to the Urban Institute, in New York State there are 871,841 extremely low-income households competing for 269,115 affordable housing units. Since its creation in 1986, the LIHTC has helped develop or preserve over 170,290 homes in New York, providing affordable housing to 395,610 households in New York and generating over $18 billion in local income.