Categories: Network Events
12.11.2017
An inspirational group of supportive housing tenants!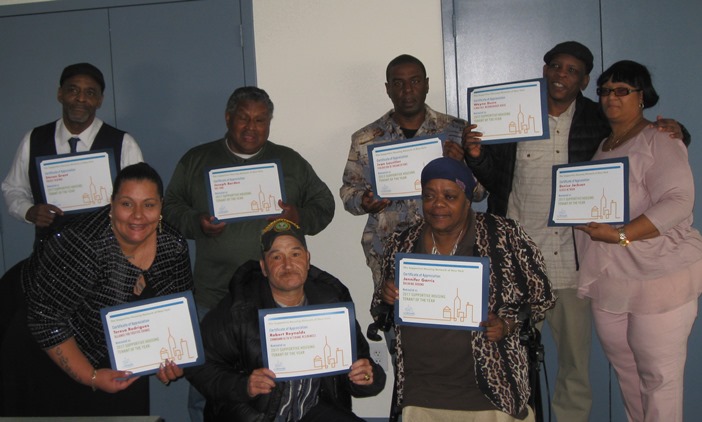 2017 Network Awards Gala Tenant of the Year Nominees.
Every year, the Network honors remarkable tenants at the Annual Awards Gala for their leadership and growth in supportive housing. Nominations this year were abundant and inspirational, so we decided to bring all tenant nominees together to share their stories, bond with other tenants and staff, and receive honorary certificates as a group. On November 30, supportive housing tenants came together at Fortune Society's Castle Gardens Residence for a celebratory breakfast. Together, we shared a meal, laughed, and connected across experiences in a truly meaningful gathering. Here are some of the conversations held throughout the event.

After decades of drinking, Joseph Borden (The Doe Fund) announced that he is proud to be sober for almost a year, despite all the challenges thrown his way. Joseph spoke with animation about his appreciation for supportive housing, grateful for how far he has come. He advocated for more scattered site residential groups, and adores and respects his case manager, Yolanda Jones, who was at his side throughout the event.
Wayne Dunn (Lennox Hill Neighborhood House) quit smoking this year with his program's smoking cessation class! He also works every week to plan, prepare, and serve community meals in his building. He also advocated for and attended Casa Mutua's Overdose Prevention Training for staff and tenants. He spoke with great enthusiasm for supportive housing, and is known as a strong and kind leader in his community.
Jennifer Garris (Breaking Ground/CUCS) spoke from the heart about the devastating impact of her husband's death, which led to her battle with alcohol, homelessness, and depression. She loves The Schermerhorn's Tai Chi and jewelry-making classes, and she makes her way down from the 11th floor of the building every Sunday to cheerfully wish all residents well and check in on her neighbors. "God is not done with me yet," she explains. Ms. Garris is a true inspiration amongst tenants and staff.

Denise Jackson (Institute for Puerto Rican/Hispanic Elderly) bravely shared the traumatic story of witnessing her mother's murder, subsequent responsibilities as the family's "Cinderella," and eventual drug use and suicide attempts. Today, she is a mother of five, grandmother of 24, and has a great-grandchild on the way. She gives back to her community and has committed to sobriety and wellness in honor of her mother. She is known as one of the most active, beloved, motivating and respected tenants in her building, and had comforting words of support and love for everyone present.

Ivan Lassitier (Federation of Organizations) has shared, "In five years, I see myself living on my own, married, and holding down a good job. You have to stay positive. There are going to be obstacles ahead but you have to get up and dust yourself off. Keep doing the things that are right." Ivan attends Mosque every Friday and continues to connect with friends and family members. He is grateful for the structure of supportive housing, which has assisted him in the process of living fully to better thrive.

Jamicka Martin (Guidance Center of Westchester) shared her struggles with addiction and poignant reflections on how it impacted her child. She has now graduated with her Associates Degree in Applied Science and Chemical Dependency Counseling, and she is a certified Substance Abuse Counselor. She passionately spoke about how her journey has led her to help others, as her life's work is to support people struggling to find a power higher than their addiction. Jamicka spoke with confidence and love about her advocacy and her calling to give back.

Tina Miller (Services for the UnderServed) has lived in her residence since 2009, and praised every part of the journey! She proudly stated that she will stay there with her two children until she has saved enough money to buy a house, and she is actively pursuing her nursing degree at Bronx Community College, soon to enroll in Hunter College. A doting mother who has maintained her sobriety, Tina encouraged other tenants at the breakfast to network amongst peers, as that has been her pathway to positive changes in her life and her community.

Robert Reynolds was stationed in the Army years ago in Germany, and he shared the story of his recent return to what used to be the Army base and is now a high school. Robert spoke to the German school's graduating class! He has reconnected with his daughter in Germany after 32 years, and is eagerly anticipating his next visit to see her and his two grandchildren this spring. Robert entered and left the event smiling from ear to ear.
Teresa Rodriguez (Alliance for Positive Change) spoke openly about her years of drug addiction and the impact it had on her life, including a prison sentence. She is now sober and an advocate for other tenants and her community—she helps new residents get settled in with Housewarming Kits and runs weekly arts-and-crafts groups and movie groups. Teresa's work has recently been featured in the newspaper and on the local news, discussing the work she does for supportive housing! She connected with other tenants at the breakfast, expressing love, support and hope for others.

Alongside tenants, it was also wonderful to meet the dedicated staff who work with tenants daily and continue to help tenants create new pathways forward in supportive housing. CUCS Case Manager Phylisha Peters-Howard provided information about the innovative emotional healing group she is co-developing with tenants, utilizing relationships and trauma-informed tools to address painful emotional experiences, with an emphasis on tenant-driven curriculum development. Phylisha also spoke at length with Network staff about strategies to address diversity in spirituality and religious faith in tenants' recovery processes.
Network Executive Director Laura Mascuch addressed the group, thanking them for their strength and leadership, and providing the group with a brief history of supportive housing in New York. It was humbling and inspiring to hear from such amazing tenants and to honor their journeys—the Network will absolutely be holding a tenant breakfast in the years to come.