Categories:
12.20.2017
Network convenes Financing a Tax Credit Deal workshop.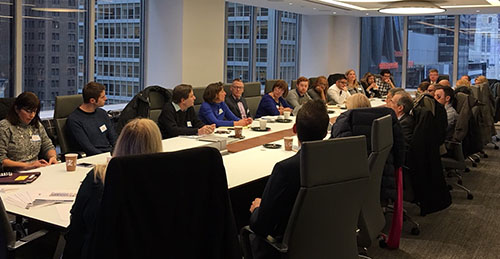 On December 12th, the Network convened a workshop on nonprofit housing development. Twenty-four of our nonprofit members from New York City, Long Island, and downstate participated in the workshop titled: Financing a Tax Credit Deal, presented by Amy Larovere, President of A. Larovere Consulting, and Network Board member Oliver Chase, Partner at Hirschen Singer & Epstein LLP. Attendees learned about available financing options, the basics of Low Income Housing Tax Credit development, and the costs, risks and rewards of tax credit projects.
Participants, including both nonprofits testing the waters of development and nonprofits who have not developed supportive housing recently, gained a deeper comprehension of development financing mechanics and how they should approach structuring a development deal. Presenters emphasized the importance of assembling a strong development team and ensuring the proposed development fits the needs of a community. Participants discussed adapting existing sites to accommodate development and communicating with communities throughout the development process. The Network looks forward to hosting more events as part of our Capacity Building Initiative for nonprofits as we strive to meet the development goals of the Empire State Supportive Housing Initiative (ESSHI) and the NYC 15/15 program.
We are very grateful to CohnReznick for hosting this event in their offices and to our terrific presenters.