Categories: New York City, Member News, Openings
10.11.2013
53-unit residence offers supportive and low-income housing in Flatbush, Brooklyn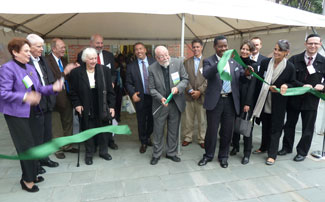 A capacity crowd gathered yesterday to celebrate the grand opening of CAMBA's newest supportive housing residence.
97 Crooke Avenue, also known as the Reverend Dan Ramm Residence, brings 53 units of supportive and low-income housing to the Brooklyn neighborhood of Flatbush. This $15.3 million development now houses a mix of formerly homeless adults who suffer from mental illness and low-income individuals from the community.
Yesterday's festivities were distinctive and unique in several ways. Before entering the nine-story residence, attendees noshed on high-quality, organic donuts from a food truck parked just outside the residence.
Once inside, the roughly 100 guests heard the story of 97 Crooke Ave., a residence that brought many disparate partners together in the name of providing housing and support services to formerly homeless and low-income New Yorkers.
Joanne Oplustil, CAMBA President/CEO and a Network Board Member, introduced each of the day's guest speakers. NYS Rep. Rhoda Jacobs was the first to take the podium to congratulate and praise CAMBA.
"We know that decent, affordable housing is less costly to society than shelters, and yet we struggle for resources," said Rep. Jacobs. "Fortunately, we have a warrior in Joanne."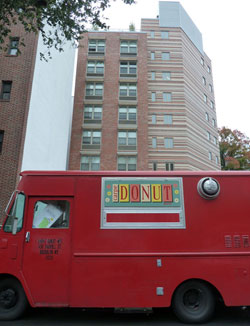 Ms. Oplustil then introduced NYC Council Member Mathieu Eugene, whom she dubbed the "Haitian Sensation" of the City Council.
"Housing is one of the biggest issues in the community right now," Council Member Eugene said. "It's our responsibility in government to support projects like this."
The event culminated with an address from Reverend Dan Ramm, a Pastor at Flatbush Reformed Church and the Secretary/Treasurer of CAMBA's Board of Directors. 97 Crooke Ave. was named after Rev. Ramm, who also received framed awards and plaques from Rep. Jacobs, CAMBA and the office of Brooklyn Borough President Marty Markowitz.
"It's called the 'Dan Ramm Residence', and I'm not even dead yet," he joked to the crowd, which included a number of attendees from his church.
Other speakers at the event included representatives from CSH, Enterprise Community Partners and HSBC Bank.
97 Crooke Ave. received development financing from the NYC Department of Housing Preservation and Development (HPD)'s Supportive Housing Loan Program (SHLP). It received additional funding from the U.S. Department of Housing and Urban Development (HUD) Tax Credit Assistance Program, the Federal Home Loan Bank of New York, Low Income Housing Tax Credit equity, NYC Council Reso-A funding, CSH and the NYS Energy Research and Development Authority (NYSERDA). Enterprise Community Partners served as the tax credit syndicator on the project. Dattner Architects designed the residence and Galaxy General Contracting Corp. served as the contractor.
The NYC Department of Health and Mental Hygiene (DOHMH) funds the on-site services offered to 97 Crooke Ave. tenants. CAMBA both developed the residence and provides the tenant services.
To the many partners and tenants of 97 Crooke Ave, we congratulate you on this lovely addition to the Flatbush community!