Categories: New York City, Groundbreakings
02.23.2017
Community Access offers a holistic approach to health and recovery.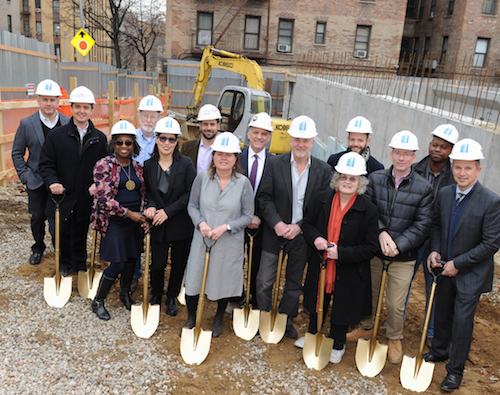 Breaking ground at 111 East 172nd Street.
On February 22, 2017, Community Access held a glorious groundbreaking ceremony for their new 126-unit building at 111 East 172nd Street. Upon completion, the building will include 57 affordable two-bedroom apartments, 8 affordable studio apartments and 60 studio apartments for tenants referred by the New York State Office of Mental Health. Community Access' long-time Director of Real Estate Maggi Knox attended the festivities with a heavy heart – this will be her last groundbreaking before retirement.
Boasting a wide range of health-focused amenities, the residence will provide on-site social services by Community Access staff with OMH funding. Free Wi-Fi, two large community rooms, a collaborative kitchen for integrative cooking and nutrition, 24-hour front-desk security and a large backyard with Community Access' first urban farm will offer residents many ways to cultivate a strong community, centered on holistic health and recovery. The backyard will host a hoop house and raised planting beds, as well as a playground and outdoor exercise area for children and adults.
Community Access' CEO Steve Coe welcomed the crowd, thanking Deputy Chief Executive Director Cal Hedigan, Director of Housing Mark Jennings, and the project's architect Peter Woll, who also designed Community Access' first building in 1984. Mr. Woll noted the positive health impact of the residence evident throughout…from Community Access' pet adoption program, to the presence of a bicycle-powered smoothie-machine, pumping out healthy delicious smoothies for guests!
Board Member Diane Louard-Michel stated that East 172nd Street is "taking supportive housing to a whole new level, bringing low-income New Yorkers home, hope and futures."
Newly-appointed NYS Homes and Community Renewal Commissioner RuthAnne Visnauskas spent her second day on the job at the groundbreaking, citing the supportive housing model as "an investment that grows and strengthens communities."
Molly Park, Deputy Commissioner for Development at NYC Department of Housing Preservation & Development, warmly congratulated the entire team, remarking that the unique residence is "both housing and a farm."
Brett Hebner of the NYS Office of Temporary and Disability Assistance praised the dedication of Community Access - from concept to closing - in all of their projects, as well as the high level of investment from the City and State—an investment "unmatched anywhere in the country."
Kristin Miller, Director of the NYC Metro Region Office of CSH, reminded the crowd of the importance of site acquisition, which is the first step in a supportive housing financing deal. She applauded the MRT units as "housing as healthcare."
Director of Citi Community Capital Bill Yates thanked all development partners for their amazing teamwork, particularly Mr. Coe and Ms. Knox.
The program closed with remarks from Community Access tenant Roshelle Rosa. Surviving a car accident sixty years ago, Rosa lost her ability to work, lived through domestic violence and eventually ended up on the streets. She thanked Community Access for lifting her up and providing her with a space to thrive. She has greatly benefited from their Pet Access Program, and now spends her days with the love of her life, a four-year-old Shih Tzu named Elvira.

The $52 million project is funded by New York State Homes and Community Renewal, the New York State Office of Mental Health and the New York City Department of Housing Preservation & Development. Major funding was also provided by a grant from Citi Community Capital, and tax credit financing syndicated by Richman Housing Resources, LLC, with Citi Community Capital as the sole investor. The New York State Energy Research & Development Authority also provided funding for the project. The general contractor is Mega Contracting Group.