Categories: Member News, Openings
05.13.2013
A seven-year road led to D'Addario Residence in Brooklyn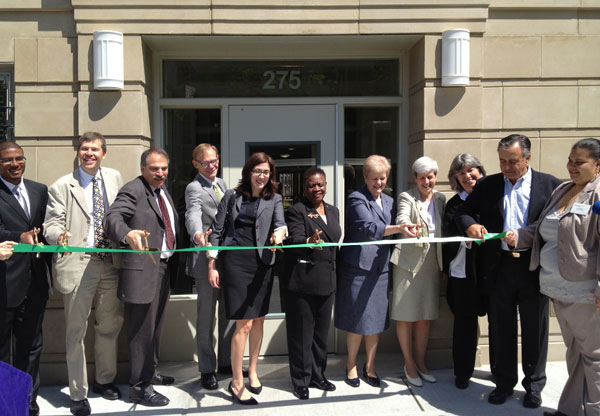 On one of the year's most beautiful days -- May 10 -- friends and supporters of Providence House's first supportive/affordable housing residence gathered for the opening of the D'Addario Residence in the Bedford Stuyvesant section of Brooklyn. The joyous occasion came a stunning seven years after the NYC Department of Housing Preservation and Development (HPD) first approached Providence House with the City-owned property. The location, formerly an empty lot, is now home to 46 individuals and small families, many of whom have struggled with homelessness.
Sister Janet Kinney, Providence House's Executive Director, was among several of the day's speakers. Joining her were NYS Rep. Annette Robinson and representatives for NYS Sen. Velmanette Montgomery, NYC Councilman Albert Vann and Community Board 3 Chair Henry Butler. Sister Helen Marie Kearney gave the invocation.
HPD Assistant Commissioner Jessica Katz recalled an incident during Sister Janet's first visit to their offices. Upon entering the building, security found, of all things, a pocket knife on Sister Janet.
"We knew she was trouble from the start," Ms. Katz joked.
Bill Traylor, the Network's Board Chair and President of Richman Housing Resources, said he had the best job in the world as a syndicator of supportive housing residences. Mr. Traylor referred to himself as the Dolly Levi of supportive housing, a reference to the matchmaking central character in the musical Hello, Dolly!
Arlo Chase of Alembic Community Development congratulated Sister Janet on her good humor and tenacity.
"She was there for every meeting -- in the 100-degree heat and in the depths of winter," he said. "She was always a pleasure to work with...and deadly serious."
Longtime supporter Jim D'Addario of D'Addario & Company spoke on behalf of himself and his wife Janet, saying they wake up every day with the hope of making the world better than the day before. He also congratulated Capital One Local Distribution Executive Karim Hill for coming the closest of all the speakers to the proper pronunciation of his name.
The ceremony ended with the D'Addario Residence being blessed by by Sisters Marie Lenihan, Elaine Roulet and Paula Migliore with water taken from the women's prison at Bedford Hills.
The residence was financed by HPD, Richman Housing Resources and Capital One with pre-development funding from CSH. The NYS Department of Health and Mental Hygiene will fund on-site services. Alphonse Diaz and Mega Contracting served as the architect and contractor, respectively.
Providence House won't take another seven years before it opens its second supportive housing residence. The organization hopes to open a 22-unit building in Brooklyn next spring. Congratulations to all involved in this lovely new residence!
Caption: Partners gather on May 10 for the grand opening ceremony of D'Addario Residence, a 46-unit supportive housing residence for individuals and families in Brooklyn. Photo courtesy of Providence House.