Categories: New York City, Openings
04.25.2014
Second supportive housing residence from Odyssey House in April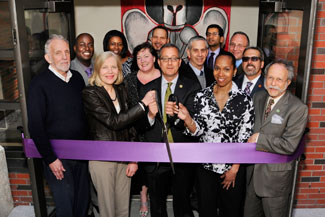 Odyssey House has opened its second supportive housing residence in just one month. Yesterday marked the ribbon-cutting for Odyssey House Tinton Avenue, a brand-new supportive housing project in the Bronx. The residence houses 65 formerly homeless individuals through the New York/New York III Supportive Housing Agreement.
Odyssey House opened Soundview Avenue, home to 56 formerly homeless people in the Bronx, on April 10. The nonprofit now operates three supportive housing for the vulnerable men and women of New York.
Yesterday's festivities featured remarks from several partners and friends. Among those to take the microphone were senior staff at Odyssey House, Moira Tashjian of the NYS Office of Mental Health (OMH) and Adrienne, a tenant at Tinton Avenue. Adrienne spoke of her experiences on the street and her life now in a newly-constructed supportive housing residence.
"When you're in a shelter, you're not living; you're merely existing. Now I have a chance at being more independent and reaching my goals," Adrienne told the crowd of attendees. "I can also think more clearly and take better care of myself. It's a joy to have some stability back in my life."
The Network's own Cynthia Stuart spoke briefly at the grand opening ceremony. Ms. Stuart noted that Tinton Avenue was a product of the NY/NY III Agreement, the funding for which is nearly exhausted. She called on attendees to advocate strenuously with government partners to work toward a new supportive housing initiative this year. On the local level, she reserved special thanks for John Dudley, District Manager of Community Board 3 in the Bronx, for his ability to both represent community concerns and, when satisfied that a project will be an asset to his community, embrace quality supportive housing like Tinton Avenue.
Odyssey House Tinton Avenue received funding from OMH (via NY/NY III) and the NYS Housing Finance Agency. Richman Housing Resources served as the syndicator on the project. To construct the building, Urban Architectural Initiatives and Lettire Construction Company served as the architect and contractor, respectively.
We'd like to offer a hearty congratulations to Odyssey House on the successful opening of its second supportive housing residence in April!