Categories: New York City, Research
08.06.2013
Findings offer valuable data for advocates, providers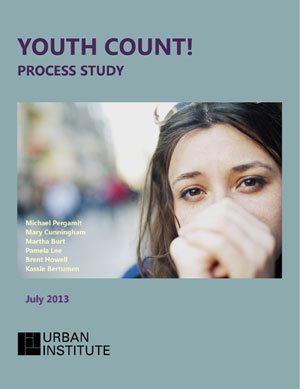 The Urban Institute has released its findings on Youth Count, an effort held earlier this year to count the number of homeless youth in nine cities across the country. The federal government selected New York as one of the nine pilot cities to participate in the count, which was designed as a demonstration project to better understand how best to count homeless youth.
The Institute's report and findings will help shape future youth counts in the city. This invaluable evaluation will help advocates learn from cities across the country about their experiences with this year's youth count. You can read the report here. The Urban Institute also released a video on this year's effort, which features homeless youth from around the country as they discuss the importance of the count effort. See the video below:
In 2013, NYC counted 1,420 homeless individuals between the ages of 18 and 24 living in the shelter system or on the street. Youth Count -- conducted as a collaborative effort between the NYC Coalition on the Continuum of Care, the NYC Department of Youth and Community Development (DYCD), the NYC Department of Homeless Services (DHS) and the runaway and homeless youth community -- clearly demonstrated the need for greater resources for runaway and homeless youth in New York City. Though the count only captured a subset of the homeless youth population, its final tally still dwarfs the number of DYCD-funded beds set aside to shelter runaway and homeless youth in the city: 253.
The pilot count also included a survey of the 182 youth who visited youth drop-in centers and supportive housing residences on the night of count. The majority of youth surveyed that evening had histories of abuse, trauma, family disconnection and involvement in the foster care and juvenile justice systems. This small sampling of youth reflects previous data and research on the wide variety and circumstances that runaway and homeless youth often face. A full report of these findings will be available shortly. Paired with the Urban Institute report, we hope these findings will help demonstrate the importance of homeless youth counts and ultimately bring more resources and programs into our communities to ensure that every homeless youth has a safe place to stay.